Das neue Maß des Unternehmenserfolgs
BOSTON – Jahrzehntelang hat es die Politik weltweit verabsäumt, mit der gebotenen Dringlichkeit auf den Klimawandel zu reagieren, obwohl die wissenschaftlichen Erkenntnisse längst eindeutig waren. Mittlerweile ist das Problem so akut, dass es nicht mehr ignoriert werden kann, und die Verantwortlichen stehen unter wachsendem Druck, die verlorene Zeit aufzuholen.
Im Falle der Unternehmen kommt dieser Druck nicht mehr nur von Demonstranten, sondern auch von Aktionären, Kunden, Investoren, Kreditgebern, Beschäftigten, politischen Entscheidungsträgern und allen anderen Stakeholdern, die ein echtes Verständnis für die Klimabedrohung aufbringen. Von Unterbrechungen der Lieferketten bis hin zu lebensgefährlichen Arbeitsbedingungen im Freien vervielfachen sich die Risiken für die Unternehmen.
Von nun an werden die Unternehmenschefs vier Schlüsselfragen beantworten müssen: Wie wird mein Markt in einer Netto-Null-Emissionswelt aussehen? Wie soll mein Geschäftsmodell gestaltet sein, um in diesem Markt erfolgreich zu sein? Welche Veränderungen sollte ich jetzt vornehmen, um mich auf den Erfolg vorzubereiten? Welche Rahmenbedingungen werde ich brauchen und wie kann ich diese sicherstellen?
Frühzeitig handelnde Firmenchefs können sich Wettbewerbsvorteile sichern und große wirtschaftliche Chancen für ihr Unternehmen nutzen. Der globale Wandel hin zu einer Netto-Null-Wirtschaft ist bereits in vollem Gange und kündigt eine vollständige Umgestaltung fast aller Sektoren an, wobei einige Akteure große Gewinne einfahren, während andere umfassende  Abschreibungen verzeichnen.
Man denke an die Entwicklung der Aktien von Energieversorgungsunternehmen, die sich der sauberen Energiewende verschrieben haben. Noch im Jahr 2009 gewann der dänische Energiekonzern Ørsted 85 Prozent der Energie aus fossilen Brennstoffen, während heute 88 Prozent aus erneuerbaren Quellen stammen. Das Unternehmen rechnet damit, bis 2025 die Netto-Null-Energieerzeugung und den Netto-Null-Betrieb zu erreichen und bis 2040 alle mit seiner Geschäftstätigkeit verbundenen Emissionen eliminiert zu haben. Im Laufe dieser Transformation hat das Unternehmen begonnen, beständig Gewinne auszuweisen und die Bewertung der Aktie ist stark gestiegen. "Die Unternehmensaktien sind seit dem Börsengang im Jahr 2016 auf mehr als das Doppelte gestiegen, wodurch Ørsted eine Bewertung von 56 Milliarden Dollar ausweist," berichtetE&E News. "Damit liegt dieser Wert höher als im Falle von ConocoPhillips und der meisten amerikanischen Energieversorger."
Da sich die Energiewende weiter beschleunigt, werden Verpflichtungen im Bereich Klimaschutz zunehmend als Grundvoraussetzung für Geschäftsaktivitäten angesehen. Die Vorkämpfer des Klimaschutzes werden die Nachzügler abhängen und dieser Pioniervorteil wird sich über die gesamte Wirtschaft ausbreiten, beginnend mit den Sektoren, wo der Weg in Richtung Dekarbonisierung relativ eindeutig vorgezeichnet ist: Elektrizität, Transport und Gebäude. Fortschritte in diesen Bereichen werden dann ähnliche Transformationen in Branchen ermöglichen, wo eine Dekarbonisierung schwerer zu erreichen ist, wie etwa in den Bereichen  Schifffahrt, Stahl, Zement und Luftfahrt.
Subscribe to Project Syndicate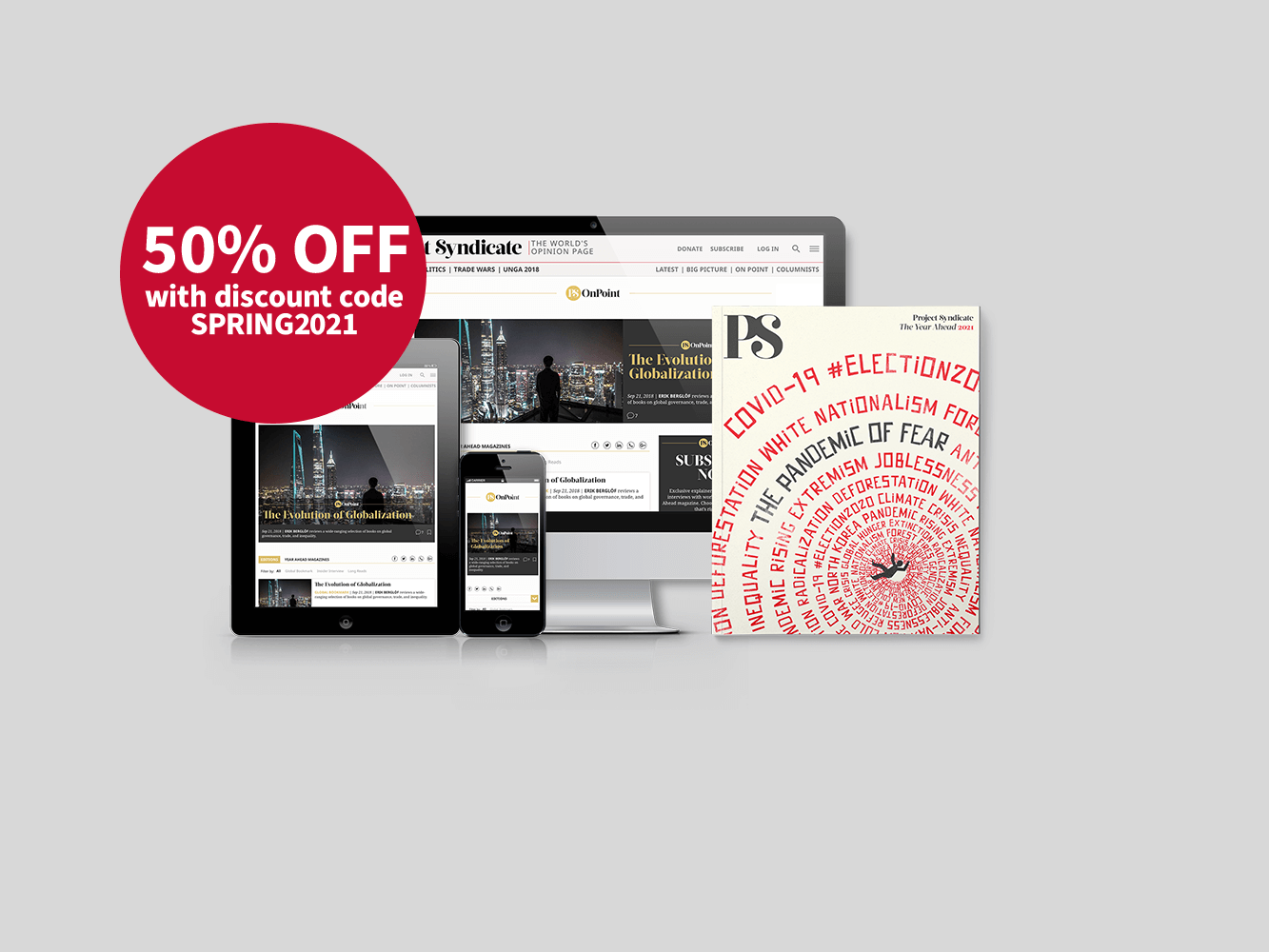 Subscribe to Project Syndicate
Enjoy unlimited access to the ideas and opinions of the world's leading thinkers, including weekly long reads, book reviews, topical collections, and interviews; The Year Ahead annual print magazine; the complete PS archive; and more. All for less than $5 a month.
Tatsächlich treten aber auch in diesen schwierigeren Sektoren bereits Vorreiter in Sachen Klimaschutz zutage. In der Schifffahrt hat Maersk zugesichert, bis 2023 ein CO2-neutrales Schiff einzusetzen. "Rasche technologische Fortschritte und die zunehmende Kundennachfrage nach nachhaltigen Lieferketten", so der Bericht des Unternehmens, "ermöglichen eine Beschleunigung der [bereits angekündigten] Bemühungen um die Dekarbonisierung des Schiffsbetriebs."  
In der Luftfahrt spielt Airbus mit seinen Plänen für ein im Jahr 2035 einsatzbereites CO2-neutrales und mit Wasserstoff betriebenes Flugzeug eine Vorreiterrolle im Klimaschutz. Vorstandsvorsitzender Guillaume Faury, betrachtet das als "historischen Augenblick für die kommerzielle Luftfahrt", der "den bedeutendsten Wandel in der Geschichte der Branche" markiert.  
Derartige Bestrebungen zur Dekarbonisierung in schwer umzustellenden Sektoren sollten für alle Unternehmenschefs ein Signal sein, dass der Netto-Null-Übergang bereits stattfindet. Wie Ernest Hemingway einst in berühmten Worten feststellte, ereignet sich der persönliche Bankrott vielfach "erst schleichend, dann plötzlich."  Im Falle des Übergangs zu einer grünen Wirtschaft wird das nicht anders sein. Immer mehr Führungskräfte erkennen, dass die Risiken, abgehängt zu werden, von Tag zu Tag steigen.
Das Gebot, Netto-Null-Emissionen zu erreichen, ist nicht nur eine Frage der Überlebensfähigkeit des eigenen Unternehmens, sondern auch gut fürs Geschäft. Die Unternehmenschefs können mit der Umsetzung von Initiativen zur Kosteneinsparung beginnen, indem sie Abfälle reduzieren, die Kreislauffähigkeit erhöhen und die Energieeffizienz verbessern. Darüber hinaus bringt die Einführung nachhaltiger Systeme und Betriebsabläufe erhebliche Vorteile für die Marke eines Unternehmens und zieht nicht nur Kunden, sondern auch hoch qualifizierte Mitarbeiter an. Investoren, Vorstände, politische Entscheidungsträger und andere wichtige Stakeholder zeigen  zunehmend Interesse an Unternehmen mit nachhaltigen Zukunftsplänen.
Als Führungskräfte, die eine wichtige Rolle bei der globalen Entscheidungsfindung spielen, tragen Unternehmenschefs eine enorme Verantwortung, den Fortschritt in Richtung Netto-Null-Emissionen voranzutreiben. Wir befinden uns im Wettlauf unseres Lebens – auch die Unternehmen. Jeder Versuch, durch Langsamkeit zu gewinnen, wird für alle in der Niederlage enden. Doch obwohl wir alle handeln müssen, obliegt es denjenigen mit der größten Macht, ihre Positionen im Interesse eines raschen Wandels zu nutzen.
Wir haben immer noch eine Chance, wirklich katastrophale Klimawandel-Szenarien zu verhindern, allerdings nur, wenn jede Führungspersönlichkeit ihre Bemühungen verstärkt. Die Gefahren des Klimawandels stellen eine existenzielle Bedrohung dar, der sich niemand -  auch kein Unternehmen - entziehen kann.
Aus dem Englischen von Helga Klinger-Groier