De nieuwe maatstaf voor zakelijk succes
BOSTON – Decennialang hebben de wereldleiders nagelaten met de nodige urgentie op de klimaatverandering te reageren, ook al is de wetenschap al lang heel duidelijk. Nu is het probleem zó acuut geworden dat het onmogelijk nog langer kan worden genegeerd en staan de machthebbers onder toenemende druk om de verloren tijd in te halen.
Voor bedrijven komt de druk niet langer alleen van demonstranten, maar ook van aandeelhouders, klanten, beleggers, kredietverstrekkers, werknemers, beleidsmakers en alle andere belanghebbenden met een goed begrip van de klimaatdreiging. Van verstoringen van de toeleveringsketen tot dodelijke omstandigheden voor werknemers in de openlucht: de risico's voor bedrijven nemen toe.
Van nu af aan zullen CEO's vier belangrijke vragen moeten beantwoorden: Hoe zal mijn markt eruit zien in een wereld met een netto-nul-uitstoot? Wat is mijn bedrijfsmodel om op die markt succes te boeken? Welke veranderingen moet ik nu doorvoeren om me op succes voor te bereiden? Welke ondersteunende voorwaarden heb ik nodig, en hoe zorg ik daarvoor?
CEO's die vroeg tot actie overgaan kunnen concurrentievoordelen veiligstellen en belangrijke economische kansen voor hun bedrijven in de wacht slepen. De wereldwijde verschuiving naar een netto-nuleconomie is al aan de gang en zal in bijna iedere sector een complete transformatie teweegbrengen, waarbij sommige spelers grote winsten zullen opstrijken, terwijl anderen zich verplicht zullen zien tot grote afschrijvingen.
Kijk maar eens naar de koersprestaties van de aandelen van elektriciteitsbedrijven die zich hebben toegelegd op de overgang naar schone energie. De Deense multinational Ørsted is van het opwekken van 85 procent van zijn elektriciteit met behulp van fossiele brandstoffen in 2009 naar het opwekken van 88 procent van zijn elektriciteit met behulp van hernieuwbare energie nu gegaan. Het bedrijf verwacht in 2025 een netto-nuluitstoot te bereiken bij de opwekking en exploitatie van elektriciteit, en in 2040 alle emissies die verband houden met al zijn activiteiten te hebben geëlimineerd. Tijdens deze transformatie heeft het bedrijf tot nu toe voortdurend winst geboekt, en is de waardering van de aandelen sterk gestegen. ʻDe koersen van de aandelen van het bedrijf zijn ruimschoots verdubbeld sinds de beursgang in 2016, waardoor Ørsted nu een waardering heeft van 56 miljard dollar,' meldtE&E News. ʻDat is meer dan ConocoPhillips en – op een handvol na – alle Amerikaanse nutsbedrijven.'
Naarmate de energietransitie blijft versnellen, zullen klimaatafspraken steeds meer worden gezien als een voorwaarde om zaken te doen. Klimaatkampioenen zullen de achterblijvers voorbijstreven, en dit voordeel zal zich over de hele economie uitspreiden, te beginnen bij de sectoren die een relatief eenvoudige route naar decarbonisering kennen: elektriciteit, vervoer en de bouw. De vooruitgang hier zal vervolgens soortgelijke transformaties mogelijk maken in sectoren die moeilijker koolstofvrij te maken zijn, zoals de scheepvaart, staal, cement en de luchtvaart.
Subscribe to Project Syndicate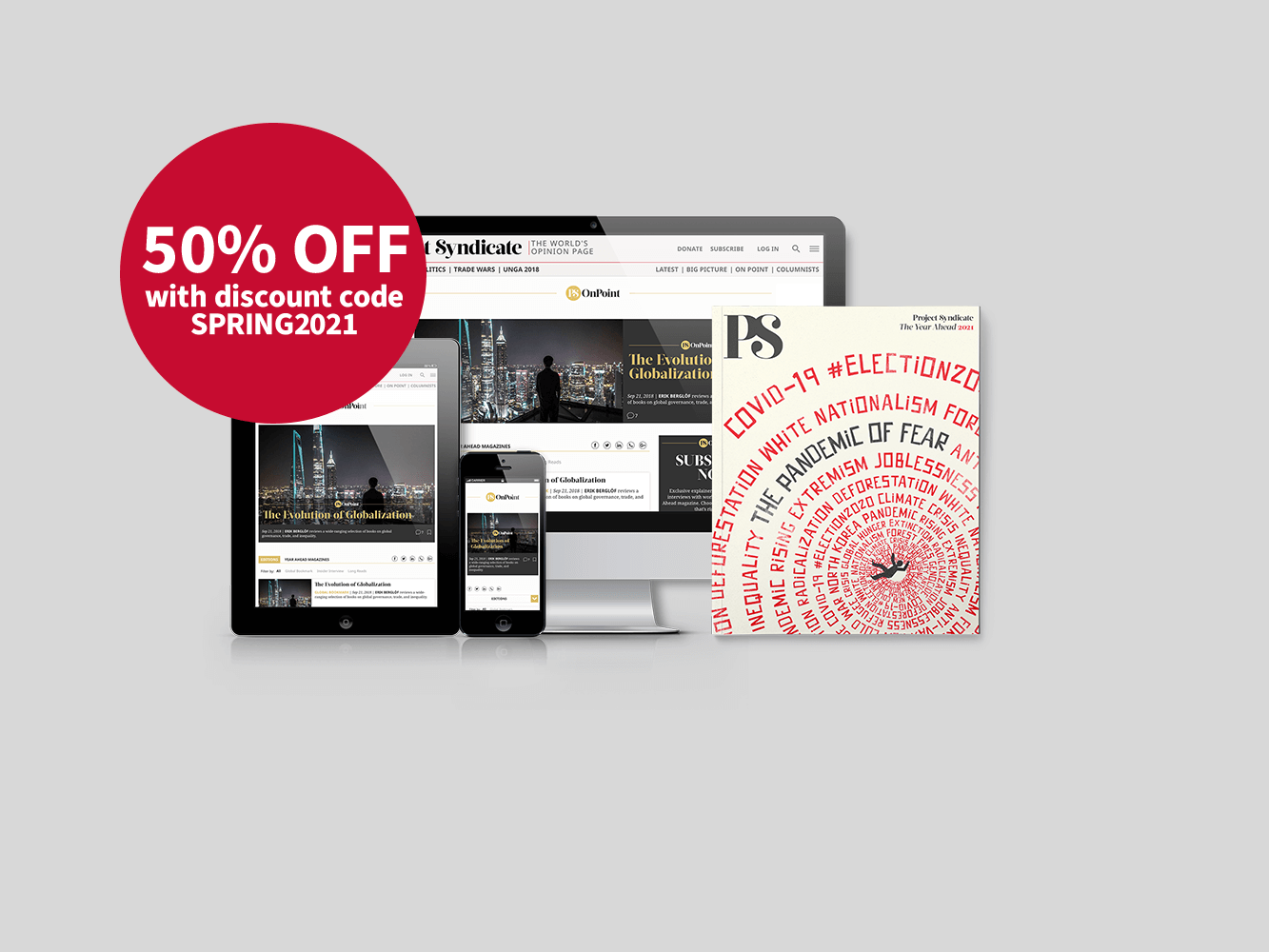 Subscribe to Project Syndicate
Enjoy unlimited access to the ideas and opinions of the world's leading thinkers, including weekly long reads, book reviews, topical collections, and interviews; The Year Ahead annual print magazine; the complete PS archive; and more. All for less than $5 a month.
In feite zijn er zelfs in deze meer uitdagende sectoren al klimaatleiders aan het opkomen. In de scheepvaart heeft Maersk zich ertoe verplicht om tegen 2023 een koolstofneutraal schip in te zullen zetten. ʻAls gevolg van de technologische vooruitgang en de toenemende vraag van klanten naar duurzame toeleveringsketens,' meldt het bedrijf dat het ʻzijn reeds eerder aangekondigde inspanningen om zijn maritieme activiteiten koolstofvrij te maken zal versnellen.'
Op dezelfde manier neemt Airbus in de luchtvaart het voortouw met plannen om tegen 2035 een koolstofneutraal waterstofvliegtuig in gebruik te nemen. De president-directeur van Airbus, Guillaume Faury, ziet dit als ʻeen historisch moment voor de commerciële luchtvaartsector' dat ʻde belangrijkste overgang inhoudt die deze sector ooit heeft meegemaakt.'
Dergelijke decarboniseringsambities in sectoren waar reductie moeilijk is, zouden een signaal moeten zijn voor CEO's overal ter wereld dat de overgang naar netto-nul nu al een feit is. Zoals Ernest Hemingway op beroemde wijze heeft gezegd over een persoonlijke faillissementen, gaat zoiets vaak ʻgeleidelijk, en dan opeens snel.' Bij de transitie naar een groene economie zal dat niet anders zijn. Steeds meer leiders uit het bedrijfsleven zien in dat de risico's van achterblijven met de dag groter worden.
De noodzaak om tot een netto-nul-uitstoot te komen is niet alleen bedoeld om een bedrijf zodanig te positioneren dat het kan overleven; het kan ook goed zijn voor de winst. Topmanagers kunnen beginnen met het implementeren van initiatieven die daadwerkelijk geld zullen besparen, door afval te verminderen, de circulariteit te verhogen en de energie-efficiëntie te verbeteren. Bovendien zal het invoeren van duurzame systemen en activiteiten aanzienlijke voordelen opleveren voor de merknaam van een bedrijf, waardoor niet alleen klanten worden aangetrokken, maar ook toptalent. Beleggers, bestuursleden, beleidsmakers en andere belanghebbenden zijn steeds meer geïnteresseerd in bedrijven met een duurzaam plan voor de toekomst.
Als leiders die een belangrijke rol spelen in de wereldwijde besluitvorming hebben CEO's een enorme verantwoordelijkheid om vooruitgang te helpen boeken in de richting van een netto-nul-uitstoot. Wij bevinden ons in de race van ons leven, en dat geldt ook voor bedrijven. Iedere poging om te winnen door langzaam te bewegen zal voor iedereen een nederlaag betekenen. Maar hoewel we allemaal actie zullen moeten ondernemen, is het de taak van degenen met de meeste macht om hun posities te gebruiken in het belang van snelle verandering.
We hebben nog steeds een kans om echt catastrofale klimaatveranderingsscenario's te vermijden, maar alleen als iedere leider zijn steentje bijdraagt. De risico's van klimaatverandering vormen een existentiële bedreiging die niemand – ook geen enkel bedrijf – kan ontlopen.
Vertaling: Menno Grootveld