لماذا تحتاج الشركات والأسر الأميركية إلى الصين
نيويورك ــ لا شك أن الصين ستستفيد من تطبيع علاقاتها التجارية مع الولايات المتحدة، ولكن من الأهمية بمكان أن ندرك أن الأمر ذاته ينطبق على الولايات المتحدة. عندما خفضت شركة التكنولوجيا الأميركية العملاقة أبل توقعاتها للمبيعات مؤخرا، أشار الرئيس التنفيذي تيم كوك إلى تراجع المبيعات في الصين ــ حيث تؤدي الحرب التجارية التي يشنها الرئيس الأميركي دونالد ترمب إلى تفاقم التأثيرات المترتبة على تباطؤ الاقتصاد ــ باعتباره عاملا مساهما أساسيا. ويسلط تراجع أداء شركة أبل الضوء على مدى أهمية السوق الصينية لنتائج العديد من الشركات الأميركية ــ كما يكشف عن المخاطر التي تفرضها سياسات الحماية التي انتهجها ترمب على الاقتصاد الأميركي.
الحق أن شركة أبل تبيع في الصين عددا من أجهزة الآي فون (iPhones) والآي باد (iPads) أكبر كثيرا مما تشير إليه إحصاءات التصدير الأميركية ــ أكبر من مجموع مبيعاتها في الولايات المتحدة وكندا في الواقع. وهذا لأن هذه الشركات، مثلها كمثل شركات أخرى كثيرة، تعمل في الصين وتبيع منتجاتها بشكل مباشر للمستهلكين الصينيين. والواقع أن شركات صينية أقل كثيرا تبيع بشكل مباشر في الولايات المتحدة.
ولأن الشركات الأميركية زادت عملياتها داخل الصين بمرور الوقت، فإن الإحصاءات الخاصة بالتجارة الثنائية لا تعكس أهمية السوق الصينية للاقتصاد الأميركي إلا جزئيا.
في الفترة من عام 2000 إلى عام 2018، سجلت صادرات الولايات المتحدة إلى الصين ارتفاعا هائلا بلغ نحو 530% ــ أعلى كثيرا من النمو التراكمي الذي سجلته الصادرات الأميركية للعالم ككل بنسبة 130%. كان هذا راجعا بشكل مباشر إلى سياسة تحرير التجارة من جانب واحد التي انتهجتها الصين بعد التحاقها بعضوية منظمة التجارة العالمية في عام 2001، بما في ذلك خفض معدل التعريفات المطبقة من 30% قبل انضمامها إلى منظمة التجارة العالمية إلى أقل من 6% اليوم. فضلا عن ذلك، يخضع ما يقرب من نصف الواردات إلى الصين لتعريفة صِفرية إذا كان إنتاجها لصالح السوق العالمية.
كان نمو الناتج المحلي الإجمالي السريع في الصين سببا في تعزيز الواردات، لكن هذا النمو تيسر أيضا بفِعل تحرير التجارة وغير ذلك من الإصلاحات الداعمة للسوق. ولم تقم أي دولة بتفكيك عدد من الحواجز التي تعوق التجارة أكبر من تلك التي فككتها الصين على مدار العقود الأربعة الأخيرة، وينطبق نفس الأمر على الإصلاحات الداعمة للسوق التي نفذتها.
الواقع أن الإصلاحات الصينية الموجهة نحو السوق أطلقت العنان لموجة من ريادة الأعمال ومكنت شركات القطاع الخاص ــ المحلية أو المملوكة لأجانب ــ من تحقيق الازدهار، وفي العديد من الحالات تحقيق نمو أسرع من معدل نمو الشركات المملوكة للدولة.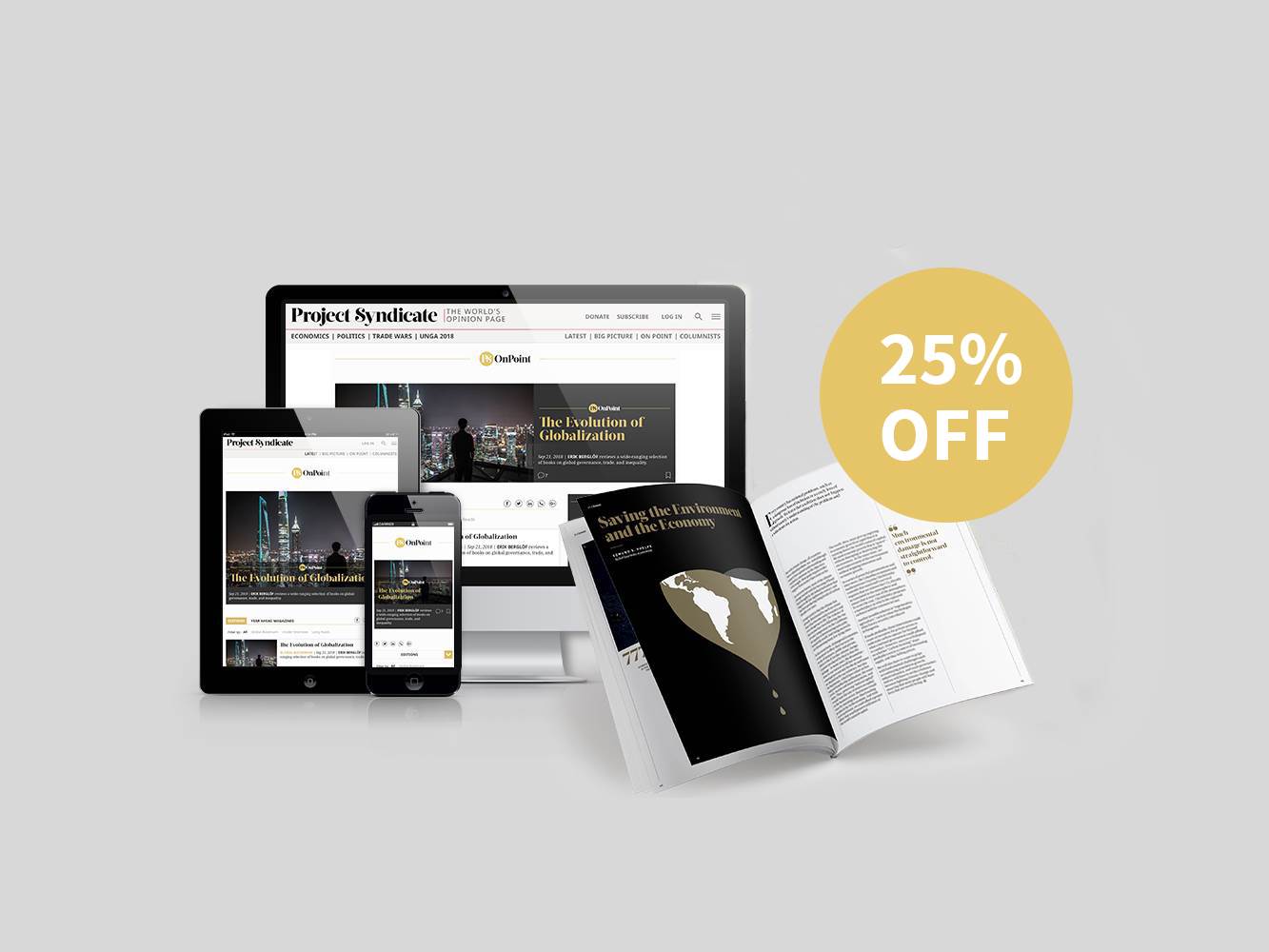 Subscribe now
For a limited time only, get unlimited access to On Point, The Big Picture, and the PS Archive, plus our annual magazine, for just $75.
يتناقض هذا بشكل حاد مع السرد الذي يسوقه بعض المراقبين والذي يشير إلى أن الصين تجاهلت أو تجنبت إلى حد كبير الالتزامات التي قطعتها على نفسها عندما انضمت إلى منظمة التجارة العالمية. إذا كان هذا صحيحا، فإن الصين ما كانت لتتمكن ببساطة من تحقيق نمو أسرع من 95% من دول العالَم منذ عام 2001.
يزعم بعض المراقبين أنه حتى لو استفادت الشركات الأميركية من دخولها إلى السوق الصينية، فإن التجارة الأميركية الصينية تلحق الضرر بالعمال الأميركيين الذين تعرضت وظائفهم للمنافسة من العمالة الصينية المنخفضة الأجر. لكن توفر السلع المستوردة الرخيصة من الصين يؤدي إلى خفض الأسعار ليس فقط لصالح المستهلكين الأميركيين، وخاصة الأسر ذات الدخل المنخفض والمتوسط، بل وأيضا لصالح الشركات الأميركية، مما يدعم خلق فرص العمل. الواقع أن ما يقرب من 40% من الواردات الأميركية من الصين تتألف من أجزاء ومكونات ومدخلات وسيطة. ويساعد توفير التكاليف نتيجة لهذه الواردات لصالح الشركات الأميركية في تعزيز قدرتها التنافسية، وتمكينها من استئجار المزيد من العاملين.
وفقا لما قمت به من أبحاث مع زملائي فإن تأثير سلسلة العرض هذا يخلق وظائف أكثر من تلك التي تزيلها المنافسة المباشرة مع الصين. وفي حين تتركز الوظائف المفقودة في مجموعة فرعية من قطاعات التصنيع، فإن الوظائف المكتسبة من التجارة مع الصين تنتشر في مختلف قطاعات الاقتصاد، بما في ذلك العديد من قطاعات الخدمات الحديثة. وبفضل تأثير خلق الوظائف هذا، يستفيد من تجارة الولايات المتحدة مع الصين نحو 75% من العمال الأميركيين، حتى قبل أن نضع في الحسبان التأثير الإيجابي على قوتهم الشرائية وقبل أي تحويل للدخل من الفائزين إلى الخاسرين.
ومع ذلك، لا يزال كثيرون في الولايات المتحدة يركزون فقط على الدور المحتمل الذي تلعبه التجارة المفتوحة في تغذية خسائر الوظائف. وعندما تستغني شركة في الولايات المتحدة عن بعض العمال، يُلقى اللوم على الصين غالبا، ولكن عندما تستأجر شركة في الولايات المتحدة عددا إضافيا من العمال، فنادرا ما نسمع عن المدخلات الصينية الأرخص التي جعلت هذا ممكنا.
يدعو بعض الناس في الولايات المتحدة إلى الفصل بين الاقتصادين الأميركي والصيني. وإذا حدث هذا فسوف تخسر الشركات الأميركية التي تستخدم المدخلات الصينية قدرتها التنافسية نسبة إلى نظيراتها الأوروبية واليابانية، وقد يخسر العمال في هذه الشركات وظائفهم، وقد تعاني مستويات معيشة الأسر الأميركية المنخفضة والمتوسطة الدخل مع ارتفاع أسعار العديد من السلع.
لا شيء من هذا يعني أن الصين لا ينبغي لها أن تُجري أي تغييرات. بل ينبغي لها أن تعمل على خفض الحواجز التجارية إلى مستويات أدنى، والحد من إعانات الدعم المقدمة للشركات المملوكة للدولة، وتخفيف القيود المفروضة على الشركات الأجنبية العاملة في البلاد، وتعزيز حقوق الملكية الفكرية.
ولكن إذا كنا راغبين في جعل التجارة الثنائية أكثر عدالة وكفاءة، فيتعين على الولايات المتحدة أن تجري بعض التعديلات أيضا. على سبيل المثال، ينبغي لها أن تخفض الرسوم الجمركة المرتفعة (في نطاق 20% غالبا) المفروضة على المنسوجات والملابس، وهي فئة رئيسية من الصادرات الصينية. كما ينبغي لها أن تعمل على إصلاح نظام مكافحة الإغراق (من خلال دمجه مع نظام مكافحة الاحتكار) وتغيير القواعد غير العادلة التي تجعل المصدرين الصينيين في وضع مصطنع غير موات، من خلال إلقاء المسؤولية عن تكاليف الإنتاج في البلدان الأخرى الأعلى تكلفة على الإنتاج الصيني.
الواقع أن كلا من الولايات المتحدة والصين تكسب من تطبيع العلاقات التجارية الثنائية. وعلى الرغم من صعوبة إصلاح السياسات في أي مكان، بسبب الضغوط السياسية والمصالح الراسخة، فإن الاستعانة بنهج متبادل ومتوازن قد تكون المفتاح إلى التقدم المستدام في البلدين. والسؤال هو ما إذا كان القادة يتحلون بالقدر الكافي من الشجاعة والحكمة لإعادة العلاقة إلى مسارها الصحيح.
ترجمة: إبراهيم محمد علي          Translated by: Ibrahim M. Ali