Por qué las empresas y los hogares norteamericanos necesitan a China
NUEVA YORK – China saldrá beneficiada con una normalización de su relación comercial con Estados Unidos, pero es importante tomar conciencia de que lo mismo es válido para Estados Unidos. Cuando el gigante tecnológico norteamericano Apple recientemente recortó su pronóstico de ventas, el CEO, Tim Cook, apuntó a la caída de las ventas en China –donde la guerra comercial del presidente de Estados Unidos, Donald Trump, está exacerbando los efectos de una desaceleración de la economía- como uno de los factores que más influyó. El desempeño reducido de Apple resalta lo importante que se ha vuelto el mercado chino para los balances de muchas compañías estadounidenses –y revela los riesgos que le plantea el proteccionismo de Trump a la economía norteamericana.
La verdad es que Apple les vende sustancialmente más iPhones y iPads a los chinos de lo que indican las estadísticas de exportaciones estadounidenses. De la misma manera, General Motors vende más autos en China de lo que registran los datos de exportaciones de Estados Unidos –más, en realidad, que en Estados Unidos y Canadá juntos-. Eso es porque esas compañías, como muchas otras, operan en China y les venden directamente a los consumidores chinos. Muchas menos compañías chinas venden directamente en Estados Unidos.
Como las empresas estadounidenses, con el tiempo, han aumentado sus operaciones dentro de China, las estadísticas del comercio bilateral reflejan sólo en parte la importancia del mercado chino para la economía estadounidense.
Desde 2000 hasta 2018, las exportaciones de Estados Unidos a China crecieron 530% -mucho más que el crecimiento acumulado del 130% de las exportaciones de Estados Unidos al mundo en general-. Esto fue un resultado directo de la considerable liberalización comercial unilateral que China ha implementado después de sumarse a la Organización Mundial de Comercio en 2001, reduciendo inclusive su tasa arancelaria aplicada del 30% antes del acceso a la OMC a menos del 6% hoy. Es más, aproximadamente la mitad de las importaciones en China son objeto de aranceles cero si la producción es para el mercado mundial.
El rápido crecimiento del PIB de China impulsó las importaciones, pero ese crecimiento también resultó favorecido por la liberalización comercial y otras reformas pro-mercado. Ningún país ha desmantelado más barreras al comercio o ha implementado más reformas pro-mercado que China en las últimas cuatro décadas.
Las reformas de China orientadas al mercado desencadenaron una ola de iniciativa empresarial y permitieron que las empresas del sector privado –tanto domésticas como extranjeras- prosperaran y, en muchos casos, lograran un crecimiento más rápido que las empresas estatales.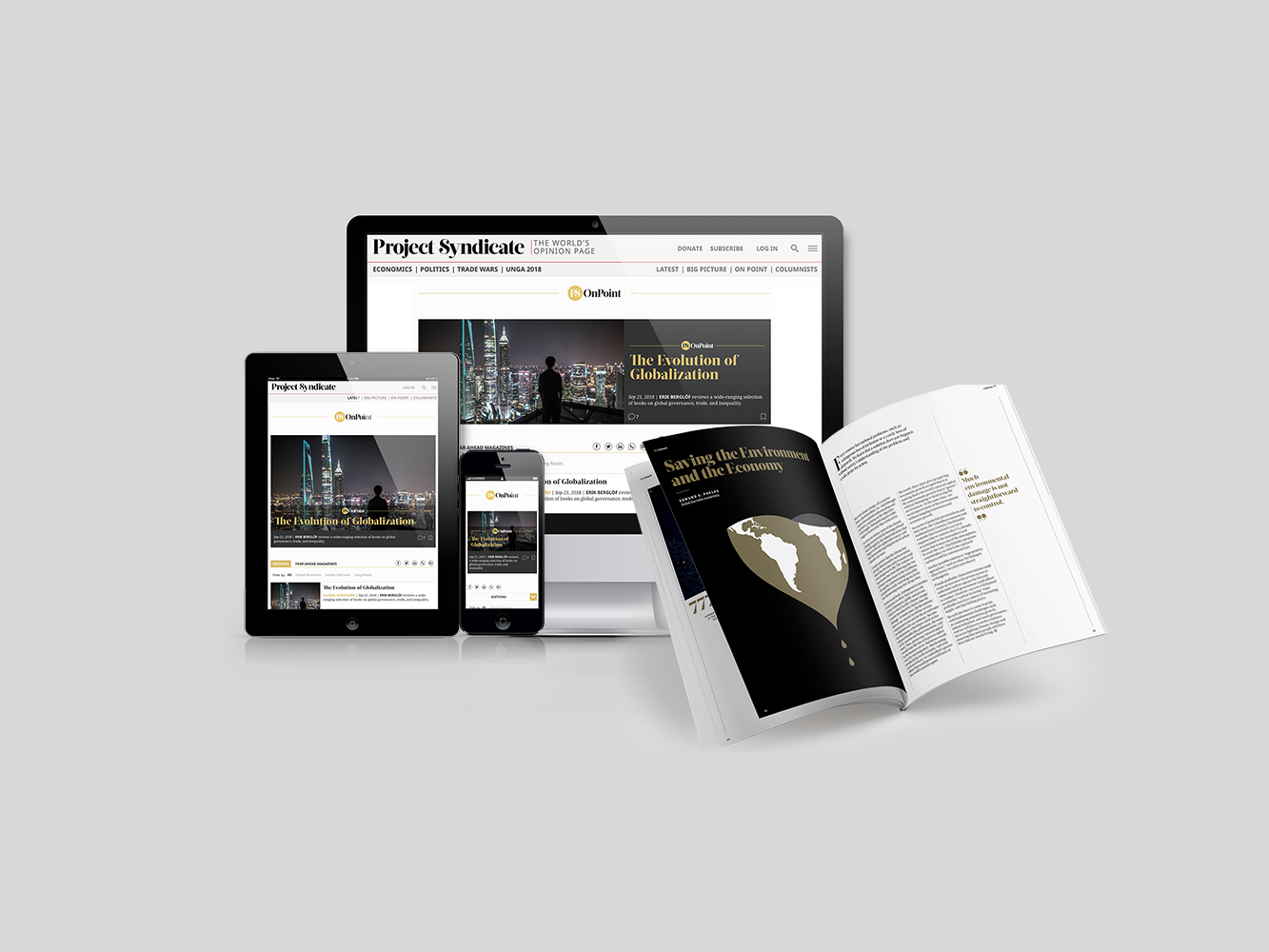 Subscribe now
For a limited time only, get unlimited access to On Point, The Big Picture, and the PS Archive, plus our annual magazine, for less than $2 a week.
Esto contrasta marcadamente con el discurso que expresan algunos de que China ha ignorado o evadido considerablemente los compromisos asumidos cuando se sumó a la OMC. Si ése fuera el caso, China simplemente no podría haber logrado crecer más rápido que el 95% de los países del mundo desde 2001.
Algunos sostienen que, aun si las empresas estadounidenses se han beneficiado con su acceso al mercado chino, el comercio entre Estados Unidos y China afecta a los trabajadores norteamericanos cuyos empleos están expuestos a una competencia de salarios bajos de los trabajadores chinos. Pero la disponibilidad de bienes importados baratos provenientes de China reduce los precios no sólo para los consumidores estadounidenses, especialmente las familias de ingresos bajos y medios, sino también para las empresas norteamericanas, al sustentar la creación de empleos. Casi el 40% de las importaciones estadounidenses de China son piezas y componentes e insumos intermedios. Los ahorros de costos que implican estas importaciones para las empresas estadounidenses ayudan a impulsar su competitividad, permitiéndoles contratar más trabajadores.
Según una investigación que realicé con colegas, este efecto de cadena de distribución crea más empleos de los que elimina la competencia directa de China. Mientras que los empleos perdidos se concentran en un subconjunto de sectores industriales, los empleos que se ganan a partir del comercio con China están distribuidos en toda la economía, inclusive en muchos sectores de servicios modernos. Gracias a este efecto de creación de empleos, el comercio de Estados Unidos con China beneficia al 75% de los trabajadores norteamericanos, inclusive antes de considerar el efecto positivo en su poder adquisitivo y antes de cualquier transferencia de ingresos de ganadores a perdedores.
De todos modos, muchos en Estados Unidos siguen centrándose exclusivamente en el rol potencial del comercio abierto a la hora de incrementar las pérdidas de empleos. Cuando una firma estadounidense despide a trabajadores, se suele culpar al comercio con China. Pero cuando una compañía estadounidense contrata más trabajadores, rara vez se escucha hablar de los insumos chinos más baratos que eso hizo posible.
Algunos en Estados Unidos están pidiendo un desacople de las economías estadounidense y china. Si eso sucede, las empresas estadounidenses que utilizan insumos chinos perderían competitividad en relación a sus pares europeos y japoneses, los trabajadores que emplean podrían perder sus empleos y los estándares de vida de los hogares estadounidenses de ingresos bajos y medios sufrirían con el aumento de los precios de muchos productos.
Nada de esto quiere decir que China no deba hacer cambios. Debería hacer esfuerzos para bajar aún más las barreras comerciales, reducir los subsidios a las empresas estatales, relajar las restricciones impuestas a las firmas extranjeras que operan en el país y reforzar los derechos de propiedad intelectual.
Pero si el comercio bilateral ha de ser más justo y más eficiente, Estados Unidos también necesita hacer algunos cambios. Por ejemplo, debería reducir los altos aranceles (muchas veces en el rango del 20%) sobre los productos textiles y la vestimenta, una categoría importante de las exportaciones chinas. Y debería reformar su régimen anti-dumping (fusionándolo con el régimen antimonopolio) y cambiar reglas injustas que, al imputar los costos de producción de otros países de costos más elevados a la producción china, coloca a los exportadores chinos en una desventaja artificial.  
Tanto Estados Unidos como China se benefician con una normalización de las relaciones comerciales bilaterales. Si bien la reforma de las políticas es difícil en todas partes, debido a las presiones políticas y a los intereses particulares, una estrategia recíproca y equilibrada podría ser la clave para un progreso sostenido en ambos países. La pregunta es si los líderes tendrán el coraje y la sabiduría necesarios para volver a poner la relación en marcha.