Stappenplan voor eliminatie van cholera
GENÈVE – 'Waar is hier het toilet?' Dit is meestal de eerste vraag die ik stel als ik de plek van een cholera-uitbraak waar ook ter wereld bezoek. Vaker dan niet is het antwoord: 'we hebben geen toilet, we doen onze behoefte waar we kunnen.'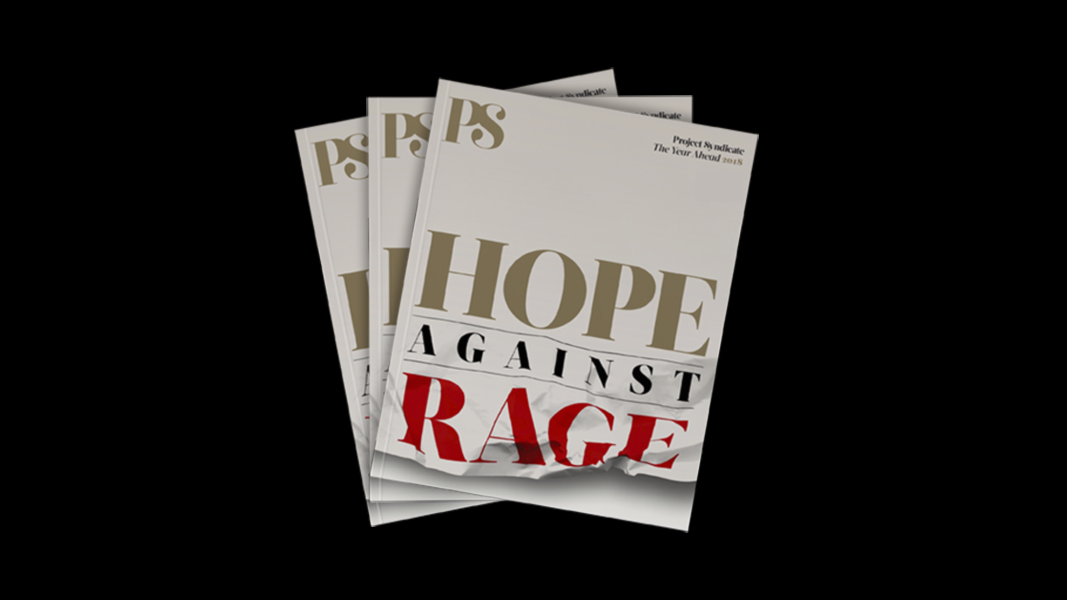 The Year Ahead 2018
The world's leading thinkers and policymakers examine what's come apart in the past year, and anticipate what will define the year ahead.
Cholera, een antieke ziekte, is de ziekte van de armoede geworden. Ze discrimineert niet geografisch, maar jaagt voornamelijk op kwetsbare gemeenschappen in gebieden met slechte sanitatie.
Meegevoerd door hoogwater naar drinkwaterbronnen, meegebracht door onwetende reizigers, of in huis gekomen met producten geïrrigeerd met ongezuiverd rioolwater vestigt de Vibrio Cholerae bacterie zich nadat ze is ingeslikt in de dunne darm, met als gevolg zware diarree en uitdroging.
Zij die het geluk hebben om nooit zelf getuige te zijn geweest van de effecten van cholera nemen wellicht aan dat het een maagbacterie als zovelen is. Maar zonder snelle medische hulp kan cholera binnen enkele uren het leven uit een volwassene of kind zuigen. Elk jaar eist cholera de levens van een geschatte 95.000 mensen; velen van de doden zijn kinderen.
Dit jaar verschenen er in landen wereldwijd beelden van lusteloze, hologige choleraslachtoffers die op behandeling wachtten. De ziekte heeft zich met een ongekende snelheid verspreid in Jemen, waar sinds april meer dan 2000 doden zijn gevallen. Er zijn momenteel cholera-uitbraken gaande in Somalië, Zuid-Soedan, Haïti, en andere landen door heel Sub-Sahara-Afrika en Azië.
Maar het treurigste feit over het recente dodentol van cholera is dat deze sterfgevallen stuk voor stuk te voorkomen waren. De wereld beschikt al over de kennis en middelen om cholera effectief te beteugelen, maar de bestaande hulpbronnen bevinden zich niet op één lijn met het benodigde mondiale engagement.
Daarom is de nieuwe mondiale strategie ontwikkeld door de Global Task Force on Cholera Control, een divers netwerk van technische partners, zo van levensbelang. Ending Cholera – A Global Roadmap to 2030benadrukt een verschuiving naar proactieve benaderingen, en heeft tot doelstelling het aantal doden door cholera het komende decennium met 90% te verminderen. Wanneer geheel doorgevoerd zou het plan tot wel twintig landen kunnen helpen overbrenging van de ziekte binnen deze zelfde tijdspanne te elimineren. Gebaseerd op drie pijlers – vroege detectie, een geïntegreerde preventietactiek, en coördinatie tussen landen en partners – biedt het stappenplan een concrete route voor het elimineren van cholera als gevaar voor de volksgezondheid.
Wanneer cholera een gemeenschap eenmaal in haar greep heeft wordt ze steeds moeilijker te onder controle te krijgen. Het is daarom van belang dat de ziekte niet vergeten wordt wanneer deze geen slachtoffers eist. Een aanpak vanuit meerdere sectoren die investeringen in drinkwater, sanitatie, en hygiëne omvat – de zogeheten WASH-diensten – kan cholera in bedwang houden. Ook kan dit met het proactieve gebruik van orale choleravaccins en een snelle toegang tot behandelingen, zoals toedienen van orale rehydratie oplossingen en intraveneuze vloeistoffen.
Het verbeteren van de WASH-infrastructuur is het meest effectieve pad richting preventie, alhoewel het implementeren van deze diensten in landen met minder hulpbronnen tijd zal kosten. Om deze reden moedigt het stappenplan ook de preventieve en grootschalige inzet van vaccins op cholera hotspots aan. De vaccins werken onmiddellijk en kunnen cholera tot drie jaar lang voorkomen, wat dient als brug naar de implementatie van oplossingen voor op de langere termijn.
Orale choleravaccins zijn beschikbaar via een mondiale voorraad die in stand wordt gehouden door de Wereldgezondheidsorganisatie (WHO), met steun van Gavi, the Vaccine Alliance. Er zijn meer dan 15 miljoen doses gedistribueerd naar 18 landen sinds het programma in 2013 werd opgezet. Volgend jaar moet de voorraad groeien naar meer dan 25 miljoen doses, van 2 miljoen in het begin.
Het elimineren van cholera als gezondheidsdreiging in 2030, waar mondiale partners en de WHO zich onlangs aan verbonden, zal een duurzame samenwerking en engagement van door cholera getroffen landen, technische partners, en internationale donoren vragen. Deze doelstelling lijkt wellicht ontmoedigend gegeven het feit dat miljoenen mensen over de hele wereld jaarlijks het gevaar lopen om de ziekte op te lopen. Maar met verstedelijking, klimaatverandering, en andere factoren die het gevaar van infectie waarschijnlijk nog zullen vergroten, is het een doelstelling waar we aan moeten voldoen. Het stappenplan maakt dit mogelijk.
Het implementeren van het plan zal een kosteneffectieve oplossing blijken te zijn voor landen die de last tot respons op frequente cholera-uitbraken dragen. Dat is één reden waarom er urgent actie ondernomen moet worden. Maar het omarmen van deze strategie is ook voor de internationale gemeenschap het juiste om te doen. Regeringen hebben een morele verplichting om te garanderen dat niemand aan een te voorkomen dood overlijdt. Dit is een verplichting die de WHO deelt, en dat is de reden dat we er hard aan zullen werken de wereld te helpen om aan de ambitieuze doelstellingen die we hebben gezet te voldoen.
We hebben de middelen om cholera te verslaan. Nu er ook een plan is is er geen enkel excuus meer om ze niet in te zetten.
Vertaling Melle Trap