Ein Fahrplan zum Sieg über die Cholera
GENF – "Wo ist Ihre Toilette?" Dies ist oft die erste Frage, die ich stelle, wenn ich irgendwo auf der Welt den Ort eines Cholera-Ausbruchs besuche. Meistens lautet dann die Antwort: "Wir haben keine. Wir gehen, wo immer wir können."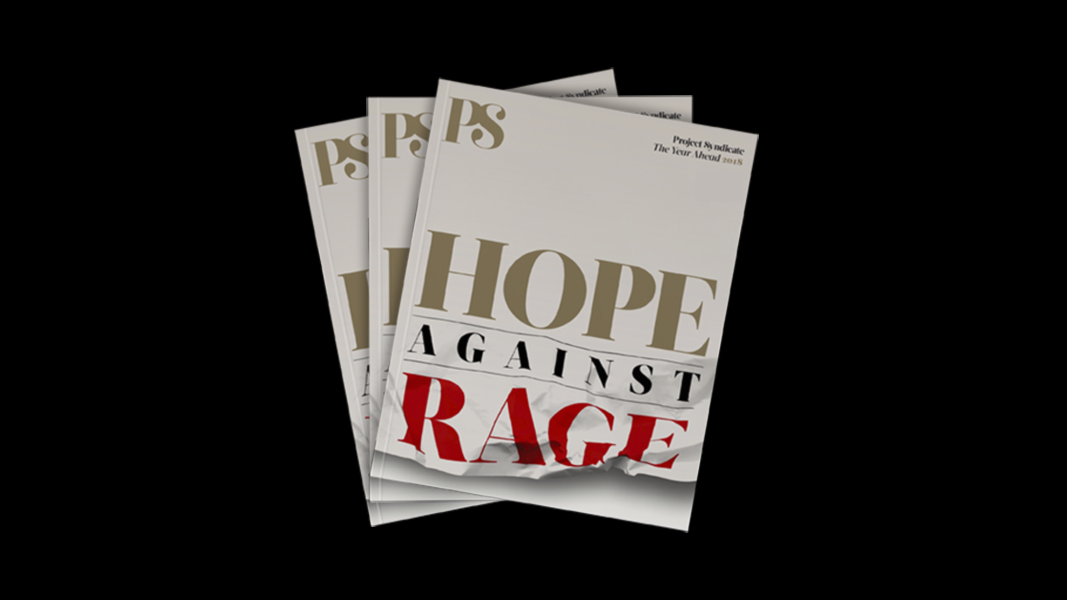 The Year Ahead 2018
The world's leading thinkers and policymakers examine what's come apart in the past year, and anticipate what will define the year ahead.
Die Cholera, eine uralte Krankheit, ist zu einer Krankheit der Armen geworden. Sie macht geografisch keine Unterschiede, aber sie sucht sich ihre Opfer vor allem unter anfälligen Gemeinschaften in Gegenden mit schlechter Sanitärversorgung.
Das Bakterium Vibrio cholerae wird durch verunreinigtes Flutwasser in Trinkwasserquellen transportiert, von nichtsahnenden Reisenden mitgebracht oder gelangt auf mit unbehandelten Abwässern bewässertem Gemüse und Obst in die Häuser. Nach Aufnahme in den Körper siedelt es sich im Dünndarm an und verursacht schweren Durchfall und Dehydrierung.
Wer das Glück hatte, noch nie die Auswirkungen der Cholera aus erster Hand zu erleben, könnte annehmen, dass es sich dabei einfach um einen weiteren Magen-Darm-Infekt handelt. Doch ohne schnelle medizinische Hilfe kann die Cholera Erwachsenen und Kindern innerhalb von Stunden den Lebenssaft entziehen. Jedes Jahr fordert die Cholera schätzungsweise 95.000 Menschenleben; viele der Opfer sind Kinder.
Dieses Jahr sind in Ländern weltweit Bilder von antriebslosen, glasig blickenden Cholera-Opfern aufgetaucht, die auf ihre Behandlung warten. Die Krankheit verbreitete sich mit beispielloser Geschwindigkeit im Jemen, wo seit April mehr als 2000 Menschen an ihr gestorben sind. Cholera-Ausbrüche sind außerdem in Somalia, dem Südsudan, Haiti und anderen Ländern Schwarzafrikas und Asiens zu beobachten.
Doch das Traurigste an dem jüngsten Tribut an Menschenleben, den die Cholera gefordert hat, ist, dass jeder einzelne dieser Todesfälle vermeidbar war. Die Welt verfügt bereits über das Wissen und die Instrumente, um die Cholera wirksam zu kontrollieren, doch die bestehenden Ressourcen werden nicht auf die bestehenden weltweiten Notwendigkeiten abgestimmt.
Aus diesem Grund ist die von der Global Task Force on Cholera Control, einem breit gefächerten Netzwerk technischer Partner, entwickelte neue, globale Strategie so wichtig. Ending Cholera – A Global Roadmap to 2030 betont eine Umstellung auf proaktive Ansätze und verfolgt das Ziel, die Zahl der Cholera-Toten im Verlauf des nächsten Jahrzehnts um 90% zu senken. Bei vollständiger Umsetzung könnte der Plan außerdem bis zu 20 Ländern helfen, im selben Zeitrahmen die Übertragung der Krankheit zu stoppen. Basierend auf drei Säulen – Früherkennung, integrierten Präventionstaktiken und der Koordinierung zwischen Ländern und Partnern – beschreibt der Fahrplan einen konkreten Weg zur Beendigung der von der Cholera ausgehenden Bedrohung für die öffentliche Gesundheit.
Wenn die Cholera eine Gemeinschaft erst einmal im Griff hat, lässt sie sich immer schwieriger kontrollieren. Es ist daher wichtig, dass die Krankheit selbst dann nicht in Vergessenheit gerät, wenn sie keine Opfer fordert. Ein mehrere Sektoren umfassender Ansatz, der Investitionen in die Wasserversorgung, die Sanitärversorgung und die Hygiene – die sogenannten WASH-Services – umfasst, kann die Cholera in Schach halten. Dasselbe gilt für den vorbeugenden Einsatz von Cholera-Vakzinen und den raschen Zugriff auf Behandlungsmittel wie orale Rehydrationslösungen und intravenöse Flüssigkeiten.
Die Verbesserung der WASH-Infrastruktur ist der effektivste Weg zur Vorbeugung, obwohl die Umsetzung dieser Maßnahmen in Ländern mit geringen Ressourcen Zeit erfordert. Aus diesem Grund ermutigt der Fahrplan auch den großflächigen vorbeugenden Einsatz oraler Vakzine in stark von der Cholera betroffenen Gegenden. Diese Vakzine wirken sofort und können die Cholera für bis zu drei Jahre verhindern. Sie dienen so als Überbrückungsmaßnahme bis zur Umsetzung längerfristiger Lösungen.
Orale Cholera-Vakzine sind mit Unterstützung von Gavi, der Impfallianz über ein von der Weltgesundheitsorganisation (WHO) unterhaltenes globales Vorratslager erhältlich. Seit das Programm 2013 ins Leben gerufen wurde, wurden mehr als 15 Millionen Dosen an 18 Länder ausgereicht. Im kommenden Jahr wird das Vorratslager auf mehr als 25 Millionen Dosen vergrößert, gegenüber zwei Millionen bei Programmbeginn.
Die von der Cholera ausgehende gesundheitliche Bedrohung bis 2030 zu beenden, wie die globalen Partner und die WHO es vor kurzem versprochen haben, erfordert eine nachhaltige Zusammenarbeit und das fortgesetzte Engagement der von der Cholera betroffenen Länder, technischen Partner und internationalen Spender. Das Ziel mag entmutigend erscheinen in Anbetracht der Millionen von Menschen, die jedes Jahr Gefahr laufen, sich mit der Krankheit anzustecken. Doch angesichts der Tatsache, dass die Urbanisierung, der Klimawandel und andere Faktoren die Infektionsgefahr steigern dürften, ist es ein Ziel, das wir erreichen müssen. Der Fahrplan macht dies möglich.
Die Umsetzung des Plans wird sich als kostengünstige Lösung für Länder erweisen, die häufig mit Cholera-Ausbrüchen zu kämpfen haben. Dies ist ein Grund dafür, warum ein Handeln dringend erforderlich ist. Doch die Übernahme der Strategie ist zugleich das moralisch Richtige für die internationale Gemeinschaft. Regierungen haben eine moralische Verpflichtung, sicherzustellen, dass niemand einem vermeidbaren Tod zum Opfer fällt. Es ist eine Verpflichtung, die die WHO teilt, und der Grund, warum wir hart arbeiten, um der Welt zu helfen, die von uns aufgestellten ehrgeizigen Ziele zu erfüllen.
Wir haben die erforderlichen Instrumente, um die Cholera zu besiegen. Nun, da es auch einen Plan dafür gibt, kann es keine Ausrede mehr geben, sie nicht einzusetzen.
Aus dem Englischen von Jan Doolan