Harmonogram k potlačení cholery
ŽENEVA – "Kde máte záchod?" Právě to je často první otázka, kterou kladu, když navštívím místo kdekoli na světě, kde propukla cholera. Ve většině případů odpověď zní: "Záchod nemáme. Chodíme, kam to jde."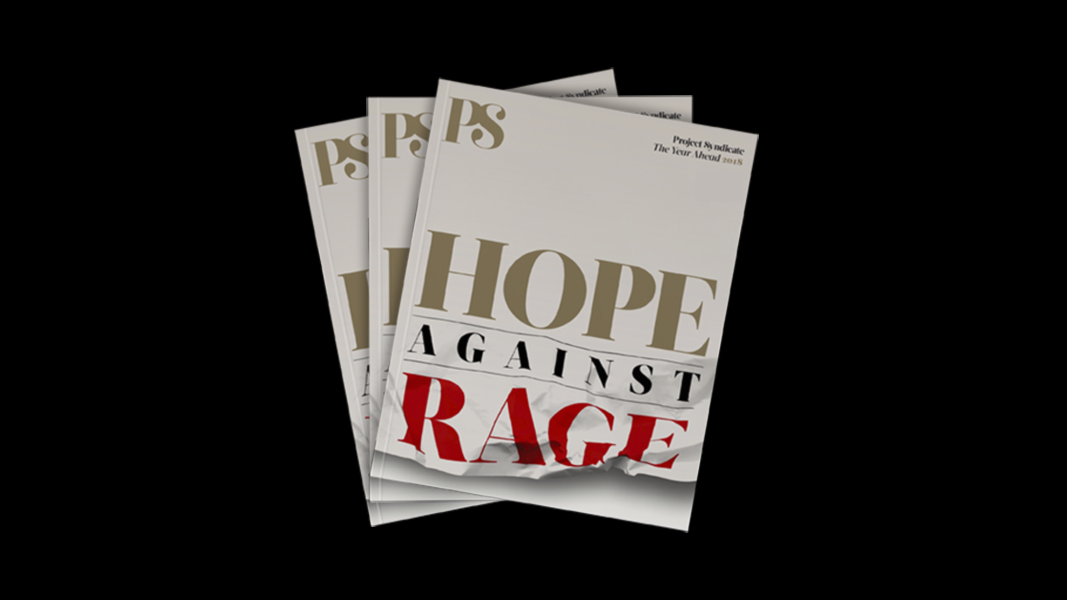 The Year Ahead 2018
The world's leading thinkers and policymakers examine what's come apart in the past year, and anticipate what will define the year ahead.
Cholera, tato starobylá choroba, se stala nemocí chudých. Nediskriminuje geograficky, ale její kořistí jsou většinou zranitelné komunity v oblastech s nedostatečnou hygienou.
Bakterie Vibrio cholerae, přenesená kontaminovanými povodňovými vodami do zdrojů pitné vody, přepravená nic netušícími cestovateli či přinesená domů na úrodě zavlažované nezpracovanými odpadními vodami, se po požití usadí v tenkém střevě a způsobí silný průjem a dehydrataci.
Ti, kdo měli to štěstí, že ještě nikdy nebyli očitými svědky účinků cholery, se mohou domnívat, že je to jen další střevní viróza. Bez rychlé lékařské pomoci ale cholera dokáže z dospělého či dítěte během několika hodin vysát život. Každoročně si cholera vyžádá život asi 95 000 lidí; mnozí z usmrcených jsou děti.
Letos se po celém světě objevily obrázky malátných obětí cholery, jak se skelným zrakem čekají na léčbu. Nemoc se nebývalým tempem šíří v Jemenu, kde od dubna zemřelo víc než 2000 lidí. Vzplanutí cholery zažívá Somálsko, Jižní Súdán, Haiti a další země v subsaharské Africe a v Asii.
Nejsmutnější na aktuální dani, již si cholera vybírá na lidských životech, je ale to, že těmto úmrtím bylo ve všech případech možné předejít. Svět už má znalosti a nástroje k účinnému potlačování cholery, ale nynější prostředky nejsou v souladu s nezbytnými globálními závazky.
Právě proto je tak důležitá nová celosvětová strategie vyvinutá Globální pracovní skupinou pro kontrolu cholery, pestrou sítí odborných partnerů. Ending Cholera – A Global Roadmap to 2030 (Jak skoncovat s cholerou – Globální harmonogram do roku 2030) klade důraz na příklon k iniciativním přístupům a dává si za cíl v příštích deseti letech snížit počet úmrtí na choleru o 90 %. Při úplné realizaci by plán v tomtéž období mohl také pomoci až 20 zemím eliminovat přenos choroby. Harmonogram založený na třech pilířích – včasném rozpoznávání, taktice integrované prevence a koordinaci mezi zeměmi a partnery – předkládá konkrétní cestu k vymýcení cholery jako hrozby pro veřejné zdraví.
Jakmile cholera začne určité společenství svírat, je čím dál těžší ji zvládat. Je proto důležité na nemoc nezapomínat, ani když právě nemá žádné oběti. Víceoborový přístup zahrnující investice do vodohospodářství, kanalizace a hygieny – takzvaných služeb WASH – dokáže choleru držet v šachu. Totéž dokáže iniciativní užívání ústních vakcín proti choleře a rychlý přístup k lékům, jako jsou perorální rehydratační roztoky a intravenózní tekutiny.
Zlepšování infrastruktury WASH je nejefektivnější cestou k prevenci, přestože zavedení těchto služeb si v zemích, které mají méně zdrojů, vyžádá čas. Z toho důvodu harmonogram rovněž podporuje preventivní a rozsáhlé nasazení perorálních vakcín v rizikových lokalitách výskytu cholery. Vakcíny zabírají okamžitě a dokážou choleře předcházet až na tři roky, takže umožňují překlenout dobu nutnou k realizaci dlouhodobějších řešení.
Ústní vakcíny proti choleře jsou k dispozici skrze celosvětové zásoby spravované Světovou zdravotnickou organizací, s podporou vakcinační aliance Gavi. Od vzniku programu v roce 2013 bylo distribuováno víc než 15 milionů dávek do 18 zemí. Příští rok se zásoby mají zvýšit na víc než 25 milionů dávek, což je oproti dvěma milionům z doby vzniku značný nárůst.
K potlačení cholery jako zdravotní hrozby do roku 2030, jak se globální partneři a WHO nedávno zavázali, bude nezbytná vytrvalá spolupráce a odhodlání cholerou postižených zemí, odborných partnerů a mezinárodních dárců. Cíl se může zdát drtivý, jelikož riziku nákazy jsou každoročně vystaveny miliony lidí po celém světě. Avšak vzhledem k tomu, že urbanizace, změna klimatu a další faktory pravděpodobně budou nebezpečí infekce zvyšovat, cíl je nutné splnit. Předložený harmonogram to umožňuje.
Realizace plánu se ukáže jako nákladově efektivní řešení pro země zatížené nutností reagovat na častý výskyt ohnisek cholery. To je jeden z důvodů, proč je naléhavě zapotřebí konat. Přijetí strategie je ale správnou věcí i pro mezinárodní společenství. Vlády mají morální povinnost zajistit, že nikdo nezemře z příčin, jimž lze předejít. WHO tento závazek sdílí a to je důvodem, proč budeme usilovně pracovat, abychom světu pomohli splnit ambiciózní cíle, které jsme si stanovili.
Nástroje k vítězství nad cholerou máme. Když teď máme i plán, není už omluvy pro to, aby zahálely.