Il n'y a pas de temps à perdre pour concrétiser les promesses de l'Accord de Paris sur le climat
DUBLIN – La pandémie du Covid-19 a mis le monde sens dessus dessous en 2020. Mais elle a également prouvé que lorsqu'il existe une volonté politique partagée d'agir, l'ingéniosité humaine et l'innovation peuvent être déployées à l'échelle et à la vitesse nécessaires pour relever les défis auxquels le monde est confronté.
Avec une rapidité sans précédent, nous avons mis au point et testé, et commencé à déployer une multitude de vaccins efficaces contre le Covid-19. Nous devons à présent faire preuve de la même détermination pour lutter contre l'autre grande menace existentielle pesant sur l'humanité : le changement climatique. Comme l'a déclaré le secrétaire général des Nations unies Antonio Guterres le mois dernier, « notre sécurité et notre prospérité futures dépendent de mesures audacieuses en matière de climat ». 
Pourtant, même lors du récent Sommet « Ambition Climat » du 12 décembre dernier, les engagements de nombreux chefs d'État ont été très en deçà des mesures nécessaires pour relever ce défi collectif. Certes, l'Union européenne, le Royaume-Uni et même certains des petits pays les plus vulnérables au changement climatique ont nettement relevé leurs objectifs de réduction des émissions de gaz à effet de serre (GES) d'ici 2030. Mais les États-Unis, le Japon, la Chine et autres grands émetteurs de GES doivent encore leur emboîter le pas, de préférence bien avant la Conférence de l'ONU sur les changements climatiques (COP26) qui se tiendra à Glasgow en novembre prochain. Compte tenu de l'ampleur de la crise à laquelle nous sommes confrontés, rien ne saurait plus excuser les atermoiements et les faux-fuyants.
Il y a cinq ans, après de longues et difficiles négociations, la communauté internationale s'est unie pour conclure l'Accord de Paris sur le climat, l'un des plus grands triomphes de la diplomatie multilatérale de ces dernières années. Il faut toutefois veiller à ne pas le tenir pour acquis : sans un engagement plus déterminé encore de lutter contre le changement climatique, l'héritage de Paris risque d'être totalement dilapidé.
Les événements survenus depuis lors ont à tel point transformé l'environnement géopolitique qu'il serait méconnaissable par les participants à l'Accord de Paris. Des mots tels que « coronavirus » ou « Brexit » n'auraient suscité qu'un haussement d'épaules dubitatif. Aujourd'hui, ils sont au centre de l'attention fébrile des responsables politiques et des chefs d'État et de gouvernement du monde entier.
Néanmoins, nous ne pouvons pas permettre que ces évolutions éclipsent la constante, et de plus en plus pressante, nécessité d'une action en faveur du climat, et en particulier en ce qui concerne le financement international de la lutte contre le changement climatique. Il y a plus d'une décennie, en 2009, les pays les plus riches s'étaient engagés à mobiliser conjointement 100 milliards de dollars par an entre cette date et 2020 pour soutenir les efforts des pays en développement en matière d'adaptation au changement climatique et d'atténuation de ses effets. Cette échéance est maintenant passée et ces pays doivent encore concrétiser leurs promesses.
Subscribe to Project Syndicate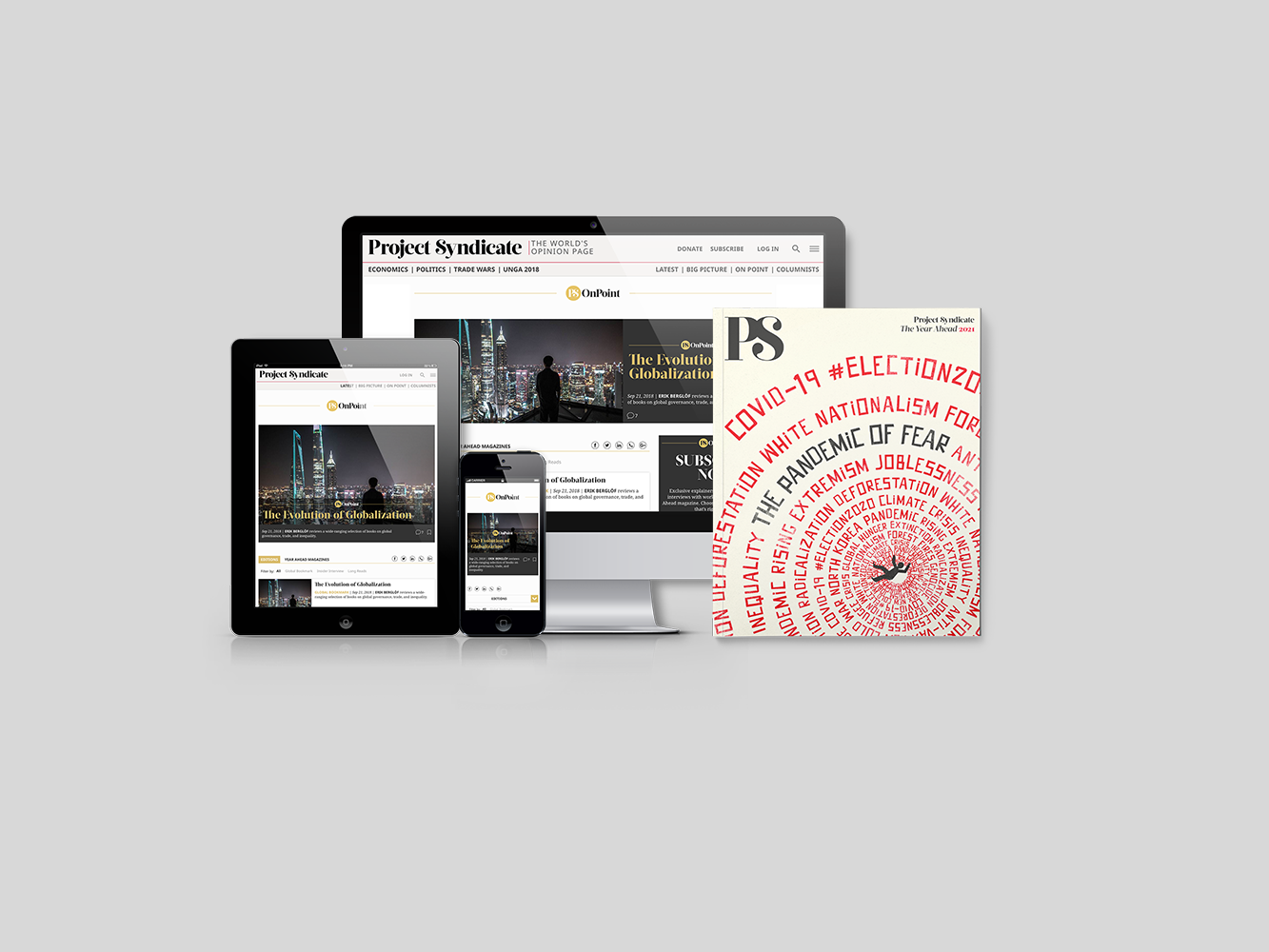 Subscribe to Project Syndicate
Enjoy unlimited access to the ideas and opinions of the world's leading thinkers, including weekly long reads, book reviews, and interviews; The Year Ahead annual print magazine; the complete PS archive; and more – All for less than $9 a month.
Il est pourtant permis d'espérer. Je suis ravie que le président élu américain Joe Biden ait réaffirmé son engagement à ce que les États-Unis réintègrent l'Accord de Paris « au premier jour » de son entrée en fonction. La participation des États-Unis se fait cruellement sentir après les quatre années perdues en sabotage inutile sous Donald Trump. Un versement par les États-Unis de 2 milliards de dollars au Fonds vert pour le climat, en tant que contribution de leur part à l'engagement de 100 milliards de dollars, serait un geste concret accompagnant leur retour dans l'Accord de Paris. Ce montant avait déjà été promis durant la présidence de Barack Obama et rien n'excuse donc qu'il reste dans les coffres du Trésor américain.
De la même manière, les autres pays riches ne doivent pas se servir du regain d'attention porté aux États-Unis comme alibi pour revenir sur leurs propres engagements. L'annonce faite récemment par la chancelière allemande Angela Merkel sur la mise en place l'an prochain par son gouvernement d'un nouveau processus international pour lever davantage de fonds pour le climat pour la période post-2020 est une déclaration d'intention bienvenue. Mais les expériences passées montrent qu'il n'est pas possible de compter sur les beaux discours.
En outre, tous les pays devront en 2021 apporter la preuve évidente qu'ils réévaluent et cherchent à relever les ambitions de leurs contributions nationales déterminées, l'instrument volontaire par lequel les signataires respecteront leurs engagements au titre de l'Accord de Paris.
La solidarité et la justice sont les valeurs au cœur de l'Accord de Paris sur le climat et des Objectifs de développement durable des Nations unies, également adoptés en 2015. Ces principes, et les responsabilités qu'ils impliquent, sont plus importants que jamais à l'heure où nous définissons la voie vers une reprise durable après le choc de la crise sanitaire.
La triste vérité est que nous avons perdu un temps précieux durant les cinq ans écoulés depuis l'Accord de Paris. Les politiques nécessaires pour réduire les émissions de GES – notamment la fin des subventions aux combustibles fossiles, un prix du carbone adéquat et les investissements dans les énergies renouvelables – ont été appliquées de manière intermittente, incohérente et non coordonnée. Mais la crise climatique, comme le Covid-19, ne connaît pas de frontières et est indifférente au concept de la souveraineté nationale.
Si l'attention s'est concentrée à juste titre sur le coronavirus, le monde a également été témoin de phénomènes météorologiques toujours plus extrêmes, des incendies de forêt en Australie et en Californie à la tempête cyclonique la plus coûteuse jamais enregistrée dans le golfe du Bengale et qui a obligé le Bangladesh à évacuer deux millions de personnes. Nous avons tous pris pleinement et intimement conscience de la fragilité de l'existence humaine et de la mesure dans laquelle, par-delà les frontières et les générations, nos destins sont liés.
À mi-chemin entre l'Accord de Paris et les objectifs fixés pour 2030, les chefs d'État, les entreprises et les citoyens doivent s'attendre à être jugés à l'aune des actions qu'ils engagent (ou non) aujourd'hui. Ni nos descendants, ni la planète ne peuvent tolérer que perdure une vision égoïste et à court terme.
Mary Robinson, ancienne présidente de la république d'Irlande et ancienne Haut-Commissaire des Nations unies aux droits de l'homme, est présidente des Anciens (Elders).