Geen tijd te verliezen voor de Parijse klimaatbelofte
DUBLIN – COVID-19 heeft de wereld in 2020 op zijn kop gezet. Maar het heeft ons ook laten zien dat wanneer er een politieke consensus is voor actie, het menselijk vernuft en innovatievermogen kunnen worden ingezet op een schaal en met een snelheid die nodig zijn om de wereldwijde uitdagingen aan te gaan.
Met ongekende snelheid hebben we meerdere effectieve vaccins voor COVID-19 ontwikkeld en getest, en zijn we begonnen met het inzetten ervan. Nu moeten we dezelfde vastberadenheid aan de dag leggen om de andere grote existentiële dreiging voor de mensheid het hoofd te bieden: de klimaatverandering. Zoals de secretaris-generaal van de Verenigde Naties, António Guterres, het vorige maand zei: ʻOnze toekomstige veiligheid en welvaart hangen af van gedurfde klimaatmaatregelen.'
En toch, zelfs op de meest recente Klimaatambitietop van 12 december, bleven de toezeggingen van veel leiders nog steeds ver achter bij wat nodig is om deze collectieve uitdaging aan te gaan. Zeker, de Europese Unie, het Verenigd Koninkrijk en zelfs een paar van de kleinere landen die het meest kwetsbaar zijn voor klimaatverandering, hebben hun doelstellingen voor de vermindering van de uitstoot in 2030 aanzienlijk aangescherpt. Maar de Verenigde Staten, Japan, China en andere grote uitstoters van broeikasgassen moeten dit voorbeeld nog steeds volgen, bij voorkeur ruim vóór de VN-klimaatconferentie (COP26) in Glasgow in november aanstaande. Gezien de crisis waar we mee te maken hebben, zijn er geen excuses meer voor vertraging of dubbelzinnigheid.
Vijf jaar geleden, na lange en moeizame onderhandelingen, kwam de wereld bijeen om het klimaatakkoord van Parijs te sluiten. Dat was een van de grootste successen van de multilaterale diplomatie van de afgelopen jaren, maar mag niet als vanzelfsprekend worden beschouwd. Zonder een nog grotere inzet voor actie dreigt de erfenis van Parijs volledig te worden verkwanseld.
De gebeurtenissen van de tussenliggende vijf jaar hebben een geopolitiek landschap geschapen dat onherkenbaar zou zijn voor degenen die zich in Parijs hadden verzameld. Destijds zouden woorden als ʻcoronavirus' of ʻBrexit' weinig meer hebben opgeleverd dan een verbaasde schouderbeweging; nu dwingen ze de koortsachtige aandacht af van beleidsmakers, staatshoofden en regeringsleiders over de hele wereld.
Maar we kunnen niet toestaan dat deze ontwikkelingen de voortdurende en steeds nijpender wordende behoefte aan klimaatmaatregelen, met name op het gebied van de klimaatfinanciering, verdoezelen. Ruim tien jaar geleden hebben de rijkste landen ter wereld beloofd om tegen 2020 honderd miljard dollar per jaar te mobiliseren om de armste landen te helpen bij hun inspanningen op het gebied van klimaataanpassing en -verzachting. Die termijn is nu verstreken en deze landen moeten hun belofte nog nakomen.
Subscribe to Project Syndicate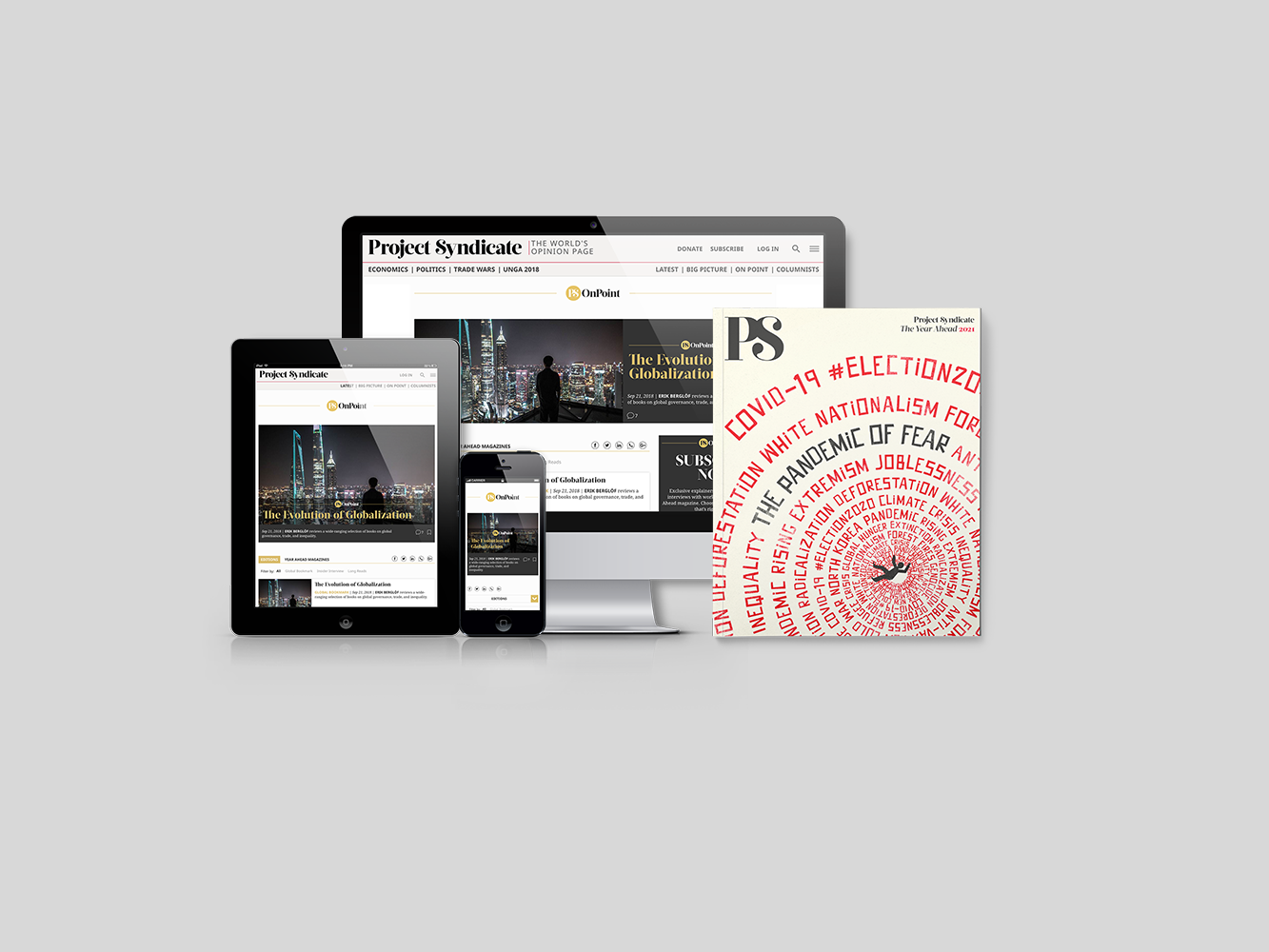 Subscribe to Project Syndicate
Enjoy unlimited access to the ideas and opinions of the world's leading thinkers, including weekly long reads, book reviews, and interviews; The Year Ahead annual print magazine; the complete PS archive; and more – All for less than $9 a month.
Toch is er hoop. Het verheugt mij dat de nieuwe Amerikaanse president Joe Biden heeft bevestigd dat hij zijn land onmiddellijk na zijn aantreden weer bij het akkoord van Parijs zal laten aansluiten. Amerikaans leiderschap is hard nodig na de vier verspilde jaren van onnodige vernietiging onder Donald Trump. Een betaling van twee miljard dollar aan het Groene Klimaatfonds door de VS, om hun deel van de belofte van honderd miljard dollar na te komen, zou een concrete aanvulling zijn op het opnieuw toetreden tot het akkoord van Parijs. Dit geld was al toegezegd tijdens het presidentschap van Barack Obama, dus er is geen excuus om het in de schatkist van de VS te houden.
Ook andere rijke landen mogen de hernieuwde aandacht voor de VS niet gebruiken als een alibi om hun eigen verplichtingen te ontduiken. De recente aankondiging van de Duitse bondskanselier Angela Merkel dat zij volgend jaar een nieuw internationaal proces voor klimaatfinanciering op gang zal brengen, is een welkome intentieverklaring. Maar de ervaring leert dat we niet kunnen rekenen op hoogdravende retoriek.
Bovendien moeten alle landen in 2021 duidelijk aantonen dat zij de ambities van hun nationaal vastgestelde bijdragen, het vrijwillige instrument waarmee de ondertekenaars hun verplichtingen in het kader van het akkoord van Parijs willen nakomen, zullen herzien en proberen aan te scherpen.
Solidariteit en rechtvaardigheid staan centraal in zowel het akkoord van Parijs als in de Duurzame Ontwikkelingsdoelstellingen van de VN, die eveneens in 2015 zijn aangenomen. Deze beginselen en de verantwoordelijkheden die zij met zich meebrengen, zijn belangrijker dan ooit nu we een duurzaam herstel van de schok van COVID-19 in kaart brengen.
De botte waarheid is dat we in de vijf jaar sinds Parijs te veel tijd hebben verspild. Het beleid dat we nodig hebben om de uitstoot te verminderen – met inbegrip van het stopzetten van de subsidies voor fossiele brandstoffen, het introduceren van een zinvolle koolstofprijs en het plegen van investeringen in duurzame energie – is grillig, inconsequent en ongecoördineerd geweest. Maar de klimaatcrisis neemt, net als COVID-19, geen grenzen in acht en is onverschillig voor de nationale soevereiniteit.
Hoewel de aandacht terecht op het virus gericht werd, is de wereld ook getuige geweest van steeds extremere weersverschijnselen, van bosbranden in Australië en Californië tot de zwaarste storm ooit in de Golf van Bengalen, die twee miljoen mensen heeft gedwongen hun huizen te verlaten. We zijn ons allemaal scherp en grondig bewust geworden van de kwetsbaarheid van het menselijk bestaan en van de mate waarin ons lot, over de grenzen heen en over de generaties heen, met elkaar verbonden is.
Nu we ons van Parijs naar 2030 bewegen, mogen zowel de wereldleiders, het bedrijfsleven als de burgers verwachten dat ze worden beoordeeld op de acties die ze vandaag de dag ondernemen (of niet). Noch onze nakomelingen, noch de planeet kunnen nog meer egoïstisch kortetermijndenken verdragen.
Vertaling: Menno Grootveld