Americká antiintelektuální hrozba
NEW YORK – Spojené státy jsou v posledních letech spíše zdrojem globální nestability než zdrojem řešení globálních problémů. Jako příklady uveďme válku v Iráku, kterou USA rozpoutaly na základě falešných předpokladů, obstrukce úsilí o omezení klimatických změn, skrovnou rozvojovou pomoc nebo porušování mezinárodních smluv, jako jsou ženevské konvence. Na destabilizujících krocích Ameriky se podílela řada faktorů, avšak k těm nejsilnějším patří antiintelektualismus, jehož nedávným příkladem je rostoucí popularita republikánské viceprezidentské kandidátky Sarah Palinové.
Antiintelektualismem mám na mysli zejména agresivně protivědecké vidění světa podpořené opovržením k těm, kdo lpějí na vědě a důkazech. Problémy, jimž čelí velká mocnost typu USA, přitom vyžadují striktní analýzu informací na základě nejlepších vědeckých principů.
Například klimatické změny představují strašlivé ohrožení planety, které je nutno hodnotit v souladu s převažujícími vědeckými normami a rozvíjejícími se poznatky věd o klimatu. Globální vědecký proces s názvem Mezivládní panel pro změny klimatu (IPCC), který obdržel Nobelovu cenu, stanovil zlatý standard vědeckého přístupu k analýze hrozeb spojených s klimatickými změnami vyvolanými člověkem. Potřebujeme vědecky gramotné politiky zběhlé v kritickém myšlení podepřeném důkazy, aby tato zjištění a doporučení přetavili v politické strategie a mezinárodní dohody.
V USA jsou však postoje prezidenta Bushe, čelních republikánů a nyní i Sarah Palinové pravým opakem vědeckosti. Bílý dům dělal osm let všechno možné, aby zatajil drtivý vědecký konsensus, podle něhož ke klimatickým změnám přispívají lidé. Snažil se bránit vládním vědcům v poctivém oslovení veřejnosti. Rovněž list Wall Street Journal podkopával politiku boje proti klimatickým změnám šířením antivědy a pseudovědy.
Tyto antivědecké přístupy neměly dopad pouze na politiku klimatickou, ale i zahraniční. Do války v Iráku vstoupily USA na základě Bushovy intuice a náboženského přesvědčení, nikoliv na základě rigorózních důkazů. Podobně i Palinová označila válku v Iráku za "úkol od Boha".
Toto nejsou izolovaní, byť mocní jednotlivci, kteří ztratili kontakt s realitou. Jsou odrazem faktu, že značná část americké společnosti, která v současné době hlasuje převážně pro republikány, odmítá nebo jednoduše netuší o základních vědeckých důkazech týkajících se otázek klimatických změn, biologické evoluce, lidského zdraví a dalších oblastí. Tito voliči obecně neodmítají technologické pokroky, které jsou výsledkem moderní vědy, ale odmítají důkazy a rady vědců týkající se veřejné politiky.
Subscribe to PS Digital Now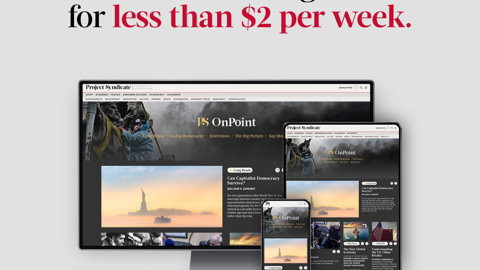 Subscribe to PS Digital Now
Access every new PS commentary, our entire On Point suite of subscriber-exclusive content – including Longer Reads, Insider Interviews, Big Picture/Big Question, and Say More – and the full PS archive.
Nedávný průzkum Pewovy nadace odhalil, že zatímco 58% voličů demokratů věří, že globální oteplování způsobují lidé, u republikánských voličů je to pouhých 28%. Průzkum z roku 2005 zase zjistil, že 59% lidí, kteří se označují za konzervativní republikány, odmítá jakoukoliv evoluční teorii, zatímco v případě liberálních demokratů akceptuje nějakou verzi této teorie 67% respondentů.
Jistě, někteří z těchto popíračů jsou pouze vědecky nevědomí, neboť doplatili na špatnou kvalitu vědeckého vzdělávání v Americe. Jiní jsou však biblickými fundamentalisty, kteří moderní vědu zavrhují proto, že berou slova z bible doslovně. Odmítají geologické důkazy o klimatických změnách, poněvadž odmítají geologii jako vědeckou disciplínu.
Spor se zde nevede mezi náboženstvím a vědou. Všechna velká náboženství mají tradici plodné vzájemné výměny – ba dokonce i podpory – vědeckého bádání. Zlatý věk islámu před tisíci lety byl zároveň dobou, kdy islámská věda vévodila světu. Papež Jan Pavel II. vyjádřil podporu základní evoluční vědě a římskokatoličtí biskupové na základě vědeckých důkazů silně upřednostňují omezování klimatických změn vyvolaných člověkem.
Několik předních vědců včetně jednoho z nejslavnějších biologů světa E. O. Wilsona se obrátilo na náboženské komunity s prosbou o podporu v boji proti klimatickým změnám a v boji za ochranu biologických druhů a tyto náboženské komunity vstřícně reagovaly v harmonii s vědou.
Problémem je agresivní fundamentalismus, který popírá moderní vědu, a agresivní antiintelektualismus, jenž se na experty a vědce dívá jako na nepřátele. Právě tyto názory by nás nakonec mohly všechny zabít. Zmíněný druh extremismu může totiž vést i k válce založené na zvráceném názoru, že určitá konkrétní válka je spíše Boží vůlí než selháním politiky a spolupráce.
Palinová budí v mnoha prohlášeních dojem, že se ve svých názorech na válku vroucně obrací k Bohu, což je v případě jejího zvolení zlověstný příznak. Bezpochyby by rozohnila řadu nepřátel, kteří se mohou uchýlit k vlastní formě fundamentalismu, aby vrátili USA úder. Extremisté na obou stranách by tak nakonec ohrozili drtivou většinu lidí, kteří nejsou ani extremisty, ani protivědecky zaměřenými fundamentalisty.
Lze jen těžko s určitostí říci, co v tolika koutech světa vyvolává fundamentalismus. To, co se děje například v USA, se neděje v Evropě, ale samozřejmě je to příznačné pro některé části Blízkého východu a střední Asie. Zdá se, že fundamentalismus se vynořuje v dobách dalekosáhlých změn, kdy je ohroženo tradiční sociální uspořádání. Vzestup moderního amerického fundamentalismu v politice se datuje do 60. let, tedy do období boje za občanská práva, a přinejmenším zčásti odráží odpor bělochů vůči rostoucí politické a hospodářské síle nebělošských a přistěhovaleckých menšinových skupin v americké společnosti.
Jedinou nadějí lidstva je, že zlovolný kruh extremismu bude nahrazen společným globálním pochopením obrovských problémů spojených s klimatickými změnami, dodávkami potravin, trvale udržitelnou energií, nedostatkem vody a chudobou. Globální vědecké procesy typu IPCC jsou klíčově důležité, protože představují naši největší naději, že dospějeme ke konsensu založenému na vědeckých důkazech.
USA se musí vrátit ke globálnímu konsensu založenému spíše na sdílené vědě než na antiintelektualismu. Tak zní naléhavá výzva v srdci dnešní americké společnosti.