Die Not der Journalisten
AMSTERDAM – Im Schnitt alle fünf Tage wird irgendwo auf der Welt ein Journalist ermordet, nur weil er Journalist ist. In 90% der Fälle wird niemand deswegen angeklagt, was eine Atmosphäre der Straflosigkeit schafft, die über Morddrohungen oder Gewalt hinausreicht. Die Verhaftungszahlen von Journalisten sind hoch wie nie, und Mitglieder der Presse werden bei der Arbeit regelmäßig belästigt und eingeschüchtert. Der Beruf des Journalisten ist heute einer der gefährlichen weltweit.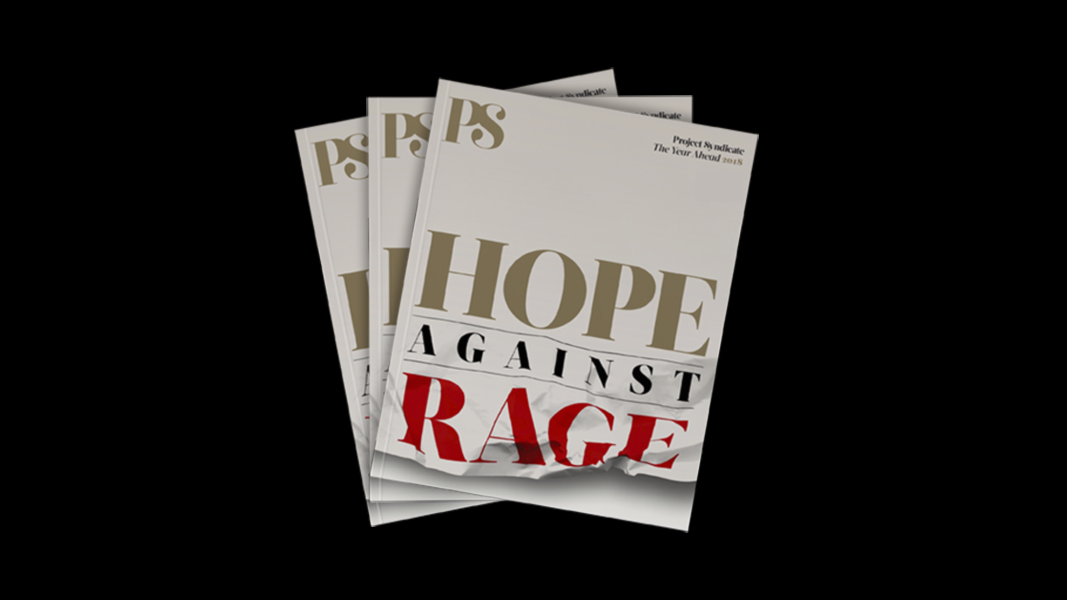 The Year Ahead 2018
The world's leading thinkers and policymakers examine what's come apart in the past year, and anticipate what will define the year ahead.
Ein Weg, um etwas gegen diesen Zustand zu tun, ist, darüber zu reden. Drei aktuelle Beispiele illustrieren die Risiken, die Journalisten bei ihren Reportagen eingehen, und unterstreichen, warum der einzige Weg, einen Wandel herbeizuführen, darin besteht, über die Not der Journalisten zu berichten.
Man betrachte etwa Maria Ressa, CEO von Rappler.com, einem Online-Nachrichtennetzwerk mit Sitz auf den Philippinen. Seit der Gründung von Rappler im Jahre 2012 hat sich Ressas Website zu einer unschätzbaren Informationsquelle über die mit Präsident Rodrigo Dutertes "Drogenkrieg" verknüpften ungesetzlichen Tötungen entwickelt. Aufgrund ihrer rührigen Berichterstattung hat Ressa allein im letzten Monat mehr als 80 Morddrohungen erhalten. Viele dieser Warnungen kamen von anonymen Bloggern, deren IP-Adressen sich zu Gefolgsleuten des Präsidenten zurückverfolgen ließen.
Dann ist da der Fall von William Ntege, einem Journalisten, der über die aktuellen Proteste gegen die Entscheidung des ugandischen Präsidenten Yoweri Museveni berichtete, trotz entsprechender Verbote in der Verfassung wieder bei den nächsten Präsidentschaftswahlen anzutreten. Ntege wurde wegen seiner Berichterstattung von Polizisten brutal zusammengeschlagen und war mehr als zehn Tage in Haft.
Und schließlich ist da die Erosion der Pressefreiheit in Myanmar. Eine neu in das Mediengesetz des Landes eingefügte Klausel erlaubt es Bürgern, bei einer Beschwerde über einen Artikel oder eine Meldung Klage einzureichen, selbst wenn sie darin gar nicht direkt erwähnt werden. Diese Klausel – die im klaren Widerspruch zu internationalen Normen steht – hat dazu geführt, dass seit der Machtübernahme durch Aung San Suu Kyis National League for Democracy im Februar 2016 einundsechzig Gerichtsverfahren gegen Journalisten eingeleitet wurden.
Verstöße gegen die Pressefreiheit wie diese haben sich zur gängigen Taktik autokratischer Regimes entwickelt – von der Türkei bis nach Russland und darüber hinaus. Doch es sind nicht nur Despoten und Diktatoren, die der Presse den Krieg erklärt haben. In Kolumbien und Mexiko haben hunderte von Journalisten bewaffneten Schutz erhalten, um sie vor Gangstersyndikaten zu schützen. Dies jedoch hat nicht verhindert, dass Journalisten in ganz Lateinamerika in Scharen den Beruf aufgeben. Eine beliebte Strategie mexikanischer Drogenbanden, die nicht in die Schlagzeilen geraten möchten, besteht darin, die Kinder investigativer Journalisten zu bedrohen. Kein Wunder, dass sich die Reihen der Medien lichten.
Ein Grund, warum die meisten Nachrichtenkonsumenten hiervon nichts wissen, ist, dass Organisationen wie die meine lange dafür gearbeitet haben, dass Journalisten nie selbst die Story werden. Sich für die Pressefreiheit engagierende Gruppen haben sich im Allgemeinen bei ihrer Arbeit von der Annahme leiten lassen, dass der beste Weg, einen faktengestützten, investigativen Journalismus zu schützen, darin besteht, den Berichtenden vor Gewalt abzuschirmen. Und wie die meisten Journalisten haben wir uns entschieden, unsere Arbeit im Stillen zu verrichten, statt Leser und Zuschauer damit zu belasten, wie gefährlich der Beruf inzwischen geworden ist. Doch es ist Zeit, unseren Ansatz zu ändern und die Gefahren bewusst deutlich zu machen.
So wurde etwa Ntege erst nach umfangreichen Bemühungen durch eine von Reporters Respond, dem Notfallfonds von Free Press Unlimited zum Schutz von Journalisten, beauftragte Gruppe von Anwälten wieder freigelassen. Seit der Auflegung des Fonds im Jahre 2011 hat er dutzenden von Journalisten überall auf der Welt geholfen, darunter zuletzt einer Gruppe von Reportern, die vor der Mobgewalt in Burundi flohen. Und eine enorme Anzahl von Organisationen unterstützt Journalisten in Not im Mittleren Osten, in Osteuropa und anderswo. Diese hinter den Nachrichten zurücktretenden Geschichten müssen bekanntgemacht werden.
Und natürlich ist das erst der Anfang. Die Verfechter der Pressefreiheit müssen Journalisten zugleich einen stärkeren und besser koordinierten Rahmen zu ihrem Schutz bieten. Zu diesem Zweck ist meine Organisation in einen Dialog mit anderen globalen Organisationen eingetreten, um den Aktionsplan der Vereinten Nationen zur Sicherheit von Journalisten und zur Frage der Straflosigkeit zu stärken. Wir haben außerdem begonnen, regelmäßige Treffen mit anderen für die Freiheit der Medien eintretenden Gruppen abzuhalten, um einen Weg voran abzustecken. Und wir arbeiten darauf hin, sicherzustellen, dass Mechanismen zum Schutz der Medien durch Gesetze und Strafverfolgungsmaßnahmen gestützt werden. Um die die Straflosigkeit zu beenden, sind Journalisten auf mutige Staatsanwälte und Richter angewiesen, die die Angreifer zur Rechenschaft ziehen.
Doch die wichtigsten Veränderungen müssen von der Medienbranche selbst ausgehen. Weil die Frage der Sicherheit von Journalisten die Beschäftigten, freien Mitarbeiter und das Publikum der Nachrichtenorganisationen unmittelbar betrifft, sollten diese Organisationen über das Thema berichten. Angesichts zunehmender Angriffe auf die Presse ergibt der bisherige Ansatz – stolzes Schweigen – keinen Sinn mehr. Wenn Journalisten die ihnen zur Verfügung stehenden Plattformen nutzen, um die Welt über die Gefahren zu informieren, denen sie und ihre Kollegen ausgesetzt sind, wird die Welt zuhören müssen.
Gewalt gegen Journalisten ist traditionell ein Thema, das hinter den Schlagzeilen zurücktritt. Am 2. November, anlässlich des Internationalen Tages zur Beendigung der Straflosigkeit für Verbrechen gegen Journalisten, sollten wir uns jetzt dazu bekennen, diese Meldungen auf die erste Seite zu bringen.
Aus dem Englischen von Jan Doolan