Divulgar o Drama dos Jornalistas
AMSTERDÃO – Todos os cinco dias, em média, um jornalista é assassinado algures no mundo por ser jornalista. Nove em cada dez vezes, ninguém é punido, o que cria uma atmosfera de impunidade que se estende para além de ameaças de morte ou da violência. O encarceramento de jornalistas atinge hoje um valor recorde, e os membros da imprensa são rotineiramente vítimas de assédio e intimidação enquanto estão em missão. Actualmente, o jornalismo é uma das profissões mais perigosas em todo o mundo.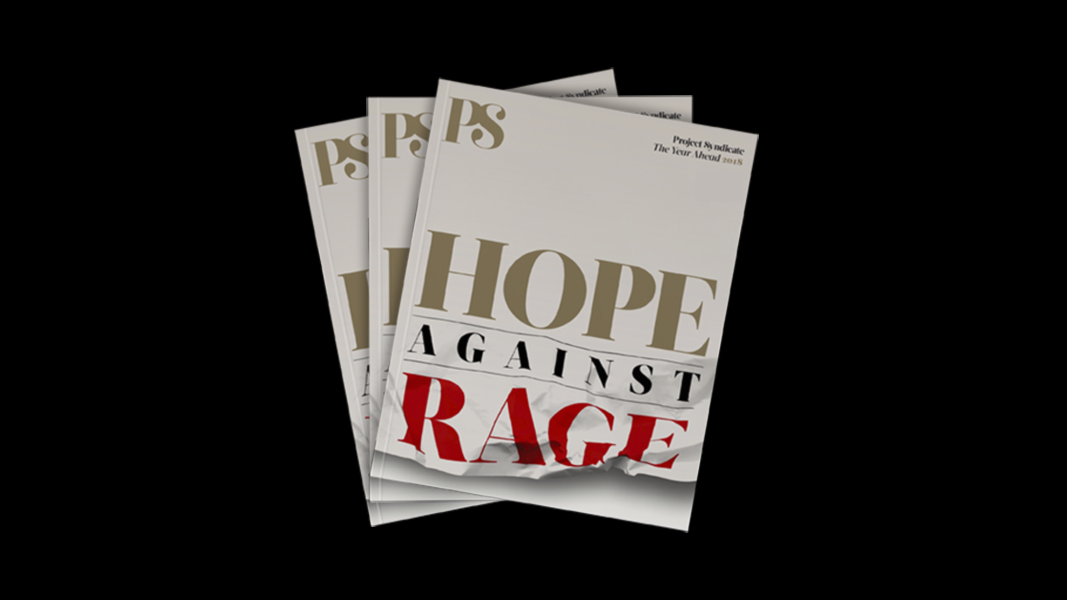 The Year Ahead 2018
The world's leading thinkers and policymakers examine what's come apart in the past year, and anticipate what will define the year ahead.
Uma maneira de abordar este estado de coisas consiste em falar sobre ele. Três exemplos recentes salientam os riscos suportados pelos jornalistas para relatarem as notícias, e sublinha o motivo pelo qual a divulgação do seu drama é o único modo de promover a mudança.
Veja-se Maria Ressa, Directora-Geral da Rappler.com, uma rede noticiosa on-line sediada nas Filipinas. Desde que fundou a Rappler em 2012, o website de Ressa tornou-se uma fonte inestimável de informações sobre os assassínios extrajudiciais relacionados com a "guerra às drogas" do presidente Rodrigo Duterte. Por causa das suas comunicações, Ressa recebeu, só no mês passado, mais de 80 ameaças de morte. Muitos destes avisos vieram de bloggers anónimos, com endereços IP identificados como sendo de colaboradores do presidente.
Depois, há o caso de William Ntege, um jornalista que cobria os protestos recentes contra a decisão do presidente ugandês, Yoweri Museveni, de concorrer nas próximas eleições presidenciais, apesar das proibições constitucionais que o impedem. Nietge foi brutalmente agredido pela polícia devido ao seu trabalho, e ficou detido durante mais de dez dias.
Finalmente, temos a erosão das liberdades de imprensa em Myanmar. Uma nova cláusula inscrita na lei da imprensa do país permite que os cidadãos iniciem um processo legal se tiverem uma queixa sobre um artigo ou uma peça noticiosa, mesmo que o conteúdo não os mencione directamente. Esta provisão jurídica (em nítido contraste com as normas internacionais) levou a que fossem iniciados 61 processos contra jornalistas desde Fevereiro de 2016, altura em que chegou ao poder a Liga Nacional para a Democracia de Aung San Suu Kyi.
Violações da liberdade de imprensa como estas tornaram-se tácticas comuns para os regimes autocráticos, da Turquia à Rússia e mais além. Mas não são apenas os déspotas e os poderosos que declararam guerra à imprensa. Na Colômbia e no México, centenas de jornalistas foram colocados sob vigilância armada para protegê-los das associações de criminosos. Porém, isto não impediu que jornalistas em toda a América Latina abandonassem a profissão em massa. Uma estratégia favorita dos gangues da droga mexicanos que tentam ficar fora dos cabeçalhos consiste em ameaçar os filhos dos jornalistas de investigação. Não admira que as fileiras da comunicação social estejam a diminuir.
Parte do motivo pelo qual os consumidores de notícias não conhecem estas histórias deve-se a organizações como a minha terem sempre trabalhado para assegurar que os jornalistas nunca se transformam na história. Os grupos pró-liberdade de imprensa funcionaram sempre no pressuposto de que a melhor forma de proteger o jornalismo factual e de investigação consiste em proteger o narrador da violência. E, tal como a maior parte dos jornalistas, optámos por exercer a nossa actividade de maneira serena, em vez de sobrecarregarmos os nossos leitores e espectadores com os perigos que a nossa profissão passou a enfrentar. Mas chegou a altura de mudarmos a nossa abordagem, e de fazermos questão de sublinhar os perigos.
Por exemplo, Ntege só foi libertado depois dos esforços consideráveis de uma equipa de advogados contratada pelo Reporters Respond, o fundo de emergência da Free Press Unlimited para a segurança dos jornalistas. Deste que o fundo foi criado em 2011, já ajudou dúzias de jornalistas em todo o mundo, incluindo, mais recentemente, um grupo de repórteres que fugia da violência no Burundi. E muitas outras organizações ajudam jornalistas em perigo no Médio Oriente, na Europa Oriental, e noutras paragens. Estas histórias por trás das notícias devem ser contadas.
Evidentemente, contar estas histórias é apenas o início. Os defensores da liberdade de imprensa também devem proporcionar aos jornalistas um modelo mais robusto e mais coordenado para a sua protecção e segurança. Para esse efeito, a minha organização está a trabalhar com outras entidades globais para fortalecer o Plano de Acção das Nações Unidas para a Segurança dos Jornalistas e a Questão da Impunidade. Também iniciámos a realização de reuniões regulares com outros grupos dedicados à liberdade de imprensa, para estabelecermos um caminho a seguir. E começámos a trabalhar no sentido de garantir que as protecções aos meios de comunicação são sustentadas na legislação e na sua aplicação. Para que a impunidade termine, os jornalistas necessitarão de procuradores e juízes corajosos que responsabilizem os atacantes.
Mas as mudanças mais importantes devem surgir na própria indústria da comunicação. Como a segurança dos jornalistas afecta directamente os funcionários das organizações noticiosas, os free-lancers, e as audiências, essas organizações deverão falar sobre este assunto. Com o aumento dos ataques à imprensa, a anterior abordagem de silêncio orgulhoso deixa de fazer sentido. Se os jornalistas usarem as suas plataformas para informar o mundo dos perigos enfrentados por eles e pelos seus colegas, o mundo terá de ouvir.
Historicamente, a violência contra jornalistas tem permanecido oculta pelos cabeçalhos. No dia 2 de Novembro, quando o mundo celebrar o Dia internacional para acabar com a impunidade pelos crimes contra jornalistas, comprometamo-nos a fazer dessas histórias notícias de primeira página.