We kunnen niet stil blijven over geweld tegen journalisten
AMSTERDAM – Gemiddeld wordt er iedere vijf dagen ergens ter wereld een journalist vermoord vanwege zijn of haar werk. Negen van de tien keer wordt er niemand vervolgd, wat leidt tot een klimaat van straffeloosheid dat verder gaat dan louter doodsbedreigingen of geweld. Er zitten meer journalisten in de gevangenis dan ooit tevoren, en leden van de pers worden routinematig mishandeld en geïntimideerd als ze aan het werk zijn. Vandaag de dag is de journalistiek overal ter wereld een van de gevaarlijkste beroepen.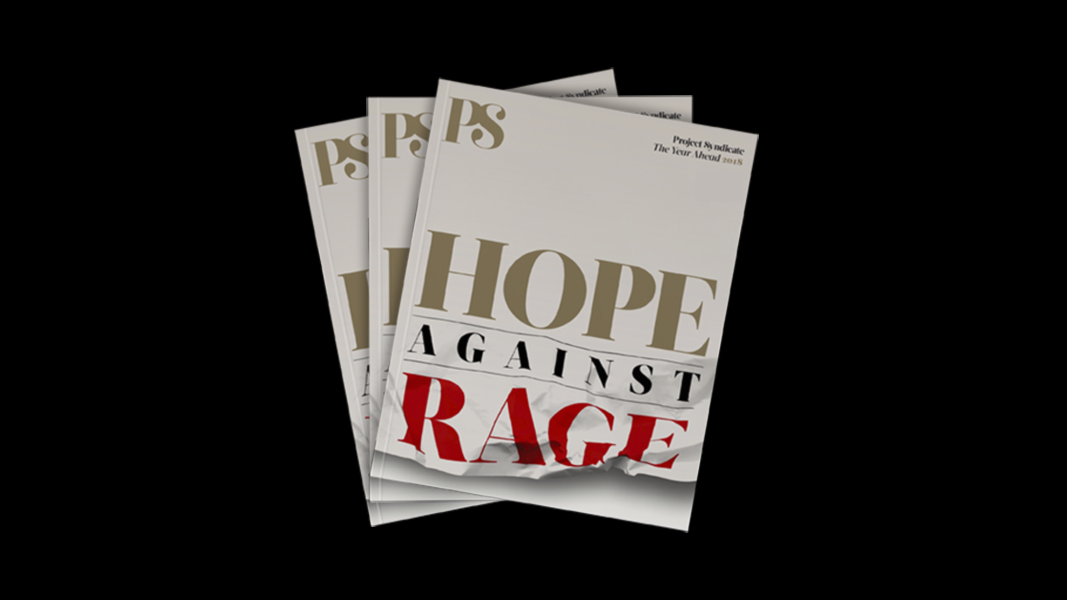 The Year Ahead 2018
The world's leading thinkers and policymakers examine what's come apart in the past year, and anticipate what will define the year ahead.
Eén manier om iets aan deze situatie te doen is erover praten. Drie recente voorbeelden onderstrepen de risico's die journalisten nemen om over het nieuws te berichten, en benadrukken waarom het publiceren van hun problemen de enige manier is om veranderingen te bewerkstelligen.
Neem Maria Ressa, CEO van Rappler.com, een online nieuwsnetwerk, gevestigd op de Filippijnen. Sinds de oprichting van Rappler in 2012 is Ressa's website een onschatbare bron van informatie geworden over de buitengerechtelijke moordpartijen, verbonden aan de "war on drugs" van president Rodrigo Duterte. Wegens haar gedurfde reportages heeft Ressa alleen de afgelopen maand al ruim tachtig doodsbedreigingen ontvangen. Veel van die waarschuwingen kwamen van anonieme bloggers, met IP-adressen die herleidbaar waren naar medewerkers van de president.
Dan is er het geval van William Ntege, een journalist die heeft bericht over de recente betogingen tegen het besluit van de Oegandese president Yoweri Museveni om aan de volgende presidentsverkiezingen deel te nemen, ondanks een grondwettelijk verbod om dat te doen. Ntege werd door de politie zwaar mishandeld wegens zijn berichtgeving, en ruim tien dagen vastgehouden.
Tenslotte is daar ook de afbrokkeling van de persvrijheid in Myanmar. Een nieuwe clausule in de mediawet van dat land geeft burgers de mogelijkheid een rechtszaak te beginnen als zij een klacht hebben over een artikel of een nieuwsonderwerp, ook al worden zij daarin zelf niet rechtstreeks genoemd. Deze wettelijke bepaling – die in scherpe tegenspraak is met de internationale normen – heeft ertoe geleid dat er sinds februari 2016, toen de Nationale Liga voor Democratie van Aung San Suu Kyi aan de macht kwam, 61 zaken aanhangig zijn gemaakt tegen journalisten.
Inbreuken op de persvrijheid zoals deze zijn doorsneetactieken geworden voor autocratische regimes, van Turkije tot Rusland en daarbuiten. Maar het zijn niet louter despoten en sterke mannen die de pers de oorlog hebben verklaard. In Colombia en Mexico zijn honderden journalisten onder gewapende bewaking geplaatst om ze te beschermen tegen criminele syndicaten. Toch heeft dit journalisten in heel Latijns-Amerika er niet van weerhouden de beroepsgroep in groten getale de rug toe te keren. Een favoriete strategie van Mexicaanse drugsbendes die proberen uit de krantenkoppen te blijven, is het bedreigen van de kinderen van onderzoeksjournalisten. Geen wonder dat de gelederen van de media slinken.
Een deel van de reden dat de meeste nieuwsconsumenten deze verhalen niet kennen, is dat organisaties als de mijne er lang aan hebben gewerkt om er zorg voor te dragen dat journalisten nooit zelf het verhaal worden. Groeperingen die de persvrijheid hoog in het vaandel dragen, opereren doorgaans vanuit de veronderstelling dat de beste manier om op feiten gebaseerde onderzoeksjournalistiek te beschermen het behoeden van de verhalenverteller tegen geweld is. En net als de meeste journalisten hebben we ervoor gekozen ons werk in stilte te verrichten, in plaats van onze lezers en kijkers te belasten met informatie over hoe gevaarlijk ons beroep is geworden. Maar het is tijd die aanpak te veranderen en een punt te maken van het onderstrepen van de gevaren.
Ntege werd bijvoorbeeld pas vrijgelaten na aanzienlijke inspanningen van een team advocaten van Reporters Respond, het noodfonds van Free Press Unlimited voor de veiligheid van journalisten. Sinds de oprichting van dat fonds in 2011 heeft het tientallen journalisten over de hele wereld geholpen, inclusief – het meest recentelijk – een groep verslaggevers die op de vlucht waren voor volksgeweld in Burundi. En een groot aantal organisaties helpt journalisten in nood in het Midden-Oosten, Oost-Europa en elders. Deze verhalen achter het nieuws moeten worden verteld.
Uiteraard is het vertellen van deze verhalen pas het begin. Pleitbezorgers van de persvrijheid moeten journalisten ook een sterker, beter gecoördineerd raamwerk bieden voor hun bescherming en veiligheid. Om dat doel te bereiken werkt Free Press Unlimited samen met andere mondiale instellingen om het UN Plan of Action on the Safety of Journalists and the Issue of Impunity (VN-Plan van Actie inzake de Veiligheid van Journalisten en het Probleem van de Straffeloosheid) te versterken. We houden ook regelmatig vergaderingen met andere groeperingen op het gebied van de mediavrijheid, om een weg voorwaarts te banen. En we zijn begonnen ervoor te zorgen dat de bescherming van de media wordt ondersteund door wetgeving en de afdwinging daarvan. Journalisten zullen moedige openbare aanklagers en rechters nodig hebben om aanvallers ter verantwoording te roepen, als we de straffeloosheid willen beëindigen.
Maar de belangrijkste veranderingen moeten uit de mediasector zelf komen. Omdat de veiligheid van journalisten rechtstreeks betrekking heeft op werknemers, freelancers en het publiek van nieuwsorganisaties, moeten die organisaties berichten over dit onderwerp. Nu de aanvallen op de pers toenemen, is de oude aanpak – een trotse stilte – niet langer houdbaar. Als journalisten hun platforms gebruiken om de wereld te informeren over de gevaren waarmee zij en hun collega's worden geconfronteerd, zal de wereld wel moeten luisteren.
Geweld tegen journalisten is altijd een probleem geweest dat de krantenkoppen niet heeft gehaald. Op 2 november, als de wereld de International Day to End Impunity for Crimes Against Journalists (Internationale Dag ter Beëindiging van de Straffeloosheid van Misdaden tegen Journalisten) viert, moeten we ons erop toeleggen van deze verhalen voorpaginanieuws te maken.
Vertaling: Menno Grootveld