Más allá del acuerdo climático de París
COPENHAGUE – Ahora que la India y la Unión Europea lo han ratificado, el acuerdo climático de París está listo para entrar en vigor. Pero la parte difícil todavía no sucedió: transformar los compromisos políticos vagos del acuerdo en una acción concreta para mitigar el calentamiento global.
El acuerdo de París, concluido en diciembre pasado, fue un logro importante y una manifestación sin precedentes de unidad política en el esfuerzo de enfrentar una de las amenazas más peligrosas y complicadas para nuestro bienestar y prosperidad futuros. Al incluir a toda la comunidad internacional en su marco parcialmente vinculante, el acuerdo establece un nuevo paradigma en la gobernancia global.
Sin embargo, en términos prácticos, no se puede decir que el acuerdo sea una garantía de éxito. No ofrece ninguna herramienta para asegurar la implementación de las políticas y medidas necesarias para mantener el calentamiento global "muy por debajo" de dos grados Celsius por encima de los niveles preindustriales, el umbral que conforma la pieza central del acuerdo.
El acuerdo apenas ofrece un marco para informar y revisar la implementación de agendas nacionales diversas, así como estipulaciones destinadas a impulsar a los países a lograr mayores recortes. En lugar de establecer un mecanismo de ejecución para mantener a los países encaminados rumbo a sus objetivos, el acuerdo se basa en un "dialogo propicio" sobre el progreso colectivo para no perder impulso. Pero inclusive esta cláusula no será puesta a prueba hasta 2018.
Dada la dificultad de este tipo de cooperación intergubernamental en gran escala, no sería sensato esperar un acuerdo global más ambicioso y vinculante, al menos no en lo inmediato. El cambio climático, en cambio, no va a esperar. Sus efectos ya se sienten en todo el mundo, con condiciones climáticas extremas que son cada vez más frecuentes.
Por cierto, la evidencia sugiere que los efectos de las concentraciones actuales de emisiones de gases de tipo invernadero ya están en el extremo superior de los escenarios que se plantearon como modelos. Los científicos climáticos hoy advierten que la ventana de dos grados se está cerrando rápidamente, si es que ya no está cerrada.
Introductory Offer: Save 30% on PS Digital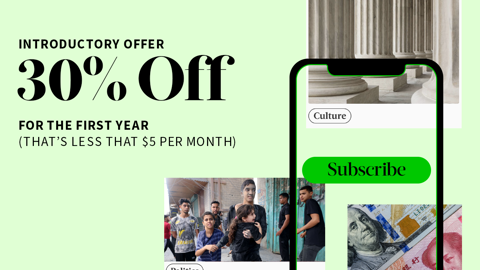 Introductory Offer: Save 30% on PS Digital
Subscribe now to gain greater access to Project Syndicate – including every commentary and our entire On Point suite of subscriber-exclusive content – starting at less than $5 per month.
Si queremos tener alguna chance de cumplir con nuestros objetivos climáticos, necesitamos tomar medidas contundentes ahora para reducir las emisiones de manera drástica -medidas que vayan más allá del acuerdo de París-. Debemos transformar fundamentalmente la manera en que hacemos negocios, y que los inversores y las empresas dejen de lado su estrategia cautelosa frente a la transición hacia niveles reducidos de carbono.
Hay señales de que este cambio de mentalidad está en marcha. Se multiplican los esfuerzos y las iniciativas para catalizar un avance más rápido hacia prácticas más ecológicas por parte de empresas, inversores y mercados de capital, impulsados en parte por líderes empresarios ansiosos por sacar provecho de la transformación. Pero el ímpetu todavía no es lo suficiente fuerte y, en general, los mercados de capital aún no incorporan los factores vinculados al clima y al carbono cuando le ponen precio a sus activos y evalúan el riesgo.
Con la estrategia correcta, las empresas no sólo podrían ayudar a que se alcanzasen los objetivos de emisiones establecidos en el acuerdo de París, sino también contribuir a revitalizar el crecimiento y cumplir con los Objetivos de Desarrollo Sustentable, aprobados por las Naciones Unidas el año pasado. Como destaca un informe reciente dado a conocer por la Comisión Global sobre la Economía y el Clima, esa estrategia debería centrarse en la inversión en infraestructura sustentable.
No hay ninguna duda de que las inversiones que se hacen hoy en infraestructura, así como en extracción y servicios públicos, tendrán implicancias importantes para las emisiones en el largo plazo. Una estrategia inapropiada fácilmente podría dejar al mundo atrapado en una economía basada en carbono durante otra década o más, llevándonos mucho más allá del umbral de dos grados. La infraestructura ecológica, en cambio, puede sentar las bases para una economía sustentable.
El informe de la Comisión Global se propone identificar los principales obstáculos para financiar este tipo de infraestructura y crear una agenda para superarlos. Al hacerlo, representa una nueva estrategia para implementar un cambio sistémico, diferente en dos maneras fundamentales.

Primero, la agenda propuesta adopta una perspectiva más holística sobre la transformación verde. El informe incluye recomendaciones específicas sobre cuestiones como la manera de cambiar a sistemas de bajo consumo de carbono; pero las presenta en el marco de prioridades más amplias, como los Objetivos de Desarrollo Sustentable. En otras palabras, apunta no sólo a poner la transición hacia una economía verde en el tope de la agenda política; la transforma en un componente clave de la respuesta a un amplio rango de desafíos políticos, sociales y económicos.
Segundo, las recomendaciones hacen hincapié en la oportunidad comercial que presenta la alteración en marcha de la economía mundial. Si los inversores reconocen los beneficios de involucrarse desde el principio en la nueva economía, es más probable que lleven a la práctica los cambios necesarios, ayudando así a impulsar una transición climática crítica.
La nueva estrategia puede marcar una gran diferencia -y no sólo para las empresas-. Lo que está en juego no es ni más ni menos que la capacidad del mundo de recuperar el control de nuestro futuro.