Behoed de eilandbewoners van de Pacific voor geo-engineering
SUVA – Geo-engineering zal ons redden van de klimaatcrisis, zo houden de pleitbezorgers ervan staande. Door technologie te gebruiken om koolstofdioxide uit de atmosfeer te halen of om een deel van de zonnestraling van de aarde weg te reflecteren, zo beweren zij, kunnen we de schade ongedaan maken die is toegebracht door het onvermogen van de mensheid om de uitstoot van broeikasgassen terug te dringen. Maar ook al klinkt het zeker als een makkelijke oplossing, er is geen bewijs dat het zal werken – en geen beginnen aan om te zeggen wat de neveneffecten ervan zouden kunnen zijn. In de visie van de eilandbewoners in de Pacific is het nauwelijks de moeite van het bespreken waard.
Voorstanders van geo-engineering hebben op één punt gelijk: we staan voor een klimaatcrisis die om radicale en urgente maatregelen vraagt. Het Intergovernmental Panel on Climate Change (IPCC) heeft dat in oktober 2018 in grimmige termen duidelijk gemaakt, en het punt de afgelopen maand nog eens benadrukt, met zijn rapport over klimaatverandering en grond.
Sommige grote economieën – onder meer Canada, Ierland en het Verenigd Koninkrijk – en sommige regio's en steden hebben nu officieel de omvang van de crisis erkend. De vraag is of dit zich zal vertalen in een belofte om de noodzakelijke actie te ondernemen.
Dat is zeker niet gebeurd op de Klimaatveranderingsconferentie van de VN van vorig jaar in het Poolse Katowice. In plaats daarvan hielden de leiders vast aan zwakke beloften die in feite garant staan voor het doorgaan op de ingeslagen weg – een resultaat dat werd bewerkstelligd door landen waar de fossielebrandstoffenindustrie een enorme politieke en economische invloed heeft. In de meeste gevallen zijn dit dezelfde landen die geo-engineering-oplossingen propageren.
Voor de eilandbewoners in de Pacific, die zich aan de frontlinies bevinden van een klimaatcrisis waaraan zij nauwelijks hebben bijgedragen, was deze aanhoudend zelfzuchtige en kortzichtige aanpak aanvankelijk teleurstellend, vervolgens frustrerend en inmiddels ronduit ergerlijk. De veertien soevereine eilandstaten in de Pacific nemen slechts zo'n 0,02% van de totale mondiale uitstoot van broeikasgassen voor hun rekening. Toch zijn ze, omdat veel van deze staten bestaan uit laagliggende eilanden of atollen, uiterst kwetsbaar voor de gevolgen van de klimaatverandering, om te beginnen voor de stijgende zeespiegel.
Maar de eilandbewoners van de Pacific weten wel beter dan dat ze zich ten prooi moeten laten vallen aan de verlokkingen van de geo-engineering. Zij zijn al eerder – in de jaren veertig en vijftig – als proefkonijn gebruikt voor het testen van krachtige en riskante technologieën, zoals kernwapens, en lijden nog steeds onder de gevolgen daarvan. Op de Marshall Eilanden hebben de Verenigde Staten bijvoorbeeld (zij het pas in de jaren tachtig) een massieve betonnen koepel gebouwd om het dodelijke radioactieve afval van die kernproeven in op te slaan. Maar de koepel blijkt niet duurzaam en nu hij uit elkaar valt, neemt het risico op radioactieve lekken toe.
Subscribe to PS Digital Now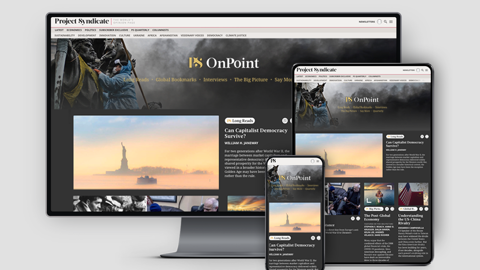 Subscribe to PS Digital Now
Access every new PS commentary, our entire On Point suite of subscriber-exclusive content – including Longer Reads, Insider Interviews, Big Picture/Big Question, and Say More – and the full PS archive.
Geo-engineering is voor de Pacific geen volledig nieuw onderwerp. Regeringen in de regio zijn al eerder benaderd door onderzoekers en voorstanders. Tijdens een workshop in 2013 in Suva, Fiji – georganiseerd door het Pacific Centre for Environment and Sustainable Development en het Institute for Advanced Sustainability Studies van de University of the South Pacific –  waren de deelnemers het erover eens dat meer onderzoek, een breder bewustzijn en transparante debatten over het onderwerp nodig waren.
Maar de deelnemers benadrukten dat geen enkele geo-engineering-technologie zou mogen worden geïmplementeerd zonder dat was bewezen dat het een voldoende veilige optie was – en dan ook nog eens uitsluitend als uiterste redmiddel. Zelfs proeven in het open veld zouden niet plaats mogen vinden zonder afdwingbare regels en systemen van toezicht. Het belangrijkste was dat de landen van de Pacific overeen zijn gekomen dat geo-engineering-technologieën niet beschouwd mogen worden als vervanging van radicale mondiale maatregelen tegen de klimaatverandering, zoals grote reducties van de emissies.
Maar zes jaar later is het debat volledig omgeslagen. Er staan meer geo-engineering-onderzoeksprojecten, voorstellen voor experimenten en commerciële toepassingen op de agenda. Tegelijkertijd laten de inspanningen om de klimaatverandering tegen te gaan het lelijk afweten – vooral in die landen waar de overheden al hun aandacht richten op geo-engineering, als excuus om niets te hoeven doen. In feite wordt de verantwoordelijkheid voor de klimaatcrisis op deze manier afgewenteld op toekomstige generaties, vooral in de ontwikkelingslanden die het minst gedaan hebben om hem te veroorzaken.
In het licht van deze onbalans blijft het standpunt van het Pacific Islands Development Forum over geo-engineering onverminderd in lijn staan met de oproep tot een moratorium van de Convention on Biological Diversity uit 2010 – waar 196 regeringen mee instemden – inzake alle geo-engineering-activiteiten, totdat "een mondiaal, transparant en effectief mechanisme voor controle en toezicht" is geïnstalleerd.
Het IPCC heeft duidelijk gemaakt dat de enige manier om de klimaatcrisis aan te pakken het implementeren van "transformatieroutes" is, waarbij de emissies worden gekortwiekt en ecosystemen worden beschermd en hersteld, onder meer door wat in feite een revolutie van het grondgebruik is. Dergelijke routes staan niet alleen opgetekend in de rapporten van het IPCC, maar ook in het Parijse klimaatverdrag van 2015.
Dit betekent het vervangen van fossiele brandstoffen door duurzame energiebronnen. Het betekent ook dat we het beste moeten zien te maken van het natuurlijke vermogen van onze planeet om koolstofdioxide uit de lucht te halen en op te slaan, door de bescherming en uitbreiding van natuurlijke koolstofreservoirs als bossen, mangroven en zeegrasvelden. Zoals uit het IPCC-rapport over het grondgebruik blijkt, zouden maatregelen als het vergroten van de rol van plaatselijke en inheemse gemeenschappen bij het bosbeheer grote voordelen met zich meebrengen, evenals een transformatie van de voedselsystemen teneinde duurzame agrarische praktijken en minimale voedselverspilling te verzekeren.
De meeste noodzakelijke antwoorden zullen een positieve bijdrage leveren aan de duurzame ontwikkeling en andere mondiale doelstellingen. Om te beginnen betekent een gezondere planeet ook gezondere mensen: door ademhalingsziekten te veroorzaken resulteert de luchtvervuiling in zo'n drie miljon voortijdige sterfgevallen per jaar.
Bovendien zou de overstap naar duurzame energie helpen om grote aantallen banen van hoge kwaliteit te creëren – veel meer dan de fossielebrandstoffenindustrie biedt. En daarbij zijn de enorme kosten nog niet eens meegeteld – die bijvoorbeeld samenhangen met steeds extremere en vaker voorkomende weersgebeurtenissen – die vermeden kunnen worden als we de klimaatverandering effectief kunnen verzachten.
Hoe langer we wachten, des te urgenter de crisis zal worden – en des te hoger de kansen op roekeloze acties. Nu al wordt de snelle escalatie van de gevolgen van de klimaatverandering gebruikt om riskante geo-engineering-experimenten in het open veld te rechtvaardigen, die verwoestende en onvoorspelbare milieugevolgen kunnen hebben, en die de wereld op een glibberig pad zouden kunnen zetten naar het implementeren ervan, zonder de noodzakelijke veiligheidsgaranties of regelgevende structuren.
We weten wat we moeten doen – en dat weten we al jaren. Als alle landen hun verantwoordelijkheden nakomen, kunnen we effectief op de klimaatverandering reageren. Maar om de mensheid te beschermen – om te beginnen met de ultra-kwetsbare eilandbewoners in de Pacific – zullen we nú tot actie moeten overgaan.
Vertaling: Menno Grootveld