L'opportunité du prix du pétrole
WASHINGTON, DC – La forte baisse du prix du pétrole brut depuis la fin juin a fait la une des journaux dans le monde entier – et a fait l'objet de beaucoup d'explications contradictoires. Certains attribuent la chute en grande partie à la baisse des attentes de croissance mondiale. D'autres se concentrent sur l'expansion de la production de pétrole et de gaz de l'Amérique. D'autres encore soupçonnent un accord tacite entre l'Arabie saoudite et les États-Unis visant, entre autres choses, à affaiblir des rivaux politiques comme la Russie et l'Iran.
Quelle que soit la raison de la baisse du prix – qui est probablement à rechercher dans une combinaison de ces facteurs – les conséquences sont les mêmes. Certes, comme la directrice générale du Fonds monétaire international Christine Lagarde l'a fait remarquer, la baisse du prix du pétrole pourrait stimuler la croissance mondiale, et en premier lieu dans les économies avancées importatrices de pétrole. Cependant, l'impact sur la lutte contre le changement climatique pourrait avoir des effets dévastateurs.
En effet, une baisse soutenue du prix du pétrole ne rendrait pas seulement les sources d'énergie renouvelables moins compétitives aujourd'hui ; elle serait susceptible d'entraver leur compétitivité future en décourageant la recherche et l'investissement. Plus généralement, elle réduirait l'incitation pour les consommateurs, les entreprises et les gouvernements à adopter des pratiques plus économes en énergie.
Même si nous demeurions sur notre trajectoire actuelle, empêcher les températures d'augmenter de plus de 2º C au-dessus de leurs niveaux préindustriels – le seuil au-delà duquel les conséquences les plus perturbatrices du changement climatique seraient déclenchées – serait presque impossible. Comme le dernier rapport du Groupe d'experts intergouvernemental sur l'évolution du climat l'a souligné, nous ne pouvons pas nous permettre un ralentissement des progrès.
Bien sûr, la science du climat n'est pas précise ; au contraire, elle travaille en termes d'intervalles de probabilité. Mais des estimations incertaines ne signifient pas que le risque est moins aigu.
Les dirigeants du monde semblent de plus en plus reconnaître ce fait en théorie, y compris lors de la réunion sur le changement climatique à Lima au Pérou qui vient de s'achever. Cependant, ils continuent de dépendre d'engagements non contraignants – laissant le monde sur une trajectoire climatique dangereuse.
Subscribe to PS Digital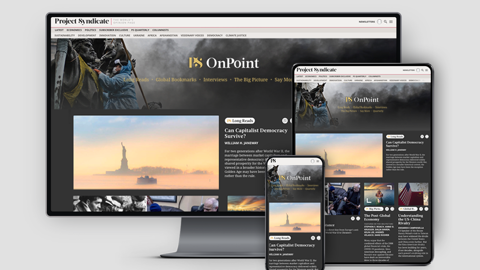 Subscribe to PS Digital
Access every new PS commentary, our entire On Point suite of subscriber-exclusive content – including Longer Reads, Insider Interviews, Big Picture/Big Question, and Say More – and the full PS archive.
Une forte baisse du prix du pétrole fournit toutefois une opportunité politique rare d'introduire davantage de tarification du carbone. Après tout, l'un des principaux arguments contre une « taxe carbone » a toujours été que cela augmenterait le coût de l'énergie. Même promettre que le produit d'une telle taxe serait retourné aux contribuables ne s'est pas révélé suffisant pour surmonter la résistance politique, en particulier aux États-Unis.
Or, puisque la baisse du prix du pétrole exerce désormais une pression à la baisse sur les substituts du pétrole, une taxe carbone pourrait être introduite sans augmenter le prix de l'énergie pour les consommateurs. Les décideurs doivent tout simplement être prêts à renoncer à une partie des effets de relance à court terme provoqués par une énergie moins chère. En fait, avec un prix assez bas, les consommateurs pourraient même continuer à bénéficier de coûts énergétiques plus faibles – simplement dans une moindre mesure qu'à l'heure actuelle.
La structure d'un système de tarification du carbone reste en discussion. Une option serait d'introduire une tarification flexible, lié au prix du pétrole. Par exemple, pour chaque baisse de 5$ du prix du baril, la taxe carbone pourrait être augmentée d'un montant déterminé ; pour chaque augmentation de 5$, la taxe pourrait être diminuée, par exemple à concurrence des deux tiers de ce montant.
Ainsi, le prix du carbone augmenterait au fil du temps – le résultat optimal, selon les modèles de croissance qui tiennent compte des contraintes climatiques. Dans le même temps, il servirait d'amortisseur contre la volatilité des prix du pétrole pour les consommateurs, stabilisant ainsi leurs dépenses d'énergie. Enfin, et peut-être de manière plus importante, une telle approche serait plus attrayante politiquement qu'une taxe fixe sur le carbone, surtout si elle est introduite à un moment de forte baisse du prix du pétrole.
En bref, les dirigeants mondiaux doivent profiter de la baisse du prix du pétrole pour aller au-delà de la tarification indirecte du carbone – obtenue au moyen des prix des substances émettrices de carbone – vers une taxe carbone explicite qui peut aider à orienter le monde sur une trajectoire de croissance plus durable. La condition fondamentale pour obtenir un impact réel, les systèmes de tarification du carbone devraient être mis en place dans toutes les grandes économies.
Bien sûr, étant donné la multitude des taxes, frais et subventions sur les produits énergétiques en place dans de nombreux pays, l'objectif d'aligner le coût effectif du carbone avec son niveau le plus économiquement efficace prendrait du temps à réaliser. Mais l'introduction d'une taxe carbone modeste et flexible dans les grandes économies serait une première étape importante.
Le contexte actuel de baisse du prix du pétrole permet au monde de mettre en œuvre une telle mesure. Elle devrait être modeste, de sorte qu'elle soit politiquement réaliste ; flexible, de sorte qu'elle contribue à stabiliser les prix pour les utilisateurs ; et croissante au cours du temps, pour diriger l'économie mondiale sur une voie plus durable. Plus important encore, elle devrait être mise en œuvre rapidement. Après tout, cette fenêtre d'opportunité ne restera pas ouverte très longtemps.
Traduit de l'anglais par Timothée Demont