Usi ed abusi dei social media
NEW YORK – Eravamo stati avvertiti. Nel 2011, Marc Andreessen, investitore e fondatore di Netscape, aveva scritto un saggio, che poi ha avuto ampia diffusione, dal titolo "Perché il software sta divorando il mondo". Noi, però, non l'avevamo preso sul serio, pensando che si trattasse di una semplice metafora, e ora ci ritroviamo ad affrontare la sfida di strappare il mondo dalle fauci dei monopoli delle piattaforme Internet.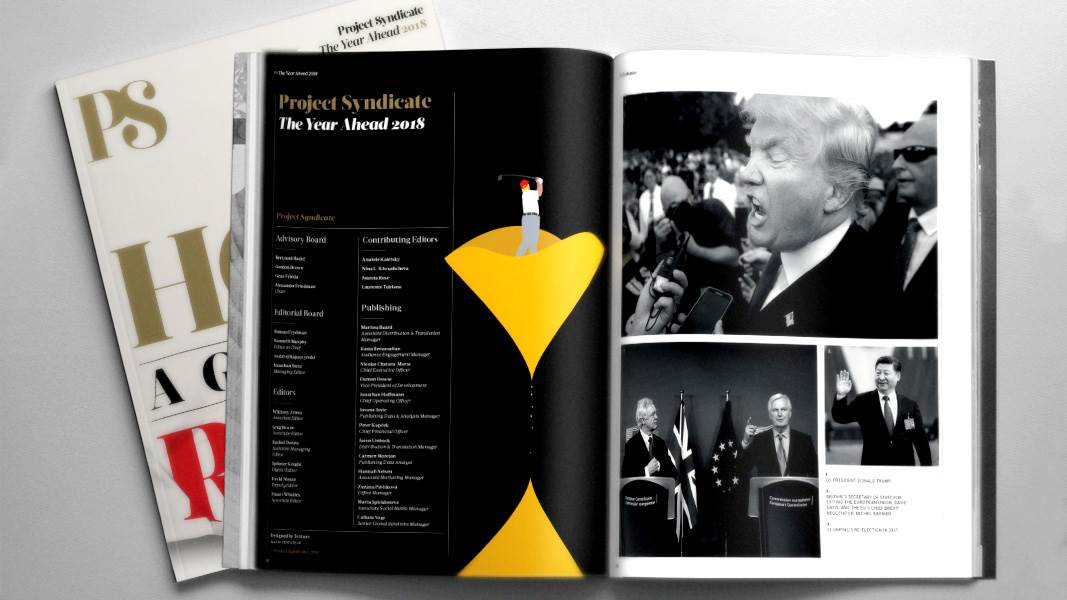 The Year Ahead 2018
The world's leading thinkers and policymakers examine what's come apart in the past year, and anticipate what will define the year ahead.
Un tempo ero un ottimista della tecnologia. Nei trentacinque anni di carriera dedicati a investire in quanto di meglio e più geniale offrisse la Silicon Valley, ho avuto la fortuna di conoscere a fondo i settori dei personal computer, della comunicazione mobile, di Internet e dei social network. Tra i momenti salienti della mia carriera sono alcuni investimenti iniziali in Google e Amazon, e l'aver fatto da mentore a Mark Zuckerberg, fondatore di Facebook, tra il 2006 e il 2010.   
Ogni nuova ondata tecnologica ha aumentato la produttività e l'accesso alla conoscenza. Ogni nuova piattaforma creata è risultata più facile da usare e più utile. La tecnologia ha dato una spinta alla globalizzazione e alla crescita economica. Per decenni ha reso il mondo un posto migliore, e noi credevamo che sarebbe stato sempre così. 
Poi è arrivato il 2016, anno in cui sono emersi due lati oscuri di Internet. Il primo riguarda i singoli utenti. Gli smartphone con tecnologia mobile LTE hanno dato vita alla prima piattaforma in grado di trasmettere contenuti ogni singolo istante, trasformando così il settore della tecnologia e la vita di due miliardi di utenti. Con una vigilanza normativa scarsa o completamente inesistente in gran parte del mondo, aziende come Facebook, Google, Amazon, Alibaba e Tencent hanno utilizzato tecniche comunemente impiegate nelle campagne propagandistiche e nel gioco d'azzardo, come notifiche costanti e incentivi variabili, per alimentare una sorta di dipendenza psicologica.         
L'altro lato oscuro riguarda la geopolitica. Negli Stati Uniti, nell'Europa occidentale e in Asia, le piattaforme online, soprattutto Facebook, consentono ai potenti di danneggiare le persone più inermi influenzando la politica interna, la politica estera e il commercio. Le elezioni in vari paesi europei e negli Stati Uniti hanno ripetutamente dimostrato che le reti sociali automatizzate possono essere sfruttate per minare la democrazia. 
Il referendum sulla Brexit e le elezioni presidenziali Usa del 2016 hanno altresì rivelato che Facebook agevola in modo significativo, seppur indiretto, i messaggi negativi rispetto a quelli positivi. Alcuni governi autoritari possono utilizzare Facebook per fomentare il sostegno pubblico a favore di politiche repressive, come sta accadendo oggi in Myanmar, Cambogia, nelle Filippine e altrove. In alcuni casi, Facebook finisce di fatto per offrire supporto a questi governi, come fa con tutti i grandi clienti.
Sono sicuro che i fondatori di Facebook, Google e altre importanti piattaforme online non avevano cattive intenzioni quando hanno concepito il loro modello aziendale. Si trattava di giovani imprenditori, avidi di successo, che hanno trascorso anni a mettere insieme ampi bacini di utenza riorganizzando il mondo virtuale intorno a un insieme di applicazioni più personalizzate, comode e facili da usare rispetto alle precedenti. E questi imprenditori non hanno cercato di monetizzare le proprie fatiche se non molto tempo dopo che gli utenti erano stati agganciati. I modelli pubblicitari scelti sono stati abilmente sfruttati grazie alla personalizzazione, che ha consentito agli inserzionisti di targetizzare i propri messaggi con una precisione straordinaria.   
Ma poi è arrivato lo smartphone, che ha trasformato tutti i media e, di fatto, ha conferito a Facebook, Google e pochi altri il controllo del flusso di informazioni verso gli utenti. I filtri che danno agli utenti "quello che vogliono" hanno avuto l'effetto di polarizzare le popolazioni ed erodere la legittimità di istituzioni democratiche fondamentali (in particolare, la libertà di stampa). E l'automazione che ha reso le piattaforme Internet così remunerative le ha anche esposte alla manipolazione da parte di soggetti maligni, non soltanto governi autoritari ostili alla democrazia, ovunque. 
Come avvertiva Andreessen, queste aziende, con la loro ambizione e portata globale, stanno divorando l'economia mondiale. Nel farlo, adottano versioni della filosofia aziendale di Facebook – "se non rompi niente, non sei abbastanza veloce" – senza preoccuparsi dell'impatto sulla gente, le istituzioni e la democrazia. Un'ampia minoranza di cittadini nel mondo sviluppato abita le gabbie di filtri create da queste piattaforme, false realtà digitali in cui le convinzioni comuni diventano più rigide ed estreme. 
Negli Stati Uniti, circa un terzo della popolazione adulta è diventato indifferente alle nuove idee, anche quando si tratta di fatti dimostrabili. Queste persone sono facili da manipolare, un concetto che l'ex designer di Google, nonché filosofo, Tristan Harris definisce "hackeraggio del cervello".  
Le democrazie occidentali sono impreparate ad affrontare questa minaccia. Gli Stati Uniti non dispongono di un quadro normativo efficace per le piattaforme online, e manca la volontà politica di crearne uno. L'Unione europea possiede sia un quadro normativo sia la volontà politica necessaria, ma nessuno dei due è adeguato alla sfida. La recente sentenza dell'Ue contro Google – una multa record da 2,7 miliardi di dollari per aver danneggiato la libera concorrenza – è stata ben concepita, ma sottodimensionata. Google ha fatto ricorso e i suoi investitori se ne sono infischiati. Poteva essere un buon inizio, ma è stato chiaramente insufficiente.
Ci troviamo in un momento critico. La consapevolezza dei rischi legati alle piattaforme Internet da una piccola base sta crescendo, ma la convenienza dei prodotti e la dipendenza psicologica che creano sono tali che potrebbe volerci una generazione per produrre un cambiamento nell'utenza, un po' come per le campagne antifumo. Il riconoscimento dell'effetto corrosivo di questi monopoli sulla concorrenza e sull'innovazione è maggiore in Europa che negli Stati Uniti, ma nessuno ha trovato una strategia normativa efficace. Anche la consapevolezza che le piattaforme possono essere manipolate per indebolire la democrazia sta crescendo, ma i governi occidentali non hanno ancora escogitato un piano di difesa.
Le sfide poste dai monopoli delle piattaforme Internet richiedono nuovi approcci, che vanno oltre l'applicazione delle norme antitrust. Dobbiamo considerare e affrontare queste sfide come una minaccia alla salute pubblica. Una possibilità è quella di trattare i social media in modo analogo al tabacco e all'alcol, ricorrendo a soluzioni basate sulla sensibilizzazione e sulla regolamentazione.
La minaccia rappresentata dai monopoli delle piattaforme online dovrebbe figurare tra le principali preoccupazioni dei partecipanti all'incontro del Forum economico mondiale di Davos. Per riportare l'equilibrio nelle nostre vite e la speranza nella politica, è arrivato il momento di fermare i destabilizzatori.
Traduzione di Federica Frasca