Sociale media junkies en dealers
NEW YORK – We waren gewaarschuwd. Durfkapitalist en oprichter van Netscape Marc Andreessen schreef in 2011 een veelgelezen essay met de titel: 'Why Software is Eating the World.' Maar we namen Andreessen niet serieus; we dachten dat dit slechts een metafoor was. Inmiddels is onze uitdaging de wereld uit de klauwen van internetplatform monopolies te redden.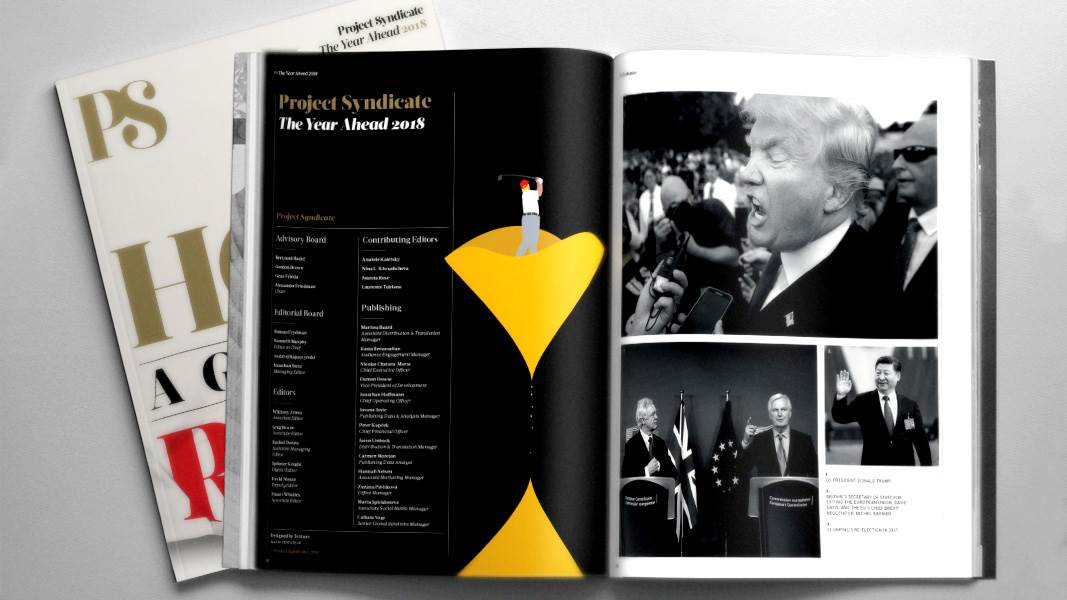 The Year Ahead 2018
The world's leading thinkers and policymakers examine what's come apart in the past year, and anticipate what will define the year ahead.
Ik was altijd techno-optimist. Gedurende een carrière van 35 jaar in het investeren in de besten en meest getalenteerden van Silicon Valley, heb ik het geluk gehad om onderdeel te zijn van de opkomst van de personal computer, mobiele communicatie, internet, en sociale netwerken. Onder de hoogtepunten van mijn carrière zijn vroege investeringen in Google en Amazon, en mijn mentorschap van Mark Zuckerberg van 2006 tot 2010.
Elke golf nieuwe technologie vergrootte de productiviteit en toegang tot kennis. Elk nieuw platform was nog gemakkelijker te gebruiken en nog handiger. De technologie dreef mondialisering en economische groei aan. Tientallen jaren lang maakte het de wereld een betere plek om te leven. En we namen aan dat dit altijd zo zou blijven.
Toen werd het 2016, en gaf het internet twee van zijn duistere kanten bloot. Een daarvan is gerelateerd aan individuele gebruikers. Smartphones met LTE mobiele infrastructuur creëerden het eerste platform voor aanbod van content dat op ieder moment beschikbaar was, wat de technologische industrie en de levens van twee miljard gebruikers getransformeerd heeft. Met weinig tot geen regelgevende supervisie in het grootste deel van de wereld hebben bedrijven zoals Facebook, Google, Amazon, Alibaba en Tencent technieken gebruikt die normaal zijn in propaganda en in casino's, zoals constante notificaties en variabele beloningen, om zo een psychologische verslaving te voeden.
De andere duistere kant is een geopolitieke. In de Verenigde Staten, West-Europa, en Azië stellen internetplatforms, en vooral Facebook, de machtigen in staat om schade te berokkenen aan de machtelozen op gebied van politiek, buitenlands beleid, en commercie. Verkiezingen in Europa en de VS hebben al herhaaldelijk laten zien dat geautomatiseerde sociale netwerken geëxploiteerd kunnen worden om de democratie te ondermijnen.
Het Brexit-referendum en de Amerikaanse presidentverkiezingen in 2016 hebben ook onthuld dat Facebook een significante relatieve voorrang geeft aan negatieve boodschappen boven positieve. Autoritaire regimes kunnen Facebook gebruiken om publieke steun voor repressief beleid te verwerven, zoals nu hoogstwaarschijnlijk gaande is in Myanmar, Cambodja, de Filipijnen, en elders. In sommige gevallen ondersteunt Facebook zulke regeringen zelfs feitelijk, zoals het al zijn grote klanten doet.
In ben er van overtuigd dat de oprichters van Facebook, Google, en andere grote internetplatforms toen ze hun zakenmodellen kozen geen kwaad in de zin hadden. Ze waren jonge ondernemers, hongerend naar succes. Ze besteedden jaren aan het opbouwen van een groot publiek door de onlinewereld te reorganiseren rond een reeks applicaties die meer gepersonaliseerd, handiger, en makkelijker te gebruiken waren dan hun voorgangers. En ze deden geen enkele poging om hun inspanningen te gelde te maken tot lang nadat de gebruiker verslaafd was geworden. De adverteer-zakenmodellen die ze kozen hadden het voordeel van personalisatie, die adverteerders in staat stelde om hun boodschappen met een ongekende precisie aan te bieden.
En toen kwam de smartphone, die alle media transformeerde en Facebook, Google, en een handvol anderen in essentie de controle gaf over de informatiestroom naar gebruikers. De filters die gebruikers geven 'wat ze willen' hadden tot gevolg dat de bevolking polariseerde en de legitimiteit van fundamentele democratische instituties (waaronder het meest opmerkelijk de vrije pers) ondermijnd werd. De automatisering die internetplatforms zo winstgevend maakte liet ze kwetsbaar voor kwaadwillende actoren waar ook ter wereld – en niet slechts autoritaire regimes die vijandig tegenover democratie staan.
Zoals Andreessen waarschuwde eten deze bedrijven met hun mondiale ambitie en bereik de wereldeconomie op. In het proces nemen ze versies van Facebook's bedrijfsfilosofie over – 'ga hard en maak dingen kapot' – zonder inachtneming van de impact op mensen, instituties, en democratie. Een substantiële minderheid van burgers in de ontwikkelde wereld bewoont filterbubbels gecreëerd door deze platforms – digitale valse realiteiten waarin bestaande overtuigingen steeds meer rigide en extreem worden.
In de VS is een geschatte derde van de volwassen bevolking onvatbaar voor nieuwe ideeën geworden, inclusief aantoonbare feiten. Deze mensen zijn makkelijk te manipuleren, een concept dat voormalig Google design ethicus Tristan Harris 'brain hacking' noemt.
Westerse democratieën zijn niet op deze dreiging voorbereid. De VS heeft geen effectief regelgevend kader voor internet platforms, en ontbeert de politieke wil er een te creëren. De Europese Unie beschikt zowel over een regelgevend kader en de benodigde politieke wil, maar geen van beide kan deze uitdaging aan. Het recente vonnis van de EU aan Google – een recordboete van 2,7 miljard dollar voor kartelvorming – was goed doordacht, maar ondermaats. Google ging in beroep, en zijn investeerders haalden hun schouders op. Het is wellicht een goede start, maar duidelijk ontoereikend.
We staan op een kritiek kruispunt. Het bewustzijn van de gevaren van internetplatforms is uit het verdomhoekje aan het komen, maar het gemak van de producten en de psychologische verslaving eraan is van zo een omvang dat het wel een generatie kan duren om verandering aan de gebruikerskant door te voeren, net zoals bij antirookcampagnes. De erkenning van het corrosieve effect van platformmonopolies op het gebied van concurrentie en innovatie is in Europa groter dan in de VS, maar nog niemand heeft een effectieve strategie voor regelgeving weten te vinden. Het bewustzijn dat deze platforms kunnen worden gemanipuleerd om de democratie te ondermijnen is ook groeiende, maar Westerse regeringen moeten hier nog een verdediging tegen weten te ontwerpen.
De uitdagingen van internetplatform monopolies vereisen nieuwe benaderingen die verder gaan dan alleen het uitvoeren van kartelwetgeving. We moeten deze uitdagingen erkennen en tegemoet treden als gevaar voor de volksgezondheid. Een mogelijkheid is om sociale media op een manier te behandelen gelijk aan die voor tabak en alcohol, waarbij educatie en regulering hand in hand gaan.
Nu Wereld Economisch Forum in Davos gaande is, zou de dreiging van internetplatform monopolies bovenaan de agenda van de aanwezigen moeten staan. Om de balans in onze levens te herstellen en het geloof in de politiek terug te brengen is het de nu tijd om de verstoorders te gaan verstoren.
Vertaling Melle Trap