Addicts et dealers des médias sociaux
NEW YORK – Personne ne pourra dire que nous n'étions pas prévenus. L'investisseur en capital-risque et fondateur de Netscape, Marc Andreessen, a publié en 2011 un essai aux nombreux lecteurs intitulé « Why Software Is Eating the World » (Pourquoi les logiciels dévorent le monde). Mais nous ne l'avons pas pris au sérieux, pensant qu'il ne s'agissait que d'une métaphore. Nous voici désormais confrontés au défi consistant à extraire le monde de la mâchoire du monopole des plateformes Internet.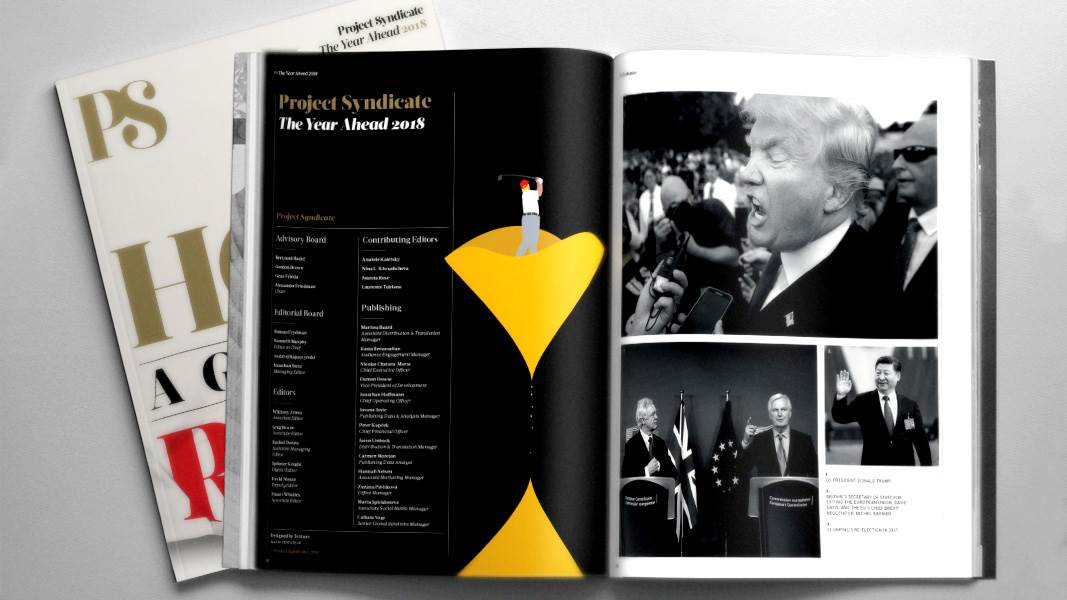 The Year Ahead 2018
The world's leading thinkers and policymakers examine what's come apart in the past year, and anticipate what will define the year ahead.
J'ai été un optimiste de la technologie. Durant mes 35 années de carrière consacrées à investir dans les pépites de la Silicon Valley, j'ai eu la chance de contribuer à l'ordinateur personnel, aux communications mobiles, à Internet et aux secteurs des réseaux sociaux. Parmi les moments forts de ma carrière, j'ai investi dès les premières heures dans Google, Amazon, et compté parmi les mentors du fondateur de Facebook, Mark Zuckerberg, entre 2006 et 2010.
Chaque nouvelle vague technologique a augmenté la productivité et l'accès à la connaissance. Chaque nouvelle plateforme s'est révélée plus pratique et plus facile à utiliser que la précédente. Les technologies ont favorisé la mondialisation et la croissance économique. Pendant des décennies, elles ont rendu le monde meilleur. Et nous avons pensé qu'il en serait toujours ainsi.
Puis est arrivée l'année 2016, qui a révélé deux côtés sombres d'Internet. Le premier concerne les utilisateurs individuels. Les smartphones, associés à l'infrastructure mobile LTE, sont devenus la première plateforme de diffusion de contenus qui soit disponible à chaque instant, transformant ainsi le secteur technologique et l'existence de deux milliards d'utilisateurs. En l'absence de contrôle, ou alors minime, dans la plupart des pays du monde, des sociétés comme Facebook, Google, Amazon, Alibaba et Tencent ont recouru à des méthodes comparables à de la propagande ou à des procédés utilisés dans les casinos et l'univers des paris, de type notifications constantes et gains variables, pour créer une véritable addiction psychologique.
L'autre côté sombre est de nature géopolitique. Aux États-Unis, en Europe occidentale et en Asie, les plateformes Internet, en premier lieu desquelles Facebook, permettent aux puissants de nuire aux plus faibles dans le domaine politique, les affaires étrangères et le commerce. Les élections observées en Europe et aux États-Unis ont à plusieurs reprises démontré combien les réseaux sociaux automatisés pouvaient être exploités pour mettre à mal la démocratie.
Le référendum sur le Brexit et l'élection présidentielle américaine de 2016 ont également révélé que Facebook conférait plus d'impact aux messages négatifs qu'aux messages positifs. Les gouvernements autoritaires peuvent ainsi utiliser Facebook pour encourager l'opinion à soutenir une politique répressive, comme c'est sans doute actuellement le cas au Myanmar, au Cambodge, aux Philippines et ailleurs. Dans certains cas, Facebook va même jusqu'à soutenir le gouvernement, comme le fait l'entreprise avec tous ses clients majeurs.
Je suis convaincu que les fondateurs de Facebook, Google et autres grandes plateformes Internet n'étaient pas mal intentionnés lorsqu'ils ont adopté leur business model. Ils n'étaient que de jeunes entrepreneurs en quête de réussite. Ils ont consacré des années à bâtir d'immenses publics, en réorganisant la toile autour d'un ensemble d'applications plus personnalisées, plus pratiques et plus faciles à utiliser que les précédentes. Ils ont entrepris de monétiser leurs efforts bien après que les utilisateurs soient devenus accrocs. Les business models publicitaires qu'ils ont choisis se sont basés sur la personnalisation, ce qui a permis aux annonceurs d'adresser leurs messages de manière ciblée, avec une précision sans précédent.
Mais le smartphone est ensuite apparu, qui a transformé tous les médias en propulsant de fait Facebook, Google et une poignée d'autres au contrôle du flux d'informations jusqu'aux utilisateurs. Les filtres permettant aux utilisateurs de « trouver ce qu'ils cherchent » ont eu pour effet de polariser les populations, et d'éroder la légitimité de plusieurs institutions fondamentales pour la démocratie (notamment la liberté de la presse). En outre, l'automatisation qui a rendu les plateformes Internet si rentables les a également exposées à un risque de manipulation par des protagonistes extérieurs malveillants – et pas seulement les gouvernements autoritaires et opposés à la démocratie.
Comme nous a mis en garde Andreessen, ces sociétés à la présence et aux ambitions planétaires sont en train de dévorer l'économie mondiale. Au passage, elles adoptent la philosophie d'entreprise de Facebook – « Avancer vite, casser les codes » – sans aucune considération d'impact sur les individus, les institutions et la démocratie. Une importante minorité de citoyens des pays en voie de développement vit aujourd'hui dans des bulles de filtrage créées par ces plateformes – de fausses réalités numériques dans lesquelles les convictions existantes se font plus rigides et plus extrêmes.
Aux États-Unis, environ deux tiers de la population adulte est devenue imperméable à toute idée nouvelle, y compris démontrable par des faits. Ces individus sont aisément manipulables. C'est le « brain hacking » dont parle l'ancien éthicien en design de Google, Tristan Harris.
Les démocraties occidentales ne sont pas préparées à cette menace. Les États-Unis ne disposent d'aucun cadre réglementaire efficace qui régirait les plateformes Internet, et manquent de la volonté politique d'un créer un. L'Union européenne dispose à la fois d'un cadre réglementaire et de la volonté politique nécessaire, mais ni ce cadre, ni cette volonté ne sont à la hauteur du défi. La récente décision de justice de l'UE à l'encontre de Google – une amende record de 2,7 milliards $ pour concurrence déloyale – a été bien préparée, mais pas suffisamment conséquente. Google a fait appel, et ses investisseurs ont presque souri. C'est sans doute un bon début, mais clairement insuffisant.
Nous vivons un moment charnière. La conscience des risques que soulèvent les plateformes Internet augmente depuis une base réduite, mais l'intuitivité des produits et l'addiction psychologique qui s'y rattachent sont telles qu'il faudra peut-être une génération pour opérer un changement du côté des utilisateurs, comme cela a été le cas pour les campagnes anti-tabac. La reconnaissance de l'effet destructeur exercé par les monopoles des plateformes sur la concurrence et l'innovation est plus importante en Europe qu'aux États-Unis, bien que nul n'ait élaboré une stratégie réglementaire efficace. La conscience que ces plateformes sont susceptibles d'être manipulées pour mettre à mal la démocratie est également croissante, bien qu'il reste encore aux États occidentaux à bâtir une défense contre cette manipulation.
Les défis soulevés par les monopoles des plateformes Internet exigent de nouvelles approches, au-delà du droit de la concurrence. Nous devons reconnaître et aborder ces défis comme une menace pour la santé publique. Une possibilité consisterait à considérer les médias sociaux comme une menace similaire au tabac et à l'alcool, en combinant sensibilisation et réglementation.
En plein Forum économique de Davos, la menace que représentent les monopoles des plateformes Internet doit être placée parmi les priorités des participants. Pour restaurer un équilibre dans nos vies, pour rétablir l'espoir en la politique, le moment est venu de perturber les perturbateurs.
Traduit de l'anglais par Martin Morel