Os viciados e os traficantes das redes sociais
NOVA IORQUE — Fomos alertados. O investidor de capital de risco e fundador da Netscape, Marc Andreessen, escreveu um ensaio em 2011, intitulado "Why Software Is Eating the World" (Porque razão o software está a comer o mundo). No entanto, não levámos a sério Andreessen; considerámos que se tratava apenas de uma metáfora. Agora, estamos perante o desafio de extrair o mundo das garras dos monopólios das plataformas de Internet.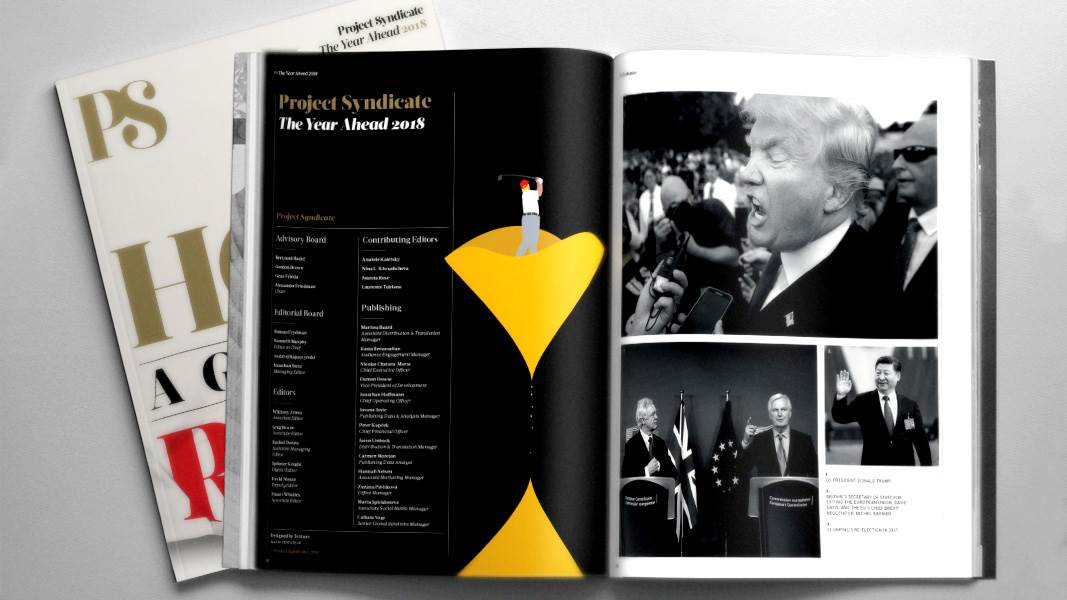 The Year Ahead 2018
The world's leading thinkers and policymakers examine what's come apart in the past year, and anticipate what will define the year ahead.
Eu costumava ser bastante optimista relativamente às tecnologias. Ao longo de uma carreira de 35 anos em que investi nos melhores e mais brilhantes em Silicon Valley, tive a sorte de integrar os sectores dos computadores pessoais, das comunicações móveis, da Internet e das redes sociais. Entre os exemplos que se destacam na minha carreira primeiros figuram os investimentos iniciais na Google e na Amazon, bem como o facto de ser mentor de Mark Zuckerberg, o fundador do Facebook, entre 2006 e 2010.
Cada nova onda de tecnologia permitiu aumentar a produtividade e o acesso ao conhecimento. Cada nova plataforma que surgiu foi mais fácil de utilizar e revelou-se mais conveniente. A tecnologia impulsionou a globalização e o crescimento económico. Durante décadas, tornou o mundo num lugar melhor. Partimos do princípio que seria sempre assim.
Quando chegámos a 2016, a Internet revelou dois "lados obscuros". Um deles está relacionado com os utilizadores individuais. Os smartphones com infra-estrutura móvel LTE criaram a primeira plataforma de entrega de conteúdos continuamente disponível, transformando o sector das tecnologias e as vidas de dois mil milhões de utilizadores. Sendo alvo de pouca ou nenhuma supervisão regulamentar na maior parte do mundo, as empresas como o Facebook, a Google, a Amazon, a Alibaba e a Tencent e utilizavam técnicas comuns relativamente à propaganda e aos jogos de casino, tais como as notificações constantes e as recompensas variáveis para promover o vício psicológico.
O outro lado obscuro é a geopolítica. Nos EUA, na Europa ocidental e na Ásia, as plataformas de Internet, especialmente o Facebook, permitem que os poderosos causem danos aos que não detêm qualquer poder nas esferas da política, da política externa e do comércio. As eleições em toda a Europa e nos EUA demonstraram repetidas vezes que as redes sociais automatizadas podem ser exploradas para prejudicar a democracia.
O referendo relativo ao Brexit e as eleições presidenciais nos EUA em 2016 também revelaram que o Facebook proporciona vantagens significativas para a primazia das mensagens negativas sobre as positivas. Os governos autoritários podem utilizar o Facebook para promover o apoio público a políticas repressivas, como pode estar a acontecer agora em Mianmar, Camboja, Filipinas, e não só. Em alguns casos, o Facebook presta apoio efectivo a tais governos, do mesmo modo que o faz a todos os grandes clientes.
Estou confiante de que os fundadores do Facebook, da Google e de outras grandes plataformas de Internet não tinha intenção de causar danos quando adoptaram os seus modelos de negócio. Eram jovens empresários, sedentos de sucesso. Passaram anos a conquistar grandes audiências, reorganizando o mundo online em torno de um conjunto de aplicações que eram mais personalizadas, convenientes e fáceis de utilizar do que as anteriores. Além disso, não fizeram qualquer tentativa de rentabilizar os seus esforços até muito tempo após os utilizadores estarem "agarrados". Os modelos de negócio de publicidade que escolheram foram alavancados pela personalização, que permitiu aos anunciantes direccionar as suas mensagens com uma precisão sem precedentes.
Depois, porém, veio o smartphone, que transformou toda a comunicação social e colocou efectivamente o Facebook, a Google e uns quantos outros no controlo do fluxo de informações destinadas aos utilizadores. Os filtros que dão aos utilizadores "o que eles querem" teve o efeito de polarizar populações e fragilizar a legitimidade das instituições democráticas fundamentais (sobretudo a imprensa livre). A automatização, que tornou as plataformas de Internet tão rentáveis, deixou-as vulneráveis à manipulação por agentes mal-intencionados de todas as partes — e não apenas de governos autoritários hostis à democracia.
Tal como Andreessen no alertou, estas empresas, com a sua ambição e alcance global, estão a devorar a economia mundial. Durante este processo, adoptam a filosofia empresarial do Facebook — "avançar rapidamente e quebrar códigos" — sem ter em conta o impacto sobre as pessoas, as instituições e a democracia. Uma grande minoria de cidadãos no mundo desenvolvido vive actualmente nas bolhas de filtragem criadas por estas plataformas — as falsas realidades digitais em que as convicções existentes se tornam mais rígidas e extremas.
Nos EUA, cerca de um terço da população adulta tornou-se impermeável a novas ideias, incluindo factos demonstráveis. Estas pessoas são fáceis de manipular, um conceito que o antigo especialista em assuntos éticos da Google, Tristan Harris, designa como "brain hacking."
As democracias ocidentais não estão preparadas para enfrentar esta ameaça. Os EUA não têm um quadro regulamentar eficaz para as plataformas de Internet, e não têm vontade política para criar tal quadro. A União Europeia tem um quadro regulamentar e a vontade política necessária, mas também não está apta para lidar com o desafio. O recente acórdão da UE contra a Google — uma coima recorde de 2,7 mil milhões de dólares por comportamento anti-concorrencial — foi bem concebido, mas não foi suficientemente dimensionado. A Google recorreu, e seus investidores encolheram os ombros. Pode ser um bom começo, mas foi claramente insuficiente.
Estamos a atravessar um momento crítico. A consciência dos riscos colocados pelas plataformas da Internet está a aumentar a partir de uma base reduzida, mas a conveniência dos produtos e o vício psicológico subjacentes são tais que a mudança pode demorar uma geração a produzir efeitos da parte do utilizador, à semelhança do que aconteceu com as campanhas contra o tabagismo. O reconhecimento do efeito corrosivo dos monopólios das plataformas sobre a concorrência e a inovação é maior na Europa do que nos EUA, mas ninguém encontrou uma estratégia regulamentar eficaz. A consciência de que as plataformas podem ser manipuladas para prejudicar a democracia também é crescente, mas os governos ocidentais ainda têm de conceber uma defesa contra esta manipulação.
Os desafios colocados pelos monopólios das plataformas de Internet exigem novas abordagens, para além da aplicação do direito da concorrência. Importa reconhecer e enfrentar estes desafios como uma ameaça para a saúde pública. Uma possibilidade é tratar as redes sociais de forma análoga ao que foi feito com o tabaco e o álcool, combinando educação e regulamentação.
No Fórum Económico Mundial de Davos, a ameaça dos monopólios de plataformas de Internet deverá ser um assunto prioritário para os participantes. Para restaurar o equilíbrio nas nossas vidas e a esperança na nossa política, é chego o momento de perturbar os perturbadores.