Adictos y traficantes de las redes sociales
NUEVA YORK – Nos lo advirtieron. El capitalista de riesgo y fundador de Netscape Marc Andreessen escribió un ensayo muy leído en 2011 titulado "Por qué el software se está comiendo al mundo". Pero no lo tomamos en serio a Andreessen; pensamos que era sólo una metáfora. Ahora enfrentamos el desafío de sacar al mundo de las fauces de los monopolios de las plataformas de Internet.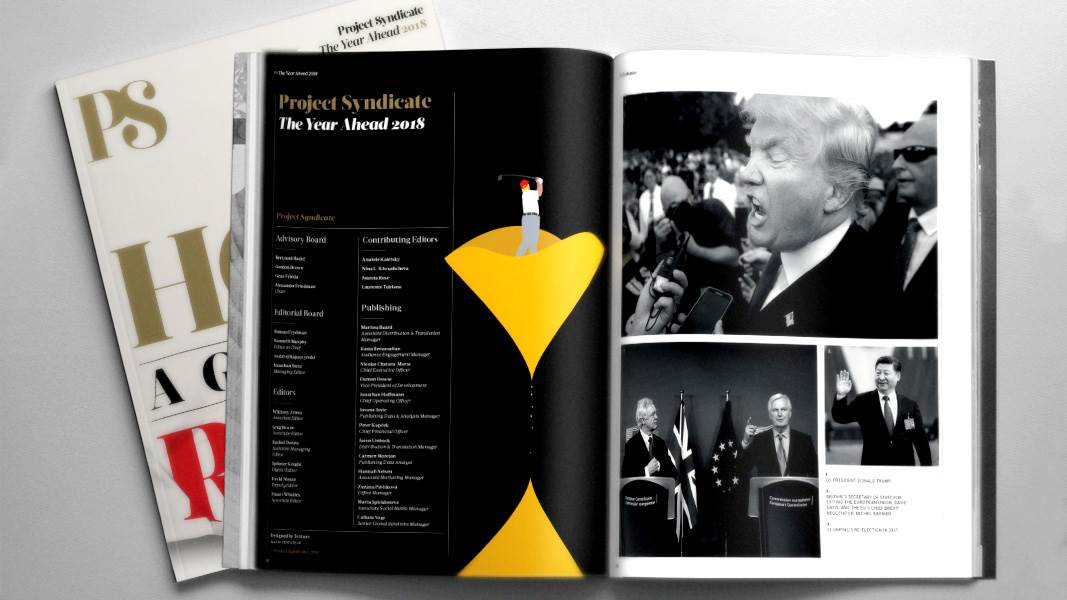 The Year Ahead 2018
The world's leading thinkers and policymakers examine what's come apart in the past year, and anticipate what will define the year ahead.
Yo en una época era un optimista de la tecnología. Durante una carrera de 35 años invirtiendo en lo mejor y lo más brillante de Silicon Valley, tuve la suerte de ser parte de las industrias de las computadoras personales, las comunicaciones móviles, Internet y las redes sociales. Entre los hitos de mi carrera están las inversiones tempranas en Google y Amazon, y ser un  mentor del fundador de Facebook, Mark Zuckerberg, de 2006 a 2010.
Cada nueva ola de tecnología aumentó la productividad y el acceso al conocimiento. Cada nueva
plataforma era más fácil de usar y más conveniente. La tecnología fue el motor de la globalización y del crecimiento económico. Durante décadas, hizo del mundo un lugar mejor. Supusimos que siempre sería así.
Luego llegó el 2016, cuando Internet reveló dos lados oscuros. Uno está relacionado con los usuarios individuales. Los teléfonos inteligentes con infraestructura móvil LTE crearon la primera plataforma de entrega de contenido disponible en cada minuto del día, transformando la industria de la tecnología y las vidas de dos mil millones de usuarios. Con poca o ninguna supervisión regulatoria en gran parte del mundo, empresas como Facebook, Google, Amazon, Alibaba y Tencent utilizaron técnicas comunes en la propaganda y las apuestas de casinos, como notificaciones constantes y recompensas variables, para fomentar la adicción psicológica. 
El otro lado oscuro es geopolítico. En Estados Unidos, Europa occidental y Asia, las plataformas de Internet, especialmente Facebook, permiten a los poderosos infligir daño a los indefensos en política, política exterior y comercio. Las elecciones en Europa y Estados Unidos han demostrado en repetidas ocasiones que se puede abusar de las redes sociales automatizadas para minar la democracia.
El referendo por el Brexit y la elección presidencial estadounidense en 2016 también revelaron que Facebook ofrece importantes ventajas relativas para los mensajes negativos por sobre los positivos. Los gobiernos autoritarios pueden utilizar Facebook para promover el respaldo público a políticas represivas, como puede estar sucediendo hoy en Myanmar, Camboya, las Filipinas y otras partes. En algunos casos, Facebook en verdad brinda apoyo a esos gobiernos, como hace con todos los clientes importantes.
Tengo confianza en que los fundadores de Facebook, Google y otras plataformas importantes de Internet no tuvieran la intención de causar daño cuando adoptaron sus modelos de negocios. Eran jóvenes emprendedores, hambrientos de éxito. Pasaron años generando grandes audiencias reorganizando el mundo online en torno de un conjunto de aplicaciones que eran más personalizadas, convenientes y fáciles de usar que las que existían antes. Y no hicieron ningún intento por monetizar sus esfuerzos hasta mucho después que los usuarios estuvieran atrapados. Los modelos de negocios publicitarios que eligieron se apalancaban  en la personalización, que les permitía a los anunciantes dirigir sus mensajes con una precisión sin precedentes.
Pero luego llegó el teléfono inteligente, que transformó todos los medios y efectivamente le permitió a Facebook, a Google y a otros pocos controlar el flujo de información a los usuarios. Los filtros que les dan a los usuarios "lo que quieren" tuvieron el efecto de polarizar a las poblaciones y erosionar la legitimidad de instituciones democráticas fundamentales (en particular, la libertad de prensa). Y la automatización que hizo que las plataformas de Internet fueran tan rentables también las hizo vulnerables a la manipulación por parte de actores malignos en todas partes -y no sólo los gobiernos autoritarios hostiles a la democracia.
Como nos advirtió Andreessen, estas empresas, con su ambición y su alcance global, se están comiendo la economía mundial. En el proceso, están adoptando versiones de la filosofía corporativa de Facebook -"moverse rápido y romper cosas"- sin importar el impacto en la gente, las instituciones y la democracia. Una gran mayoría de los ciudadanos en el mundo desarrollado habita en burbujas de filtros creadas por estas plataformas -realidades falsas digitales en las que las creencias existentes se vuelven más rígidas y extremas.
En Estados Unidos, aproximadamente un tercio de la población adulta se ha vuelto insensible a las nuevas ideas, inclusive a los datos comprobables. Esa gente es fácil de manipular, un concepto que el ex experto en ética y diseño de Google Tristan Harris llama "lavado de cerebro".
Las democracias occidentales no están preparadas para lidiar con esta amenaza. Estados Unidos no tiene un marco regulatorio efectivo para las plataformas de Internet y carece de la voluntad política de crear uno. La Unión Europea tiene un marco regulatorio y la voluntad política necesaria, pero ninguno de los dos es adecuado para el desafío. El reciente juicio de la UE contra Google -una multa récord de 2.700 millones de dólares por comportamiento anticompetitivo- estuvo bien concebido, pero fue demasiado pequeño. Google apeló, y sus inversores se encogieron de hombros. Puede ser un buen punto de partida, pero claramente fue insuficiente.
Estamos en un punto crítico. La conciencia de los riesgos planteados por las plataformas de Internet está creciendo desde un nivel bajo, pero la conveniencia de los productos y la adicción psicológica que generan es tal que puede llevar una generación hacer un cambio desde el lado del usuario, como sucedió con las campañas anti-tabaquismo. El reconocimiento del efecto corrosivo de los monopolios de las plataformas sobre la competencia y la innovación es mayor en Europa que en Estados Unidos, pero nadie ha encontrado una estrategia regulatoria efectiva. La conciencia de que se pueden manipular las plataformas para socavar la democracia también está creciendo, pero los gobiernos occidentales todavía tienen que diseñar una defensa para hacerle frente.
Los desafíos planteados por los monopolios de las plataformas de Internet requieren nuevas estrategias más allá de las medidas antimonopolio. Debemos reconocer y abordar estos desafíos como una amenaza a la salud pública. Una posibilidad es tratar a las redes sociales de una manera análoga al tabaco y al alcohol, combinando educación y regulación.
En la reunión del Foro Económico Mundial en Davos, la amenaza de los monopolios de las plataformas de Internet debería ser una preocupación prioritaria para los asistentes. En aras de devolverle el equilibrio a nuestra vida y esperanza a nuestra política, es hora de perturbar a los perturbadores.