Um ano de êxitos para a saúde mundial
BANGUECOQUE – Na área do desenvolvimento humano, o ano que terminou foi melhor do que muitos previram. Uma década após o início da Grande Recessão, a recuperação económica continuou em 2017, e foram feitos progressos em questões como a pobreza, a educação, e o aquecimento global.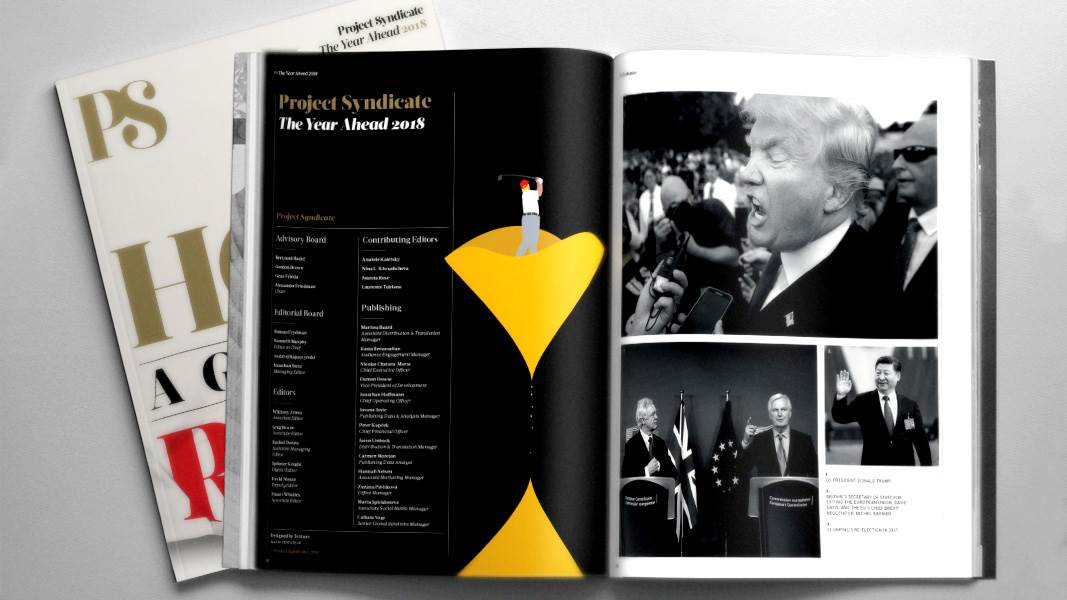 The Year Ahead 2018
The world's leading thinkers and policymakers examine what's come apart in the past year, and anticipate what will define the year ahead.
Mas talvez as conquistas mais significativas dos últimos 12 meses tenham sido na saúde mundial. Conto 18 êxitos únicos em 2017, muitos dos quais ajudarão a lançar as sementes do progresso para os meses e anos vindouros.
O primeiro êxito notável ocorreu no início do ano, quando se atingiu um Recorde Mundial do Guiness para o maior número de doações de medicamentos feitas durante um período de 24 horas. A 30 de Janeiro, foram doados mais de 207 milhões de doses de medicamentos para tratar doenças tropicais negligenciadas, como a doença do verme da Guiné, a lepra, e o tracoma. Este feito extraordinário foi possibilitado pela Fundação Bill e Melinda Gates, e por empresas farmacêuticas que incluíram a Bayer, a Novartis, a Pfizer, e a minha empresa, a Sanofi Pasteur.
A eliminação do tracoma activo na Índia foi uma outra conquista, por ter assinalado um importante ponto de viragem na luta global contra uma principal causa infecciosa da cegueira. No ano passado, o tracoma também foi eliminado no México, no Camboja, e na República Democrática Popular do Laos.
Uma terceira tendência importante da saúde em 2017 foi a continuação da evolução no sentido da eliminação da oncocercose humana, que causa cegueira, problemas oftalmológicos, e infecções cutâneas.
Em quarto lugar na minha lista está a queda impressionante no número de infecções pela doença do verme da Guiné. Apenas 26 casos foram registados em 2017 por todo o mundo, comparados com 3,5 milhões de casos em 1986.
Os esforços para erradicar a lepra obtiveram o quinto lugar na minha lista, enquanto os avanços genéricos na vacinação ficaram em sexto. Os destaques incluíram uma nova vacina da febre tifóide, que demonstrou melhorar a protecção dos bebés e das crianças pequenas, e uma nova vacina do herpes zoster.
No número sete está o enorme êxito conseguido na eliminação do sarampo. Quatro países – Butão, Maldivas, Nova Zelândia, e Reino Unido – foram declarados livres de sarampo no ano passado.
A luta contra o Zika está no número oito da minha lista de conquistas da saúde em 2017. Graças a esforços globais coordenados, a maior parte das pessoas na América Latina e nas Caraíbas são hoje imunes a este vírus transmitido por mosquitos, e os peritos acreditam que a transmissão continuará a diminuir.
Em número nove está a erradicação da poliomielite. Foram relatados menos de 20 novos casos globalmente, uma redução de 99% desde 1988. Embora o ano tenha terminado com relatos de casos no Paquistão, os peritos de saúde continuam optimistas quanto à erradicação total da pólio em 2018.
A fechar os meus dez primeiros colocados está a criação da Coligação para Inovações de Preparação Epidemiológica (AIPE/CEPI – Coalition for Epidemic Preparedness Innovations), fundada para o desenvolvimento de vacinas para ameaças de doenças infecciosas. Fundada com perto de 600 milhões de dólares em financiamento proveniente da Alemanha, do Japão, da Noruega, da instituição de beneficência do Reino Unido Wellcome Trust, e da Fundação Bill e Melinda Gates, a CEPI pretende reduzir grandemente o tempo que demoram o desenvolvimento e a produção de vacinas.
No ano passado foram conseguidos grandes avanços no controlo e prevenção de doenças no ano passado, e as entradas seguintes na minha lista (do 11º ao 16º lugar) reflectem progressos em doenças específicas. Por exemplo, as taxas de morbilidade prematura caíram para doenças não-transmissíveis como as doenças cardiovasculares, o cancro, a diabetes, e as doenças respiratórias crónicas. Um outro destaque foi a aprovação histórica de um tratamento oncológico sofisticado, a terapia de células T CAR, que usa as próprias células imunitárias do doente para atacar tumores.
Também foram feitos avanços no tratamento do VIH. No fim de 2017 foram iniciados ensaios clínicos para uma vacina do VIH, ao mesmo tempo que médicos na África do Sul informaram ter curado um rapaz da doença, após ter recebido tratamentos enquanto bebé. Esta e outras iniciativas dão nova esperança a muitas pessoas que ainda sofrem com esta condição crónica.
Os avanços no tratamento da gonorreia, uma infecção comum e transmitida por via sexual que se tem tornado cada vez mais resistente aos antibióticos, também são dignos de menção. A fechar a minha lista de avanços em doenças específicas em 2017 está o compromisso renovado de ministros da saúde mundiais para a erradicação da tuberculose até 2030.
Os últimos dois sucessos lembram-nos quanto trabalho ainda falta. Em Agosto, o gigante da fast food McDonald's revelou uma Visão Global para a Gestão Antimicrobiana em Animais destinados à Alimentação. Embora o reconhecimento das responsabilidades éticas da indústria alimentar para com a saúde pública deva ser saudado, o compromisso também representa um aviso cautelar sobre o modo como a alimentação e a saúde estão intimamente ligadas.
Finalmente, a fechar a minha lista está o histórico Fórum para a Cobertura Universal de Saúde, onde se reuniram líderes globais para discutirem o modo como deve ser melhorado o acesso aos cuidados de saúde. O Banco Mundial e a OMS salientam quemetade da população mundial ainda não consegue aceder a serviços de saúde essenciais. Por isso, considero a reunião de Dezembro como um "sucesso", não por aquilo que conseguiu, mas por ter lembrado à comunidade internacional que a melhoria do acesso aos cuidados de saúde continua a ser um empreendimento a longo prazo.
Enquanto a comunidade médica global acerta o seu relógio anual – e eu começo a catalogar as grandes histórias da saúde de 2018 – deveríamos parar um momento para reflectirmos sobre os 12 meses que terminaram recentemente. Mesmo num ano medíocre, a comunidade médica global salvou milhões de vidas. Imaginem o que conseguiremos num ano extraordinário.