Tahun Penuh Kesuksesan di Bidang Kesehatan Global
BANGKOK – Dalam bidang pembangunan manusia, tahun lalu berjalan lebih baik dari yang diperkirakan. Satu dekade setelah dimulainya Resesi Besar, pemulihan ekonomi terus terjadi di tahun 2017, dan terdapat kemajuan dalam isu seperti kemiskinan, pendidikan, serta pemanasan global.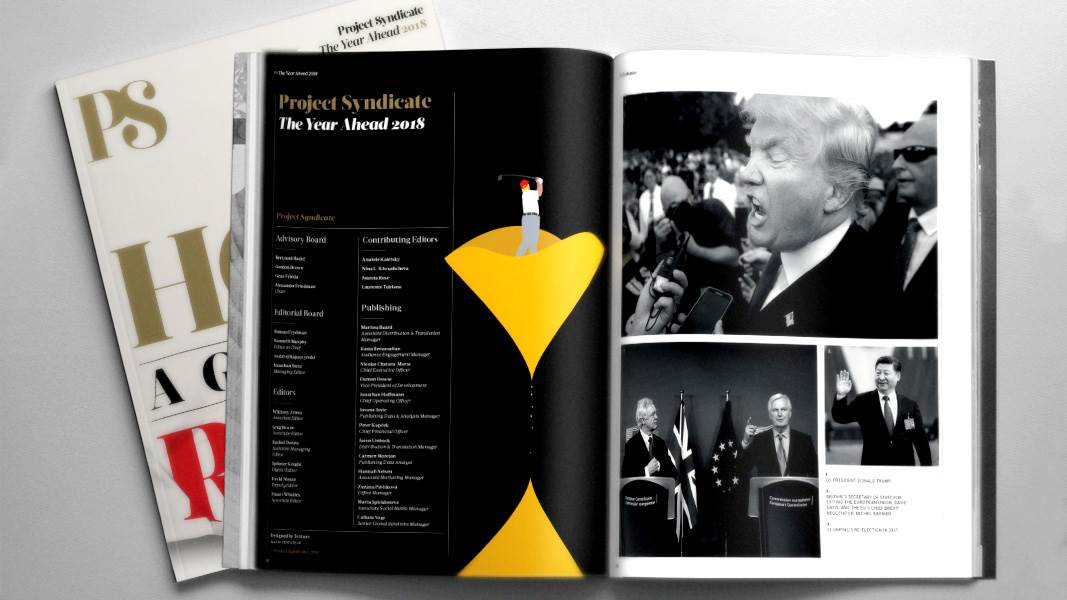 The Year Ahead 2018
The world's leading thinkers and policymakers examine what's come apart in the past year, and anticipate what will define the year ahead.
Namun mungkin pencapaian terbesar dalam 12 bulan terakhir terjadi di bidang kesehatan global. Saya menghitung terdapat 18 kesuksesan unik yang terjadi di tahun 2017, dan banyak diantaranya akan membantu mencapai keberhasilan dimasa depan.
Kesuksesan pertama terjadi pada awal tahun lalu, ketika Guinness World Record mencatat jumlah donasi terbesar untuk bidang kesehatan yang dikumpulkan dalam waktu 24 jam. Pada tanggal 30 Januari, lebih dari 2-7 juta dosis obat disumbangkan untuk mengobati penyakit tropis yang terabaikan termasuk penyakit cacing guinea, kusta dan trachoma. Prestasi luar biasa ini dapat tercapai berkat bantuan dari Bill & Melinda Gates Foundation dan perusahaan farmasi termasuk Bayer, Novartis, Pfizer, serta perusahaan tempat saya bekerja, Sanofi Pasteur.
Keberhasilan India dalam memberantas trachoma aktif merupakan sebuah peristiwa bersejarah karena ini merupakan sebuah titik balik dalam perlawanan global terhadap penyakit menular yang menyebabkan kebutaan. Tahun lalu, trachoma juga berhasil dilenyapkan di Meksiko, Kamboja dan Laos.
Tren kesehatan utama ketiga pada tahun 2017 adalah kemajuan lanjutan dalam membasmi onchocerciasis yang menyebabkan kebutaan, gangguan penglihatan serta infeksi kulit.
Yang keempat dalam daftar saya adalah penurunan drastis jumlah infeksi penyakit cacing guinea. Sedikitnya 26 kasus tercatat diseluruh dunia pada tahun 2017, berkurang dari 3.5 juta kasus pada tahun 1986.
Upaya untuk memberantas kusta ada di peringkat lima dalam daftar saya, sementara kemajuan dalam bidang vaksin berada di peringkat keenam. Salah satu yang menjadi sorotan adalah vaksin tipus baru yang terbukti meningkatkan perlindungan bagi bayi dan anak-anak, dan vaksin herpes zoster.
Di peringkat tujuh adalah kemajuan besar dalam menghilangkan penyakit campak. Empat negara – Bhutan, Maladewa, New Zealand dan Inggris – dinyatakan bebas campak pada tahun lalu.
Perlawanan terhadap Zika menempati peringkat delapan dalam daftar kesuksesan bidang kesehatan di tahun 2017. Karena upaya global yang terkoordinasi, kebanyakan orang di Amerika Latin dan Karibia kini kebal terhadap virus yang ditularkan oleh nyamuk, dan banyak ahli yang percaya bahwa transmisi akan terus melambat.
Peringkat sembilan ditempati oleh pemberantasan polio. Kurang dari 20 kasus penyakit polio dilaporkan secara global, hal ini mencerminkan 99% penurunan sejak tahun 1988. Meskipun tahun kemarin diakhiri dengan laporan beberapa kasus di Pakistan, para ahli kesehatan tetap optimis bahwa polio benar-benar bisa diberantas pada tahun 2018.
Di peringkat sepuluh adalah pembentukan Koalisi untuk Kesiapan Epidemi dan Inovasi (CEPI), yang didirikan untuk mengembangkan vaksin bagi ancaman penyakit menular. Koalisi ini diluncurkan dengan dana $600 juta dari Jerman, Jepang, Norwegia, Wellcome Trust yang merupakan lembaga amal asal Inggris, dan Bill & Melinda Gates Foundation, dan bertujuan untuk menurunkan secara drastis waktu untuk mengembangkan dan memproduksi vaksin.
Kemajuan besar dalam pengendalian dan pencegahan penyakit dicapai pada tahun lalu, dan beberapa item berikutnya dalam daftar saya (urutan 11 hingga 16) mencerminkan kemajuan bagi penyakit tertentu. Misalnya saja, angka kematian dini akibat penyakit tidak menular seperti penyakit jantung, kanker, diabetes, dan penyakit pernapasan kronis. Kemajuan lain yang menjadi sorotan adalah adalah disetujuinya pengobatan kanker yang canggih, yaitu terapi CAR T-cell, yang menggunakan sel kekebalan pasien sendiri untuk menyerang tumor.
Kemajuan juga dicapai dalam pengobatan HIV. Uji coba klinis vaksin HIV dimulai pada akhir tahun 2017, sementara para dokter di Afrika Selatan melaporkan bahwa mereka menyembuhkan seorang anak lelaki dari penyakit HIV setelah ia menerima pengobatan ketika bayi. Hal-hal ini dan inisiatif lainnya memberikan harapan baru bagi banyak orang yang menderita penyakit kronis ini.
Kemajuan dalam pengobatan gonore (kencing nanah), yang merupakan penyakit menular seksual yang kian kebal terhadap antibiotik, juga patut untuk disebutkan. Hal terakhir dalam daftar kemajuan yang penyakit spesifik pada tahun 2017 adalah diperbaharuinya komitmen antara para menteri kesehatan untuk memberantas TBC pada tahun 2030.
Dua keberhasilan terakhir adalah pengingat atas banyaknya upaya yang masih harus dilakukan. Pada bulan Agustus, perusahaan raksasa makanan cepat saji, McDonald's, meluncurkan Visi Global untuk Penatagunaan Antimikroba pada Hewan Ternak. Meskipun pengakuan dari industri makanan akan tanggung jawab etis mereka terhadap kesehatan publik patut untuk dihargai, janji ini juga merupakan peringatan hubungan erat antara makanan dan kesehatan.
Berada pada peringkat terakhir dalam daftar saya adalah diselenggarakannya pertemuan historis Forum Jaminan Kesehatan Semesta di Tokyo, dimana para pemimpin global berkumpul untuk mendiskusikan cara meningkatkan akses terhadap layanan kesehatan. World Bank dan WHO mencatat bahwa setengah dari populasi dunia masih belum bisa mendapatkan layanan kesehatan penting. Oleh karena itu, saya melihat bahwa pertemuan pada bulan Desember tersebut sebagai sebuah kesuksesan bukan karena pencapaian dalam forum tersebut, namun karena hal tersebut adalah pengingat kepada komunitas internasional bahwa meningkatkan akses layanan kesehatan merupakan sebuah upaya jangka panjang.
Disaat komunitas kesehatan internasional memulai tahun yang baru ini – dan saya mulai membuat katalog cerita kesehatan besar di tahun 2018 – kita harus meluangkan waktu untuk merenungkan tahun yang baru saja berlalu. Jika komunitas kesehatan internasional bisa menyelamatkan jutaan nyawa pada tahun yang relatif biasa saja. Bayangkan apa yang bisa kita capai di tahun yang luar biasa.