Een succesvol jaar voor de mondiale volksgezondheid
BANGKOK – Op het gebied van humanitaire ontwikkeling was afgelopen jaar een beter jaar dan velen hadden voorspeld. Tien jaar nadat de Grote Recessie begon zette het economische herstel zich in 2017 voort en werd er vooruitgang geboekt op onderwerpen als armoede, onderwijs, en het broeikaseffect.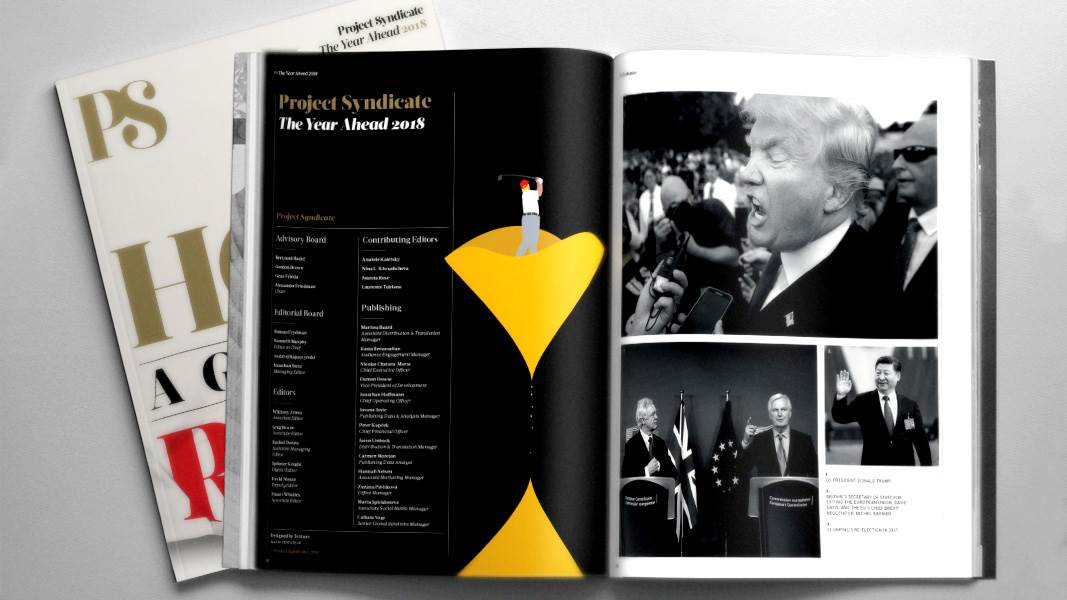 The Year Ahead 2018
The world's leading thinkers and policymakers examine what's come apart in the past year, and anticipate what will define the year ahead.
Maar wellicht de meest opzienbarende prestaties van de laatste twaalf maanden liggen op het gebied van de mondiale volksgezondheid. Ikzelf tel in 2017 achttien unieke successen, waarvan vele helpen de zaden der vooruitgang te planten voor de komende jaren en maanden.
Het eerste opmerkelijke succes deed zich vroeg in het jaar voor, toen er een Guinness wereldrecord werd gezet voor de meeste gedoneerde medicijnen binnen een periode van 24 uur. Op 30 januari werden er meer dan 207 miljoen doses medicijnen gedoneerd om veronachtzaamde tropische ziekten zoals Guineawormen, lepra, en trachoom te behandelen. Deze buitengewone prestatie werd mogelijk gemaakt door de Bill & Melinda Gates Foundation, en door farmaceutische bedrijven zoals Bayer, Novartis, Pfizer, en mijn eigen bedrijf Sanofi Pasteur.
De eliminatie van actief trachoom in India was een andere mijlpaal, omdat dit een belangrijk keerpunt in het mondiale gevecht tegen een leidende besmettelijke oorzaak van blindheid markeerde. Afgelopen jaar werd trachoom ook geëlimineerd in Mexico, Cambodja, en Laos.
Een derde cruciale gezondheidstrend in 2017 was verdere vooruitgang richting de eliminatie van onchocerciase bij mensen, dat blindheid, beperkt zicht, en huidinfecties veroorzaakt.
Vierde op mijn lijst is een drastische afname in het aantal infecties door Guineawormen. Er werden in 2017 wereldwijd maar 26 gevallen gerapporteerd, van 3,5 miljoen gevallen in 1986.
Inspanningen om lepra uit te roeien verdienen de vijfde plaats op mijn lijst, terwijl vooruitgang qua vaccins in het algemeen de zesde plaats inneemt. De hoogtepunten omvatten een nieuw tyfusvaccin dat heeft bewezen de bescherming voor zuigelingen en jonge kinderen te verbeteren, en een nieuw vaccin tegen gordelroos.
Op nummer zeven komt de enorme vooruitgang die is geboekt in het elimineren van mazelen. Vier landen – Bhutan, de Malediven, Nieuw-Zeeland, en het Verenigd Koninkrijk – werden vorig jaar alle mazelenvrij verklaard.
De strijd tegen zika komt op nummer acht op mijn lijst van prestaties op het gebied van gezondheid in 2017. Dankzij gecoördineerde mondiale inspanningen zijn de meeste mensen in Zuid-Amerika en het Caraïbisch gebied nu immuun voor het door muskieten overgebrachte virus, en deskundigen geloven dat de transmissie ervan zal blijven teruglopen.
Nummer negen is de uitroeiing van polio. Er werden wereldwijd minder dan 20 nieuwe gevallen gerapporteerd, een reductie van 99% sinds 1988. Alhoewel het jaar eindigde met rapporten over nieuwe gevallen in Pakistan blijven gezondheidsexperts optimistisch dat polio in 2018 geheel uitgeroeid kan worden.
De oprichting van de Coalition for Epidemic Preparedness Innovations (CEPI), die werd opgericht om vaccins voor bedreigende infectieziekten te ontwikkelen, maakt mijn top tien compleet. Gelanceerd met bijna 600 miljoen dollar aan fondsen uit Duitsland, Japan, Noorwegen, en van de UK Charity Wellcome Trust en de Bill & Melinda Gates Foundation, richt CEPI zich op een scherpe reductie van de benodigde tijd om vaccins te ontwikkelen en produceren.
Er zijn afgelopen jaar grote winsten geboekt in de controle en preventie van ziekten, en de volgende paar onderwerpen op mijn lijst (de nummers elf tot en met zestien) weerspiegelen de vooruitgang qua specifieke ziekten. Zo zijn de ratio's van premature dood voor niet overdraagbare ziekten zoals hart- en vaatziekten, kanker, diabetes, en chronische luchtwegaandoeningen bijvoorbeeld gedaald. Nog een hoogtepunt was de historische goedkeuring van een geavanceerde kankerbehandeling, CAR T-cel therapie, die het eigen immuunsysteem van een patiënt gebruikt om tumoren aan te vallen.
Er werd ook vooruitgang geboekt in de behandeling van hiv. De klinische tests voor een hiv-vaccin begonnen eind 2017, terwijl dokters in Zuid-Afrika rapporteerden dat ze een jongen van de ziekte hebben genezen nadat hij als klein kind behandelingen had ondergaan. Deze en andere initiatieven bieden nieuwe hoop voor de velen die nog steeds onder deze chronische aandoening zuchten.
De vooruitgang in de behandeling van gonorroe, een alledaagse seksueel overdraagbare ziekte die steeds resistenter wordt tegen antibiotica, is ook het vermelden waard. Als laatste op mijn lijst van ziektespecifieke vooruitgang in 2017 komt het hernieuwde engagement van zorgministers wereldwijd om tuberculose in 2030 uitgeroeid te hebben.
De laatste twee successen herinneren eraan hoeveel werk er nog te verzetten is. In augustus onthulde fastfoodgigant McDonalds een Global Vision for Antimicrobial Stewardship in Food Animals. Alhoewel we de erkenning van hun ethische verantwoordelijkheid door de voedselindustrie moeten verwelkomen representeert deze belofte ook een waarschuwing over hoe nauw en voedsel en gezondheid in feite met elkaar verbonden zijn.
Ten slotte maakt het historische Universal Health Coverage Forum gehouden in Tokio, waar wereldleiders bijeenkwamen om te bespreken hoe de toegang tot gezondheidszorg te verbeteren, mijn lijst compleet. De Wereldbank en de WHO noteren dat de helft van de wereldbevolking nog steeds geen toegang tot essentiële zorgdiensten heeft. Daarom reken ik de ontmoeting in december als een 'succes', niet om wat er bereikt is, maar omdat het een geheugensteun voor de internationale gemeenschap was dat het verbeteren van de zorgtoegang een onderneming van de lange adem blijft.
Terwijl de wereldwijde gemeenschap voor gezondheidszorg zijn jaarklok opnieuw instelt – en ik begin met het catalogiseren van de grote zorgverhalen van 2018 – moeten we een moment de tijd nemen om de twaalf maanden die onlangs geëindigd zijn te laten bezinken. Zelfs in een middelmatig jaar heeft de mondiale zorggemeenschap miljoenen levens gered; stel je eens voor wat we in een buitengewoon jaar kunnen bereiken.
Vertaling Melle Trap