مكافحة الأخبار الوهمية تُدعم الرقابة
واشنطن - في حين أن العديد من محللي وسائل الإعلام يشيرون إلى المخاطر المرتبطة "بالأخبار الوهمية"، فإنهم غالبا ما يتجاهلون ما تعنيه هذه الظاهرة للصحفيين. هذا المصطلح لم يصبح مجرد اختزال لتشويه سمعة صناعة بأكملها، بل يستخدمه الأوتوقراطيون كذريعة لحبس الصحفيين - في كثير من الأحيان على اتهامات ملفقة بدعم الإرهاب - وتبرير الرقابة.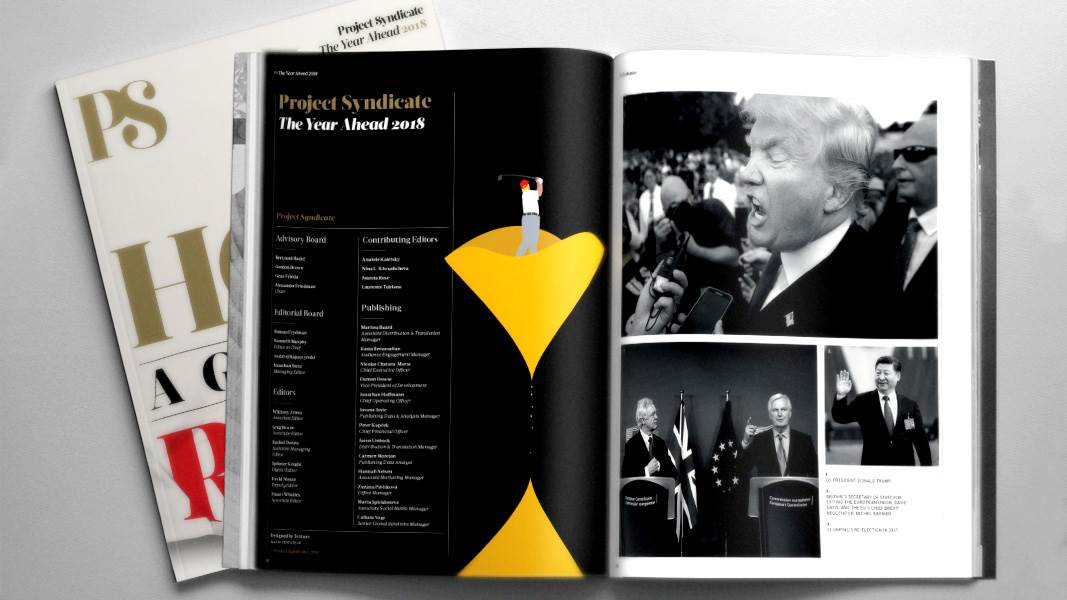 The Year Ahead 2018
The world's leading thinkers and policymakers examine what's come apart in the past year, and anticipate what will define the year ahead.
وعلى الصعيد العالمي، بلغ عدد الصحفيين الذين يعملون بصدق، الذين سجنوا بسبب نشرهم أخبارا كاذبة أو خيالية 21 صحفي، وهو أعلى مستوى له على الإطلاق. ونظرا لأن القادة غير الديمقراطيين يستخدمون بشكل متزايد "أخبارا مزيفة" لمعارضة وسائل الإعلام المستقلة، فمن المرجح أن يستمر هذا العدد في الارتفاع.
وقد نأت الولايات المتحدة، الرائدة عالميا في الدفاع عن حرية التعبير، بنفسها عن هذا الدور. وقد وفرت تغريدات الرئيس دونالد ترامب على تويتر عن "الأخبار الوهمية" أنظمة استبدادية مع أمثلة لتبرير إجراءاتها ضد وسائل الإعلام. وفي كانون الأول / ديسمبر، نشرت صحيفة "الشعب" اليومية التي تديرها دولة الصين تغريدات ورسالة على الفيسبوك رحبت بتصريحات ترامب حول الأخبارية المزيفة، مشيرة إلى أنها تحتوي على "حقيقة أكثر عمقا حول وسائل الإعلام الغربية". وأعقب ذلك ثناء من الحكومة المصرية على إدارة ترامب في فبراير / شباط 2017، عندما انتقد وزير خارجية البلاد الصحفيين الغربيين للإبلاغ عن الإرهاب العالمي.
وفي كانون الثاني / يناير 2017، أشاد الرئيس التركي رجب طيب أردوغان بترامب لقيامه بتوبيخ مراسل قناة سي إن إن خلال مؤتمر صحفي مباشر. وقال أردوغان، الذي انتقد شبكة تغطيته للاحتجاجات المؤيدة للديمقراطية في تركيا في عام 2013، إن ترامب قد أسكت الصحفيين. وقد رد ترامب المجاملة عندما التقى أردوغان بعد بضعة أشهر. وأشاد بنظيره التركي كحليف في مكافحة الإرهاب، لكنه أخفى سجل أردوغان البائس في مجال حرية الصحافة.
وليس من قبيل المصادفة أن الدول الثلاث المذكورة تناولت مفهوم ترامب "للأخبار المزيفة" بشكل أسرع. ومن بين الصحفيين الذين اعتقلوا في جميع أنحاء العالم في عام 2017، سجن أكثر من نصفهم في الصين ومصر وتركيا، واستمروا في اتجاه العام السابق. ويبدو أن صمت المجتمع الدولي في مواجهة هجمات هذه الحكومات على وسائط الإعلام المستقلة كان بمثابة موافقة على هذه الهجمات.
وفي تركيا، حيث ألقي القبض على معظم الصحفيين لمدة سنتين متتاليتين، كان تآكل حرية التعبير سريعا بشكل خاص. ومنذ محاولة انقلاب فاشلة في عام 2016، عالجت المحاكم التركية حوالي 46.000 قضية اتهم فيها أشخاص بإهانة الرئيس أو الأمة أو المؤسسات. ويجري التحقيق مع كل من الصحفيين ال 73 الموجودين حاليا في السجون بتهمة ارتكابهم جرائم ضد الدولة. إن الاتهام الأكثر شيوعا للصحفيين هو الانتماء أو الدعم أو الدعاية لمنظمة إرهابية مزعومة.
فالقوانين الغامضة التي تخلط بين الإبلاغ عن الإرهاب ودعمه، توفر تغطية للنظم التي ترمي إلى منع التغطية الإخبارية السلبية. على سبيل المثال، فإن محاولة الكتابة عن حزب العمال الكردستاني في تركيا، أو حول جماعة الإخوان المسلمين في مصر، أو عن الأويغور في الصين، قد تضع الصحفيين بسرعة وراء القضبان للتعاطف مع الإرهابيين. ويواجه ما يقرب من ثلاثة أرباع ال 262 صحفيا الذين سجنوا في جميع أنحاء العالم اتهامات بالنشاط المناهض للدولة، وفقا لما جاء في الدراسة الأخيرة للجنة حماية الصحفيين.
ولكن حتى لو لم يتم القبض على الصحفيين، فإن المستبدين يطرحون على نحو متزايد ادعاء "أخبار مزيفة" لتشويه مصداقية التغطية المشروعة. ومن المفارقات أن جهود بعض الحكومات الغربية لإخماد المحتوى العنيف أو المضلل من وسائل الإعلام الاجتماعية كانت لعبة في أيدي المستبدين. وعلى الرغم من أن أهداف هذه الجهود جديرة بالثناء، مثل نوع التدخل في الانتخابات التي حققتها روسيا، فإن هناك نتيجة غير مقصودة لهذه الأنشطة تتمثل في الرقابة على الصحفيين الصادقين الذين يقدمون تقارير عن أحداث حقيقية في أخطر الأماكن في العالم.
يجب أخذ ما حدث في العام الماضي مع تغطية الفيديو عن الحرب الأهلية في سوريا بعين الاعتبار. ومن أجل احتواء المحتوى المتطرف، أزال موقع يوتوب مئات مقاطع الفيديو المرتبطة بالنزاع، بما في ذلك العديد من اللقطات التي نشرتها شبكة أخبار الشام، ووكالة قاسيون للأنباء، والمركز الإعلامي إدلب - وجميع وكالات الأنباء المستقلة التي نشرت هذه الكارثة.
وبالمثل، أغلق فيسبوك حسابات الأفراد والمنظمات التي تستخدم المنصة لتوثيق العنف ضد الروهينجا المسلمين في ميانمار، وهي أزمة وصفتها الأمم المتحدة بأنها "مثال أساسي للتطهير العرقي". وقال الفيس بوك إن هذا التصرف كان ردا على انتهاكات "معايير المجتمع" للمنصة.
ووفقا للصحفيين الذين تم إغلاق حساباتهم، منع تويتر الصحفيين المواطنين في مصر وسوريا من الإبلاغ عن انتهاكات حقوق الإنسان. وقد ضربت رقابة تويتر قلب أوروبا؛ وفي كانون الثاني / يناير، أزيلت مجلة ساخرة ألمانية من المنصة بعد أن أصدر البوندستاغ قانونا ينص على غرامات تصل إلى 50 مليون يورو (61 مليون دولار) على شبكات التواصل الاجتماعي التي لا تزيل المحتوى غير القانوني في غضون فترة معينة من الزمن. وتنظر دول أوروبية أخرى في اتخاذ تدابير مماثلة لإجبار شركات الإنترنت على مكافحة التضليل والتطرف.
قد تكون القوانين التي تهدف إلى كبح خطاب الكراهية أو العنف أو "الأخبار المزيفة" حسنة النية، إلا أن تنفيذها كان قاسيا، ولا يتضمن سوى آليات قليلة لضمان المساءلة والشفافية أو إمكانية عكسها. وتستعين الحكومات بمصادر خارجية للرقابة على القطاع الخاص، حيث تكون القيمة القصوى للمساهمين في صميم عملية صنع القرار، وليس الحفاظ على حرية الصحافة.
ويجب على قادة البلدان الديمقراطية في العالم أن يعارضوا الهجمات غير القانونية على الصحافة المستقلة، وهذا يعني إعادة النظر في المحتوى غير الدقيق للأخبار. ومن أجل الأداء السليم للمجتمع، هناك حاجة إلى وسائل الإعلام الحرة النشطة، وليس التضليل الذي من شأنه أن يضعف ذلك. ولكن العلاجات الرسمية التي تؤدي إلى سجن الصحفيين، هي أسوأ من المرض نفسه.