Cuando la lucha contra las noticias falsas ayuda a la censura
WASHINGTON, DC – Muchos analistas de los medios de comunicación han identificado correctamente los peligros que plantean las "noticias falsas", pero a menudo no advierten lo que significa el fenómeno para los periodistas mismos. El término no solo se ha convertido en una manera abreviada de señalar negativamente a todo un sector, sino que los autócratas lo están utilizando como una excusa para encarcelar reporteros y justificar la censura, a menudo con acusaciones exageradas de apoyar a los terroristas.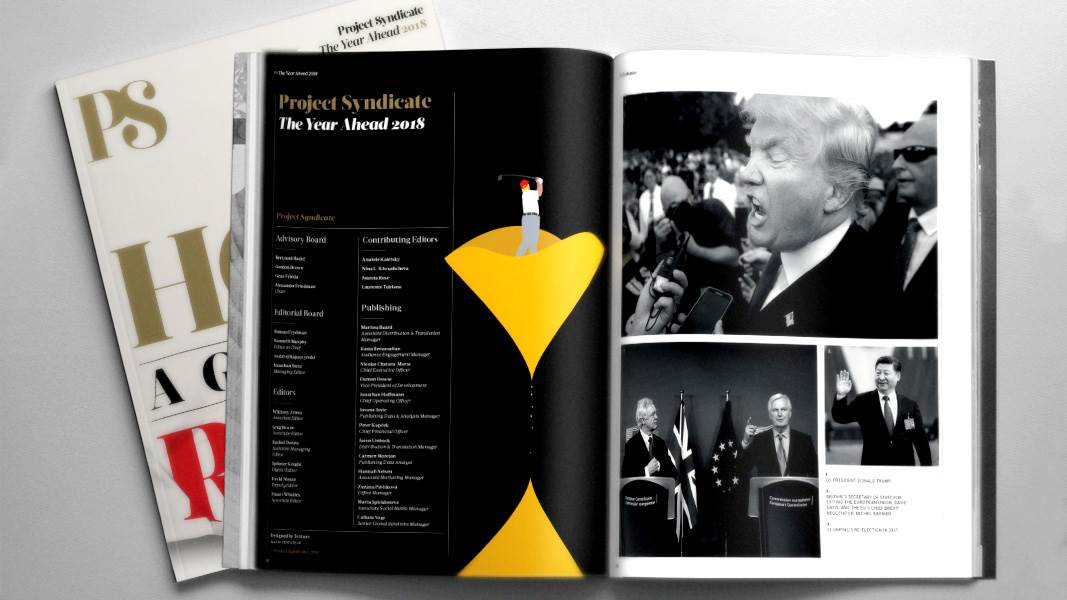 The Year Ahead 2018
The world's leading thinkers and policymakers examine what's come apart in the past year, and anticipate what will define the year ahead.
En todo el planeta, la cantidad de periodistas honestos en prisión por publicar noticias falsas o inventadas es de al menos 21, la más alta de todos los tiempos. Y es probable que suba, a medida que los gobernantes no democráticos usen el calificativo de "noticias falsas" para atacar a los medios independientes.
Estados Unidos, que alguna vez fuera un faro mundial de la defensa de la libertad de expresión, ha abandonado ese papel. Los exabruptos del Presidente Donald Trump en Twitter acerca de las "noticias falsas" han dado a los regímenes autocráticos un ejemplo con el que justificar sus propios ataques a los medios. En diciembre, el periódico estatal chino People's Daily  publicó tuits y una publicación de Facebook saludando el mantra de las noticias falsas de Trump y observando que "denota una verdad más amplia acerca de los medios de comunicación occidentales". A esto siguieron las alabanzas del gobierno egipcio a la administración Trump en febrero de 2017, cuando el ministerio de exteriores del país criticó a los periodistas occidentales por su cobertura del terrorismo global.
Y en enero de 2017, el Presidente turco Recep Tayyip Erdogan alabó a Trump por regañar a un reportero de CNN durante una conferencia de prensa en directo. Erdogan, que criticó a la red por su cobertura de las protestas prodemocráticas en Turquía en 2013, dijo que Trump había puesto al periodista "en su lugar". Trump devolvió el cumplido cuando se reunió con Erdogan algunos meses después. En su elogio de su contraparte por ser un aliado en la lucha contra el terrorismo, no mencionó en ningún momento su decepcionante historial sobre la libertad de prensa.
No es casualidad que estos tres países hayan sido los que más rápido abrazaran la idea de las "noticias falsas". China, Egipto y Turquía son responsables del encarcelamiento de más de la mitad de los periodistas en esa situación en 2017, siguiendo la tendencia del año anterior. El silencio de la comunidad internacional ante los ataques de estos gobiernos a los medios independientes parece haberse interpretado como un consentimiento.
En Turquía, país que por dos años seguido más periodistas ha encarcelado en el planeta, la erosión de la libertad de expresión ha sido particularmente rápida. Desde un fallido intento de golpe en 2016, los tribunales turcos han procesado cerca de 46.000 casos de personas acusadas de insultar al presidente, la nación o sus instituciones. Cada uno de los 73 periodistas que hoy se encuentran en prisión está siendo investigado por crímenes contra el estado, o se le acusa de ello. La acusación más común es pertenecer a una supuesta organización terrorista, ayudarla o hacerle propaganda.
Los regímenes que desean impedir una cobertura noticiosa desfavorable se apoyan en leyes redactadas laxamente que identifican el informar sobre el terrorismo con apoyarlo. Por ejemplo, los reporteros que intentan escribir acerca del Partido de los Trabajadores del Kurdistán (PKK) de Turquía, la Hermandad Musulmana en Egipto o los Uigures en China pueden acabar en la cárcel rápidamente bajo la acusación de albergar simpatías por los terroristas. Cerca de tres cuartos de los 262 periodistas encarcelados en todo el mundo lo están por acusaciones de actividades contra el estado, según el más reciente estudio del Comité de Protección de los Periodistas.
Incluso cuando no se arresta a periodistas, los autócratas cada vez recurren al calificativo de "noticias falsas" para desacreditar el reporteo legítimo. Irónicamente, aquí las iniciativas de algunos gobiernos occidentales por limpiar las redes sociales o eliminar el material violento han sido funcionales a las intenciones de los autócratas. Si bien las metas de estos esfuerzos de limpieza (evitar el tipo de interferencia electoral perfeccionado por Rusia, por ejemplo) son laudables, una consecuencia imprevista ha sido la censura de periodistas honestos que informan de historias reales en algunos de los lugares más peligrosos del mundo.
Piénsese en lo ocurrido el año pasado a la cobertura en video de la guerra civil de Siria. En un esfuerzo por limitar el contenido extremista, YouTube eliminó cientos de videos relacionados con el conflicto, incluidos muchos publicados por la Red Noticiosa Shaam, la Agencia de Noticias Qasioun y el Centro de Medios Idlib, todas ellas fuentes independientes que documentan el desastre.
De manera similar, Facebook cerró cuentas de personas y organizaciones que usaban la plataforma para documentar la violencia contra los rohinyá musulmanes en Myanmar, crisis que las Naciones Unidas ha llamado un "ejemplo de manual de limpieza étnica". Facebook dijo que había actuado en respuesta a violaciones a los "estándares comunitarios" de la plataforma.
Y en Egipto y Siria, de acuerdo con periodistas cuyas cuentas se han cerrado, Twitter ha bloqueado a periodistas ciudadanos para que no informen de abusos a los derechos humanos. Los censores de Twitter incluso han golpeado en el corazón de Europa: en enero, una revista satírica alemana quedó bloqueada de la plataforma después de que el Bundestag promulgara leyes que imponen multas de hasta 50 millones de Euros ($61 millones) a las empresas de redes sociales que no quitaran contenido ilegal a tiempo. Otros países europeos están considerando medidas similares para compeler a las compañías de Internet a combatir la desinformación y el extremismo.
Puede que las leyes para limitar el discurso del odio, la violencia o las "noticias falsas" tengan buenas intenciones, pero su implementación ha estado llena de fallos, con pocos mecanismos para asegurar la rendición de cuentas, la transparencia o la reversibilidad. Los gobiernos están tercerizando la censura al sector privado, en el que la toma de decisiones depende de la maximización del valor de las acciones, no garantizar la libertad periodística.
Las democracias del mundo deben resistir el asalto antiliberal a las organizaciones noticiosas independientes, y eso implica reformular el contenido de leyes cuya ambigüedad las haga vulnerables al abuso. Los medios de comunicación, cuando son libres y vibrantes, son vitales para una sociedad sana, y la desinformación puede socavarlos. Pero los remedios oficiales que acaban silenciando a los quienes informan las noticias son peores que la enfermedad.
Traducido del inglés por David Meléndez Tormen