Když boj s fake news podporuje cenzuru
WASHINGTON, DC – Mnoho mediálních analytiků správně identifikovalo nebezpečí představované "fake news," ale často přehlíží, co tento fenomén znamená pro žurnalisty samotné. Nejen že se stal tento termín zkratkou pro očerňování celého průmyslu; autokraté ho používají jako výmluvu k věznění reportérů a obhajování cenzury, mnohdy díky smyšleným obviněním z podpory terorismu.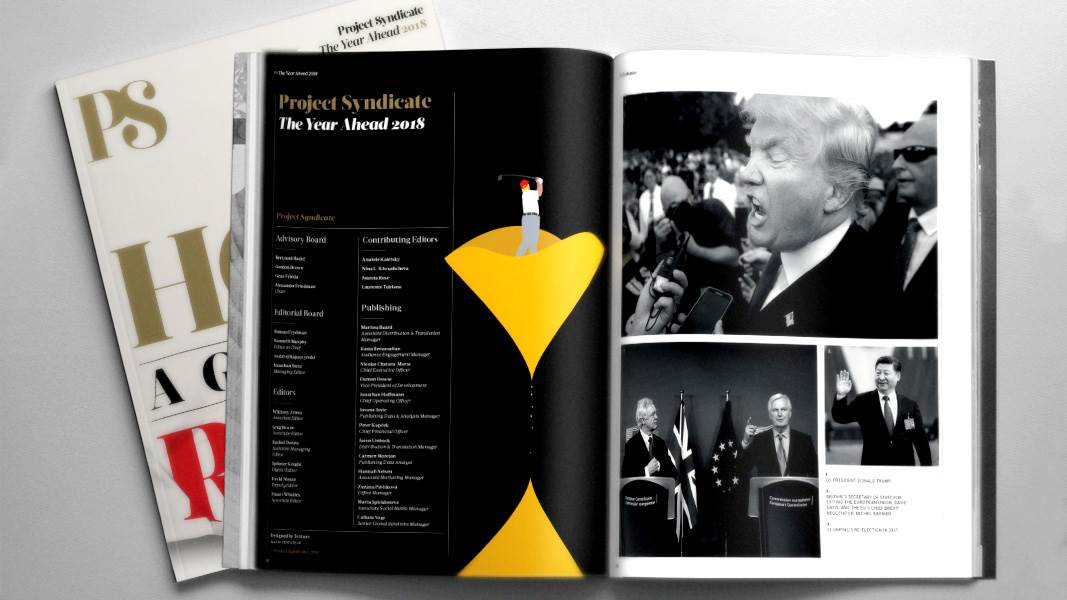 The Year Ahead 2018
The world's leading thinkers and policymakers examine what's come apart in the past year, and anticipate what will define the year ahead.
Po světě je počet uvězněných žurnalistů za falešné či fiktivní zprávy na doposud nejvyšším počtu 21. Tím, jak nedemokratičtí lídři čím dál více používají odpor vůči "fake news" k přitvrzování vůči nezávislým médiím, bude toto číslo pravděpodobně narůstat.
Spojené státy, kdysi světový lídr v obraně svobody slova, se z této role stáhl. Tirády prezidenta Donalda Trumpa na Twitteru o "fake news" daly autokratickým režimům příklad, jak opodstatnit vlastní zásahy proti médiím. V prosinci uveřejnil čínský, státem provozovaný deník People's Dailytweety a facebookové příspěvky vítající Trumpovu mantru proti fake news, kdy poznamenal, že "to ukazuje širší pravdu o západních médiích." To následovalo po chvále Egyptské vlády na Trumpovu administrativu v únoru 2017, kdy ministerstvo zahraničí kritizovalo západní novináře za jejich reportáže o globálním terorismu.
A v lednu 2017 chválil turecký prezident Recep Tayyip Erdoğan Trumpa za vynadání reportérovi CNN během živé tiskové konference. Erdoğan, který CNN kritizoval za jejich pokrytí prodemokratických protestů v Turecku v roce 2013, řekl, že Trump novináře "usadil." Trump tento kompliment oplatil, když se o pár měsíců později s Erdoganem setkal. Zatímco ho chválil jakožto spojence v boji proti terorismu, nijak nekomentoval Erdoğanovu vlastní činnost proti svobodě tisku.
Není náhodou, že tyto tři země si nejrychleji přivlastnily Trumpův přístup k "fake news." Čína, Egypt a Turecko uvěznili více než polovinu ze všech vězněných novinářů za rok 2017, což je pokračující trend minulého roku. Mlčení mezinárodního společenství tváří tvář těmto útokům vlád na nezávislá média je, zdá se, interpretováno jako souhlas.
V Turecku, světovém lídru ve věznění novinářů dva roky v řadě, byla eroze svobody projevu obzvláště rychlá. Od nepovedeného pokusu o puč v roce 2016 zpracovaly turecké soudy zhruba 46 000 případů zahrnujících obvinění z urážení prezidenta, národu a institucí. Každý ze 73 novinářů, kteří jsou aktuálně za mřížemi, je vyšetřován za, nebo obviňován z protistátních zločinů. Nejobvyklejší obvinění reportérů je příslušnost k, podpora nebo propagování domnělých teroristických organizací.
Vágně formulované zákony, které slučují reportování o terorismu s jeho podporou, poskytují záměrům režimu krytí pro zabránění nelichotivému reportingu. Kupříkladu snaha psát o Straně kurdských pracujících (PKK) v Turecku, o Muslimském bratrstvu v Egyptě nebo o Ujgurech v Číně, může rychle znamenat pro reportéry vězení za skryté sympatie k teroristům. Téměř tři čtvrtiny z 262 novinářů ve vězení na celém světě je vězněno za protistátní obvinění, podle nedávného průzkumu Komise pro ochranu žurnalistů.
I když nedochází přímo k zatýkání novinářů, autokraté stále častěji uplatňují "fake news" argument k diskreditaci legitimního zpravodajství. Ironií je, že v těchto případech snahy několika západních zemí o pročištění sociálních médií od falešného či násilného materiálu nahrály do karet právě autokratům. Zatímco cíle těchto očistných snah – kupříkladu zabránit zásahům do voleb, což dovedlo k dokonalosti Rusko – jsou chvályhodné, nechtěným následkem je však cenzura čestné novinářské práce v reálných tématech v jedněch z nejnebezpečnějších oblastech světa.
Vezměme si příklad toho, co se stalo minulý rok při video pokrytí civilní války v Sýrii. Ve snaze eliminovat extremistický obsah odstranilo YouTube stovky videí souvisejících s konfliktem, včetně mnoha, které publikovali Shaam News Network,Qasioun News Agency a Idlib Media Center – vše nezávislá zpravodajství dokumentující tuto pohromu.
Obdobně pak Facebook zrušil účty jednotlivců a organizací, kteří využívali platformu k dokumentování násilí proti muslimským Rohingyům v Barmě, což je krize, kterou OSN nazvala "učebnicovým příkladem etnických čistek." Facebook tvrdil, že jednal v reakci na porušení "komunitních standardů" platformy.
A v Egyptě a Sýrii zablokoval Twitter občanský žurnalismus před reportováním o porušování lidských práv, jak tvrdí novináři, jejichž účty byly zablokovány. Cenzoři Twitteru dokonce zasáhli v srdci Evropy; v lednu byl zablokován německý satirický magazín poté, co Bundestag schválil zákon, který pokutuje až do výše 50 milionů eur sociální média, která včas neodstraní ilegální obsah. Další evropské země zvažují podobná opatření, aby tak donutily internetové společnosti bojovat s dezinformacemi a extremismem.
Zákony, které by měly držet na uzdě projevy nenávisti, násilí, či "fake news" mohou být sice dobře míněny, ale jejich implementace je nedbalá, s malým množstvím mechanizmů k zajištění zodpovědnosti, transparentnosti či reverzibility. Vlády zadávají cenzuru privátnímu sektoru, kde maximalizace hodnoty akcií držitele, ne dodržování novinářské svobody, podporuje rozhodovací proces.
Lídři světových demokracií musí odolávat neliberálnímu útoku na nezávislé mediální organizace a to znamená přehodnocení volně vytvořených zákonů týkajících se se obsahu, které jsou zneužívány. Volná, živá média jsou klíčová pro fungování zdravé společnosti a dezinformace to mohou narušit. Ale oficiální opravné prostředky, které vedou k umlčení těch, kdo tyto zprávy šíří, jsou horší než nemoc.