Ketika Perlawanan terhadap Berita Palsu Menguntungkan Sensor
WASHINGTON, DC – Banyak analis media yang telah mengidentifikasi dengan tepat bahaya yang ditimbulkan oleh "berita palsu" (fake news), namun mereka sering mengabaikan makna dari fenomena tersebut bagi jurnalis. Istilah tersebut tidak hanya menjadi cara untuk memfitnah keseluruhan industri: para autokrat menggunakan istilah tersebut sebagai alasan untuk memenjarakan reporter dan untuk membenarkan penyensoran, sering kali atas tuduhan palsu mendukung terorisme.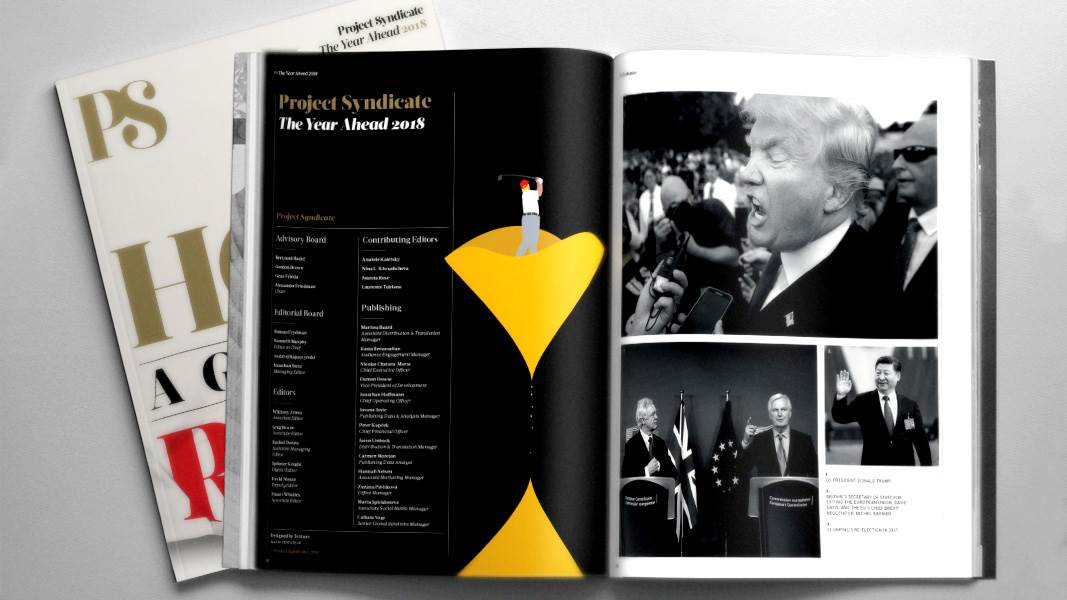 The Year Ahead 2018
The world's leading thinkers and policymakers examine what's come apart in the past year, and anticipate what will define the year ahead.
Di seluruh dunia, jumlah jurnalis jujur yang dipenjarakan atas tuduhan membuat berita palsu atau fiktif berada pada angka tertinggi yang pernah ada, yaitu 21 orang. Seiring dengan semakin seringnya para pemimpin non-demokratis menggunakan istilah "berita palsu" untuk menekan media independen, jumlah tersebut cenderung akan meningkat.
Amerika, yang dulu merupakan pemimpin kebebasan berpendapat, kini tidak lagi menempati posisi tersebut. Omelan di Twitter mengenai berita palsu yang dilakukan oleh Presiden Donald Trump telah memberikan rezim autokrat pembenaran untuk mengekang media. Pada bulan Desember, koran milik pemerintah Tiongkok, People's Daily, memuat tweet dan unggahan di Facebook yang menyambut matra Trump mengenai berita palsu, dengan mengutarakan bahwa hal tersebut "mengungkap kenyataan mengenai media di negara-negara barat". Hal ini terjadi setelah pemerintah Mesir memuji pemerintahan Trump pada bulan Februari 2017, yaitu ketika Menteri Luar Negeri Mesir mengkritisi jurnalis negara-negara barat atas pemberitaan mereka mengenai terorisme global.
Dan pada bulan Januari 2017, Presiden Turki Recep Tayyip Erdoğan memuji Trump yang memarahi reporter CNN pada siaran langsung konferensi pers. Erdoğan, yang mengkritik jaringan berita tersebut karena liputan protes pro-demokrasi di Turki pada tahun 2013, mengatakan bahwa Trump telah membuat "jurnalis tersebut tahu diri". Trump balik memuji ketika ia bertemu dengan Erdoğan beberapa bulan kemudian. Ia memuji Erdoğan sebagai sekutu dalam perlawanan terhadap terorisme, dan tidak menyebutkan catatan buruknya dalam hal kebebasan pers.    
Bukanlah sebuah kebetulan bahwa ketiga negara tersebut menjadi yang paling cepat memuji ujaran Trump mengenai berita palsu. Tiongkok, Mesir dan Turki memenjarakan lebih dari separuh jurnalis di dunia pada tahun 2017, yang melanjutkan tren dari tahun sebelumnya. Tidak adanya reaksi dari komunitas internasional atas tindakan negara-negara ini terhadap pers yang mandiri dianggap sebagai sebuah persetujuan akan tindakan tersebut.
Di Turki, yang merupakan negara yang paling banyak memenjarakan jurnalis selama dua tahun berturut-turut, erosi terhadap kebebasan berpendapat terjadi dengan sangat cepat. Sejak gagalnya kudeta pada tahun 2016, pengadilan Turki telah memproses 46,000 kasus orang-orang yang dituduh menghina presiden, negara, atau institusi negara. 73 jurnalis yang kini dipenjara dituduh, atau dihukum, atas kejahatan anti-negara. Tuduhan yang paling banyak terhadap reporter adalah membantu atau melakukan propaganda untuk organisasi yang dituduh sebagai teroris.
Peraturan yang tidak jelas mengaburkan arti pemberitaan mengenai terorisme sebagai dukungan terhadap hal tersebut memberikan alasan bagi rezim yang berniat untuk mencegah berita yang tidak mendukung rezim. Misalnya saja, upaya untuk menulis berita mengenai Partai Pekerja Kurdistan (PKK) di Turki, Ikhwanul Muslimin di Mesir, atau Uighurs di Tiongkok dapat membuat jurnalis dipenjara atas tuduhan bersimpati terhadap teroris. Hampir tiga perempat dari 262 jurnalis yang dipenjara di seluruh dunia akibat tuduhan kejahatan anti-negara, berdasarkan survei terbaru Komite Perlindungan Jurnalis.
Bahkan ketika para jurnalis tidak ditahan, para autokrat semakin sering menyerukan "berita palsu" untuk mendiskreditkan berita yang benar. Dan ironisnya, upaya yang dilakukan negara-negara barat untuk menghilangkan berita palsu dan yang berisi kekerasan dari media sosial justru menguntungkan rezim autokrasi. Meskipun tujuan dari upaya pembersihan ini- misalnya saja untuk mencegah jenis intervensi pemilu yang telah dikuasai oleh Rusia – patut untuk dipuji, konsekuensi yang tidak disengaja adalah penyensoran pelaporan jurnalis jujur yang melaporkan kisah nyata di beberapa wilayah yang paling berbahaya di dunia.
Misalnya saja pelaporan dalam bentuk video mengenai perang sipil di Suriah pada tahun lalu. Dalam upaya untuk mengendalikan konten ekstremis, YouTube menghapus ratusan video yang berkaitan dengan konflik, termasuk banyak video yang diunggah oleh Shaam News Network, Qasioun News Agency, dan Idlib Media Center – yang seluruhnya merupakan outlet berita independen yang mendokumentasikan bencana tersebut.
Serupa dengan kasus di atas, Facebook menutup akun-akun baik milik individu dan organisasi yang menggunakan platform tersebut untuk mendokumentasikan kekerasan terhadap kaum muslin Rohingya di Myanmar, yang merupakan sebuah krisis yang PBB sebut sebagai "contoh  nyata dari pembersihan etnis (ethnic cleansing)". Facebook mengatakan bahwa mereka bertindak untuk menanggapi pelanggaran "standar komunitas" di platform tersebut.
Di Mesir dan Suriah, Twitter telah memblokir jurnalis warga (citizen journalist) untuk melaporkan pelanggaran hak asasi manusia, menurut jurnalis yang akunya telah ditutup. Sensor dari Twitter juga terjadi di Eropa: Pada bulan Januari, majalah satir asal Jerman diblokir dari platform tersebut setelah Bundestag (parlemen Jerman) memberlakukan undang-undang yang mengenakan denda hingga €50 juta ($61 juta) pada media sosial yang gagal menghapus konten ilegal dalam jangka waktu yang cepat. Negara Eropa lainnya mempertimbangkan langkah-langkah serupa untuk memaksa perusahaan internet memerangi informasi yang salah dan ekstremisme.  
Peraturan yang bertujuan untuk mengurangi ujaran kebencian, kekerasan, atau "berita palsu" mungkin mempunyai tujuan yang mulia, namun hal ini diterapkan dengan ceroboh, dan terdapat sedikit mekanisme untuk menjamin akuntabilitas, transparansi, atau revisibilitas. Pemerintah melakukan outsourcing penyensoran ke pihak swasta, yang bertujuan untuk memaksimalkan keuntungan pemegang saham, bukan menjunjung kebebasan jurnalistik, adalah hal yang mendorong pengambilan keputusan.      
Para pemimpin negara demokratis harus menolak serangan tidak liberal terhadap organisasi berita independen, dan hal ini berarti memikirkan kembali peraturan mengenai konten yang longgar dan rentan terhadap penyalahgunaan. Media yang bebas dan produktif penting untuk mencapai masyarakat yang sehat, dan informasi yang keliru dapat melemahkan hal ini. Namun solusi yang pada akhirnya membungkam pelaporan berita adalah solusi yang lebih buruk dari permasalahan yang ada.