Que signifie défendre l'Europe ?
LJUBLJANA – Après l'attaque russe contre l'Ukraine, le gouvernement slovène a immédiatement déclaré qu'il était prêt à accueillir des milliers de réfugiés ukrainiens. En tant que citoyen slovène, je me suis senti non seulement fier, mais aussi honteux.
Après tout, lorsque l'Afghanistan est tombé aux mains des talibans il y a six mois, ce même gouvernement a refusé d'accepter des réfugiés afghans, en arguant qu'ils devaient rester dans leur pays et se battre. Et il y a quelques mois, lorsque des milliers de réfugiés – principalement des Kurdes irakiens – tentaient d'entrer en Pologne depuis la Biélorussie, le gouvernement slovène, affirmant que l'Europe était attaquée, offrait une aide militaire pour soutenir les efforts vils de la Pologne pour les empêcher d'entrer en Pologne.
Dans toute la région, deux espèces de réfugiés sont apparues. Un tweet du gouvernement slovène, le 25 février, a clarifié la distinction : « Les réfugiés d'Ukraine viennent d'un environnement qui dans sa dimension culturelle, religieuse et historique comporte quelque chose de totalement différent de l'environnement d'où viennent les réfugiés d'Afghanistan ». Après un tollé, le tweet a été rapidement supprimé, mais la vérité obscène était toute nue : l'Europe doit se défendre contre la non-Europe.
Cette approche sera catastrophique pour l'Europe dans la lutte mondiale actuelle pour l'influence géopolitique. Nos médias et nos élites qualifiaient cette lutte comme un conflit entre une sphère « libérale » occidentale et une sphère « eurasienne » russe, ignorant le groupe beaucoup plus vaste de pays – Amérique latine, Moyen-Orient, Afrique et Asie du Sud-Est – qui nous observent de près.
Même la Chine n'est pas prête à soutenir pleinement la Russie, même si elle a ses propres projets. Dans un message adressé au dirigeant nord-coréen Kim Jong-un un jour après que la Russie a lancé son invasion de l'Ukraine, le président chinois Xi Jinping a déclaré que la Chine est prête à travailler au développement de relations d'amitié et de coopération entre la Chine et la République populaire démocratique de Corée « dans une nouvelle situation ». On craint que la Chine n'utilise la « nouvelle situation » pour « libérer » Taïwan.
Ce qui devrait nous inquiéter maintenant, c'est que la radicalisation à laquelle nous assistons, très clairement avec le président russe Vladimir Poutine, n'est pas seulement rhétorique. Beaucoup de gens de la gauche progressiste, convaincus que les deux camps savaient qu'ils n'avaient pas les moyens d'une guerre totale, pensaient que Poutine avait bluffé en massant des troupes aux frontières de l'Ukraine. Même lorsque Poutine a décrit le gouvernement du président ukrainien Volodomyr Zelensky comme un « gang de toxicomanes et de néonazis », il était probable que la Russie occuperait simplement les deux « républiques populaires » séparatistes contrôlées par les séparatistes russes soutenus par le Kremlin ou, tout au plus, étendrait l'occupation à toute la région du Donbass en Ukraine orientale.
Secure your copy of PS Quarterly: The Year Ahead 2023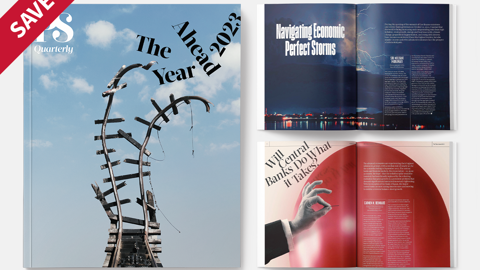 Secure your copy of PS Quarterly: The Year Ahead 2023
Our annual fourth-quarter magazine is here, and available only to Digital Plus and Premium subscribers. Subscribe to Digital Plus today, and save $15.

Et aujourd'hui, certains qui se qualifient de gauchistes (je n'en dirais pas autant à mon sujet) accusent l'Occident du fait que le président américain Joe Biden avait raison sur les intentions de Poutine. L'argument est bien connu : l'OTAN encerclait lentement la Russie, fomentant des révolutions de couleur dans ses pays voisins, et ignorait les craintes raisonnables d'un pays qui avait été attaqué par l'Occident au cours du siècle dernier.
Il y a, bien sûr, un élément de vérité ici. Mais dire seulement cela revient à justifier Hitler en reprochant l'injustice du Traité de Versailles. Pire encore, c'est admettre que les grandes puissances ont droit à des sphères d'influence, auxquelles toutes les autres doivent se soumettre au nom de la stabilité mondiale. L'hypothèse de Poutine selon laquelle les relations internationales sont un concours de grandes puissances se reflète dans son affirmation répétée selon laquelle il n'avait pas d'autre choix que d'intervenir militairement en Ukraine.
Est-ce vrai ? Le problème est-il vraiment celui du fascisme ukrainien ? La question s'adresse davantage à la Russie de Poutine. Le point de repère intellectuel de Poutine est Ivan Ilyin, dont les œuvres sont de nouveau imprimées et données aux apparatchiks et aux conscrits militaires. Après avoir été expulsé de l'Union soviétique au début des années 1920, Ilyin a préconisé une version russe du fascisme : l'État en tant que communauté organique dirigé par un monarque paternaliste, dans lequel la liberté revient à reconnaît la place de chacun. Le but du vote pour Ilyin (et pour Poutine) est d'exprimer un soutien collectif au dirigeant, pas de le légitimer ni de le choisir.
Aleksandr Dugin, le philosophe de cour de Poutine, suit de près les traces d'Ilyin, en ajoutant une garniture postmoderne de relativisme historiciste :
« Chaque soi-disant vérité est une question de croyance. Nous croyons donc en ce que nous faisons, nous croyons en ce que nous disons. Et c'est la seule façon de définir la vérité. Nous avons donc notre vérité russe spéciale que vous devez accepter. Si les États-Unis ne veulent pas commencer une guerre, vous devriez reconnaître que [les] États-Unis ne sont plus un maître unique. Et [avec] la situation en Syrie et en Ukraine, la Russie dit : « non, vous n'êtes plus le patron. » La question est de savoir qui dirige le monde. Seule la guerre peut vraiment décider ».
Mais qu'en est-il du peuple syrien et de l'Ukraine ? Peuvent-ils aussi choisir leur vérité ou ne sont-ils qu'un champ de bataille pour ceux qui souhaitent diriger le monde ?
L'idée que chaque « mode de vie » a sa propre vérité est ce qui fait aimer Poutine aux populistes de droite comme l'ancien président américain Donald Trump, qui a salué l'invasion de l'Ukraine par la Russie comme étant l'acte d'un « génie ». Et ce sentiment est réciproque : lorsque Poutine parle de « dénazification » en Ukraine, il faut garder à l'esprit son soutien au Rassemblement national de Marine le Pen en France, à La Ligue de Matteo Salvini en Italie et à d'autres mouvements néo-fascistes actuels.
La « vérité russe » n'est qu'un mythe pratique pour justifier la vision impériale de Poutine, et la meilleure manière pour l'Europe de la contrer consiste à construire des ponts avec les pays émergents et en développement, dont beaucoup ont une longue liste de griefs justifiés contre la colonisation et l'exploitation occidentales. Il ne suffit pas de « défendre l'Europe ». La véritable tâche consiste à persuader les autres pays que l'Occident peut leur offrir de meilleurs choix que la Russie ou la Chine. Et la seule manière d'y parvenir est de nous changer en déracinant sans pitié le néo-colonialisme, même lorsqu'il est présenté comme une aide humanitaire.
Sommes-nous prêts à prouver qu'en défendant l'Europe, nous nous battons pour la liberté partout dans le monde ? Notre refus honteux de traiter les réfugiés avec équité envoie au monde un message très différent.