Proč potřebuje Afrika fosilní paliva
SANTIAGO – Pokud jde o energii, je Afrika "nejobnovitelnější" kontinent na světě. V bohatém světě tvoří obnovitelné zdroje méně než desetinu celkových energetických zdrojů. 900 milionů lidí v subsaharské Africe (kromě Jihoafrické republiky) však získává 80% energie z obnovitelných zdrojů.
Zatímco v Evropě či USA využívají lidé na osobu v průměru 11 000 kWh za rok (většinu z toho díky průmyslovým procesům), v subsaharské Africe je to pouze 137 kWh – méně, než spotřebuje typická americká chladnička za čtyři měsíce. Více než 600 milionů lidí v Africe nemá k elektřině pak přístup vůbec.
Tohle vše není tím, že by Afrika byla zelená, ale proto, že je chudá. Zhruba 2% energetických potřeb kontinentu je pokryto hydro energií a 78% pokrývá nejstarší obnovitelný zdroj lidstva: dřevo. To vede k velkému odlesňování a smrtelnému znečištění vzduchu, které ročně zabije 1,3 milionu lidí.
Co Afrika, dle mnohých aktivistů, potřebuje, je pokrytí solárními panely a větrnými turbínami. Když však prezident USA Barrack Obama hostil summit afrických lídrů v roce 2014, většina chtěla více fosilních paliv. Slovy ministra Tanzanie pro nerosty a energetiku Sospetera Muhonga: "Začneme zintenzivňovat využití uhlí …. Proč bychom neměli používat uhlí, když jsou zde další země, jejichž emise CO2 per capita jsou tak vysoké?… My zkrátka začneme."
Evropa a Severní Amerika zbohatly díky levné a dostatečné energii. V roce 1800 pocházelo 94% energie na celém světě z obnovitelných zdrojů, skoro vše bylo rostlinného původu či dřevo. V roce 1900 tvořily obnovitelné zdroje 41% energie; dokonce ještě na konci druhé světové války to bylo ještě 30%. Od roku 1971, kdy podíl obnovitelných zdrojů dosáhl nejnižšího bodu, dnes setrvává na cca 13,5%. Z toho je skoro vše dřevo, pouze 0,5% tvoří solární a větrná energie.
Mezinárodní energetická agentura (IEA) odhaduje, že pokud všechny země splní závazky, které potvrdily na klimatické konferenci v Paříži minulý měsíc, tak by v příštích 25 letech mohl podíl obnovitelných zdrojů lehce vzrůst na cca 18,7%. IEA vidí jako reálnější scénář dosažení úrovně pouze 15,4%.
Introductory Offer: Save 30% on PS Digital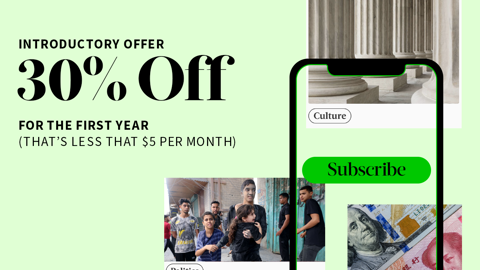 Introductory Offer: Save 30% on PS Digital
Subscribe now to gain greater access to Project Syndicate – including every commentary and our entire On Point suite of subscriber-exclusive content – starting at less than $5 per month.
Většina této "obnovitelné energie" bude stále pocházet z rostlinných zbytků, kravského hnoje, dřeva a biopaliv. Zatímco solární panel může poskytnout energii pro žárovku či nabití telefonu, příliš nepomáhá v provozu kamen k zabránění znečištění vnitřního ovzduší, nebo v provozu lednic k udržení čerstvosti vakcín a jídla, nemluvě o energii pro průmysl či zemědělství. V rámci optimistického scénáře IEA by do roku 2040 měla solární energie v subsaharské Africe produkovat 14kWh na osobu na rok, což je méně, než je třeba k permanentnímu svitu jedné dvouwattové LED žárovky. IEA také odhaduje, že obnovitelná energie bude stát v průměru stále více, než jakýkoliv jiný zdroj – ropa, plyn, jádro, uhlí či voda, dokonce i při uhlíkové dani.
Jen málokterá z bohatých zemí by přešla na obnovitelné zdroje bez mohutných dotací a rozhodně by nikdo z nich neustřihl svůj přístup k převážně fosilními palivy poháněné síti, která zajišťuje stabilní zdroj energie v zamračených dnech a v noci (další forma dotace). Západní aktivisté si však zjevně myslí, že nejchudší lidé na světě by měli být spokojení s nedostatečnou a nepravidelnou dodávkou energie.
Ve svém nedávném energetickém výhledu pro Afriku odhaduje IEA, že do roku 2040 vzrostou energetické nároky Afriky o 80%; nicméně s téměř zdvojnásobením populace za stejnou dobu bude na osobu na kontinentu k dispozici méně energie. Ačkoliv do roku 2040 získá téměř miliarda lidí přístup k elektřině, 530 milionů bude stále bez něj.
IEA nastiňuje ale ještě jednu variantu – kterou nazývá "století Afriky" – ve které africké vlády a dárci investují do energie dalších 540 miliard dolarů. To by prudce zvýšilo využití fosilních paliv, zredukovalo většinu z nejvíce znečišťujících obnovitelných zdrojů a poskytlo přístup k energii dalším 230 milionům lidí. Díky poskytnutí většího množství – a spolehlivější – energie téměř dvěma miliardám lidí by se zvýšilo do roku 2040 HDP o 30%. Každá osoba v Africe by si každý rok polepšila téměř o 1000 dolarů.
V západních zemích se ekologičtí aktivisté soustředí na nevýhodu – o 300 milionů tun CO₂ více do roku 2040 a také vyšší venkovní znečištění ovzduší díky větší závislosti na uhelné energii – a ptají se, proč by někdo chtěl zvyšovat emise CO₂ a zhoršovat znečištění ovzduší. Podívejme se ale na náklady a přínos.
Ty zhruba čtyři miliardy tun CO₂ navíc během následujících 25 let by znamenalo asi 140 miliard dolarů ve škodách z globálního oteplování, když použijeme oficiální (nicméně pravděpodobně trochu přehnané) hodnoty společenských nákladů z USA. Nárůst používání uhlí by vedl k většímu znečištění ovzduší, což by ve zmiňovaném období stálo 30 miliard dolarů.
Současně by se Afrika stala téměř o 7 bilionů bohatší. Vnitřní znečištění ovzduší by se v podstatě vymýtilo v případě dalších 150 milionů lidí, se společenským přínosem skoro 500 miliard dolarů. Energie by se dostala k dalším 230 milionům lidí, což by generovalo přínos na úrovni 1,2 bilionu dolarů.
Jinými slovy, celkové náklady "afrického století", včetně nákladů vztažených na klima a zdraví, by činily 170 miliard dolarů. Celkový výnos na úrovni 8,4 bilionů by tak byl skoro 50 krát vyšší.
Stejný obecný argument pravděpodobně platí i pro Indii a další rozvojové země. Například v Číně se emise CO2 od roku 1981 zvýšily o 500%; chudoba však v zemi prudce klesla – od 89% tehdy na 10% dnes.
Aktivisté zdůrazňují, že v bohatých zemích by tuna CO2 mohla stát nějakých 50 dolarů a měla by být zdaněna za účelem snížení emisí. V případě Afriky však ekonomický, společenský a ekologický přínos většího množství energie a vyššího CO2 tvoří cenu vyšší než 2000 dolarů na tunu. Soustředění se na 50 dolarů v nákladech a ignorování 2000 v přínosu je úmyslná slepota.
Jednoho dne by inovace mohla srazit ceny zelené energie na bod, kdy pozvedne lid z chudoby efektivněji než fosilní paliva. Globálně bychom do takových inovací měli investovat mnohem více. Globální oteplování však nespravíme pokryteckým uzavřením cesty z chudoby pro ty nejchudší.