Nie Ma Czasu do Stracenia
W tym miesiącu Bill Gates opublikował nową książkę pod tytułem: "Jak Ocalic Swiat Od Katastrofy Klimatycznej: Rozwiązania, Które Juz Mamy, Zmiany, Jakich Potrzebujemy."
Connie Hedegaard: Zacznę od wyznania: przez lata myślałem, że nie jesteś szczególnie zainteresowany zmianami klimatycznymi. Doskonale pamiętam zamkniętą sesję w Davos sprzed lat. Dyskusja skupiła się na klimacie, a nie na innych kwestiach związanych ze zrównoważonym rozwojem, a ty opuściłeś salę.
Teraz z całą mocą i zdecydowanie opowiadasz się za pilnymi działaniami na rzecz klimatu. Rozpoczynasz swoją książkę od opisu tej podróży. Na początku "trudno było zaakceptować, że tak długo, jak ludzie będą emitować jakąkolwiek ilość gazów cieplarnianych, temperatura będzie rosła." Dopiero po powrocie do grupy klimatologów "kilkakrotnie z pytaniami uzupełniającymi" to "wreszcie dotarło." Czemu przypisujesz swój początkowy opór i jak możesz wykorzystać swoje doświadczenie, aby zachęcić innych do współpracy?
Bill Gates: Świat jest dziś w zupełnie innym miejscu niż wtedy, gdy zacząłem studiować zmiany klimatu. Wiemy dużo więcej i osiągnęliśmy większy konsensus w sprawie problemu. Jednak wielu ludziom nadal trudno jest zaakceptować, że samo ograniczenie emisji bez wejścia na ścieżkę do zera nie wystarczy. Trudno jest również zaakceptować, ile potrzeba innowacji, żeby dojść do zera - aby zasadniczo przekształcić przemysł energetyczny, największy biznes na świecie. W książce przedstawiam przypadek, który mnie przekonał i mam nadzieję, że przekona też innych. Wzywam zwolenników ratowania klimatu, aby bezustannie opowiadali się za zerem i za redukcją emisji w sposób, który do tego doprowadzi.
CH: Od swojej analogii z wanną do alegorii z rybami poświęcasz znaczną uwagę, aby ukonkretnić i powszechnie udostępnić abstrakcyjne pojęcia czy dane złożone. Czy uważasz, że to podejście jest kluczem do ostatecznej zmiany sposobu myślenia tych, którzy pomimo wiedzy i wszelkich dostępnych nam danych nadal wydają się wierzyć, że możemy po prostu kontynuować działalność jak zwykle? Czy podobne podejście pomogło Ci w Twojej pracy: w przesuwaniu granic technologicznych w firmie Microsoft lub rozwijaniu globalnego stanu zdrowia i rozwoju w Gates Foundation?
BG: Chociaż ta książka nie jest skierowana konkretnie do sceptyków zmian klimatycznych, z pewnością mam nadzieję, że przekona ich, że musimy poważnie inwestować w czystą energię. Kraje, które zrobią najwięcej, by wspierać innowacje w tej dziedzinie, będą domem dla następnej generacji przełomowych firm - wraz z towarzyszącymi im miejscami pracy i działalnością gospodarczą. Dlatego te inwestycje są mądrym posunięciem, nawet jeśli nie wierzysz niepodważalnej argumentacji, że ludzie powodują zmiany klimatyczne, które będą miały katastrofalne konsekwencje, jeśli zostaną pozostawione bez kontroli.
CH: Pandemia COVID-19 nie tylko uwydatniła koszty ignorowania nauki, ale także dowiodła, że możliwa jest szybka zmiana zachowania na dużą skalę i pokazała, że liderzy, którzy biorą odpowiedzialność za rozwiązywanie problemów, zyskują szacunek. Ale jak zauważyłeś, przyniosło to również inną kluczową lekcję: stosunkowo niewielka (10%) redukcja emisji gazów cieplarnianych spowodowana przez globalne blokady pokazała, że zmiany zachowania, takie jak latanie lub mniej jazdy samochodem, nie wystarczą. Czy są jakieś inne lekcje, których nauczyliśmy się podczas pandemii, a które dotyczą zmian klimatycznych? Jak najlepiej zastosować je do działań na rzecz klimatu?
BG: Jedną z lekcji jest to, że mniej latania lub jazdy samochodem to za mało: potrzebujemy ogromnej ilości innowacji, aby ludzie mogli latać, jeździć samochodem i w inny sposób uczestniczyć w nowoczesnej gospodarce bez powodowania emisji. W rzeczywistości jest to wyzwanie jeszcze trudniejsze niż produkcja i dystrybucja szczepionek COVID-19 (co jest największą akcją na rzecz zdrowia publicznego w historii).
Będzie to jednak wymagało takiej samej ścisłej współpracy między rządami na wszelkich szczeblach, a także z sektorem prywatnym. I tak jak wszyscy musimy pomagać - nosząc maski i zachowując dystans - ludzie również muszą odgrywać rolę w zmniejszaniu emisji. Mogą opowiadać się za przepisami, które przyspieszają przejście na zero i mogą obniżyć Green Premium, kupując produkty niskoemisyjne i bezemisyjne, takie jak samochody elektryczne i hamburgery roślinne. To przyciągnie większą konkurencję w tych dziedzinach i ostatecznie sprawi, że ochrona środowiska będzie tańsza.
CH: Argumentujesz, że podobnie jak z pokonaniem pandemii, zajęcie się zmianami klimatycznymi zależy w dużej mierze od nauki i innowacji. Ogólnie jesteś "optymistą, że możemy wynaleźć [narzędzia, których potrzebujemy] i wdrożyć je. I jeśli będziemy działać wystarczająco szybko, unikniemy katastrofy klimatycznej." Jakie doświadczenia lub lekcje zaszczepiły w tobie tę wiarę?
BG: Widziałem na własne oczy, jak inwestycje w badania i rozwój mogą zmienić świat. Badania sponsorowane przez rząd USA i firmy amerykańskie umożliwiły stworzenie mikroprocesorów i Internetu, co wyzwoliło fenomenalną ilość przedsiębiorczej energii do stworzenia przemysłu komputerów osobistych. Podobnie wysiłki rządu USA w celu mapowania ludzkiego genomu doprowadziły do przełomu w leczeniu raka i innych śmiertelnych chorób.
Subscribe to Project Syndicate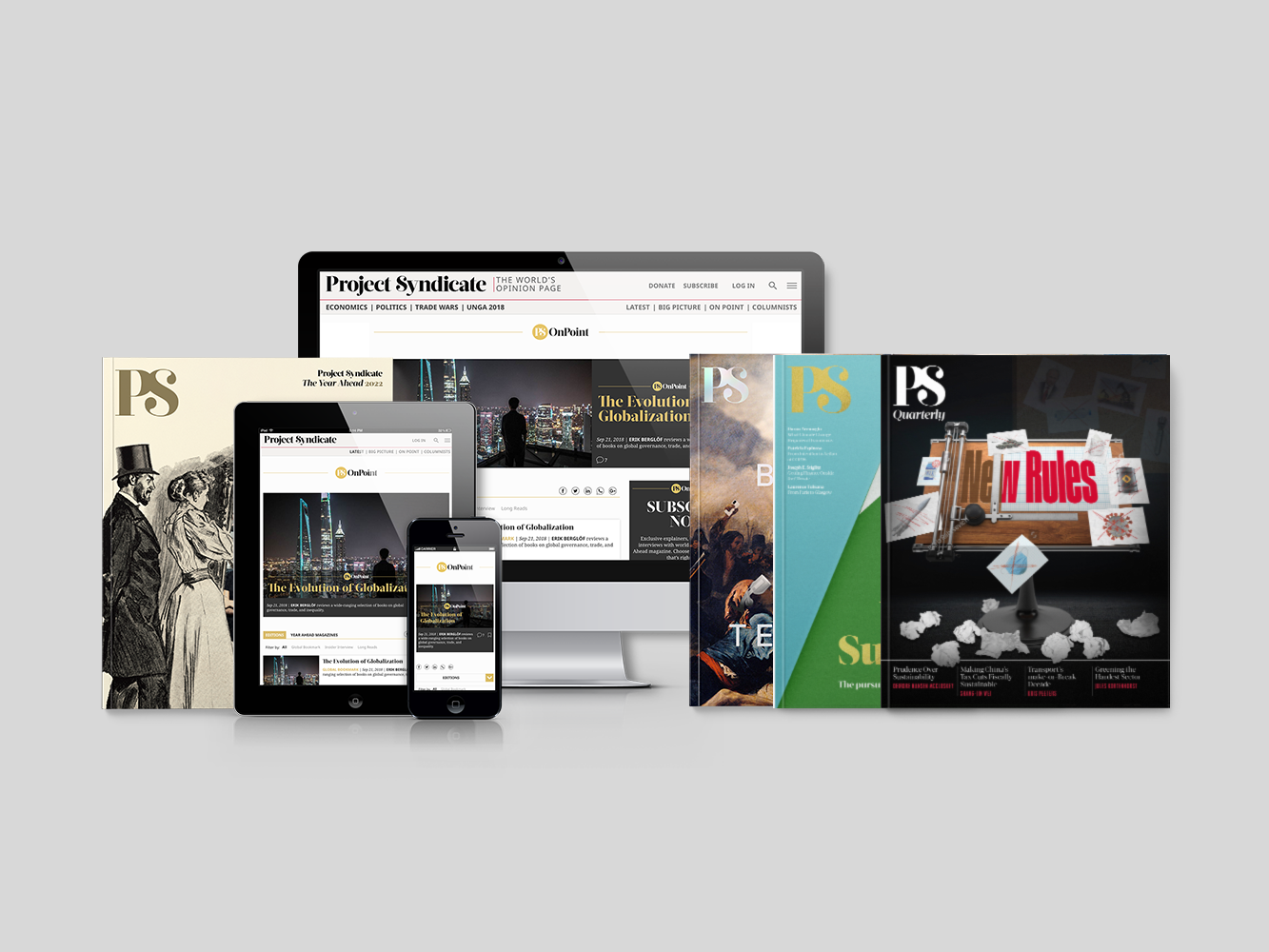 Subscribe to Project Syndicate
Enjoy unlimited access to the ideas and opinions of the world's leading thinkers, including long reads, book reviews, topical collections, short-form analysis and predictions, and exclusive interviews; every new issue of the PS Quarterly magazine (print and digital); the complete PS archive; and more. Subscribe now to PS Premium.
Jeśli chodzi o osiągnięcie zera widzę niesamowity wysiłek. Breakthrough Energy Ventures - prywatny fundusz, który zbudowałem z innymi partnerami - zainwestował w ponad dwa tuziny firm, które pracują nad niskoemisyjnymi i bezemisyjnymi sposobami wytwarzania cementu i stali, generowania i magazynowania dużych ilości czystej energii elektrycznej, rozwoju roślin i zwierząt, transportu ludzi i towarów na całym świecie oraz ogrzewania i chłodzenia naszych budynków. Wiele z tych pomysłów się nie sprawdzi. Ale te, które się udają, mogą zmienić świat.
CH: Jak jednak zauważyłeś: "innowacja to nie tylko kwestia tworzenia nowych urządzeń. Jest to również kwestia opracowania nowych zasad, abyśmy mogli jak najszybciej zademonstrować i wdrożyć te wynalazki na rynku." Unia Europejska (a teraz także Chiny) zaczęła angażować się w takie zmiany w przepisach.
Starając się skorygować wadliwą strukturę zachęt, która nie uwzględnia tego, co nazywacie "zielonymi składkami" (Green Premiums), wiele krajów europejskich wprowadziło mechanizmy opodatkowania emisji CO2, marnotrawienia zasobów i zanieczyszczeń. Czy taka polityka w znaczący sposób zmienia strukturę zachęt? Czy mechanizm dostosowania granic emisji dwutlenku węgla pomógłby w przyspieszeniu postępu?
BG: Określenie ceny dwutlenku węgla to jeden z tych przepisów, który przyniesie zmiany, jako część ogólnego podejścia, którego celem jest zwiększenie zarówno podaży, jak i popytu na przełomowe rozwiązania w dziedzinie czystej energii. W książce wspominam o wielu innych pomysłach. Na przykład, jedną rzeczą, jaką rządy mogą zrobić, aby zwiększyć podaż innowacji, jest radykalne zwiększenie finansowania badań i rozwoju w dziedzinie czystej energii. (Zalecam pięciokrotną podwyżkę). Po stronie popytu, oprócz ceny emisji dwutlenku węgla, chodzi na przykład o normy określające ile energii elektrycznej lub paliwa musi pochodzić ze źródeł o zerowej emisji dwutlenku węgla.
Potrzebujemy innowacji w polityce tak samo jak w technologii. Widzieliśmy w przeszłości, jak polityka i technologia spotykają się, aby rozwiązać duże problemy. Jak dokumentuję w mojej książce, zanieczyszczenie powietrza jest świetnym przykładem; amerykańska ustawa o czystym powietrzu wykonała bardzo dobrą robotę, usuwając trujące gazy z powietrza. Inne niezwykle skuteczne rozwiązania polityczne w Stanach Zjednoczonych obejmują elektryfikację obszarów wiejskich, zwiększenie bezpieczeństwa energetycznego i ożywienie gospodarcze po Wielkiej Recesji w 2008 r. Teraz musimy zmienić światową politykę i technologię IQ w celu wyeliminowania emisji. Mój zespół w sieci inicjatyw Breakthrough Energy, które założyłem w celu przyspieszenia przejścia na czystą energię, ciężko pracuje, aby opracować i popierać odważne polityki, które osiągają światowe cele klimatyczne.
CH: Zwracasz uwagę, że rządy często próbowały wykorzystać przyjęte zasady, aby rozwiązać inne problemy w celu zmniejszenia emisji - podejście podobne do próby "stworzenia sztucznej inteligencji przy użyciu komputera typu mainframe z lat 60-tych XX wieku."
Jednak wprowadzenie nowych przepisów jest trudne, nie tylko dlatego, że obecni producenci sprzeciwiają się wyższym standardom i innym kosztownym zmianom. Jako ktoś, kto był po "regulowanej" stronie równania regulacyjnego, jakie rozwiązania lub spostrzeżenia widzisz w celu rozwiązania problemu powolnych zmian w przepisach?
BG: Potrzebujemy działań rządu, aby rozwiązać ten problem - mówimy o zmianie całego światowego systemu energetycznego w bezprecedensowym tempie. Same inwestycje sektora prywatnego nie zakończą się sukcesem, jeśli nie będziemy mieć warunków rynkowych, które nagradzają innowacje i pozwolą czystym technologiom konkurować, a rząd pomoże nam stworzyć takie warunki. Potrzebujemy więc działań rządu, które muszą być ukierunkowane, solidne i przewidywalne.
Dlatego też mówię o innowacjach nie tylko w technologii, ale także w polityce i na rynkach. Potrzebujemy, aby decydenci kreatywnie myśleli o właściwych sposobach pobudzenia innowacji w dziedzinie czystej energii, wyrównywania szans i przyspieszenia transformacji energetycznej. Mój zespół w Breakthrough Energy współpracuje z przywódcami rządowymi, aby opracować i popierać politykę, której potrzebujemy, aby osiągnąć zerową emisję netto.
CH: Poza polityką sugeruje pan, że rządy muszą być odważniejsze, inwestując w badania i rozwój związany z klimatem. Jaką rolę powinny tu odgrywać uniwersytety, zarówno w zakresie badań, jak i przekazywania wiedzy potrzebnej do kształtowania polityki?
BG: Uniwersytety zapewniają środowisko sprzyjające pomysłom i rozwijają czyste technologie. Nauka, badania i inżynieria na światowych uniwersytetach są jednymi z najważniejszych czynników pomagających nam osiągnąć zerową emisję netto. Oczywiście odkrycia muszą również wyjść poza uniwersytet, aby wpłynąć na nowe zasady i kształtować rynek. Niektóre instytucje akademickie podejmują wspólne wysiłki, aby pomóc profesorom skuteczniej komunikować, uczynić ich badania bardziej przydatnymi dla decydentów, a także wprowadzić ich odkrycia technologiczne do firm i rynków. Te elementy są niezbędne, aby uniknąć katastrofy klimatycznej.
CH: Podkreślasz, że moralne argumenty przemawiające za działaniami na rzecz klimatu są tak samo mocne, jak argumenty ekonomiczne, ponieważ zmiany klimatyczne nieproporcjonalnie szkodzą najbiedniejszym na świecie. Ale działania na rzecz klimatu mają również konsekwencje dystrybucyjne. Nawet bardzo niska premia ekologiczna za dekarbonizację całego systemu elektroenergetycznego w Ameryce może nie być dostępna dla gospodarstw domowych o niskich dochodach, a kraje rozwijające się są w znacznie słabszej pozycji, aby w ogóle przeprowadzić taką transformację. Jak pokonać te wyzwania? Czy Twoja praca polegająca na wdrażaniu innych technologii w środowiskach o niższych dochodach zawiera istotne lekcje?
BG: To niezwykle ważny temat. Kraje o niskich i średnich dochodach będą zużywać więcej energii w nadchodzących dziesięcioleciach, gdy będą wychodzić z ubóstwa. Wszyscy powinniśmy chcieć, aby ta energia była czysta - ale oni będą zobowiązywać się do korzystania z czystej energii tylko wtedy, gdy będzie ona tak tania, jak dzisiejsze paliwa kopalne.
Tak więc, jeśli jesteś liderem w bogatym kraju, powinieneś zadać sobie pytanie, co robi twój rząd lub firma, aby uczynić ją przystępną dla całego świata - w tym krajów o średnich i niskich dochodach - żeby stać się ekologicznymi. Aby osiągnąć ten cel, należy ukierunkować zwiększone inwestycje w badania i rozwój oraz w inne przepisy. Wiele firm, w które inwestuję, pracuje nad pomysłami, które mogłyby być dostępne w krajach o niższych dochodach.
CH: Należysz do liderów biznesu, którzy teraz publicznie uznają krytyczną rolę rządu w każdym wielkim przedsięwzięciu. Zmiany klimatyczne jeszcze bardziej to podkreślają. Czy sprostanie temu wyzwaniu będzie wymagało od sektora publicznego większej roli niż jesteśmy do tego przyzwyczajeni - ogólnie lub w określonym sektorze?
BG: Przejście na czystą energię będzie musiało być napędzane wspólnie przez rządy i sektor prywatny - tak jak się to stało z rewolucją w dziedzinie komputerów osobistych.
Będzie to oznaczać większą rolę dla rządu, ale tylko dlatego, że rola ta była do tej pory stosunkowo niewielka. Weźmy pod uwagę pięciokrotny wzrost badań i rozwoju w sektorze publicznym, o którym mówiliśmy wcześniej. Ten wzrost postawiłby badania nad czystą energią na równi z badaniami zdrowotnymi w USA. I tak jak mamy krajowe instytuty zdrowia, które nadzorują i koordynują te wysiłki, powinniśmy założyć Krajowe Instytuty Innowacji Energetycznych (NIEI), aby uniknąć powielania wysiłków i aby jak najlepiej wykorzystać nasze zasoby. Za prace nad paliwami niskoemisyjnymi odpowiadałby Instytut Dekarbonizacji Transportu. Inne instytuty miałyby podobne obowiązki i uprawnienia w zakresie badań nad magazynowaniem energii, odnawialnymi źródłami energii i tak dalej.
NIEI byłby również odpowiedzialny za koordynację z sektorem prywatnym. Celem byłoby, aby badania wychodzące z krajowych laboratoriów prowadziły do przełomowych produktów, które trafiałyby na rynek na bardzo dużą skalę. Potrzebujemy polityki, która przyspieszy cały proces innowacji, od wczesnych badań po masowe wdrażanie.
CH: W pewnym momencie w książce piszesz, że "oprócz znajdowania sposobów wytwarzania materiałów o zerowej emisji, możemy po prostu zużywać mniej rzeczy." Niektórzy twierdzą, że kapitalizm zależy od konsumpcji - im więcej, tym lepiej. Czy prawdziwe rozwiązanie kryzysu klimatycznego zależy od nowej wizji kapitalizmu na XXI wiek? Czy nowe, bardziej jakościowe rozumienie "wzrostu" mogłoby stanowić podstawę takiego systemu?
BG: Myślę, że ludzie w bogatym świecie mogą i powinni trochę ograniczyć emisje. (Jak wspomniałem w książce, podejmuję szereg kroków, aby zmniejszyć i zrównoważyć własne emisje.) Jednak zużycie energii na całym świecie podwoi się do 2050 r., napędzane znacznym wzrostem w krajach o niskim i średnim dochodzie. Ten wzrost jest dobry w tym sensie, że oznacza, że ludzie prowadzą zdrowsze i bardziej produktywne życie. Ale musimy to zrobić w sposób, który nie utrudni rozwiązania problemu klimatycznego. Dlatego potrzebujemy innowacji, które sprawią, że będzie to wystarczająco tanie, aby wszyscy na całym świecie mogli wyeliminować emisje.
CH: Piszesz, że twoja "książka jest o tym, czego potrzeba, aby [uniknąć katastrofy klimatycznej] i dlaczego myślę, że możemy to zrobić." Z ręką na sercu: Czy wierzysz, że zaczniemy działać wspólnie i odpowiednio szybko, żeby zdążyć na czas?
BG: Tak. Jak piszę na końcu mojej książki, że jestem optymistą, ponieważ widzę, jakie zmiany są w stanie nastąpić dzięki technologii i wiem, do czego człowiek jest zdolny. Musimy spędzić najbliższą dekadę na opracowaniu odpowiednich taktyk, technologii i struktur rynkowych, aby większość świata mogła mieć zerową emisję do 2050 r. Nie mamy czasu do stracenia.
Z angielskiego przetłumaczyła Marz McNamer