¿El inminente mercado bajista?
NEW HAVEN – El mercado bursátil de Estados Unidos hoy se caracteriza por una combinación aparentemente inusual de valuaciones muy altas, seguidas de un período de fuerte crecimiento de las ganancias y muy baja volatilidad. ¿Qué implican estos mensajes ostensiblemente contradictorios sobre la posibilidad de que Estados Unidos se encamine hacia un mercado bajista?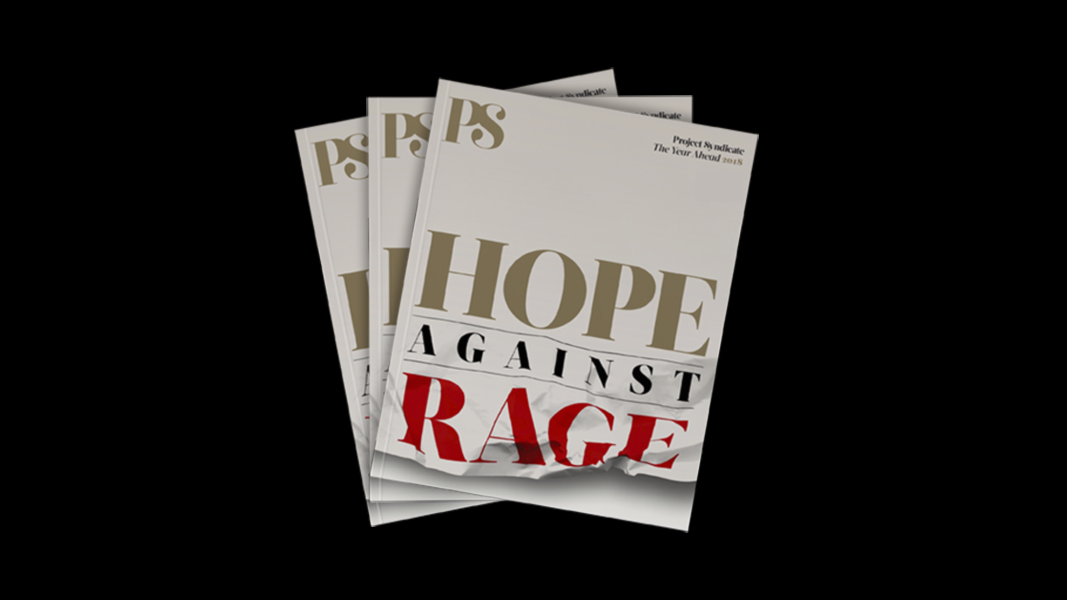 The Year Ahead 2018
The world's leading thinkers and policymakers examine what's come apart in the past year, and anticipate what will define the year ahead.
Para responder esa pregunta, debemos analizar los mercados bajistas pasados. Y eso nos exige definir con precisión qué conlleva un mercado bajista. Los medios hoy en día califican a un mercado bajista "clásico" o "tradicional" como una caída del 20% en los precios de las acciones.
Esa definición no aparece en ningún medio antes de los años 1990, y no ha habido ningún indicio de quién la engendró. Puede tener sus raíces en la experiencia del 19 de octubre de 1987, cuando el mercado bursátil cayó poco más del 20% en un solo día. Los intentos por asociar el término a la historia del "Lunes Negro" pueden haber resultado en la definición del 20%, que periodistas y editores probablemente se copiaron unos de otros.
Como sea, esa cifra del 20% hoy es ampliamente aceptada como un indicador de un mercado bajista. Donde parece existir un consenso menos explícito es sobre el período de tiempo para esa caída. Por cierto, esos informes periodísticos pasados por lo general no mencionaban ningún período de tiempo en sus definiciones de un mercado bajista. Los periodistas que escribían sobre el tema aparentemente no pensaban que era necesario ser preciso.
Al evaluar la experiencia pasada de Estados Unidos con los mercados bajistas, utilicé esa cifra tradicional del 20% y agregué mi propia rúbrica temporal. El pico previo a un mercado bajista, según mi definición, era el pico más reciente en 12 meses, y debería haber algún mes en el año subsiguiente que sea 20% más bajo. Siempre que había una secuencia contigua de meses pico, tomaba el último.
En mi compilación del S&P Compuesto mensual y de datos relacionales, encontré que ha habido apenas 13 mercados bajistas en Estados Unidos desde 1871. Hugo meses pico antes de que se produjeran los mercados bajistas en 1892, 1895, 1902, 1906, 1916, 1929, 1934, 1937, 1946, 1961, 1987, 2000 y 2007. Un par de colapsos notorios del mercado bursátil -en 1968-70 y en 1973-74- no figuran en la lista, porque fueron más prolongados y graduales.
Una vez identificados los mercados bajistas pasados, es hora de analizar las valuaciones de las acciones antes de que sucedieran, utilizando un indicador que mi colega de Harvard John Y. Cambell y yo desarrollamos en 1988 para predecir retornos del mercado bursátil de largo plazo. El ratio precio-beneficio ajustado cíclicamente (CAPE por su sigla en inglés) se alcanza dividiendo el índice accionario (ajustado por inflación) real por el promedio de diez años de ganancias, donde los ratios superiores al promedio implican retornos inferiores al promedio. Nuestra investigación demostró que el ratio CAPE es bastante efectivo a la hora de predecir retornos reales en un período de diez años, aunque no reportamos cuán bien ese ratio predice los mercados bajistas.
Este mes, el ratio CAPE en Estados Unidos está apenas por encima de 30. Es un ratio elevado. Por cierto, entre 1881 y hoy, el ratio CAPE promedio se ha mantenido en apenas 16,8. Es más, ha excedido 30 en sólo dos oportunidades durante ese período: en 1929 y en 1997-2002.
Pero eso no significa que los ratios CAPE elevados no estén asociados con mercados bajistas. Por el contrario, en los meses pico previos a los mercados bajistas pasados, el ratio CAPE promedio era superior al promedio, en 22,1, lo que sugiere que el CAPE efectivamente tiende a aumentar antes de un mercado bajista.
Es más, las tres ocasiones en las que hubo un mercado bajista con un ratio CAPE por debajo del promedio fueron después de 1916 (durante la Primera Guerra Mundial), 1934 (durante la Gran Depresión) y 1946 (durante la recesión post-Segunda Guerra Mundial). Un ratio CAPE elevado, por ende, implica una potencial vulnerabilidad a un mercado bajista, aunque de ninguna manera es un indicador perfecto.
Sin duda, pareciera en efecto que hay algunas noticias alentadoras. Según mis datos, las ganancias reales de las acciones en el S&P Compuesto han crecido 1,8% por año, en promedio, desde 1881. Desde el segundo trimestre de 2016 hasta el segundo trimestre de 2017, en cambio, el crecimiento de las ganancias reales fue del 13,2%, muy por encima de la tasa anual histórica.
Sin embargo, este crecimiento elevado no reduce la probabilidad de un mercado bajista. En verdad, los meses pico previos a los mercados bajistas pasados también tendieron a mostrar un crecimiento de las ganancias reales alto: 13,3% por año, en promedio, para los 13 episodios. Es más, en el pico del mercado justo antes de la mayor caída del mercado bursátil de la historia, en 1929-32, el crecimiento de las ganancias reales en 12 meses se mantuvo en 18,3%.
Otra noticia ostensiblemente buena es que la volatilidad promedio de los precios de las acciones -que se mide detectando la desviación estándar de los cambios porcentuales mensuales en los precios reales de las acciones para el año anterior- está en 1,2%, un valor extremadamente bajo. Entre 1872 y 2017, la volatilidad fue de 3,5%, casi tres veces más alta.
Sin embargo, una vez más, esto no significa que no se esté acercando un mercado bajista. Por cierto, la volatilidad del precio de las acciones era inferior al promedio en el año que condujo al mes pico anterior a los 13 mercados bajistas previos en Estados Unidos, aunque el nivel de hoy es inferior al promedio del 3,1% para esos períodos. En el mes pico para el mercado bursátil antes de la crisis de 1929, la volatilidad era de apenas 2,8%.
En resumen, el mercado bursátil de Estados Unidos hoy se asemeja mucho a cómo era en los picos previos a la mayoría de los 13 mercados bajistas anteriores del país. Esto no quiere decir que un mercado bajista esté garantizado: esos episodios son difíciles de anticipar y el próximo todavía puede estar bien lejos. Y aún en el caso de que efectivamente se produzca un mercado bajista, para cualquiera que no compre en el pico del mercado y venda en el peor momento, las pérdidas tienden a ser inferiores al 20%.
Pero mi análisis debería servir como una advertencia contra la complacencia. Los inversores que permiten que impresiones erradas de la historia los lleven a suponer que hoy existe demasiado riesgo en el mercado bursátil pueden estar convocando pérdidas considerables.