Stevenen we op een bearmarkt af?
NEW HAVEN – De Amerikaanse aandelenmarkt wordt momenteel gekenmerkt door een schijnbaar ongebruikelijke combinatie van zeer hoge waarderingen, volgend op een periode van grote winstgroei, en een zeer lage volatiliteit. Wat impliceren deze ogenschijnlijk conflicterende boodschappen over de aannemelijkheid dat de VS op een bear market afstevenen?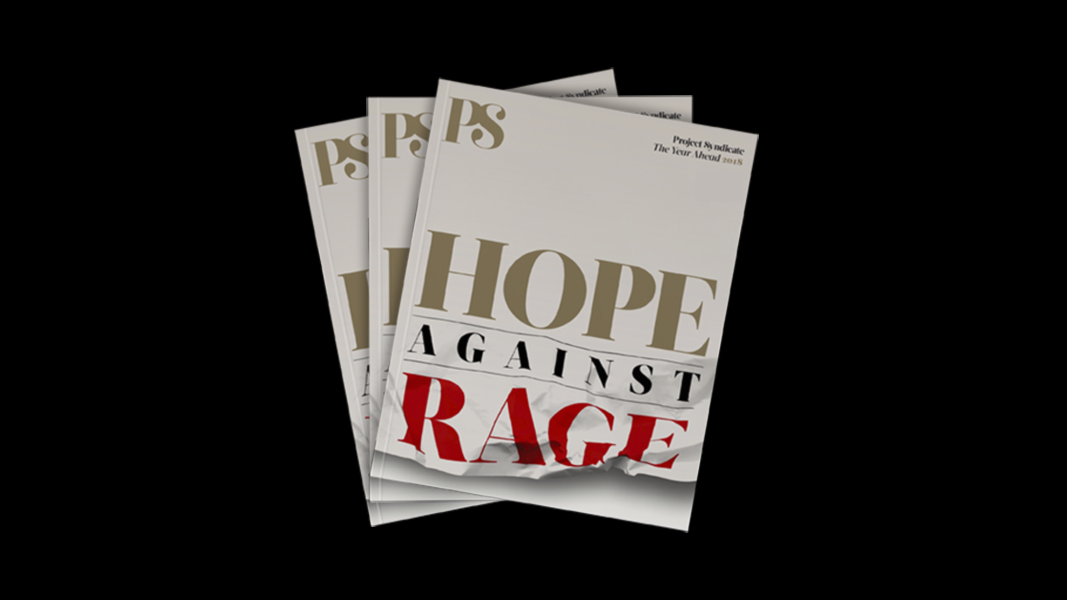 The Year Ahead 2018
The world's leading thinkers and policymakers examine what's come apart in the past year, and anticipate what will define the year ahead.
Om deze vraag te beantwoorden moeten we naar eerdere bearmarkten kijken. En dat op zijn beurt vraagt van ons om te definiëren wat een bearmarkt precies inhoudt. De media omschrijven een 'klassieke' of 'traditionele' bearmarkt tegenwoordig als een daling van 20% in de aandelenprijzen.
Deze definitie verschijnt voor de jaren negentig in geen enkel mediakanaal, en we hebben geen idee wie deze heeft opgesteld. Ze kan geworteld zijn in de ervaringen van 19 oktober 1987, toen de beurs in één dag 20% van zijn waarde verloor. Wellicht hebben pogingen om de term aan het verhaal van 'Zwarte Maandag' te koppelen geresulteerd in de definitie van 20%, die journalisten en redacteuren vervolgens waarschijnlijk simpelweg van elkaar gekopieerd hebben.
Hoe het ook zij, het cijfer van 20% wordt nu breed als indicator van een bearmarkt geaccepteerd. Er lijkt echter minder publieke consensus te zijn over de tijdspanne die voor die afname geldt. De krantenberichten uit het verleden noemden zelfs vaak geen enkele periode voor hun definities van een bearmarkt. Journalisten die over het onderwerp schreven vonden het blijkbaar niet nodig om deze te preciseren.
Om de eerdere ervaringen van Amerika met bearmarkten in te schatten heb ik het traditionele getal van 20% gebruikt, en mijn eigen tijdsrubricering toegevoegd. De piek voor een bearmarkt is volgens mijn definitie de meest recente piek in twaalf maanden, en er moet tenminste één maand in het daaropvolgende jaar zijn die 20% lager ligt. Waar er een aaneengesloten sequentie van topmaanden was heb ik de laatste gebruikt.
Refererend aan mijn compilatie van maandelijkse S&P Composite-index, en hieraan gerelateerde, data heb ik gevonden dat er sinds 1871 slechts dertien bear markets in de VS zijn geweest. De topmaanden voorafgaand aan de bearmarkten deden zich voor in 1892, 1895, 1902, 1906, 1916, 1929, 1934, 1937, 1946, 1961, 1987, 2000, en 2007. Sommige van de meest beruchte ineenstortingen van de aandelenmarkten – in 1968-70 en 1973-74 – staan niet op de lijst, omdat ze langduriger en geleidelijker waren.
Toen de bearmarkten uit het verleden eenmaal geïdentificeerd waren was het tijd om de hieraan voorafgaande aandelenwaarderingen te bepalen, met gebruik van een indicator die mijn collega van Harvard John Y. Campbell en ik in 1988 ontwikkelden om de lange termijn rendementen van de aandelenmarkten te voorspellen. De cyclisch aangepaste koers/winst (CAPE)-ratio wordt gevonden door de reële (aan inflatie aangepaste) koersindex te delen door het gemiddelde van tien jaar aan inkomsten, waarbij hoger dan gemiddelde ratio's lager dan gemiddelde rendementen impliceren. Ons onderzoek liet zien dat de CAPE-ratio enigszins effectief is in het voorspellen van de reële rendementen over een periode van tien jaar, alhoewel we niet rapporteerden hoe goed deze ratio bearmarkten kan voorspellen.
Deze maand ligt de CAPE-ratio in de VS iets boven de 30. Dat is hoog. Tussen 1881 en nu is de gemiddelde CAPE-ratio slechts 16,8 geweest. Bovendien heeft deze tijdens die periode maar twee maal de 30 overstegen: in 1929 en in 1997-2002.
Maar dat wil niet zeggen dat hoge CAPE-ratio's niet met bearmarkten verbonden zijn. In tegendeel, in de topmaanden voor eerdere bearmarkten lag de gemiddelde CAPE-ratio hoger dan gemiddeld, op 22,1, wat suggereert dat de CAPE wel neigt te stijgen voor een bearmarkt.
Bovendien vielen de drie maal dat er een bearmarkt voorkwam met een CAPE-ratio beneden het gemiddelde na 1916 (tijdens de Eerste Wereldoorlog), 1934 (tijdens de grote crisis), en in 1946 (tijdens de recessie van na de Tweede Wereldoorlog). Een hoge CAPE-ratio impliceert dus de potentiele kwetsbaarheid voor een bearmarkt, alhoewel het geenszins een perfecte indicator is.
Zeker, er lijkt ook enig positief nieuws te zijn. Volgens mijn data zijn de reële S&P Composite-index aandelenopbrengsten sinds 1881 gemiddeld met 1,8% per jaar gegroeid. In contrast daarmee lag de groei van de reële inkomsten van het tweede kwartaal van 2016 tot het tweede kwartaal van 2017 met 13,2 %, ruim boven het historische jaarlijkse niveau.
Maar deze hoge groei vermindert de waarschijnlijkheid van een bearmarkt niet. In feite neigen topmaanden voor eerdere bearmarkten ook een hoge groei van de reële inkomsten te tonen: voor alle dertien episodes gemiddeld 13,3% per jaar. Bovendien lag de jaarlijkse groei in reële inkomsten tijdens de top van de markt vlak voor de grootste val van de aandelenmarkten ooit, in 1929-32, op 18,3%.
Nog meer schijnbaar goed nieuws is dat de gemiddelde volatiliteit van de aandelenprijzen – gemeten door de standaardafwijking van maandelijkse percentageveranderingen in reële aandelenprijzen voor het voorgaande jaar te bepalen – extreem laag ligt, op 1,2%. Tussen 1872 en 2017 lag de volatiliteit bijna drie maal zo hoog, op 3,5%.
Toch betekent dit opnieuw niet dat er geen bearmarkt aankomt. In feite was de volatiliteit van de aandelenmarkten in het jaar voor de topmaand voor de dertien eerdere bearmarkten in de VS lager dan gemiddeld, alhoewel het huidige niveau weer lager ligt dan het gemiddelde voor deze periodes, op 3,1%. In de topmaand van de aandelenmarkt voor de crash van 1929 lag de volatiliteit slechts op 2,8%.
Om kort te gaan ziet de Amerikaanse aandelenmarkt er momenteel erg uit zoals deze deed tijdens de pieken voorafgaand aan de meeste van de dertien eerdere bearmarkten. Dit wil niet zeggen dat er gegarandeerd een bearmarkt aankomt: dit soort episodes zijn moeilijk te anticiperen, en de volgende kan nog steeds ver weg zijn. En zelfs wanneer zich een bearmarkt voordoet zijn de verliezen voor iedereen die niet op het hoogtepunt van de markt koopt en verkoopt op het dieptepunt meestal minder dan 20%.
Maar mijn analyse moet als waarschuwing tegen zelfingenomenheid dienen. Investeerders die verkeerde impressies van de geschiedenis toestaan om ze momenteel teveel risico in de aandelenmarkt te laten nemen nodigen wellicht aanzienlijke verliezen uit.
Vertaling Melle Trap