Blíží se medvědí trh?
NEW HAVEN – Akciový trh USA se dnes vyznačuje údajně neobvyklou kombinací velmi vysokých valuací, po období strmého růstu výnosů, a velmi nízké volatility. Co tyto domněle protichůdné signály naznačují o pravděpodobnosti, že Spojené státy míří k medvědímu trhu?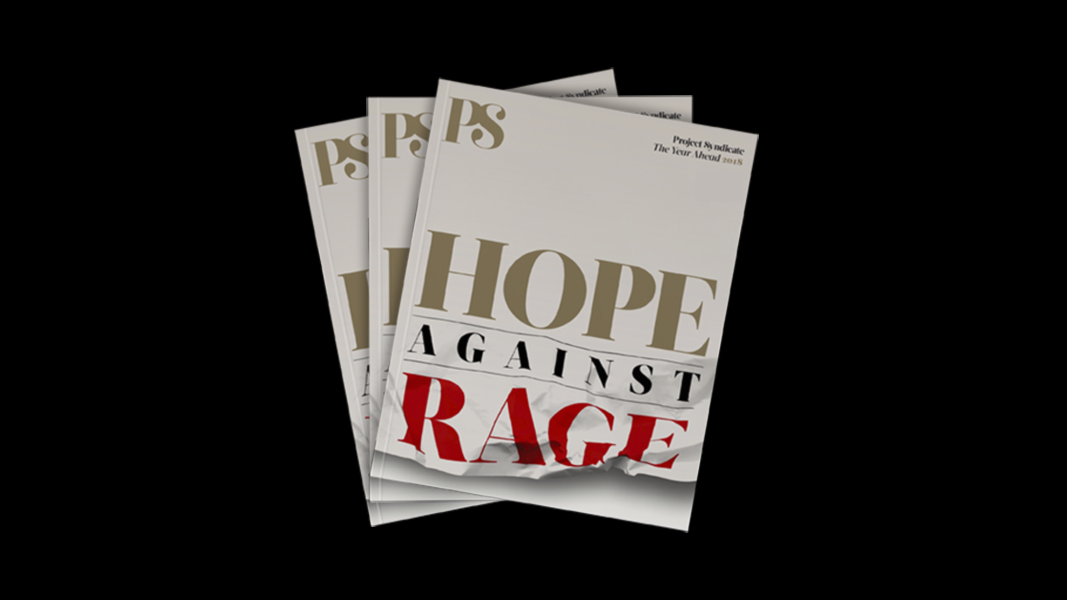 The Year Ahead 2018
The world's leading thinkers and policymakers examine what's come apart in the past year, and anticipate what will define the year ahead.
Abychom dokázali na otázku odpovědět, musíme se ohlédnout za medvědími trhy minulosti. K tomu je zapotřebí, abychom přesně definovali, co medvědí trh znamená. Média dnes "klasický" či "tradiční" medvědí trh vymezují jako 20% pokles cen akcií.
Tato definice se neobjevuje v žádném sdělovacím prostředku před rokem 1990 a nejsou žádné známky o tom, kdo ji zavedl. Snad má kořeny ve zkušenosti z 19. října 1987, kdy se akciový trh během jediného dne propadl o něco málo přes 20 %. Pokusy svázat tento pojem s příběhem "černého pondělí" mohly vyústit v definici opřenou o 20% mez, již novináři a editoři nejspíš jednoduše opisovali jeden od druhého.
Buď jak buď, 20% hodnota se dnes všeobecně přijímá jako indikátor medvědího trhu. Méně zřetelný konsenzus je ovšem nad délkou trvání takového poklesu. Ostatně dřívější novinové zprávy ve svých definicích medvědího trhu často neuváděli vůbec žádné časové období. Novináři píšící o tomto tématu zřejmě nepovažovali za nutné být přesní.
Při posuzování dosavadních zkušeností Ameriky s medvědími trhy jsem použil tuto tradiční 20% hranici a přidal jsem vlastní časovou kategorii. Vrcholem před medvědím trhem bylo podle mé definice poslední 12měsíční maximum a v následujícím roce by měl být některý měsíc o 20 % nižší. Kdykoliv se objevila souvislá řada měsíčních vrcholů, bral jsem poslední z nich.
Pomocí své kompilace měsíčního indexu S&P Composite a souvisejících dat jsem zjistil, že v USA se medvědí trh od roku 1871 vyskytoval jen třináctkrát. Vrcholné měsíce před medvědím trhem spadaly do let 1892, 1895, 1902, 1906, 1916, 1929, 1934, 1937, 1946, 1961, 1987, 2000 a 2007. Několik nechvalně proslulých burzovních krachů – v letech 1968-70 a 1973-74 – ve výčtu není, protože byly vleklé a postupné.
Jakmile byly minulé medvědí trhy určeny, bylo na čase pomocí indikátoru, který jsme s harvardským kolegou Johnem Y. Campbellem vyvinuli v roce 1988 k prognóze dlouhodobých akciových výnosů, zhodnotit ocenění akcií, které jim předcházelo. Cyklicky očištěný poměr cen k výnosům (CAPE) se zjistí vydělením reálného (inflačně očištěného) akciového indexu průměrem deseti let výnosů, přičemž nadprůměrný poměr naznačuje podprůměrné výnosy. Náš výzkum ukázal, že poměr CAPE dokáže do jisté míry předpovídat reálné výnosy během desetiletého období, avšak nezjistili jsme, jak dobře tento poměr předpovídá medvědí trhy.
Tento měsíc CAPE v USA těsně převyšuje 30. To je vysoký poměr. Vždyť od roku 1881 do dneška průměrný CAPE dosahuje jen 16,8. Navíc během tohoto období překročil 30 pouze dvakrát: v roce 1929 a v letech 1997-2002.
To ale neznamená, že vysoké poměry CAPE se nepojí s medvědími trhy. Právě naopak, během vrcholných měsíců před dosavadními medvědími trhy dosáhl průměrný CAPE hodnoty 22,1, tedy převyšoval průměr, což naznačuje, že CAPE má tendenci před medvědím trhem stoupat.
Navíc tři období, kdy se objevil medvědí trh s podprůměrným poměrem CAPE, nastaly v letech 1916 (za první světové války), 1934 (za Velké hospodářské krize) a 1946 (za recese po druhé světové válce). Vysoký poměr CAPE tedy naznačuje náchylnost k medvědímu trhu, byť to v žádném případě není dokonalý ukazatel.
Jistěže, tu a tam se objevují zřejmě slibné zprávy. Podle mých dat reálné výnosy akcií podle S&P Composite rostou od roku 1881 v průměru o 1,8 % ročně. Od druhého čtvrtletí roku 2016 do druhého čtvrtletí roku 2017 naproti tomu růst reálných výnosů dosáhl 13,2 %, což výrazně přesahuje historický roční výnos.
Tento vysoký růst ale nesnižuje pravděpodobnost medvědího trhu. Vrcholné měsíce před minulými medvědími trhy totiž také měly sklon dosáhnout vysokého růstu reálných výnosů: u všech 13 epizod ročně v průměru 13,3 %. Nadto v době tržního maxima těsně před historicky největším propadem burzy v letech 1929-32 dosáhl dvanáctiměsíční růst reálných výnosů 18,3 %.
Jinou zdánlivě dobrou zprávou je, že průměrná volatilita cen akcií – měřená určením směrodatné odchylky měsíčních procentních změn reálných cen akcií za předchozí rok – dosahuje mimořádně nízké hodnoty 1,2 %. Mezi lety 1872 až 2017 byla volatilita téměř třikrát vyšší, neboť dosáhla 3,5 %.
Ani to však neznamená, že se medvědí trh neblíží. Volatilita cen akcií byla totiž během roku před vrcholným měsícem, který předcházel dosavadním 13 medvědím trhům v USA, nižší než průměr, třebaže dnešní úroveň je ještě nižší než 3,1% průměr těchto období. Během vrcholného měsíce na burze před krachem roku 1929 dosáhla volatilita pouhých 2,8 %.
Stručně řečeno, akciový trh USA se dnes hodně podobá vrcholům před většinou ze 13 předchozích medvědích trhů v zemi. Tím nechci říct, že medvědí trh zaručeně přijde: takové epizody je obtížné předvídat a ta příští je možná ještě daleko. Navíc i v případě, že medvědí trh dorazí, pro každého, kdo zrovna nenakupuje na tržním vrcholu a neprodává v sedle, jsou ztráty obvykle menší než 20 %.
Moje analýza by ale měla sloužit jako varování před dřímáním na vavřínech. Investoři, kteří se dnes nechají svést mylnými dojmy z dějin k převzetí příliš velkého rizika na akciovém trhu, si mohou koledovat o značné ztráty.
Z angličtiny přeložil David Daduč