Trump, en pie de guerra
NUEVA YORK – Quince años después de que George W. Bush declaró que Irak, Irán y Corea del Norte formaban "un eje del mal", Donald Trump, en su discurso inaugural ante las Naciones Unidas, denunció a Irán y Corea del Norte en términos igualmente mordaces. Las palabras tienen consecuencias, y las de Trump constituyen una amenaza extrema e inmediata a la paz global, de la misma manera que lo fueron las palabras de Bush en 2002.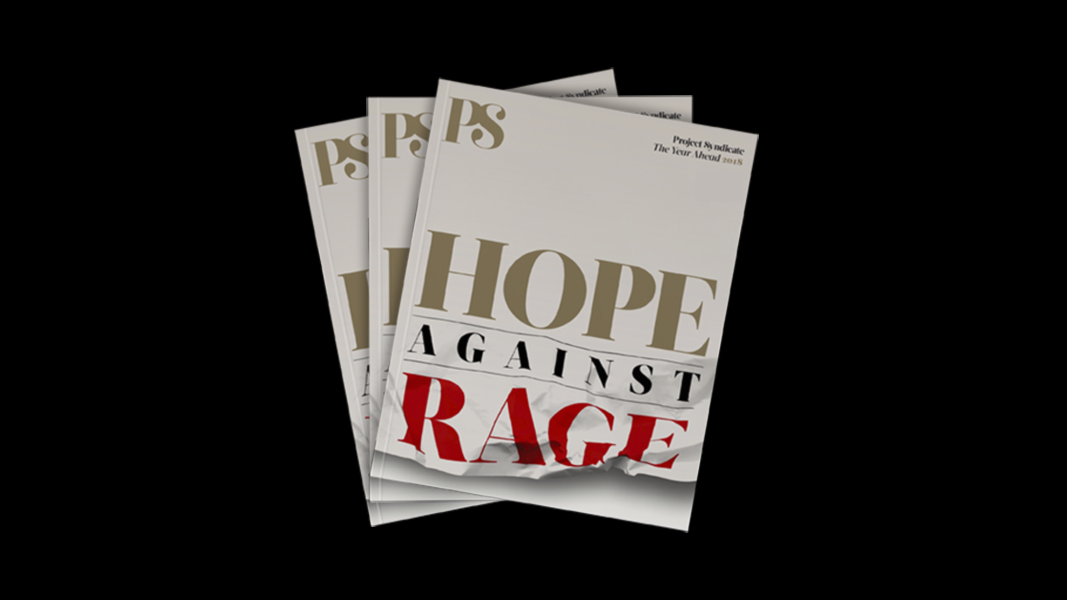 The Year Ahead 2018
The world's leading thinkers and policymakers examine what's come apart in the past year, and anticipate what will define the year ahead.
En aquel momento, Bush fue ampliamente elogiado por su respuesta a los atentados terroristas del 11 de septiembre de 2001. Es fácil movilizar a la población hacia la guerra y eso fue precisamente lo que sucedió después del 11/9. Sin embargo, en cada frente -Afganistán, Irak, Irán y Corea del Norte- el militarismo estadounidense dilapidó la confianza global, vidas, finanzas y un tiempo valioso. Y la estrategia de Trump es mucho más beligerante -y peligrosa- que la de Bush.
Para Trump, como para Bush, existe el Bien (Estados Unidos) y el Mal (Afganistán bajo el régimen talibán, Irán, Corea del Norte e Irak bajo el régimen de Saddam Hussein). Estados Unidos el Bueno hace demandas a los malhechores. Si los malhechores no obedecen, Estados Unidos puede ejercer la "opción militar" o imponer sanciones punitivas para impartir "justicia", según lo define Estados Unidos.
Bush aplicó la lógica de la fuerza frente a Afganistán y el "eje del mal", con resultados desastrosos. Estados Unidos rápidamente derrocó al régimen talibán en Afganistán en 2002 pero no pudo garantizar el orden. Pasados 15 años, los talibán controlan un territorio considerable, y Trump acaba de ordenar un incremento de las tropas. Estados Unidos ha gastado aproximadamente 800.000 millones de dólares en incursiones militares directas en Afganistán, y por cierto ha estado en guerra allí casi ininterrumpidamente desde que la CIA intervino de manera encubierta en 1979, ayudando a provocar la invasión soviética de ese país.
La respuesta a Irak fue aun peor. Estados Unidos invadió en 2003 con falsas pretensiones (las supuestas armas de destrucción masivas de Saddam que no existían), despilfarró otros 800.000 millones de dólares en incursiones militares directas, desestabilizó al país, causó cientos de miles de muertes y, contrariamente a los objetivos manifestados por Estados Unidos, hundió a la región en el caos. Los costos indirectos de las dos guerras (incluidos los costos a largo plazo de las discapacidades de los veteranos) prácticamente igualan los costos directos.
La estrategia de línea dura de Bush hacia Irán tampoco produjo los resultados imaginados. La influencia regional de Irán -particularmente en Irak, pero también en Siria y el Líbano- es mucho más fuerte hoy que hace 15 años. Su despliegue de misiles balísticos está mucho más avanzado. Y la interrupción en su desarrollo de armas nucleares se debe enteramente a la diplomacia del presidente Barack Obama, no al militarismo y las amenazas de Bush.
La estrategia de Bush frente a Corea del Norte fue igual de infructuosa. Al comienzo de 2002, un acuerdo frágil de 1994 entre Estados Unidos y Corea del Norte todavía limitaba los esfuerzos del país asiático por desarrollar armas nucleares, aunque Estados Unidos había dado largas al asunto en relación a varias partes del acuerdo. Desdeñado por los funcionarios de línea dura de la administración Bush, el acuerdo colapsó en una recriminación mutua en 2002. En enero de 2003, Corea del Norte se retiró del Tratado de No Proliferación Nuclear y reanudó los esfuerzos de desarrollo de armas a gran escala. Ahora el país tiene bombas termonucleares y misiles balísticos.
Los cuatro casos reflejan el mismo fracaso de Estados Unidos, que en repetidas ocasiones desdeñó la negociación por considerarla una señal de debilidad y entreguismo. La estrategia de línea dura, en un principio, es popular entre gran parte de la población de Estados Unidos, pero invariablemente termina en duelo.
Trump está doblando la apuesta. Ha declarado su intención de abandonar el acuerdo nuclear con Irán, firmado no sólo por Estados Unidos sino también por los otros cuatro miembros permanentes del Consejo de Seguridad (China, Francia, Rusia y el Reino Unido) y Alemania. Abandonar el acuerdo de 2015 sería el equivalente al abandono por parte de Bush del acuerdo nuclear con Corea del Norte. Israel y Arabia Saudita alientan imprudentemente la política de Trump hacia Irán, pero ambos países saldrán perdiendo dolorosamente si el acuerdo se derrumba.
En el caso de Corea del Norte, la estrategia de Trump es aún más imprudente, al amenazar con que Estados Unidos "destruirá totalmente" el país si no acepta abandonar su programa nuclear. La probabilidad de que Corea del Norte acceda a la demanda de Estados Unidos es prácticamente nula. La probabilidad de provocar una guerra nuclear es alta y crece. Por cierto, Corea del Norte ha asegurado que Estados Unidos efectivamente le ha declarado la guerra, aunque la Casa Blanca ha negado esa interpretación.
Trump, al igual que Bush, ha puesto patas para arriba la famosa sentencia del presidente John F. Kennedy. JFK les dijo a los norteamericanos que nunca deberían negociar por miedo, pero nunca tener miedo de negociar. Trump, como Bush, rechaza las negociaciones, por miedo a parecer débil, en favor de demandas unilaterales respaldadas por la amenaza o la realidad de la fuerza.
Con cierta visión, no sería difícil ver que Irán y Estados Unidos pueden cooperar en muchos frentes, en lugar de enfrentare con amenazas de guerra. Lograr la solución de dos estados en Israel y Palestina también ayudaría a apaciguar la postura anti-Israel de Irán.
En el caso de Corea del Norte, el régimen quiere tener un arsenal nuclear para disuadir el intento liderado por Estados Unidos de un cambio de régimen. Esos temores no son completamente infundados. Estados Unidos, después de todo, derrocó o al menos intentó derrocar a los regímenes no nucleares a los que se opone, inclusive en Afganistán, Irak, Libia e infructuosamente en Siria. El régimen norcoreano ha declarado explícitamente que busca un "equilibrio militar" con Estados Unidos para evitar un escenario similar.
Estados Unidos padece de una arrogancia de poder militar desconectada de las realidades geopolíticas de hoy. El militarismo ha fallado una y otra vez -y es más peligroso que nunca-. Trump, un narcisista malicioso, busca una gratificación instantánea y un "triunfo" político. Las guerras recientes de Estados Unidos han ofrecido esa gratificación inmediata, antes de ceder paso rápidamente al dolor -el máximo pico vertiginoso seguido de un bajón muy profundo-. Estados Unidos está otra vez en este sendero, camino a una colisión con un adversario con armas nucleares, y seguirá allí a menos que otros países, otros líderes norteamericanos y la opinión pública se interpongan en el camino.
Hay una opción mejor: negociaciones con Irán y Corea del Norte sobre intereses mutuos en materia de seguridad que sean directas, transparentes, objetivas y libres de amenazas militares de Estados Unidos. Lo mismo es válido respecto de los conflictos en Siria, Libia, Palestina-Israel, Yemen y otras partes. Y existe un lugar para esto: el Consejo de Seguridad de las Naciones Unidas, creado en 1945 para negociar soluciones cuando el mundo se cierne entre la guerra y la paz.