Trump na válečné stezce
NEW YORK – Patnáct let poté, co George W. Bush prohlásil, že Irák, Írán a Severní Korea tvoří "osu zla", Donald Trump ve svém premiérovém projevu v Organizaci spojených národů pranýřoval Írán a Severní Koreu podobně sžíravými výrazy. Slova mají své důsledky a ta Trumpova představují děsivou a bezprostřední hrozbu pro světový mír, stejně jako Bushovy výroky v roce 2002.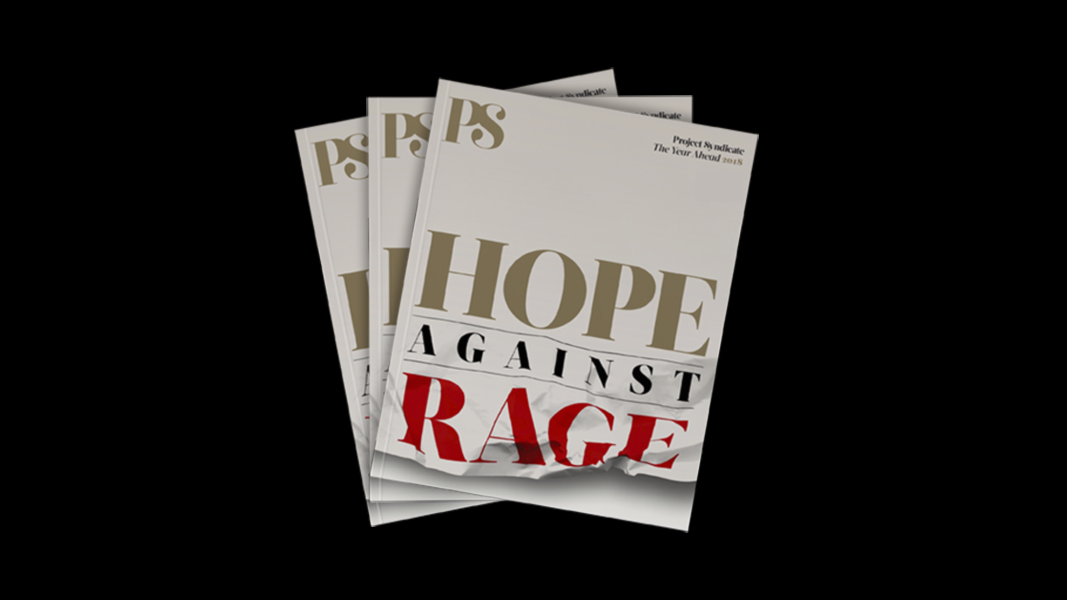 The Year Ahead 2018
The world's leading thinkers and policymakers examine what's come apart in the past year, and anticipate what will define the year ahead.
Tehdy byl Bush všeobecně oceňován za reakci na teroristické útoky z 11. září 2001. Sešikovat veřejnost do války je snadné a po 11. září to platilo obzvlášť. Americký militarismus však na všech frontách – v Afghánistánu, Iráku, Íránu a Severní Koreji – promrhal globální důvěru, životy, finance a drahocenný čas. Trumpův přístup je přitom ještě mnohem agresivnější – a nebezpečnější – než Bushův.
Podle Trumpa, stejně jako podle Bushe, existuje Dobro (Amerika) a Zlo (Afghánistán za Tálibánu, Írán, Severní Korea a Irák za Saddáma Husajna). Dobrotivá Amerika vznáší na zlosyny určité požadavky. Pokud se zlomyslníci nepodřídí, Amerika může uskutečnit "vojenské řešení" nebo zavést trestní sankce s cílem prosadit "spravedlnost", jak ji definují Spojené státy.
Bush nasadil logiku síly vůči Afghánistánu a "ose zla" s katastrofálními důsledky. USA v Afghánistánu v roce 2002 rychle svrhly tálibánský režim, ale nedokázaly zabezpečit pořádek. Patnáct let nato Tálibán ovládá značné území a Trump právě nařídil vyslat posily. Amerika v Afghánistánu utratila zhruba 800 miliard dolarů v přímých vojenských výdajích a ve skutečnosti je tam ve válce téměř nepřetržitě od tajného zásahu CIA v roce 1979, který pomohl vyprovokovat sovětskou invazi do této země.
Postup vůči Iráku byl ještě horší. USA do něj v roce 2003 vpadly pod falešnou záminkou (údajných, ale doopravdy neexistujících Saddámových zbraní hromadného ničení), promrhaly dalších 800 miliard dolarů v přímých vojenských výdajích, zemi destabilizovaly, zapříčinily statisíce úmrtí a v rozporu s deklarovanými cíli USA se oblast propadla do chaosu. Nepřímé náklady obou válek (včetně dlouhodobých nákladů souvisejících s postižením veteránů) jsou zhruba stejně vysoké jako přímé náklady.
Ani Bushův nekompromisní přístup k Íránu nepřinesl žádný ze zamýšlených výsledků. Regionální vliv Íránu – zejména v Iráku, ale i v Sýrii a Libanonu – je dnes silnější než před 15 lety. Tamní vývoj balistických raket je mnohem vyspělejší. Konečně k pozastavení íránského vývoje jaderných zbraní nedošlo vlivem Bushova militarismu a hrozeb, ale výhradně díky diplomacii prezidenta Baracka Obamy.
Podobně neúspěšný byl Bushův přístup vůči Severní Koreji. Začátkem roku 2002 severokorejské úsilí vyvinout jaderné zbraně ještě tlumila křehká dohoda z roku 1994 mezi USA a Severní Koreou, přestože u několika částí dohody se postup USA vlekl. Dohodu, jíž zastánci tvrdé linie v Bushově administrativě opovrhovali, rozvrátilo vzájemné osočování v roce 2002. V lednu 2003 Severní Korea odstoupila od Smlouvy o nešíření jaderných zbraní a v plném rozsahu obnovila snažení ve zbrojní oblasti. Teď má termonukleární bomby a balistické rakety.
Všechny čtyři případy jsou projevem téhož amerického selhání. USA opakovaně opovrhly vyjednáváním jako známkou slabosti a ustupování. Tvrdá linie je u velké části americké veřejnosti zpočátku populární, ale vždy skončí hořem.
Trump ještě zvyšuje sázky. Téměř už vyhlásil úmysl odstoupit od jaderné dohody s Íránem, již podepsaly nejen USA, ale také čtyři stálí členové Rady bezpečnosti (Čína, Francie, Rusko a Velká Británie) a Německo. Odstoupit od dohody z roku 2015 by bylo podobné, jako když Bush odstoupil od jaderné dohody se Severní Koreou. Izrael a Saúdská Arábie Trumpovu íránskou politiku lehkovážně podporují, třebaže obě země na případný rozpad dohody krutě doplatí.
Co se týče Severní Koreje, Trumpův přístup je ještě bezhlavější, když vyhrožuje, že USA zemi "totálně zničí", pokud nekývne na ukončení svého jaderného programu. Pravděpodobnost, že Severní Korea na americký požadavek přistoupí, se blíží nule. Pravděpodobnost podnícení jaderné války je značná a stoupá. Ostatně Severní Korea už prohlásila, že jí USA v zásadě vyhlásily válku, přestože Bílý dům tento výklad popřel.
Trump, stejně jako Bush, obrátil proslulý výrok prezidenta Johna F. Kennedyho vzhůru nohama. JFK řekl Američanům, že by nikdy neměli vyjednávat ze strachu, ale nikdy by neměli mít strach vyjednávat. Trump, tak jako Bush, odmítá vyjednávání ze strachu, aby nepůsobil jako slaboch, a dává přednost jednostranným požadavkům opřeným o pohrůžky či silovou realitu.
S určitou vizí by nebylo těžké dospět ke spolupráci Íránu a USA v mnoha oblastech, namísto srážek hrozbami války. Dosažení dvoustátního řešení v Izraeli a Palestině by rovněž přispělo ke zmírnění íránského protiizraelského postoje.
V Severní Koreji se režim snaží získat jaderný arzenál, aby odradil pokusy o změnu zřízení pod vedením USA. Jeho obavy nejsou zcela pomýlené. Vždyť USA svrhly nebo se alespoň pokusily svrhnout nejaderné režimy, proti nimž se vymezují, mimo jiné v Afghánistánu, Iráku, Libyi a (neúspěšně) v Sýrii. Severokorejský režim výslovně prohlásil, že usiluje o "vojenskou rovnováhu" s USA, aby podobnému vývoji předešel.
USA trpí arogancí vojenské moci odstřižené od geopolitické reality dneška. Militarismus znovu a znovu selhal – a je nebezpečnější než kdy dřív. Zlovolný narcisista Trump hledá okamžité uspokojení a politické "vítězství". Nedávné americké války takové okamžité uspokojení poskytly, to však rychle ustoupilo žalu – jednalo se o nejzazší rychlý vzestup následovaný hlubokým propadem. Teď jsou USA znovu na téže cestě, po níž míří ke střetu s jaderně vyzbrojeným protivníkem, a půjdou po ní dál, pokud ji nezatarasí další země, ostatní američtí lídři a veřejné mínění.
Existuje lepší cesta: vyjednávání s Íránem a Severní Koreou o společných bezpečnostních zájmech, které jsou přímočaré, transparentní, objektivní a prosté amerických vojenských výhrůžek. Totéž platí pro konflikty v Sýrii, Libyi, Izraeli-Palestině, Jemenu a dalších místech. Pro takové rozhovory existuje i místo: Rada bezpečnosti OSN, vytvořená v roce 1945 k dojednávání východisek ze situací, kdy svět balancuje mezi válkou a mírem.
Z angličtiny přeložil David Daduč