Trump auf dem Kriegspfad
NEW YORK – Fünfzehn Jahre, nachdem George W. Bush den Irak, den Iran und Nordkorea zur "Achse des Bösen" erklärte, hat Donald Trump den Iran und Nordkorea in seiner ersten Ansprache vor den Vereinten Nationen mit einer ähnlich kriegerischen Rhetorik bedacht. Worte haben Konsequenzen und Trumps Worte stellen eine verheerende und unmittelbare Bedrohung des Weltfriedens dar, genauso wie die Worte von Bush 2002.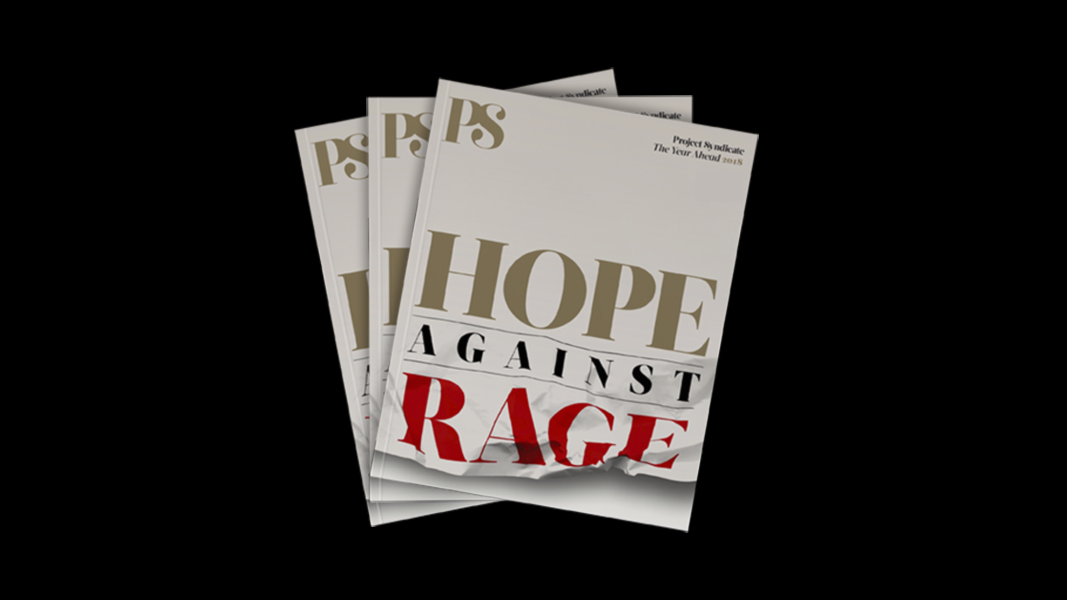 The Year Ahead 2018
The world's leading thinkers and policymakers examine what's come apart in the past year, and anticipate what will define the year ahead.
Damals wurde Bush für seine Reaktion auf die Terrorangriffe vom 11. September 2001 allgemein gelobt. Es ist einfach, die Öffentlichkeit auf einen Krieg einzustimmen, und das galt besonders für die Zeit nach dem 11. September. Aber der US-amerikanische Militarismus hat an jeder Front – Afghanistan, Irak, Iran und Nordkorea – globales Vertrauen, Menschenleben, Geld und wichtige Zeit verspielt. Und Trumps Ansatz ist weitaus kriegerischer und gefährlicher als der von Bush.
Für Trump wie für Bush ist die Welt in Gut (Amerika) und Böse (Afghanistan unter den Taliban, Iran, Nordkorea und Irak unter Saddam Hussein) aufgeteilt. Amerika und das Gute stellen Forderungen an die Übeltäter. Wenn die Übeltäter nicht tun, was von ihnen verlangt wird, können Amerikaner "die militärische Option" ausführen oder Sanktionen auferlegen, um "Gerechtigkeit" im Sinne der USA wiederherzustellen.
Bush hat diese Logik der Macht gegenüber Afghanistan und der "Achse des Bösen" angewendet, mit katastrophalen Ergebnissen. Die USA haben das Regime der Taliban 2002 schnell gestürzt, konnten die Ordnung aber nicht sicherstellen. Nach fünfzehn Jahren kontrollieren die Taliban einen erheblichen Teil des afghanischen Territoriums, und Trump hat gerade eine Verstärkung der Truppen angewiesen. Amerika hat circa 800 Milliarden US-Dollar für direkte militärische Aktionen in Afghanistan aufgewendet. Seit der verdeckten Intervention des CIA 1979, der dazu beigetragen hat, die sowjetische Invasion Afghanistans zu provozieren, befinden sich die USA dort fast ununterbrochen im Krieg.
Die Reaktion auf den Irak war fast noch schlimmer. Die USA sind dort 2003 unter falschem Vorwand eingefallen (Saddams angebliche aber nicht existente Massenvernichtungsmittel), haben nochmal 800 Milliarden US-Dollar an direkten Militärausgaben verschwendet und die Region in Aufruhr versetzt, ganz entgegen den ursprünglich geäußerten Zielen. Die indirekten Kosten von zwei Kriegen (einschließlich langfristiger Kosten für Veteranen mit Behinderungen) sind ungefähr so hoch wie die direkten Kosten.
Bushs Hardliner-Ansatz gegenüber dem Iran hat auch keines der angestrebten Ergebnisse erzielt. Irans regionaler Einfluss – besonders im Irak, aber auch in Syrien und im Libanon – ist heute stärker als noch vor 15 Jahren. Die Entwicklung ballistischer Raketensysteme ist viel weiter vorangeschritten. Und den Stopp der Entwicklung von Atomwaffen im Iran haben wir ausschließlich der Diplomatie von Präsident Barack Obama zu verdanken, nicht dem Militarismus und den Drohungen von Bush.
Bushs Ansatz in Bezug auf Nordkorea war ähnlich erfolglos. Anfang 2002 hat eine fragile Vereinbarung zwischen den USA und Nordkorea den Norden noch davon abgehalten, Atomwaffen zu entwickeln, obwohl die USA verschiedenen Teilen der Vereinbarung nur widerwillig nachkamen. Aufgrund des Widerstandes der Hardliner in der Bush-Administration ging die Vereinbarung 2002 in gegenseitigen Beschuldigungen unter. Im Januar 2003 zog sich Nordkorea aus dem Atomwaffensperrvertrag zurück und widmete sich wieder voll der Entwicklung von Waffen. Jetzt verfügt das Land über thermonukleare Bomben und ballistische Raketen.
In allen vier Fällen haben die USA gleichermaßen versagt. Sie haben Verhandlungen wiederholt als Zeichen von Schwäche und Appeasement verachtet. Der harte Ansatz war zunächst in der US-amerikanischen Öffentlichkeit beliebt, endet aber unweigerlich in Leid.
Trump verstärkt diese Strategie jetzt. Er hat fast seine Absicht erklärt, die Atomwaffenvereinbarung mit dem Iran zu verlassen, die nicht nur von den USA, sondern auch von den anderen vier Mitgliedern des Ständigen Sicherheitsrats der UN (China, Frankreich, Russland und das Vereinigte Königreich) und Deutschland unterzeichnet wurde. Das Verlassen des Abkommens von 2015 ist gleichzusetzen mit dem Verlassen der Atomwaffenvereinbarung mit Nordkorea durch Bush. Israel und Saudi-Arabien unterstützen Trumps Iran-Politik rücksichtslos, aber beide Länder haben viel zu verlieren, wenn die Vereinbarung auseinanderbricht.
Im Fall Nordkoreas ist Trumps Ansatz sogar noch rücksichtsloser. Er droht, die USA würden das Land "völlig zerstören", wenn es sein Atomwaffenprogramm nicht aufgibt. Die Wahrscheinlichkeit, dass Nordkorea dem nachgibt tendiert gegen Null. Die Wahrscheinlichkeit, einen Atomkrieg zu provozieren, ist hoch und steigt. Tatsächlich hat Nordkorea festgehalten, dass die USA Nordkorea den Krieg erklärt habe, obwohl das Weiße Haus diese Interpretation bestritten hat.
Trump hat, wie Bush, die berühmte Maxime von Präsident John F. Kennedy auf den Kopf gestellt. JFK hat den Amerikanern gesagt, sie sollten nie aus Angst heraus verhandeln und niemals Angst haben, zu verhandeln. Trump lehnt, wie Bush Verhandlungen ab, aus Angst, Schwäche zu zeigen. Stattdessen stellt er einseitige Forderungen, die er mit Drohungen der Gewaltanwendung stützt.
Mit etwas Fantasie ist es durchaus nicht schwierig, sich anstatt einer Konfrontation mit Kriegsandrohungen eine Kooperation zwischen dem Iran und den USA an vielen Fronten vorzustellen. Die Erzielung einer Zwei-Staaten-Lösung für Israel und Palästina würde auch helfen, die antiisraelische Haltung des Irans abzuschwächen.
Im Falle Nordkoreas will das Regime ein Atomwaffenarsenal aufbauen, um einen von den USA geführten Regimewechsel abzuschrecken. Diese Ängste sind nicht gänzlich unbegründet. Die USA haben schließlich versucht, Regierungen, mit denen sie nicht einverstanden waren, und die keine Atomwaffen besaßen, zu stürzen, wie in Afghanistan, im Irak, in Libyen und – ohne Erfolg – in Syrien. Das nordkoreanische Regime hat ausdrücklich erklärt, es strebe ein "militärisches Gleichgewicht" mit den USA an, um ein ähnliches Szenario zu verhindern.
Die USA leiden an einer militärischen Arroganz, die nichts mit den heutigen geopolitischen Realitäten zu tun hat. Militarismus hat immer wieder versagt – und ist heute gefährlicher denn je. Trump ist ein bösartiger Narzisst, der sofortige Befriedigung und einen schnellen politischen "Erfolg" sucht. Amerikas jüngste Kriege haben zunächst eine Befriedigung dieser Art geliefert, und wurden dann schnell zum Anlass für Trauer und Leid – ein schnell vergehendes Hochgefühl, gefolgt von einem sehr tiefen Absturz. Die USA befinden sich wieder auf diesem Weg in Richtung einer Kollision mit einem - atomar bewaffneten - Gegner, und wird nicht davon abweichen, es sei denn andere Länder, andere führende Persönlichkeiten in den USA stellen sich in den Weg.
Es gibt einen besseren Weg: Verhandlungen mit dem Iran und mit Nordkorea über gemeinsame Sicherheitsinteressen, die direkt, transparent, objektiv und frei von militärischen Drohungen der USA sind. Und es gibt einen Ort dafür: den UN-Sicherheitsrat, der 1945 gegründet wurde, um Lösungen zu verhandeln, wenn die Welt zwischen Krieg und Frieden steht.
Aus dem Englischen von Eva Göllner.