¿Capitulará Estados Unidos ante China?
CAMBRIDGE – Comienza a parecer que el presidente de los Estados Unidos, Donald Trump, cederá ante China en el conflicto comercial que enfrenta a ambos países. Estados Unidos amenazó con que de no haber acuerdo, el 2 de marzo aumentará de 10% a 25% los aranceles a las importaciones procedentes de China. Pero hace poco Trump dijo que la fecha es flexible y puede posponerse, en vista de los avances que se están haciendo en las conversaciones bilaterales en marcha.
Puede que así sea, pero el avance está en los ojos de quien lo mira. El problema más importante que hay que resolver no es el inmenso déficit comercial bilateral de Estados Unidos con China, sino que los chinos están robando tecnología de empresas estadounidenses y usándola para ayudar a las empresas chinas a competir con aquellas, en China y en todo el mundo.
Este robo de tecnología se hace de dos maneras. En primer lugar, las empresas estadounidenses que quieran hacer negocios en China deben asociarse con una empresa local y compartir tecnología con ella, en forma compulsiva, algo que las normas de la Organización Mundial del Comercio prohíben explícitamente. Desde que se unió a la OMC en 2001, China hizo caso omiso de esta regla, y afirma falsamente que las empresas estadounidenses comparten su tecnología voluntariamente para poder operar en China.
En segundo lugar, China usa Internet para ingresar a sistemas informáticos de empresas estadounidenses y robar planos y tecnologías. En 2015, el presidente chino Xi Jinping acordó con el entonces presidente Barack Obama que con su gobierno esto se terminaría. Pero tras una reducción temporal, el robo cibernético continuó, lo cual es atribuible a la capacidad de empresas estatales chinas y otros actores para entrar en computadoras de empresas estadounidenses.
Pese al optimismo con que Trump habla de avances en las negociaciones, nada indica que los chinos estén dispuestos a detener el robo de tecnología. En vez de eso, el vicepremier Liu He, negociador principal de China, destacó la decisión de su país de reducir su enorme superávit comercial bilateral mediante la compra de soja y gas natural a Estados Unidos. Una reducción importante del déficit comercial con China permitiría a Trump cantar victoria y le daría algo que celebrar cuando en los próximos meses Xi lo visite en su casa en Florida.
El déficit comercial bilateral con China viene siendo, año tras año, el mayor de los que mantiene Estados Unidos con cualquier país (en 2017 fue de 375 000 millones de dólares, o sea dos tercios del total); así que obtener una reducción drástica daría motivos para alardear. La oferta china de comprar una cantidad suficiente de productos estadounidenses para achicar ese desequilibrio patente es astuta.
Subscribe to Project Syndicate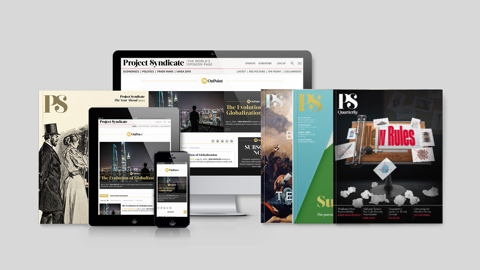 Subscribe to Project Syndicate
Enjoy unlimited access to the ideas and opinions of the world's leading thinkers, including long reads, book reviews, topical collections, short-form analysis and predictions, and exclusive interviews; every new issue of the PS Quarterly magazine (print and digital); the complete PS archive; and more. Subscribe now to PS Premium.
Pero aunque eso reduzca el déficit comercial con China, no incidirá en el total. Como cualquier estudiante de economía sabe, el déficit comercial refleja la elección de un país de consumir más de lo que produce: mientras lo primero supere a lo segundo, habrá que importar la diferencia.
Si los chinos realmente aumentan lo que compran a Estados Unidos y reducen el déficit comercial bilateral, Estados Unidos terminará importando más desde otros países o exportando menos hacia otros países. El déficit comercial total no se achicará a menos que Estados Unidos reduzca la demanda total, aumentando el ahorro. Y eso es tarea de las autoridades estadounidenses, no algo que los chinos puedan hacer por Estados Unidos.
El secretario del Tesoro estadounidense, Steven Mnuchin, destacó otra oferta de los chinos mayoritariamente irrelevante: su promesa de impedir la devaluación del yuan chino respecto del dólar. Pero aunque esto puede restar atractivo a los bienes chinos en el mercado estadounidense y de tal modo reducir el déficit comercial bilateral, no reducirá el desequilibrio comercial global de Estados Unidos.
Además, aunque el tipo de cambio entre el yuan y el dólar ha variado con los años, las variaciones han sido pequeñas. Hoy un dólar vale 6,7 yuanes; hace un año, el tipo de cambio era 6,3, y dos años atrás era 6,9. Hace un decenio, en febrero de 2009, un dólar valía 6,8 yuanes. Es decir, que los chinos acepten estabilizar el valor de su moneda respecto del dólar no da motivos reales para celebrar.
La cuestión clave es el robo de tecnología. A menos que los chinos acepten ponerle fin y los dos lados encuentren un modo de vigilar que el acuerdo se cumpla, los aranceles de Trump no le habrán servido de nada a Estados Unidos.
Traducción: Esteban Flamini