Werden die USA vor China kapitulieren?
CAMBRIDGE – Es sieht langsam so aus, als ob US-Präsident Donald Trump im Handelskonflikt der USA mit China den Chinesen nachgeben wird. Die USA haben gedroht, die Zölle auf Einfuhren aus China am 2. März von 10% auf 25% zu erhöhen, wenn keine Einigung erzielt würde. Doch hat Trump kürzlich geäußert, das Datum sei flexibel und könne wegen der derzeit bei den laufenden bilateralen Verhandlungen erzielten Fortschritte auch nach hinten verschoben werden.
Das ist schön und gut, aber Fortschritte liegen in den Augen des Betrachters. Das wichtigste einer Lösung harrende Problem ist nicht Amerikas enormes bilaterales Handelsdefizit gegenüber China. Es ist, dass die Chinesen den US-Unternehmen ihre Technologien stehlen und dann dazu verwenden, chinesischen Firmen zu helfen, mit eben diesen Unternehmen in China und weltweit zu konkurrieren.
Die Chinesen tun dies auf zwei Arten. Erstens müssen US-Unternehmen, die in China Geschäfte tätigen wollen, einen chinesischen Partner haben und ihre Technologie mit diesem Unternehmen teilen. Diese erzwungene Weitergabe von Technologien ist laut den Regeln der Welthandelsorganisation (WTO) ausdrücklich verboten. Die Chinesen haben diese Regel seit ihrem WTO-Beitritt 2001 ignoriert und behaupten in unaufrichtiger Weise, dass die US-Unternehmen der Weitergabe ihrer Technologien freiwillig zustimmen, weil sie in China tätig sein wollen.
Zweitens nutzen die Chinesen das Internet, um in die Computersysteme von US-Unternehmen einzudringen und Technologien und Entwürfe zu stehen. Der chinesische Präsident Xi Jinping versprach dem damaligen Präsidenten Barack Obama 2015, dass seine Regierung damit aufhören würde. Doch nach einem vorübergehenden Rückgang wurden diese Cyber-Diebstähle wieder aufgenommen, vermutlich, weil staatseigene Unternehmen und andere die Fähigkeit haben, auf die Computersysteme von US-Unternehmen zuzugreifen.
Trotz Trumps optimistischen Äußerungen über Fortschritte bei den Verhandlungen gibt es keine Hinweise darauf, dass sich die Chinesen zur Einstellung ihrer Technologiediebstähle verpflichten werden. Stattdessen hat Chinas Verhandlungsführer, Vize-Ministerpräsident Liu He, betont, dass die Chinesen ihren großen bilateralen Handelsüberschuss reduzieren werden, indem sie den USA Sojabohnen und Erdgas abkaufen. Eine deutliche Verringerung des US-Handelsdefizits gegenüber China würde Trump in die Lage versetzen, sich zum Sieger zu erklären, und gäbe ihm etwas zu feiern, wenn Xi ihn irgendwann in den kommenden Monaten zu Hause in Florida besucht.
Eine dramatische Verringerung des US-Handelsdefizits gegenüber China – dem seit Jahren Größten von Amerikas bilateralen Handelsdefiziten – lässt sich leicht als Erfolg verkaufen. Das Defizit gegenüber China betrug 2017 375 Milliarden Dollar oder zwei Drittel des US-Gesamthandelsdefizits. Daher ist es ein schlauer Vorschlag der Chinesen, genügend US-Rohstoffe zu kaufen, um dieses sehr sichtbare Ungleichgewicht zu reduzieren.
Subscribe to Project Syndicate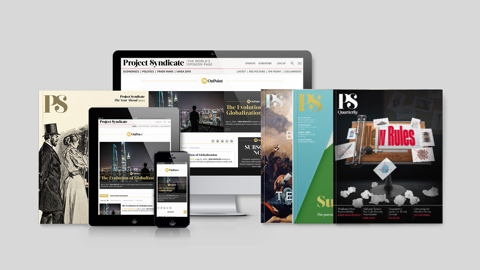 Subscribe to Project Syndicate
Enjoy unlimited access to the ideas and opinions of the world's leading thinkers, including long reads, book reviews, topical collections, short-form analysis and predictions, and exclusive interviews; every new issue of the PS Quarterly magazine (print and digital); the complete PS archive; and more. Subscribe now to PS Premium.
Doch während das das bilaterale Handelsdefizit gegenüber China verringern würde, hätte es keine Auswirkungen auf das US-Handelsdefizit insgesamt. Wie jeder Volkswirtschaftsstudent weiß, spiegelt ein Handelsdefizit die Tatsache wider, dass ein Land sich entscheidet, mehr zu konsumieren als zu produzieren. Und solange das der Fall ist, muss es die Differenz aus dem Ausland importieren.
Wenn die Chinesen genug kaufen, um das bilaterale Handelsdefizit zu senken, bedeutet das nur, dass die USA mehr aus anderen Ländern importieren oder weniger in andere Länder exportieren. Das Gesamthandelsdefizit der USA ändert sich dadurch nicht, sofern die USA nicht ihre Gesamtnachfrage verringern, indem sie mehr sparen. Das freilich ist ein Problem, das die politischen Entscheidungsträger in den USA lösen müssen, und nichts, was die Chinesen Amerika abnehmen können.
US-Finanzminister Steven Mnuchin hat ein anderes weitgehend bedeutungsloses Angebot der Chinesen hervorgehoben: ein Versprechen, zu verhindern, dass der Wert des Renminbi im Verhältnis zum Dollar fällt. Während ein stärkerer Renminbi chinesische Waren für US-Käufer weniger attraktiv machen und so das bilaterale Handelsdefizit senken würde, würde er Amerikas globales Handelsungleichgewicht nicht verringern.
Und obwohl der Wechselkurs des Renminbi zum Dollar von Jahr zu Jahr schwankt, sind diese Schwankungen gering. Für einen Dollar bekommt man heute 6,7 CN¥; vor einem Jahr lag der Wechselkurs zum Dollar bei 6,3 CN¥ und vor zwei Jahren bei 6,9 CN¥. Vor einem Jahrzehnt, im Februar 2009, bekam man für einen Dollar 6,8 CN¥. Kurz gesagt: Es ist kein Grund zum Feiern, wenn sich die Chinesen bereiterklären, den Wert ihrer Währung gegenüber dem Dollar zu stabilisieren.
Die zentrale Frage sind die Technologiediebstähle. Sofern die Chinesen sich nicht verpflichten, damit aufzuhören, und beide Seiten eine Methode entwickeln, um diese Vereinbarung durchzusetzen, werden die USA mit Trumps Zöllen nichts Nützliches bewirkt haben.
Aus dem Englischen von Jan Doolan