Chvíle Grety Thunbergové
PRINCETON – "Všechno je špatně!" Těmito slovy začíná nejpůsobivější čtyřminutový projev, jaký jsem kdy slyšel. V září ho na Summitu klimatické akce Organizace spojených národů pronesla švédská klimatická aktivistka Greta Thunbergová; následoval týden klimatických stávek a pochodů, jichž se zúčastnilo odhadem šest milionů lidí.
Mezi demonstrujícími byli převážně mladí lidé, kteří se s náklady spojenými s klimatickou změnou budou muset potýkat více než vedoucí světoví představitelé, k nimž Thunbergová promlouvala. Její tón morálního rozhořčení byl proto namístě, stejně jako leitmotiv jejího projevu: "Jak se opovažujete?" Obvinila světové vůdce, že prázdnými slovy ukradli mladým lidem sny. Jak se opovažují tvrdit, že toho dělají dost? Jak se opovažují předstírat, že se problém vyřeší pokračováním "jako normálně" v kombinaci s technologickými řešeními, která stále neexistují?
Thunbergová odůvodnila své rozhořčení poukazem na to, že vědecká podstata klimatických změn je známá už 30 let. Světoví představitelé se však raději dívali jinam a příležitosti k včasnému přechodu na ekonomiku s nulovými čistými emisemi skleníkových plynů mezitím nenávratně mizely. A tak nám dnes, jak poznamenala Thunbergová, i heroické úsilí snížit emise v příštích deseti letech na polovinu dává jen padesátiprocentní naději, že udržíme globální oteplování pod hranicí 1,5 stupně Celsia.
Pokud tuto hranici překročíme, hrozí riziko sklouznutí do nekontrolovatelné spirály vedoucí k dalšímu oteplení, vzniku dalších spirál a dalšímu oteplení. Thunbergová odkázala na zprávu Mezivládního panelu pro změnu klimatu, z níž vyplývá, že chceme-li snížit riziko překročení hranice 1,5°C na jedna ku třem, budeme muset omezit celkové globální emise oxidu uhličitého ode dneška do roku 2050 na 350 gigatun. Při současném tempu překročíme tuto hranici v roce 2028.
Podle indexu výkonu v oblasti klimatických změn (Climate Change Performance Index) zatím žádná vláda nedosáhla v ochraně světového klimatu hodnocení "velmi dobrá". Nejlépe si v současnosti vedou Švédsko, Maroko a Litva, přičemž Lotyšsko a Velká Británie jsou jim těsně v patách. Spojené státy se spolu se Saúdskou Arábií, Íránem, Jižní Koreou a Tchaj-wanem nacházejí mezi nejhoršími pěti zeměmi.
Etickou stránku věci lze vyhodnotit snadno. Pro zámožné země, které nesou zodpovědnost za největší množství současného CO2 v atmosféře, neexistuje etické ospravedlnění, proč dál emitují skleníkové plyny v mnohem vyšším objemu na obyvatele než nízkopříjmové země, které klimatickými změnami utrpí nejvíce. Pravděpodobnost jedna ku třem, že se podaří udržet oteplení pod hranicí 1,5°C, je pro státy s nízkými příjmy jako ruská ruleta – jako bychom přitiskli hlaveň revolveru na hlavy desítek a možná i stovek milionů lidí v těchto zemích, jen místo jedné kulky ze šesti by byly v nábojovém válci dvě. Naopak pro zámožné země by požadovaný přechod na čistou ekonomiku znamenal určité přechodné náklady, ale dlouhodobě by zachránil životy a přinesl prospěch všem.
Subscribe now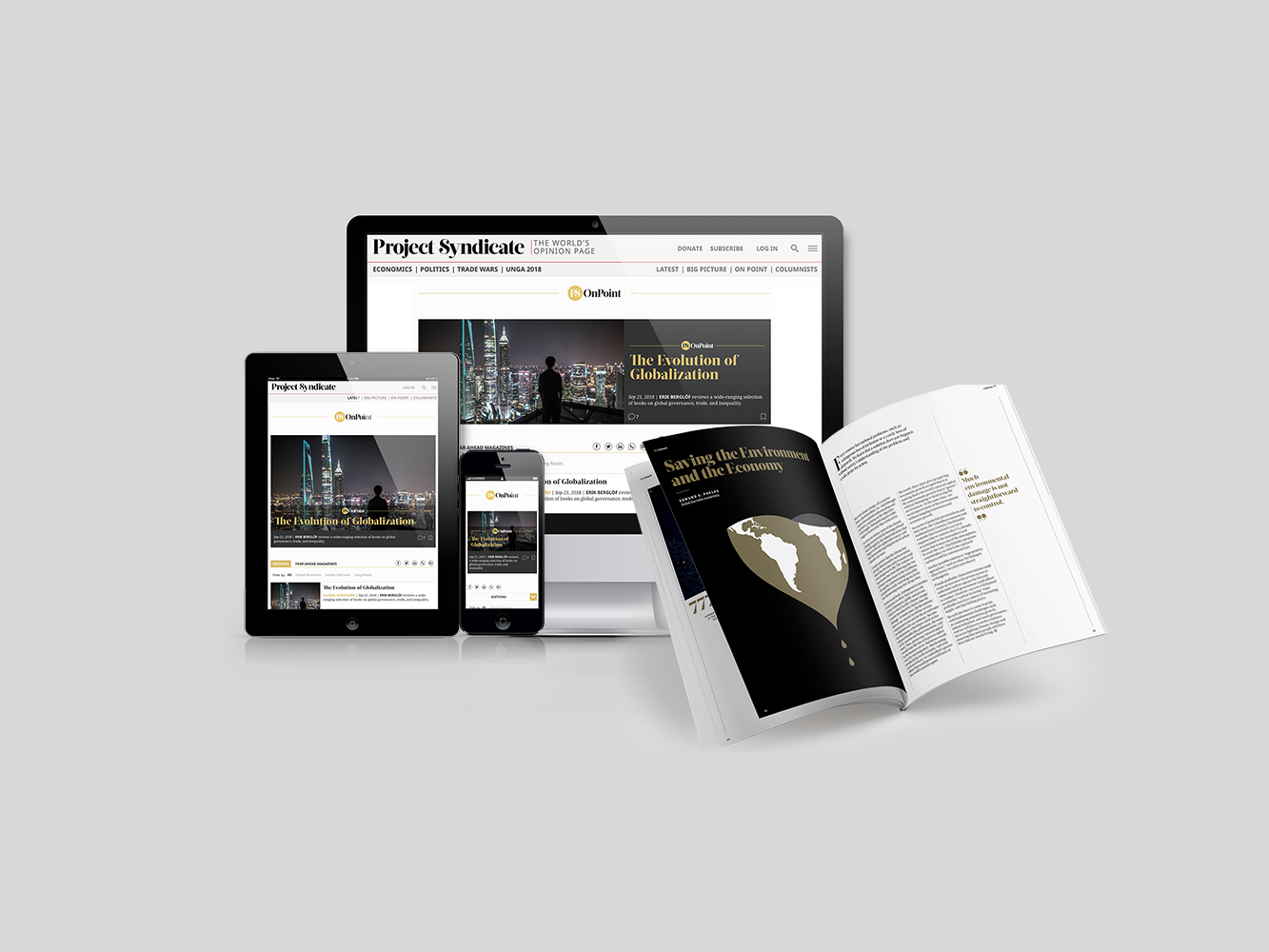 Subscribe now
Subscribe today and get unlimited access to OnPoint, the Big Picture, the PS archive of more than 14,000 commentaries, and our annual magazine, for less than $2 a week.
Jak k tomuto cíli dospějeme? Thunbergová skončila pozitivně: "Nedopustíme, aby vám to prošlo. Právě tady a právě teď rýsujeme hranici. Svět se probouzí. A změna přichází, ať se vám to líbí, nebo ne."
Mohou mladí lidé skutečně vyburcovat svět a ukázat mu, jak je naléhavě nutné změnit směr? Dokážou přesvědčit rodiče? Školní stávky rodiče znepokojí, zejména ty, kteří musí zajišťovat dětem hlídání, ale ovlivní i politické předáky? Co lze udělat pro to, aby klimatické změny zůstaly tématem tak dlouho, dokud vlády nezačnou brát snižování rizika katastrofy vážně?
"Extinction Rebellion" neboli "Vzpoura proti vyhynutí" – mezinárodní hnutí, které loni zahájilo činnost vyhlášením "Deklarace vzpoury" v Londýně, prosazuje občanskou neposlušnost. Vyzývá tisícovky aktivistů, aby blokovali silnice a ucpávali ve velkých městech po celém světě dopravní systémy ne na pouhý den, ale na tak dlouho, aby to vlády a podnikatelské elity skutečně pocítily na hmatatelných ekonomickým nákladech, ale přitom aby si zachovali přísně nenásilnou disciplínu, a to i tváří v tvář vládnímu útisku.
Občanskou neposlušnost jako součást masového hnutí poprvé použil Mahátma Gándhí (od jehož narození uplyne tento měsíc 150 let) v Jihoafrické republice a později v Indii. Ve Spojených státech byl jejím nejslavnějším protagonistou Martin Luther King v boji proti rasové segregaci. Občanská neposlušnost sehrála spolu s dalšími formami protestu jistou roli i při ukončení války ve Vietnamu. Ve všech těchto případech se dnes občanská neposlušnost všeobecně pokládá za odvážný a správný krok. Gándhí má po celém světě sochy a Kingovy narozeniny jsou v USA státním svátkem.
Neschopnost vlád snížit emise skleníkových plynů není o nic méně špatná než britská nadvláda v Indii, odepírání rovných práv Afroameričanům nebo válka ve Vietnamu – a pravděpodobně způsobí škody v mnohem větším měřítku. Občanská neposlušnost by tedy i v tomto případě byla správnou věcí, pokud dokáže přesvědčit vlády, aby se řídily vědeckými poznatky a udělaly vše, co je nezbytné k odvrácení katastrofálních klimatických změn.
Možná existují i další účinné formy nenásilného protestu, které zatím nikdo nevyzkoušel. Thunbergová poprvé vešla ve známost tím, že stála sama před švédským parlamentem a držela ceduli s nápisem "Školní stávka za klima". Nikdo nemohl v té době tušit, že tato tehdy patnáctiletá dívka rozpoutá hnutí, které dnes podporují miliony mladých lidí, a získá platformu, z níž bude moci oslovit světové lídry. Potřebujeme více novátorských nápadů, jak nejlépe tlumočit naléhavost situace a potřebu prudké změny kurzu.
Z angličtiny přeložil Jiří Kobělka