Formula untuk Hak Kesehatan yang Adil
KIGALI – Bayangkan ada negara dimana 90% populasinya mempunyai asuransi kesehatan, dimana lebih dari 90% orang yang mengidap HIV terus mendapatkan pengobatan, dan 93% dari anak-anak telah menerima vaksin penyakit menular umum termasuk HPV. Menurut Anda, dimanakah negara dengan hak kesehatan yang adil ini berada? Skandinavia? Kosta Rika? Narnia?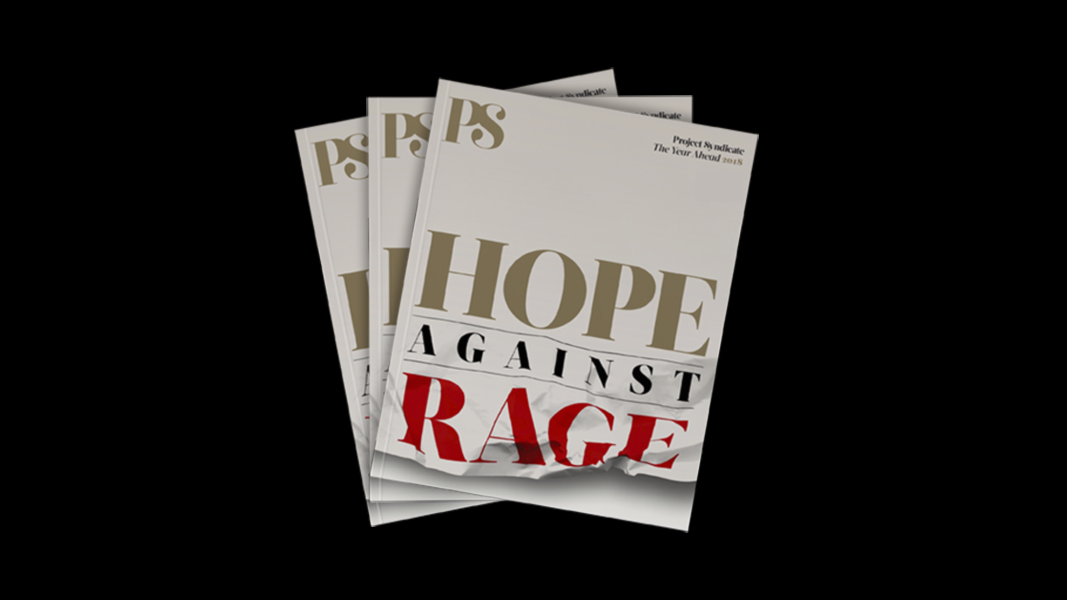 The Year Ahead 2018
The world's leading thinkers and policymakers examine what's come apart in the past year, and anticipate what will define the year ahead.
Negara ini berada di benua Afrika – lebih tepatnya Rwanda.
Di negara asal Saya, layanan kesehatan adalah sebuah hak semua orang, tidak hanya untuk mereka yang kaya dan berkuasa. Rwanda masih tergolong sebagai negara miskin, namun, selama lima belas tahun terakhir, layanan kesehatan di negara ini telah mencapai kemajuan yang menerima perhatian di tingkat global. Pada tahun 2000, angka harapan hidup pada saat kelahiran adalah 48 tahun; sementara saat ini berada di angka 67 tahun. Bantuan internasional tentunya membantu kemajuan ini, namun alasan utama atas keberhasilan kami adalah inovasi non-finansial.
Sebagai permulaan, Rwanda telah melaksanakan pendekatan yang kolaboratif dan terkelompok yang memungkinkan pencapaian lebih banyak hasil dengan jumlah anggaran yang sama. Terlebih lagi, pegawai negeri kami percaya dengan proses pemecahan masalah, yang menunjukkan tingkat kreativitas yang telah menghasilkan banyak solusi lokal terhadap tantangan pembangunan manusia seperti menjamin keamanan pangan dan ketersediaan air bersih dan perumahan yang memadai.
Tapi mungkin faktor yang paling penting dibalik kemajuan layanan kesehatan adalah agenda keadilan nasional, yang menentukan target untuk mendukung mereka yang membutuhkan dan memantau kemajuan target-target tersebut. Sejak melaksanakan pendekatan ini, Rwanda telah berhasil menurunkan persentase masyarakat yang hidup dalam kondisi kemiskinan ekstrem dari angka 40% dari total populasi pada tahun 2000 ke 16.3% pada tahun 2015.
Terlepas dari keuntungan yang paling jelas, kemajuan ini berarti karena UNICEF baru-baru ini menyatakan bahwa potensi keuntungan investasi pada layanan sosial untuk anak-anak yang termasuk dalam kelompok rentan di suatu negara akan mendapatkan dua kali lipat manfaat ketika hal tersebut mencapai kelompok yang paling rentan. 
Dalam upaya untuk mencapai keadilan dalam bidang kesehatan, Rwanda telah menjadikan aksesibilitas sebagai prioritas utama. Pada tahun 2016, sembilan dari sepuluh orang di Rwanda terdaftar dalam program asuransi kesehatan negara. Mayoritas dari masyarakat terdaftar dalam  skema Asuransi Kesehatan Berbasis Komunitas (CBHI), yang telah meningkatkan akses terhadap layanan kesehatan bagi warga negara Rwanda yang termasuk kelompok paling rentan dengan menjadikan program ini bebas biaya. 
Sebagai hasilnya, cakupan layanan kesehatan di Rwanda termasuk tinggi berdasarkan standar global – yang menjadikan hal ini lebih luar biasa adalah negara ini mengalami penderitaan akibat genosida yang terjadi satu generasi yang lalu. Pertimbangkan kondisi yang ada di Amerika: meskipun tingkat orang Amerika yang tidak mempunyai asuransi telah menurun tajam setelah adanya Affordable Care Act pada tahun 2010, terdapat peningkatan tajam premi asuransi dan pengeluaran yang harus dibayarkan. Mungkin Amerika harus mempertimbangkan untuk menerapkan program yang mirip dengan CBHI, untuk lebih menurunkan jumlah orang Amerika yang menghadapi hambatan finansial untuk mendapatkan layanan kesehatan.     
Rwanda telah merancang layanan kesehatan yang juga mempertimbangkan akses, dengan menugaskan pekerja kesehatan komunitas (CHWs) ke 15,000 desa di negara tersebut. Praktisi lokal yang berfungsi sebagai lini depan sistem ini berhasil menurunkan waktu tunggu dan beban biaya dengan memberikan pengobatan langsung kepada pasien – seringkali dilakukan di rumah pasien.
Amerika juga bisa mendapatkan manfaat dari program CHW. Amerika mempunyai banyak kaum muda yang terdidik yang, jika berperan sebagai CHW, dapat menjembatani kesenjangan antara fasilitas medis dan pasien, sehingga bisa meningkatkan modal sosial Amerika dan juga tingkat kesehatan. Seperti pengalaman Rwanda, program seperti itu tidak hanya memperluas akses terhadap layanan kesehatan; mereka juga secara umum menurunkan biaya dengan mengurangi rawat inap yang tidak diperlukan.
Program tersebut terbukti dapat ditiru. Mulai tahun 1997, Brigham and Women's Hospital mendukung komunitas HIV+ di Boston melalui program Pencegahan dan Akses terhadap Layanan dan Pengobatan (PACT). Inisiatif ini berdasarkan model CHW yang diterapkan di pedesaan Haiti oleh Partners In Health – yang merupakan organisasi kesehatan non-profit yang mengintegrasikan CHW kedalam layanan kesehatan dasar dan kesehatan mental.
Dampak dari inisiatif ini adalah, program asuransi pemerintah,  Medicaid, menghabiskan lebih sedikit uang untuk perawatan di rumah sakit dan pengeluaran untuk rawat inap turun sebesar 62%. Komunitas lain di Amerika dapat, dan harus, memasukkan program serupa kedalam program perawatan untuk penyakit kronis mereka.
Inovasi adalah hal yang mengawali kebangkitan kembali layanan kesehatan Rwanda, dan pemikiran progresif adalah hal yang mendorong kemajuan yang ada saat ini. Misalnya saja, pusat layanan kesehatan yang didirikan diseluruh negara memberikan vaksinasi dan mengobati penyakit yang tidak bisa ditangani oleh CHW di tingkat desa, dan telah memperluas layanan kebidanan ke mayoritas perempuan Rwanda.
Untuk lebih memperluas akses, setiap distrik di Rwanda mempunyai satu rumah sakit, dan setiap wilayah mempunyai rumah sakit rujukan dan pengajaran dengan spesialis untuk menangani kasus-kasus yang lebih sulit. Meskipun beberapa rumah sakit masih mengalami kekurangan staf, pemerintah telah berupaya untuk memberikan solusi melalui inisiatif yang mempekerjakan staf fakultas yang berasal dari lebih dari 20 institusi Amerika untuk membantu pelatihan spesialis klinis kami.
Hanya dalam jangka waktu dua dekade, berkat solusi yang datang dari dalam negeri dan kolaborasi internasional, Rwanda telah secara drastis mengurangi beban penyakit pada masyarakat dan perekonomian kami. Ketika kami merencanakan masa depan, tujuan kami adalah untuk mendidik para pemimpin masa depan untuk mengembangkan sistem layanan kesehatan yang adil yang telah kami cipatakan. Ini adalah misi dari University of Global Health Equity, yang merupakan sebuah universitas baru yang berbasis di pedesaan Rwanda yang menjadikan keadilan, kolaborasi, dan inovasi sebagai prinsipnya. 
Sebagai seorang dokter di Rwanda yang berkontribusi terhadap pembangunan sistem layanan kesehatan di negara Saya sejak awal, Saya bangga dengan apa yang telah kami capai dalam jangka waktu yang singkat. Ini bukanlah sihir; ini merupakan sebuah formula. Melalui kerjasama global yang terus-menerus, negara-negara lain, termasuk negara maju, bisa belajar untuk menerapkan formula tersebut.