De formule voor een billijke gezondheidszorg
KIGALI – Stel je een land voor waar ongeveer 90% van de bevolking is gedekt door een zorgverzekering, waar meer dan 90% van de mensen met hiv consistent medicijnen krijgt, en 93% van de kinderen is ingeënt tegen overdraagbare ziekten waaronder HPV. Waar denk je dat dit magische land van medische gelijkheid ligt? Scandinavië? Costa Rica? Luilekkerland?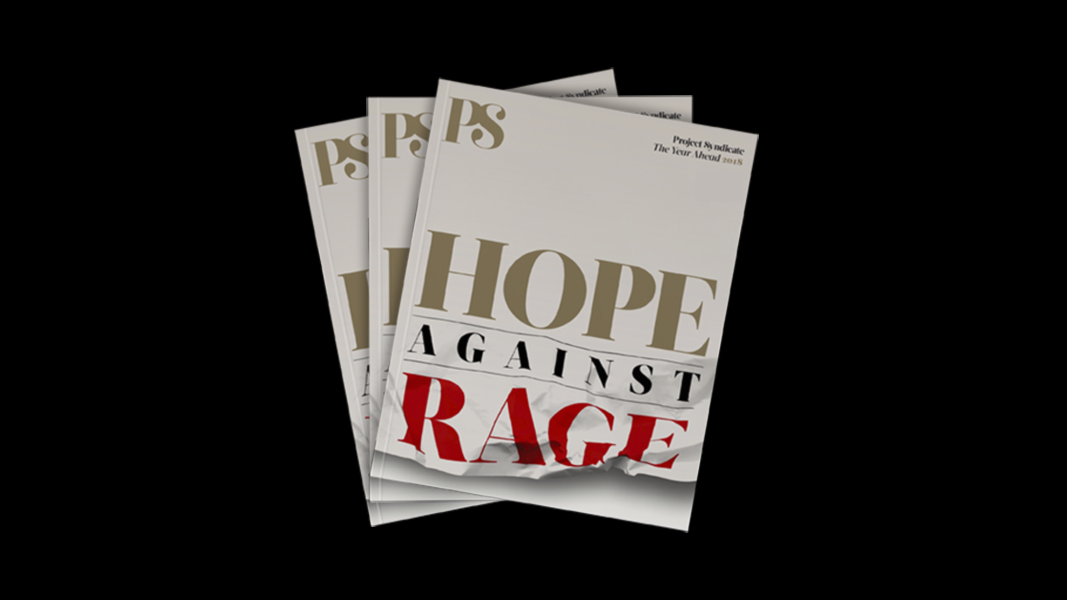 The Year Ahead 2018
The world's leading thinkers and policymakers examine what's come apart in the past year, and anticipate what will define the year ahead.
Wat dacht je van Afrika? Rwanda om precies te zijn.
In mijn geboorteland is gezondheidszorg een gegarandeerd recht voor iedereen, en geen privilege weggelegd voor rijken en machthebbers. Rwanda is nog steeds een arm land, maar de afgelopen vijftien jaar heeft de vooruitgang in de gezondheidszorg wereldwijd de aandacht getrokken, en om goede redenen. In 2000 was de levensverwachting bij geboorte slechts 48 jaar; nu is dat 67. Internationale hulp is hierbij van steun geweest, maar onze verworvenheden zijn voornamelijk uit andere niet financiële innovaties voortgekomen.
Om te beginnen heeft Rwanda een collaboratieve clusterbenadering van bestuur gecreëerd die ons in staat stelt om meer te bereiken met dezelfde financiering. Bovendien zijn onze ambtenaren toegewijd aan probleemoplossing, waarbij ze een niveau van vindingrijkheid aan de dag leggen dat vele lokale oplossingen voor uitdagingen op het gebied van humanitaire ontwikkeling heeft geproduceerd, zoals het garanderen van voedselveiligheid en adequate voorraden schoon water en woningen.
Maar wellicht de belangrijkste factor achter de enorme vooruitgang van onze gezondheidszorg is de nationale agenda voor gelijkheid geweest, die doelen zet voor het steunen van behoeftigen en de progressie in het behalen van deze doelen bijhoudt. Sinds deze benadering geïmplementeerd is heeft Rwanda het voor elkaar gekregen om het percentage mensen dat in extreme armoede leeft te verminderen van 40% van de bevolking in 2000 tot 16,3% in 2015.
Afgezien van de voor de hand liggende voordelen doet deze vooruitgang ertoe omdat, zoals UNICEF onlangs opmerkte, het potentiele rendement van een land op investeringen in sociale diensten voor kwetsbare kinderen twee maal zo groot wordt als de meest kwetsbaren hiervan profiteren. Met andere woorden: Rwanda heeft zoveel zo snel bereikt omdat we hogere rendementen behalen door in de allerarmsten te investeren.
In het proces richting zorg-gelijkheid heeft Rwanda toegankelijkheid tot topprioriteit gemaakt. Sinds 2016 is negen van de tien Rwandezen deelnemer in een van 's lands zorgverzekeringen. De meerderheid van de bevolking valt onder het Community-Based Health Insurance (CBHI) systeem, dat een grotere toegang voor de meest kwetsbare Rwandese burgers tot gezondheidzorg biedt door af te zien van honoraria.
Als resultaat hiervan is het bereik van de zorgdekking in Rwanda naar mondiale standaarden gemeten hoog – des te opmerkelijker omdat het land nog maar een generatie geleden onder de gruwelen van genocide zuchtte. Neem de situatie in de VS; alhoewel het aantal onverzekerde Amerikanen onder de 2010 Affordable Care Act scherp is gedaald hebben de verzekerden te maken met snelle verhogingen van premies en eigen risico. Wellicht zou de VS moeten overwegen een soort CBHI-programma over te nemen, om het aantal Amerikanen dat te maken heeft met financiële barrières voor medische zorg verder te reduceren.
Rwanda heeft ook het zorgaanbod ontworpen met toegang in het achterhoofd, door het inzetten van community health workers (CHW's) in de 15.000 dorpen van het land. Deze lokale geneesheren fungeren als poortwachters van een systeem dat door patiënten direct te behandelen – vaak in hun eigen huis – de wachttijden en financiële lasten heeft verminderd.
De VS zou ook kunnen profiteren van een CHW-programma. De VS loopt over van geschoolde jonge mensen die als CHW's de kloof tussen medische voorzieningen en patiënten zouden kunnen overbruggen, waarbij de Amerikaanse prestaties op gebied van sociaal kapitaal en gezondheid verbeterd zouden worden. Zoals de ervaringen van Rwanda hebben laten zien vergroten deze programma's niet slechts de toegang tot gezondheidszorg; ze verlagen ook de algehele kosten door onnodige hospitalisatie te reduceren.
Het is bewezen dat dit soort programma's overdraagbaar zijn. Vanaf 1997 heeft Brigham and Women's Hospital de hiv-positieve gemeenschap van Boston ondersteund door middel van het Prevention and Access to Care and Treatment (PACT) programma. Dit initiatief was gebaseerd op het CHW-model geïmplementeerd op het platteland van Haïti door Partners in Health – een non-profit zorg-organisatie die CHW's integreert in de eerstelijns zorg en geestelijke gezondheidszorg.
Als resultaat van dat initiatief heeft overheidsverzekeraar Medicaid minder geld gespendeerd aan ziekenhuisopnamen, en de niet-patiënt uitgaven zijn met 62% gedaald. Andere gemeenschappen in de VS kunnen en moeten gelijksoortige modellen in hun behandelingsprogramma's voor chronische aandoeningen incorporeren.
De heropleving van de Rwandese gezondheidszorg is door innovatie tot stand gebracht, en progressief denken drijft deze nu verder aan. Zo voorzien gezondheidscentra opgezet door het hele land bijvoorbeeld in vaccins en behandelen ziekten die niet door CHW's op dorpsniveau niet kunnen behandelen, en ze beschikken over uitgebreide kraamzorg voor de meerderheid van de Rwandese vrouwen.
Wat de toegang nog verder vergroot is dat elk district in Rwanda over een ziekenhuis beschikt, en elke regio over een referentie of academisch ziekenhuis met specialisten die gecompliceerdere gevallen kunnen behandelen. Alhoewel sommige hospitalen nog steeds lijden onder personeelstekorten heeft de regering geprobeerd om deze gaten te dichten door een initiatief dat faculteitsmedewerkers van meer dan 20 Amerikaanse instituten inzet om te assisteren in het opleiden van onze klinische specialisten.
In iets meer dan 20 jaar heeft Rwanda dankzij oplossingen uit eigen land en internationale samenwerking de ziektelast van zijn bevolking en economie drastisch gereduceerd. Vooruitkijkend is ons doel om de leiders van morgen te scholen om verder te bouwen op de gelijkwaardige gezondheidszorg die we hebben gecreëerd. Dit is de missie van de University of Global Health Equity, een nieuwe universiteit gevestigd op het platteland van Rwanda die eerlijkheid, samenwerking, en innovatie tot zijn leidende principes heeft gemaakt.
Als Rwandees arts die vanaf het prille begin heeft bijgedragen aan het opbouwen van de gezondheidszorg van mijn land ben er ik trots op hoeveel we in zo een korte tijd hebben weten te bereiken. Het was geen magie; het was een formule. Door een voortdurende mondiale samenwerking kunnen andere landen, inclusief ontwikkelde landen, leren deze ook toe te passen.
Vertaling Melle Trap