Wat is er mis met het nieuws?
OXFORD – Het Britse publiek heeft een onverzadigbare dorst naar nieuws over Brexit – althans, dat is wat de data-analisten van de nieuwsplatforms zeggen. Maar volgens het jongste Digital News Report van het Reuters Institute probeert 71% van het Britse publiek juist de verslaggeving in de media te mijden over het aanstaande vertrek van het Verenigd Koninkrijk uit de Europese Unie. Dit verschil, dat zich over een breed scala van onderwerpen manifesteert, roept ernstige vragen op over de steeds meer door data gedreven aanpak van de nieuwsorganisaties van hun verslaggeving.
De opkomst van de data-analyse heeft journalisten en hun redacteuren het vertrouwen gegeven dat zij weten wat de mensen willen. En met reden: nu een groot deel van het nieuws op het internet wordt geconsumeerd, weten de mediaplatforms precies welke verhalen hun lezers openen, hoe veel ze lezen voordat ze verveeld raken, wat zij delen met hun vrienden, en welke soort inhoud hen ertoe verleidt een abonnement te nemen.
Zulke data duiden er bijvoorbeeld op dat het publiek geïnteresseerd is in buitengewone onderzoeksjournalistiek, advies op het gebied van het dieet en de persoonlijke financiën, en essays over relaties en familievraagstukken. Zij prefereren verhalen met een persoonlijke toets – die bijvoorbeeld het lot van een getroffen individu uiteenzetten – boven rapportages over de aanhoudende conflicten in het Midden-Oosten of over wat zich op het stadhuis afspeelt. En ze voelen zich aangetrokken tot sensationele verhalen – zoals die over de schandalen en capriolen van de Amerikaanse president Donald Trump – onder "verleidelijke" koppen.
Maar als de redacties het publiek werkelijk zouden geven wat het wil, lijkt het onwaarschijnlijk dat bijna een derde (32%) van de respondenten in het Digital News Report, 's werelds grootste permanente onderzoek van de nieuwsconsumptie online, zou rapporteren dat ze regelmatig al het nieuws uit de weg gaan. Maar toch is dat zo, en het cijfer is nu drie procentpunten hoger dan twee jaar geleden.
De meest algemene verklaring voor het mijden van de nieuwsmedia, gegeven door 58% van degenen die dat doen, is dat het volgen ervan een negatieve uitwerking heeft op hun gemoedstoestand. Veel respondenten verwezen ook naar een gevoel van machteloosheid.
Bovendien keurt slechts 16% van de deelnemers de toon goed die gangbaar is in de berichtgeving, terwijl 39% die afkeurt. Met name jongeren lijken helemaal klaar te zijn met de negativiteit die lange tijd beschouwd werd als een gegarandeerd succesvolle manier om publiek te trekken. Volgens velen leidt die negativiteit echter tot een machteloos gevoel. Uit gesprekken blijkt dat het probleem nog groter is voor jonge ouders, die graag willen geloven dat de wereld goed zal zijn voor hun kinderen. Jongere generaties hebben ook het idee dat het consumeren van nieuws onderhoudender zou moeten zijn, en minder als een last zou moeten voelen.
Subscribe now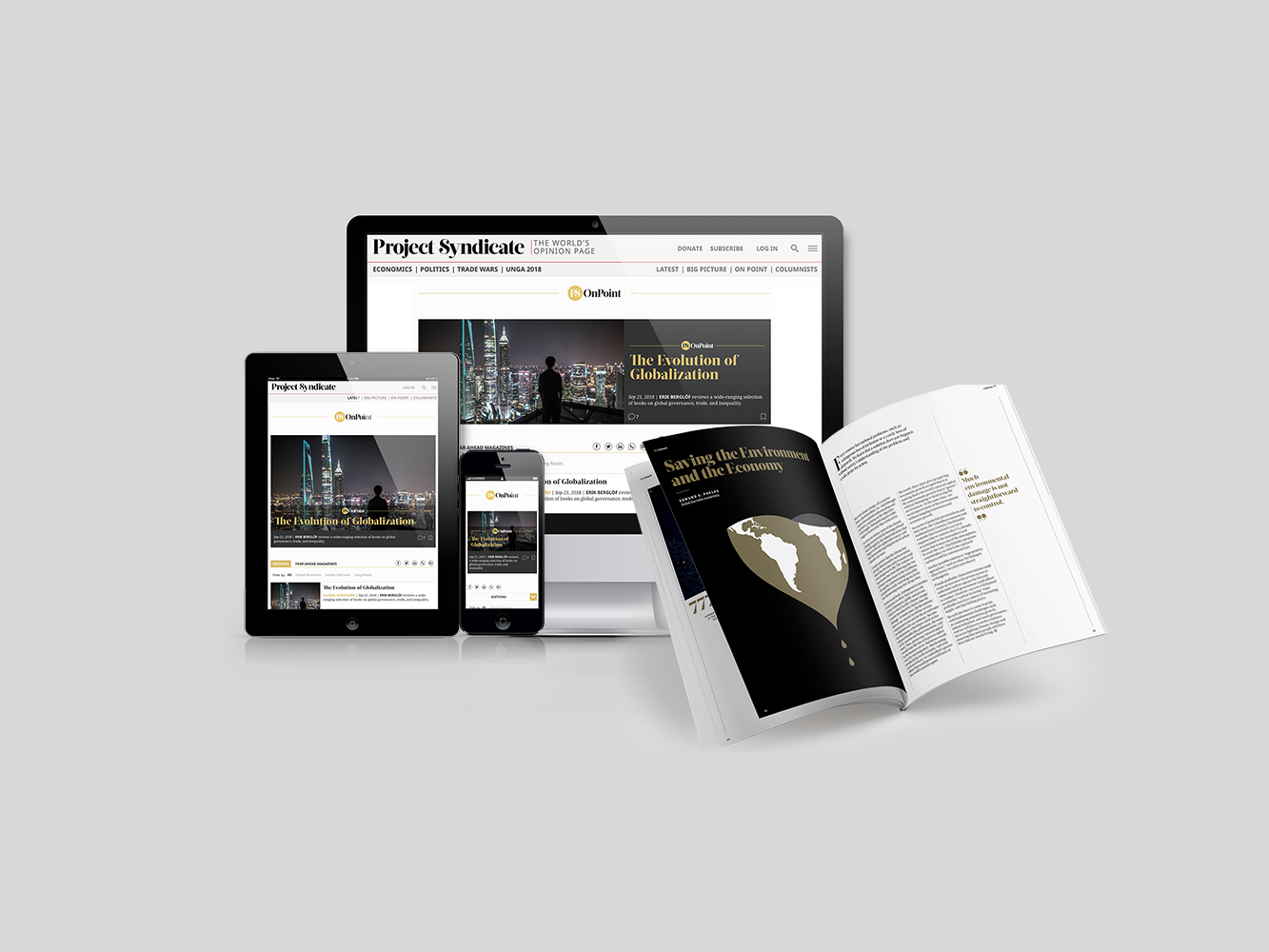 Subscribe now
Subscribe today and get unlimited access to OnPoint, the Big Picture, the PS archive of more than 14,000 commentaries, and our annual magazine, for less than $2 a week.
Eén van de redenen voor het grote verschil tussen de uitkomst van de data-analyses en de door de mensen zelf gerapporteerde relatie met de nieuwsmedia kan het "guilty pleasure"-effect zijn: mensen houden ervan voyeur te zijn, maar geven dat niet graag toe, zelfs niet tegenover zichzelf. Dus ook al klikken ze op artikelen over gruwelijke misdaden of over de scheidingen van beroemdheden, ze zeggen dat ze meer "kwaliteitsnieuws" willen.
Als redacties ingaan op de slechtste impulsen van hun lezers zijn de gevolgen verstrekkend. Media zijn van cruciaal belang ter ondersteuning van de aansprakelijkheid van een ieder die macht of invloed heeft, en om de betrokkenheid van burgers te mobiliseren. Met name democratieën zijn afhankelijk van het goed geïnformeerd zijn van de kiezers over urgente kwesties. Nieuwsorganisaties hebben dus een verantwoordelijkheid om over serieuze onderwerpen te berichten, van politieke corruptie tot klimaatverandering, ook al zijn ze onplezierig.
Dit betekent niet dat de klachten van lezers over de negativiteit van de media genegeerd moeten worden. Integendeel: als mensen gemotiveerd moeten worden om de uitdagingen het hoofd te bieden die hun levens vormgeven, mogen ze zich niet machteloos gaan voelen.
Dit is het punt waarop zogenoemde oplossingsgerichte journalistiek een rol gaat spelen. Door de informatie over wat veranderd moet worden af te wisselen met verhalen over positieve verandering kunnen nieuwsorganisaties hun verantwoordelijkheid invulling geven om te informeren en de vooruitgang aan te jagen. Dit betekent onder meer dat je zo nu en dan moet erkennen dat de levensstandaarden op de langere termijn mondiaal zijn verbeterd.
Het opnieuw vinden van aansluiting met hun publiek zal ook vergen dat mediaorganisaties hun perspectieven verbreden. In een groot deel van het Westen zijn het vooral witte, mannelijke journalisten uit de middenklasse die beslissen over waarover moet worden bericht en hoe. Dit beperkt het vermogen van de nieuwsmedia om diverse geledingen van de maatschappij eerlijk en accuraat te vertegenwoordigen.
In feite vond slechts 29% van de respondenten van het Digital News Report dat de onderwerpen die de nieuwsmedia kozen "relevant" voor hen waren. Uit een gezamenlijk onderzoek van het Reuters Institute en de Johannes Gutenberg Universiteit in het Duitse Mainz blijkt dat de sleutel tot het verhogen van dit percentage gelegen is in de uitbreiding van de diversiteit van de redacties.
Tegelijkertijd moeten de nieuwsmedia hun werk beter doen als het gaat om het geven van context en het op een andere manier uitleggen van het nieuws. Hoewel 62% van de respondenten van het Digital News Report het gevoel heeft dat de media hen op de hoogte houden van de gebeurtenissen, gelooft slechts de helft dat nieuwsorganen genoeg doen om hen te helpen begrijpen wat er gebeurt. In een tijd dat bijna een derde van de mensen denkt dat er eenvoudigweg te veel nieuws is, lijkt de oplossing helder: doe minder, maar beter.
Dit houdt in dat er naar de lezers geluisterd moet worden, en dat niet louter de data-analisten aan het woord mogen komen. Het betekent ook goed nieuws met slecht nieuws afwisselen, en indien gewenst verhelderende informatie bieden. Het betekent tevens het vertegenwoordigen van diverse perspectieven. Mediaorganisaties die deze veranderingen niet doorvoeren, zullen aan vertrouwen en relevantie blijven inboeten. Dat is nauwelijks een gezonde strategie om consumenten ervan te overtuigen dat hun werk het waard is om voor te betalen.
Vertaling: Menno Grootveld