Armoede is ook een psychosociaal probleem
BRIGHTON – Arm zijn is een zeer schaamtevolle ervaring, die iemands waardigheid en gevoel voor eigenwaarde aantast. Hoewel de verschijningsvormen en oorzaken van armoede uiteenlopen, is de vernedering die ermee gepaard gaat universeel. Uit recent onderzoek, dat is uitgevoerd aan de Universiteit van Oxford, blijkt dat – van China tot Groot-Brittannië – mensen die worden geconfronteerd met economische problemen, zelfs kinderen, een vrijwel identieke aanslag ervaren op hun trots en eigenwaarde.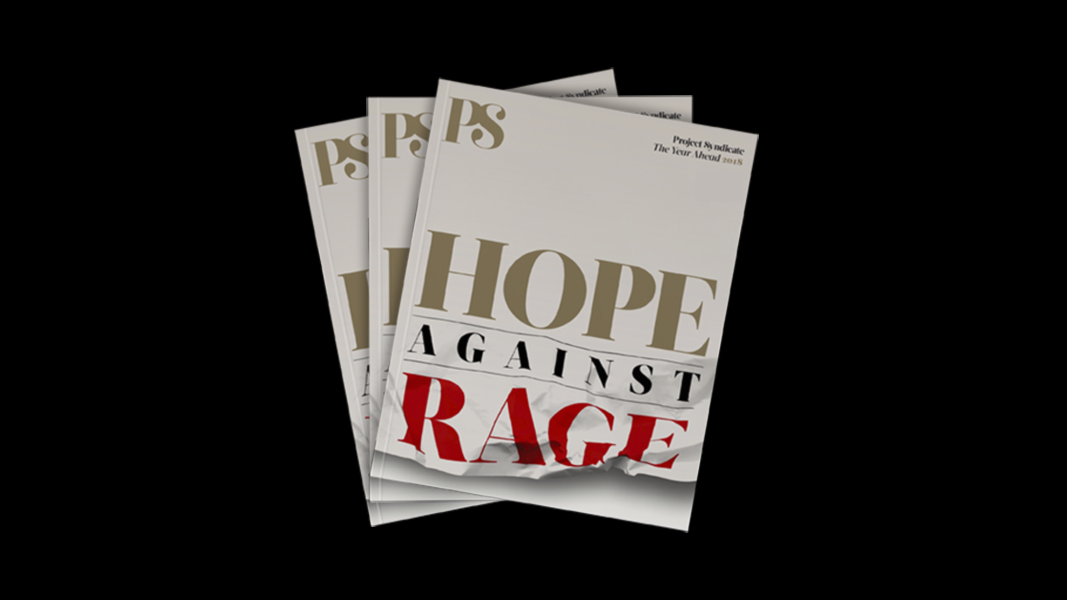 The Year Ahead 2018
The world's leading thinkers and policymakers examine what's come apart in the past year, and anticipate what will define the year ahead.
Toch houdt beleid dat gericht is op de aanpak van armoede, ondanks duidelijke aanwijzingen die armoede aan psychische nood koppelen, doorgaans geen rekening met schaamtegevoelens. Pogingen om de armoede te verlichten richten zich over het algemeen op de tastbare verschijningsvormen van die armoede, zoals een gebrek aan inkomen of een tekort aan onderwijs. Als gevolg daarvan gaan oplossingen voor armoede er vaak impliciet vanuit dat meer materiële welvaart of betere levensomstandigheden zich automatisch zullen vertalen in niet-tastbare voordelen, zoals een betere geestelijke gezondheid.
Dit gebrek aan aandacht voor de "psychosociale" kant van armoede – de interactie tussen sociale krachten en de individuele houding of het individuele gedrag – is misplaatst. Als we het menselijk lijden willen verlichten en de Duurzame Ontwikkelingsdoelstelling van de VN-voorzitter – het beëindigen van de armoede "in al haar vormen" in 2030 – willen verwezenlijken, moet het aanpakken van de intrinsieke en instrumentele rol die schaamte speelt bij armoede centraal staan in onze inspanningen.
Het verlammende gevoel van eerverlies, dat gepaard gaat met armoede en dat mensen ervan weerhoudt positieve actie te ondernemen om hun situatie te verbeteren, is over de hele wereld bekend. In India heeft de schaamte die verbonden is met mislukte oogsten en de daaruit voortvloeiende financiële stress boeren aangezet tot alcoholmisbuik en, in extreme gevallen, tot zelfmoord. In Tanzania hebben onderzoekers naar tweetalig onderwijs ontdekt dat de angst om voor de gek te worden gehouden leerlingen met zwakkere vaardigheden in de Engelse taal ervan kan weerhouden aan de lessen deel te nemen. En in Oeganda zeggen arme middelbarescholieren dat hun onvermogen om het schoolgeld te betalen, uniformen te kopen of schoolspullen te verkrijgen een voortdurende bron van vernedering is.
Om de met de armoede samenhangende schaamte aan te pakken, en op toereikende wijze rekening te houden met de rol die schaamte speelt bij het in stand houden van de armoede, moet een aantal stappen worden gezet.
Om te beginnen moeten beleidsmakers het probleem onderkennen. In plaats van schaamte te beschouwen als een ongelukkig nevenproduct van het leven in armoede, moeten planners van de menselijke ontwikkeling overwegen hoe armoede de menselijke waardigheid ondermijnt. Nobelprijswinnaar Amartya Sen, een van de meest invloedrijke stemmen als het gaat om het terugdringen van de armoede, heeft lange tijd betoogd dat schaamte een drijvende kracht is achter de "absolute" armoede. Het serieus nemen van schaamte moet deel uitmaken van iedere strategie om de armoede terug te dringen.
Bovendien kunnen schaamte, een gebrek aan zelfvertrouwen en een lage eigendunk een negatieve invloed uitoefenen op de manier waarop mensen aankijken tegen hun vermogen om verandering teweeg te brengen, waardoor een perceptie van ontoereikendheid in stand wordt gehouden die slopend kan zijn en hen in armoede gevangen kan houden. Om mensen te helpen ontsnappen moeten strategieën voor de menselijke ontwikkeling overwegen hoe ze de persoonlijke handelingsvrijheid, aspiraties en zelfwerkzaamheid kunnen versterken – het geloof in je eigen vermogen om gebeurtenissen te beïnvloeden die je leven raken.
Tenslotte moeten beleidsmakers zich ervan bewust zijn dat programma's die gericht zijn op het terugdringen van de armoede, als zij niet op de juiste wijze ten uitvoer worden gelegd, de gevoelens van schaamte juist kunnen versterken. Onderzoekers die in 2005 werkzaam waren in India kwamen er bijvoorbeeld achter dat Indiase vrouwen ophielden naar ziekenhuizen te gaan om een vernederende behandeling door gezondheidswerkers te vermijden – ten koste van hun eigen welzijn en dat van hun kinderen. Vrouwen in Zuid-Afrika die aanvragen indienden voor kinderbijstandsuitkeringen hebben soortgelijke ervaringen gemeld, evenals gebruikers van voedselbanken in Groot-Brittannië. Feitelijk antwoordden veel respondenten in Groot-Brittannië dat het stigma van het ontvangen van gratis voedsel zó ernstig was, dat "angst" en "verlegenheid" vaak voorkomende emoties waren.
De notie van schaamte, en de noodzaak om dit serieuzer te nemen in beleid dat is gericht op het terugdringen van de armoede, begint langzaam terrein te winnen. Academici die menselijk lijden onderzoeken hebben onderkend dat "de waardigheid van de ontvanger" een cruciale component is van een succesvolle verlichting van de armoede. Uit een onderzoek uit 2016 naar overdrachtsprogramma's in Afrika bleek bijvoorbeeld dat de afwezigheid van stress en schaamte het vertrouwen bij ontvangers deed toenemen, wat leidde tot betere besluitvorming en productiviteit. Voortbouwend op dergelijk bewijsmateriaal breidt de universiteit van Oxford zijn onderzoek uit naar het "verband tussen schaamte en armoede," om te onderzoeken hoe de internationale ontwikkelingssector anti-armoedebeleid "schaamte-bestendig" kan maken.
Programma's gericht op het terugdringen van de armoede bewegen zich inmiddels in de juiste richting, maar er moet nog veel werk worden verzet om de psychosociale component van de armoede in het beleid en de planning te integreren. Alleen als beleidsmakers werkelijk begrijpen dat waardigheid en zelfrespect onvermijdelijke voorwaarden zijn in de strijd tegen de armoede – en niet zozeer uitkomsten van de verlichting daarvan – zal de wereld de kans hebben de armoede in al zijn vormen uit te roeien.
Vertaling: Menno Grootveld