El culto norcoreano
NUEVA YORK – Los rasgos absurdos de la dictadura norcoreana son fáciles de caricaturizar. Kim Jong-un, con su característico peinado de los años 30 (que, se dice, pretende hacerlo parecerse a su abuelo Kim Il-sung, fundador del régimen), su anticuado traje Mao y su cuerpo bajito y relleno, casi parece un personaje de historieta. Oficialmente visto como un genio omnipotente, se lo adora como a un dios y se lo muestra rodeado constantemente de gente, incluidos sus más altos oficiales militares llenos de medallas, riendo o aplaudiendo, o gritando histéricamente.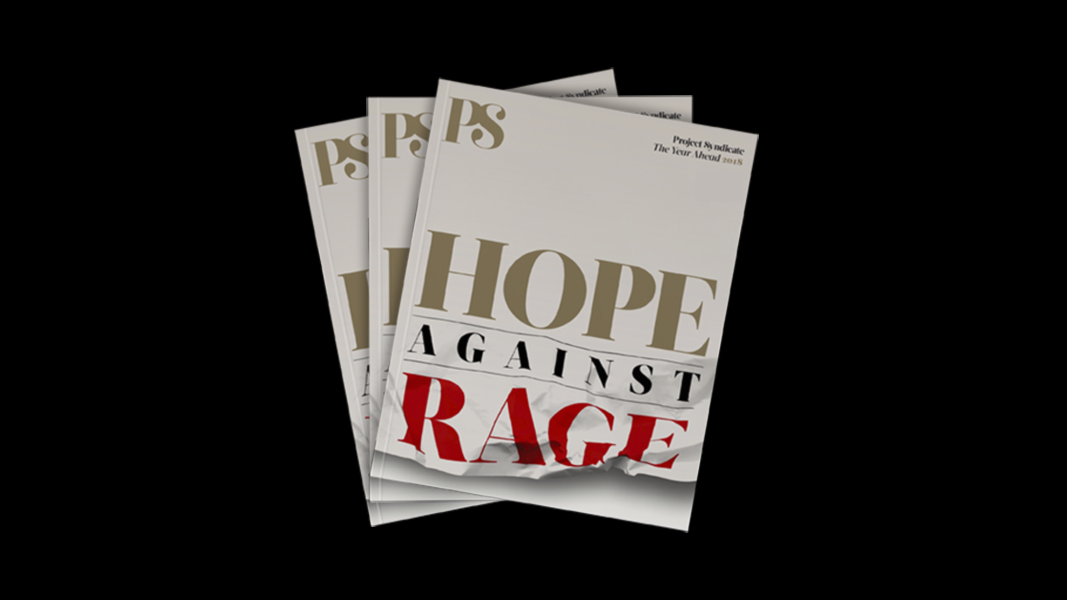 The Year Ahead 2018
The world's leading thinkers and policymakers examine what's come apart in the past year, and anticipate what will define the year ahead.
Por supuesto, sabemos que la vida cotidiana en Corea del Norte está lejos de ser divertida. La población se ve devastada por hambrunas periódicas. Hasta 200.000 prisioneros políticos se mantienen como esclavos en brutales campos de trabajo, donde tienen suerte si no se los tortura hasta morir. Y no existe libertad de expresión. No solo está prohibida para expresar reservas acerca del carácter divino de Kim: para mantenerse vivos es necesario proclamar regularmente lo mucho que se le adora.
Es posible, e incluso probable, que muchos norcoreanos se comporten como devotos solo porque los obligan. Otros porque no conocen nada más. Como la gente en todos lados, se adaptan por reflejo a las normas del mundo que los rodea, sin pensar en sus méritos. Pero algunos norcoreanos, quizás muchos, pueden creer genuinamente en el culto a la Dinastía Kim, que como todos los cultos (o, de hecho, todas las fes religiosas), se compone de rasgos y características tomados de otras culturas, creencias y tradiciones.
El culto a Kim le debe algo al estalinismo, algo al cristianismo mesiánico, algo a la adoración confuciana a los ancestros, algo al chamanismo indígena y algo a la devoción hacia el emperador de los japoneses, que gobernaron Corea en la primera mitad del siglo veinte. Se cree que el padre de Kim, Kim Jong-il nació en el Monte Paektu, sacro por ser el lugar de nacimiento del divino fundador del primer reino coreano, un hombre-lobo llamado Tangun hace más de 4000 años. Cuando nació Kim Jong-il, también conocido como el Querido Líder (su padre, Kim Il-sung, fue el Gran Líder), el invierno se volvió primavera y la escena contó con la iluminación de una estrella radiante desde los cielos.
Puede que todo esto suene a chiflados, pero los cuentos de milagros en cualquier fe son invariablemente así. Lo que importa es que la gente los crea.
En este respecto, los norcoreanos no son más extraños que otros creyentes. A menudo hay sólidas razones por el fuerte atractivo de ciertas creencias. El islam y el cristianismo encontraron rápidos conversos entre los marginados y oprimidos porque ofrecían igualdad a los ojos de Dios. La fe norcoreana es mucho menos inclusiva. De hecho, en su núcleo late una sensación de pureza étnica, un sentimiento de nacionalismo sagrado que debe defenderse a cualquier coste de las fuerzas hostiles.
Al igual que Polonia, que tiene una fuerte autoimagen cristiana de inmolación nacional, Corea ha sido dominada en su historia por potencias mayores, principalmente China pero también Rusia y Japón, la más notable desde las brutales invasiones del siglo dieciséis. Los estadounidenses son recién llegados, pero el odio oficial hacia el imperialismo yanqui en Corea del Norte deriva no solo de la salvaje Guerra de Corea, sino también del prolongado sabor de la opresión extranjera.
El dominio por potencias extranjeras creó polos de colaboración y resistencia en la historia coreana. Algunas de las clases gobernantes en diversos reinos coreanos cooperaron con las potencias externas, mientras que otras lucharon contra ellas, lo que ha tenido como resultado profundos sentimientos de animadversión entre los coreanos mismos.
Kim Il-sung comenzó su carrera como colaborador: fue seleccionado por Stalin para ser un líder comunista títere en el Norte. Esto llevó a la leyenda de Kim como héroe de la resistencia contra los japoneses durante la Segunda Guerra Mundial y, más tarde, contra los estadounidenses y sus "colaboradores" surcoreanos (lo más importante de recalcar).
El nacionalismo norcoreano, con su culto a la autosuficiencia conocido como Juche, es tan religioso como político. Defender a dinastía Kim es una tarea sagrada, ya que se ha convertido en un símbolo de la resistencia coreana a las potencias extranjeras. Y cuando lo sagrado se impone a la política, la negociación se vuelve casi imposible. Se puede negociar sobre intereses contrapuestos, pero no sobre asuntos que se consideran sagrados.
Donald Trump, empresario del área inmobiliaria, cree que todo es negociable. Nada es sagrado en los negocios. Su idea para llegar a un trato es abrumar al interlocutor con exageraciones e intimidación, de ahí su promesa de "destruir totalmente a Corea del Norte" (por cierto, una promesa que significaría más de 20 millones de muertos). Es difícil imaginar cómo Kim Jong-un, como defensor divino de su pueblo, podría ser persuadido a negociar con tal bravuconería.
Es posible que Kim, y tal vez algunos súbditos de su gobierno despótico, preferirían desaparecer a ceder. No sería la primera vez que un culto se vuelva suicida.
Pero hay otro riesgo, más probable. Puesto que los tuits hostiles y fanfarronadas públicas de Trump por lo general son seguidas por afirmaciones más cautas de altos cargos de su gabinete, Kim podría no tomárselos en serio. Bien puede pensar que Trump es todo bravatas y nunca hará realidad sus amenazas.
Y así Kim podría animarse a emprender algunas medidas imprudentes (por ejemplo, apuntar con un misil a Guam) a las que Estados Unidos pueda sentir que debe responder en especie. El resultado sería catastrófico, no solo para los coreanos que creen en la misión sagrada de Kim, sino para los millones de coreanos, apenas 60 kilómetros de la frontera con Corea del Norte, que no comparten para nada su culto.
Traducido del inglés por David Meléndez Tormen