Severokorejský kult
NEW YORK – Absurdnost severokorejské diktatury lze snadno karikovat. Kim Čong-un se svým "kastrolovým" sestřihem ve stylu 30. let (který si prý pěstuje proto, aby se podobal svému dědečkovi a zakladateli režimu Kim Ir-senovi), v maovském kabátci, jenž dávno vyšel z módy, a s malým a obtloustlým tělem je sám o sobě téměř komiksovou figurkou. Ve své zemi je oficiálně považován za všemocného génia a uctíván jako bůh, přičemž lidé, jimiž je obklopen – včetně nejvyšších vojenských důstojníků obtěžkaných medailemi –, se neustále smějí, tleskají nebo hystericky křičí.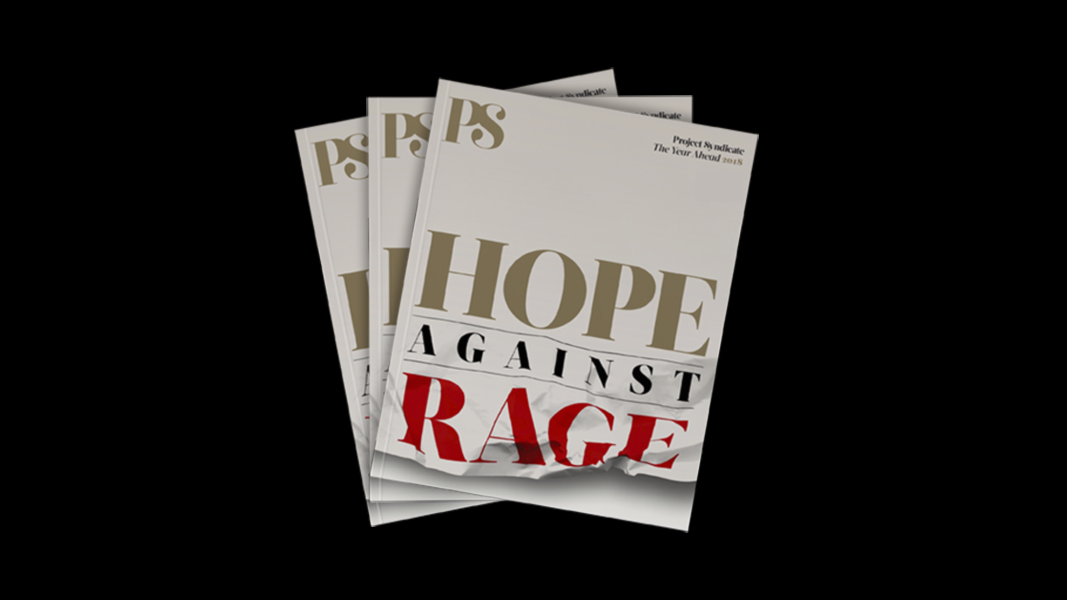 The Year Ahead 2018
The world's leading thinkers and policymakers examine what's come apart in the past year, and anticipate what will define the year ahead.
My samozřejmě víme, že život v Severní Koreji je všechno jiné, jen ne zábavný. Obyvatelstvo decimují pravidelné hladomory. Režim drží až 200 000 politických vězňů jako otroky v brutálních pracovních táborech, kde mohou mluvit o štěstí, když nejsou umučeni. A svoboda projevu neexistuje. Nejenže je zakázáno dávat najevo výhrady vůči Kimovu božskému statusu; chce-li člověk zůstat naživu, musí pravidelně hlásat oddanost vůdci.
Je možné, ba dokonce pravděpodobné, že mnozí Severokorejci se chovají jako uctívači jen proto, že musí. Jiní drží linii, protože nic jiného neznají. Stejně jako lidé všude na světě se i oni reflexivně přizpůsobují normám světa kolem sebe, aniž by přemýšleli o jejich podstatě. Někteří Severokorejci – a může jich být mnoho – ovšem možná opravdu věří v kult dynastie Kimů, který se podobně jako všechny ostatní kulty (nebo i náboženské víry) skládá ze střípků a kousků posbíraných z jiných kultur, věrouk a tradic.
Kimův kult má něco ze stalinismu, něco z mesiášského křesťanství, něco z konfuciánského uctívání předků, něco z domorodého šamanství a něco z uctívání císaře Japonci, kteří v první polovině dvacátého století v Koreji vládli. Kimův otec Kim Čong-il se údajně narodil na hoře Pektusan, která je pokládána za posvátné místo, kde před více než 4000 lety přišel na svět božský zakladatel prvního korejského království, potomek vládce nebes a medvědice jménem Tangun. Narození Kim Čong-ila, rovněž známého jako "Drahý vůdce" (jeho otec Kim Ir-sen byl "Velkým vůdcem"), proměnilo zimu v jaro a na obloze tehdy zazářila jasná hvězda.
Možná to všechno zní bláznivě, avšak totéž lze říci o zázračných historkách v jakékoliv víře. Podstatné je, že jim lidé věří.
V tomto ohledu nejsou Severokorejci o nic "divnější" než věřící kdekoliv jinde. Často existují dobré důvody, proč mají určité legendy silnou přitažlivost. Islám a křesťanství našly ochotné konvertity mezi vyvrheli a utiskovanými, poněvadž nabízely rovnost v očích Boha. Severokorejská víra je veskrze méně začleňující. V jejím jádru stojí vědomí etnické čistoty, pocit posvátného nacionalismu, který je třeba za každou cenu bránit před nepřátelskými silami.
Podobně jako Polsko, kde existuje silný křesťanský pocit národního mučednictví, má za sebou i Korea dějiny plné nadvlády větších mocností, zejména Číny, ale také Ruska a od brutálních invazí v šestnáctém století rovněž Japonska. Američané přišli až později, avšak oficiální nenávist vůči americkému imperialismu nepramení v Severní Koreji jen z nelítostné korejské války, ale i z dlouhých vzpomínek na zahraniční útisk.
Nadvláda vnějších mocností vytvořila v korejských dějinách protipóly spolupráce a odporu. Některé vládnoucí vrstvy v různých korejských královstvích se zahraničními mocnostmi spolupracovaly, jiné proti nim bojovaly. To vyústilo v hluboce nenávistné vztahy mezi Korejci samotnými.
Kim Ir-sen zahájil kariéru jako ten, který spolupracuje. Stalin si ho vybral jako loutkového komunistického vůdce na Severu. To dalo vzniknout legendě o Kimovi jako o hrdinovi odboje proti Japoncům během druhé světové války a později i proti Američanům a jejich jihokorejským "kolaborantům", což bylo ještě důležitější.
Severokorejský nacionalismus postavený na kultu soběstačnosti známém jako čučche má stejně tak náboženský jako politický ráz. Obhajoba Kimovy dynastie vybudované jako symbol korejského odporu vůči zahraničním mocnostem je posvátný úkol. A jakmile posvátno nabude vrchu nad politikou, stává se kompromis téměř nemožným. Lidé mohou jednat o svých protichůdných zájmech, ale ne o otázkách, které pokládají za svaté.
Donald Trump, realitní developer, se domnívá, že jednat se dá o všem. V byznysu není svaté nic. Jeho představa uzavírání dohody spočívá v zahlcení protistrany blufy a zastrašováním – právě odtud pramení jeho slib "totálně zničit Severní Koreu" (jeho naplnění by mimochodem znamenalo více než 20 milionů mrtvých). Lze si jen těžko představit, že by se Kim Čong-un coby svatý obhájce svého lidu dal takovým chvastounstvím přesvědčit k jednání.
Nelze vyloučit, že Kim a možná i někteří poddaní jeho despotické vlády by se raději nechali vymazat ze zemského povrchu, než aby se vzdali. Nebylo by to poprvé, kdy by se kult vydal na sebevražednou dráhu.
Existuje však i další, o něco pravděpodobnější riziko. Jelikož po Trumpových nepřátelských tweetech a naparovačných veřejných projevech obvykle následují opatrnější prohlášení vysoce postavených členů jeho kabinetu, nemusel by Kim brát Trumpova vyjádření vážně. Docela dobře by si mohl myslet, že Trump jen blufuje a nikdy své hrozby nenaplní.
To by mohlo Kima ponouknout k neuváženému kroku – například k namíření rakety na Guam –, na který by USA cítily povinnost reagovat obdobným způsobem. Výsledkem by byla katastrofa nejen pro Korejce, kteří věří v Kimovu posvátnou misi, ale především pro miliony Korejců vzdálených pouhých pětapadesát kilometrů od severokorejské hranice, kteří s Kimovým kultem nemají vůbec nic společného.
Z angličtiny přeložil Jiří Kobělka.