Hacia una comunidad de la ASEAN centrada en la gente
SEÚL – Me complace el hecho de que mi primera reunión con los líderes de la Asociación de Naciones del Sudeste Asiático (ASEAN) se produzca en un momento histórico: el 50.º aniversario de su fundación. En estos cincuenta años se dio una transformación total, no sólo en mi país (la República de Corea), sino en casi toda Asia. La ASEAN, con su labor de movilización y difusión del dinamismo económico, ha sido esencial para el éxito de la región.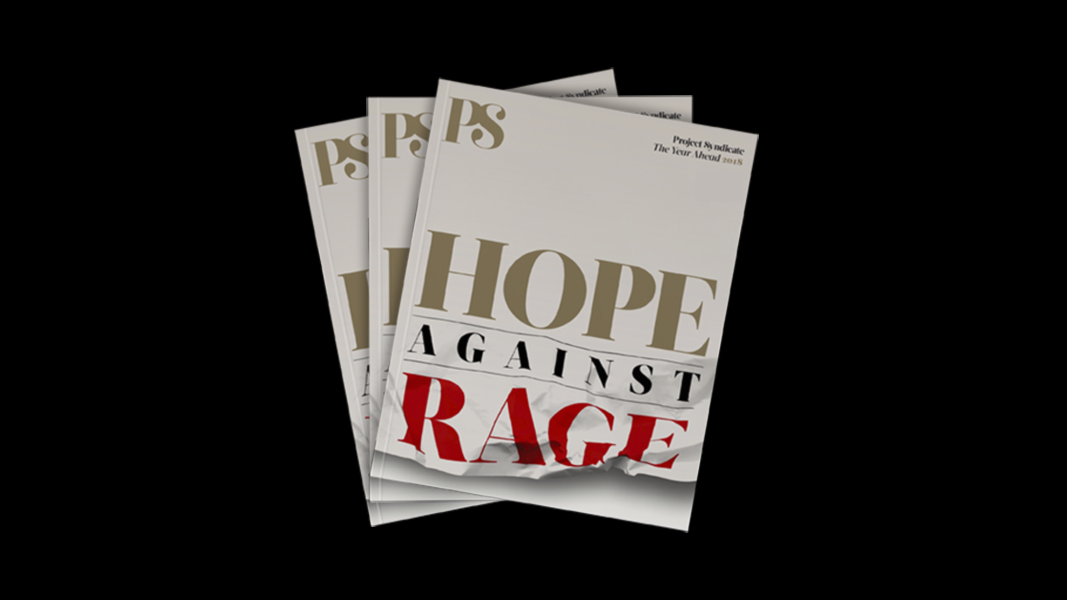 The Year Ahead 2018
The world's leading thinkers and policymakers examine what's come apart in the past year, and anticipate what will define the year ahead.
Para Corea, la ASEAN ha sido ciertamente un amigo especial y valioso. Sólo el año pasado, unos seis millones de coreanos visitaron estados miembros de la ASEAN, como turistas o por negocios. Aproximadamente 500 000 ciudadanos de estados miembros de la ASEAN viven y trabajan en Corea, y unos 300 000 coreanos viven y trabajan en países de la ASEAN.
Esto es un ejemplo de que los vínculos de Corea con la ASEAN no son exclusivamente intergubernamentales. Nuestra relación se profundiza en la forma más personal posible mediante el entrecruzamiento de numerosas vidas individuales.
No es sorprendente. La declaración ASEAN 2025: forjar juntos el futuro, avalada por los líderes de la ASEAN en su 27.ª reunión cumbre de noviembre de 2015, señala que el grupo pretende ser una "comunidad centrada en la gente y orientada a la gente", que busca construir una sociedad solidaria, participativa e inclusiva que fomente el bienestar material y espiritual de las personas.
La primacía de la gente ha sido siempre mi propia filosofía política, y es una visión acorde con el espíritu de la "revolución de las velas" que hace un año dieron luz y calor al invierno en Corea. Mi país y la ASEAN comparten una filosofía que valora a la gente, y esta visión común trazará el camino que ambas recorrerán juntas en los años y las décadas por venir.
Desde 2010, Corea y la ASEAN han hecho importantes avances conjuntos como socios estratégicos. Pero hasta ahora, la cooperación entre ambas partes giró en torno de la colaboración intergubernamental en temas políticos, de seguridad y económicos. Es mi deseo ayudar a promover las relaciones entre Corea y la ASEAN con énfasis en la "gente" de nuestros países. Mi visión es crear, en cooperación con la ASEAN, una "comunidad amante de la paz y centrada en la gente que beneficie a todos". Esto puede resumirse en las "tres P": las personas, la prosperidad y la paz.
Para hacer realidad esta visión, seguiré una "diplomacia centrada en la gente", en la que la cooperación entre Corea y la ASEAN se desarrollará en un marco de respeto por la opinión pública de todos los pueblos de nuestra asociación, buscando su apoyo e invitándolos a tener una participación plena.
A tal fin, y en conmemoración del 50.º aniversario de la ASEAN, hemos decidido que este sea el "Año del Intercambio Cultural entre Corea y la ASEAN", en relación con lo cual promovemos diversos modos de intercambio cultural y personal. En septiembre pasado abrimos en la ciudad portuaria de Busan, en el sur de Corea, la Casa de la Cultura de la ASEAN, primer establecimiento de su tipo en un país socio interlocutor del bloque; esperamos que servirá como un centro para la realización de esta clase de intercambios entre Corea y los miembros de la ASEAN. El gobierno coreano no escatimará esfuerzos en extender tales intercambios, especialmente entre los jóvenes, quienes conducirán las relaciones entre Corea y la ASEAN en el futuro.
También trabajaremos para construir una comunidad de paz con seguridad para la gente. Todos en Asia enfrentamos la amenaza de las armas nucleares y los misiles de Corea del Norte, y otros riesgos no tradicionales que incluyen el terrorismo, el extremismo violento y los ciberataques a las empresas, la infraestructura social y cívica, y las instituciones oficiales. El gobierno coreano se esforzará para que todos los pueblos de la ASEAN puedan llevar vidas felices y seguras. Esto implica que cooperaremos en los niveles bilateral y multilateral con todos los estados miembros de la ASEAN para superar los desafíos a nuestra seguridad conjunta.
Para terminar, lucharé por promover más prosperidad compartida para todos los ciudadanos de la ASEAN y de Corea. Para que la cooperación centrada en la gente se mantenga en el tiempo es necesario que todos los países de la región crezcan y se desarrollen juntos. Crear una estructura para la prosperidad compartida demanda reducir barreras regionales y transnacionales, para facilitar el flujo de bienes y promover la interacción entre los pueblos. En síntesis, el dinamismo de la ASEAN debe ir de la mano de la inclusividad.
Por eso Corea apoyará decididamente el "Plan Maestro 2025 para la Conectividad de la ASEAN" y el "Plan de Trabajo de la Iniciativa para la Integración de la ASEAN", que llaman a mejorar la interconectividad de las economías y los ciudadanos de los países de la asociación. También aceleraremos el ritmo de las negociaciones para una mayor liberalización del Acuerdo de Libre Comercio entre Corea y la ASEAN, a fin de preparar las condiciones para un crecimiento más libre e inclusivo en la región.
Corea se prepara para otro invierno de luz y calidez, con la celebración en febrero de 2018 de los Juegos Olímpicos y Paralímpicos de Invierno de Pyeongchang. Nuestros preparativos se centran en asegurar que estos juegos envíen a todo el mundo un mensaje de reconciliación, paz, entendimiento mutuo y cooperación.
Invito a todos a vivir un invierno de paz y felicidad en Pyeongchang y experimentar el dinamismo que hoy se extiende por toda Corea y la ASEAN. No se pierdan una oportunidad de descubrir y disfrutar lo que Corea y la ASEAN tienen en común.
Traducción: Esteban Flamini