Le partenariat Corée-ASEAN au service de la population de la région
SEOUL – Je suis ravi que ma première rencontre avec les dirigeants de l'Association des nations de l'Asie du Sud-Est (ASEAN, Association of Southeast Asian Nations) se tienne lors d'un moment historique : le 50° anniversaire de la création de l'ASEAN. Durant ces 50 ans, mon pays, la République de Corée, et presque tous les pays d'Asie ont radicalement changé. Le rôle de l'ASEAN dans le boom économique de la région est un élément clé de son succès.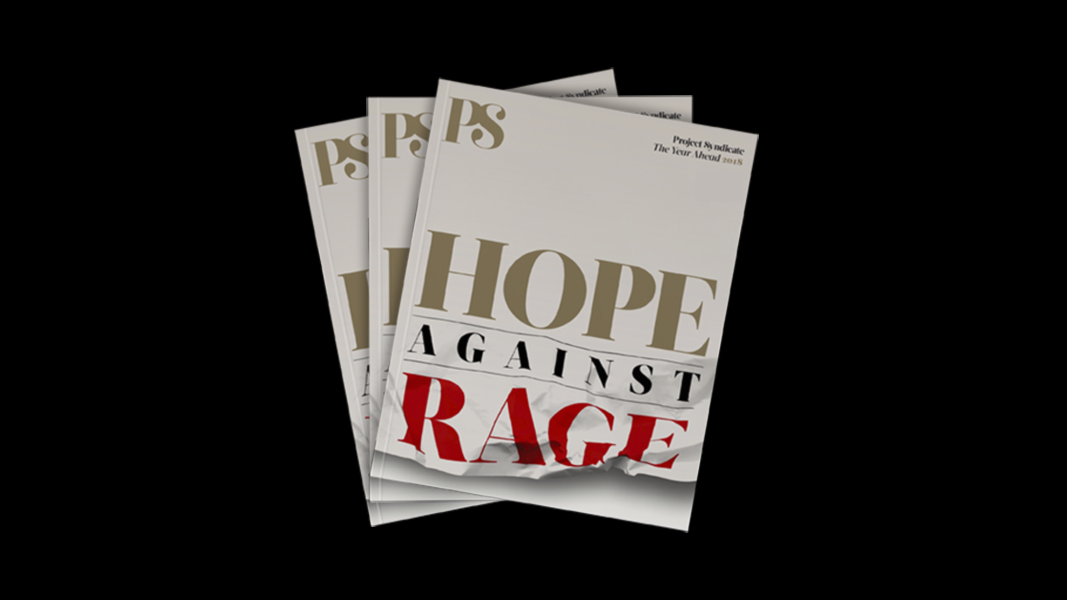 The Year Ahead 2018
The world's leading thinkers and policymakers examine what's come apart in the past year, and anticipate what will define the year ahead.
L'ASEAN est pour la Corée une amie privilégiée de grande valeur. Ainsi l'année dernière quelques 6 millions de Coréens ont visité les pays membres de l'Association, que ce soit pour le tourisme ou pour les affaires. Et un demi-million de citoyens de ces pays travaillent en Corée, tandis que 300 000 Coréens travaillent dans les pays de l'ASEAN.
C'est un exemple parmi d'autres qui montre que les liens de la Corée avec l'ASEAN ne se limitent pas aux relations intergouvernementales, mais s'étendent aux relations interpersonnelles de toutes sortes qui impliquent de nombreux citoyens de nos pays.
Ce n'est pas étonnant. Lors de son 27° sommet en novembre 2015, les dirigeants de l'Association ont signé une déclaration commune, "ASEAN 2025 : Progressons ensemble", qui stipule que ses membres ont pour objectif la création d'une communauté de partage, inclusive et bienveillante, qui veille en priorité au bien-être et à la qualité de vie de la population.
Cette idée de la priorité donnée à la population constitue également la base de ma philosophie politique, une vision en harmonie avec l'esprit de la "révolution des bougies" qui ont réchauffé l'hiver coréen l'année dernière. La Corée et l'ASEAN partagent une même philosophie centrée sur la population - une perspective commune qui va servir à tracer la voie de la Corée et de l'ASEAN pour les années et les décennies à venir.
Depuis 2010 la Corée et l'ASEAN ont fait des avancées significatives en tant que partenaires stratégiques. Néanmoins jusqu'à présent la coopération entre nous reste essentiellement centrée sur des questions gouvernementales touchant à la politique, à la sécurité et à l'économie. J'ai l'intention de renforcer nos relations en accordant la priorité des priorités au peuple - tant au niveau de la Corée, que des autres pays de l'ASEAN. Je souhaite créer avec cette dernière une communauté pacifique, centrée sur la population ou le peuple, qui bénéficie à tous ses membres. Cela peut se résumer en trois P : "le Peuple, la Prospérité et la Paix".
Pour y parvenir, je vais poursuivre "une diplomatie centrée sur le peuple". Je vais donc développer la collaboration entre la Corée et l'ASEAN de manière à ce qu'elle respecte l'opinion de la population dans tous les pays de notre association, qu'elle gagne leur approbation et leur participation active.
Pour cela, dans le cadre de la commémoration du 50° anniversaire de l'ASEAN, nous avons fait de cette année "l'année de l'échange culturel Corée-Asie" et encouragé divers échanges culturels et interindividuels. En septembre dernier nous avons inauguré la Maison de la culture de l'ASEAN dans la ville portuaire de Busan, au sud de la Corée. Cet établissement, le premier du genre dans un pays partenaire de l'ASEAN, est appelé à devenir un lieu central pour les échanges culturels et interpersonnels entre les Coréens et la population des autres pays de l'ASEAN. Le gouvernement coréen n'épargnera aucun effort pour intensifier ces échanges, notamment parmi les jeunes qui conduiront les relations entre la Corée et l'ASEAN dans l'avenir.
Nous devons aussi construire une communauté pacifique dont les participants vivent en sécurité. En Asie, nous sommes tous confrontés à la menace nucléaire de la Corée du Nord, ainsi qu'à des menaces d'un nouveau genre, tels que le terrorisme, la violence extrémiste et les cyberattaques qui peuvent viser nos entreprises, nos infrastructures sociales et administratives et nos institutions. Le gouvernement coréen mettra toute son énergie pour veiller à ce que la population coréenne et celle des autres pays de l'ASEAN mènent une vie paisible et heureuse. Autrement dit nous coopérerons avec tous les pays membres de l'ASEAN, tant au niveau bilatéral que multilatéral, pour répondre aux défis sécuritaires auxquels nous sommes tous ensemble confrontés.
Enfin, j'encouragerai la prospérité commune au bénéfice des citoyens de l'ASEAN et de la Corée. Pour une coopération durable centrée sur la population, tous les pays de la région doivent croître et se développer ensemble. La création d'une structure destinée à favoriser la prospérité commune suppose de diminuer les barrières régionales et transnationales qui font obstacles aux échanges commerciaux et à encourager les interactions entre les habitants des différents pays. En conclusion, il faut lier le dynamisme de l'ASEAN à son caractère inclusif.
C'est pourquoi la Corée participe activement au plan directeur sur la connectivité de l'ASEAN 2025 et au Plan de travail pour l'intégration de l'ASEAN, deux initiatives destinées à renforcer la connectivité entre les économies de l'ASEAN et ses citoyens. Nous allons aussi accélérer le rythme des négociations en vue d'un approfondissement de la libéralisation de l'Accord de libre échange entre la Corée et l'ASEAN, de manière à préparer la voie à une croissance moins entravée et plus inclusive de la région.
La Corée prépare maintenant un nouvel hiver "chaud" : les Jeux olympiques et paralympiques d'hiver qui auront lieu à Pyeongchang en février et mars 2018. Nous veillerons à ce que ces Jeux délivrent un message de réconciliation, de paix, de compréhension mutuelle et de coopération à travers le monde.
J'ai le plaisir de vous inviter à découvrir un hiver pacifique et joyeux à Pyeongchang et à faire l'expérience du dynamisme de la Corée et de l'ASEAN. Ne manquez pas l'occasion de découvrir et d'apprécier tout ce que partagent la Corée et l'ASEAN.
Traduit de l'anglais par Patrice Horovitz