Für eine menschenzentrierte ASEAN-Gemeinschaft
SEOUL – Ich freue mich, dass mein erstes Treffen mit den Spitzenvertretern der Vereinigung Südostasiatischer Staaten (ASEAN) an einem historischen Moment stattfindet: nämlich anlässlich des 50. Jahrestages der Gründung der ASEAN. In diesen 50 Jahren hat sich nicht nur mein Land, die Republik Korea, sondern beinahe ganz Asien völlig verwandelt. Die Rolle der ASEAN bei der Nutzung und Verbreitung der wirtschaftlichen Dynamik leistete einen entscheidenden Beitrag zum Erfolg der Region.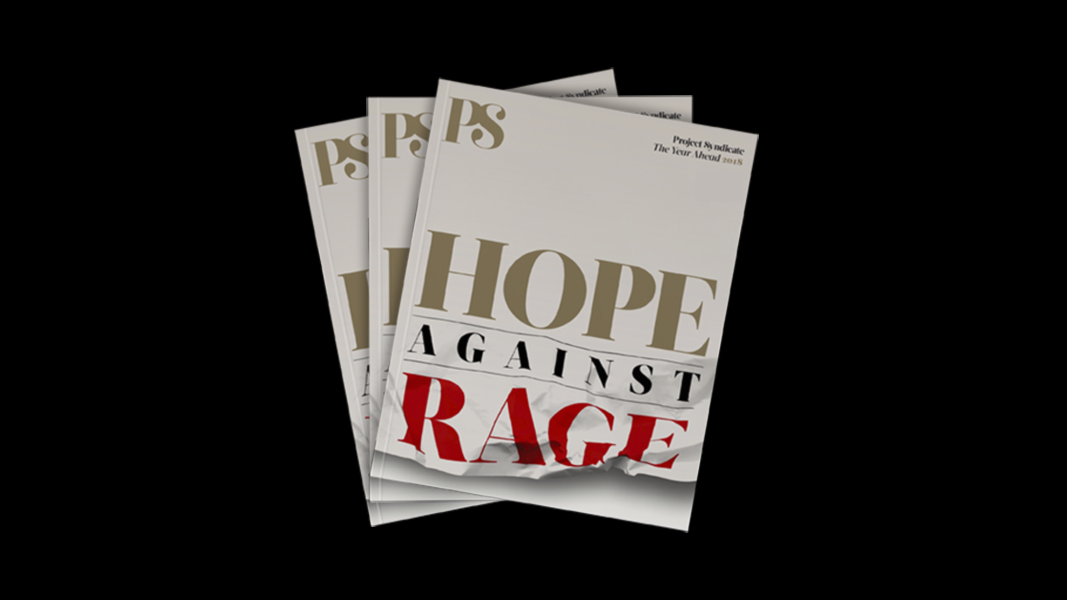 The Year Ahead 2018
The world's leading thinkers and policymakers examine what's come apart in the past year, and anticipate what will define the year ahead.
Für Korea war und ist die ASEAN zweifellos ein besonderer und geschätzter Freund. Allein im letzten Jahr reisten etwa sechs Millionen Koreaner sowohl als Touristen als auch in geschäftlichen Angelegenheiten in ASEAN-Mitgliedsländer. Etwa 500.000 Bürger aus ASEAN-Staaten leben und arbeiten derzeit in Korea, während umgekehrt ungefähr 300.000 Koreaner in ASEAN-Mitgliedsländern ihren Lebensmittelpunkt haben und beruflich dort aktiv sind.
Das ist nur ein Beispiel dafür, warum es sich bei den Verbindungen zwischen Korea und der ASEAN um mehr als um zwischenstaatliche Beziehungen handelt. Durch die Verflechtungen im Leben so vieler Menschen wird unsere Beziehung auf einer höchstpersönlichen Ebene vertieft.
Diese Tatsache sollte allerdings niemanden überraschen. In der von den ASEAN-Spitzenvertretern auf ihrem 27. Gipfel im November 2015 verabschiedeten Erklärung "ASEAN 2025: Forging Ahead Together" wird dargelegt, dass die Gruppe bestrebt ist, eine "menschenzentrierte und am Menschen orientierte Gemeinschaft" zu sein, die eine fürsorgliche und teilende sowie inklusive Gesellschaft aufbauen möchte, im Rahmen derer das Wohlergehen, die Existenzgrundlagen und die Wohlfahrt der Menschen verbessert werden.
"Die Menschen zuerst" ist auch meine langjährige politische Philosophie und diese Vision steht im Einklang mit dem Geist der koreanischen "Kerzenlicht-Revolution", die den letztjährigen Winter in Korea erhellte und erwärmte. Korea und ASEAN verfügen über eine gemeinsame Philosophie, im Rahmen derer den Menschen Wertschätzung entgegengebracht wird. Diese gemeinsame Perspektive ist auch Grundlage des Kurses, den Korea und ASEAN in den vor uns liegenden Jahren und Jahrzehnten beschreiten werden.
Seit 2010 haben Korea und die ASEAN als strategische Partner gemeinsam bedeutende Fortschritte erzielt. Allerdings konzentrierte sich die Zusammenarbeit zwischen Korea und der ASEAN auf die Regierungsebene und hauptsächlich auch auf die Zusammenarbeit in den Bereichen Politik, Sicherheit und Wirtschaft. Ich beabsichtige die Beziehungen zwischen Korea und der ASEAN voranzutreiben und dabei den "Menschen" höchste Priorität einzuräumen – sowohl den Koreanern als auch den Menschen in den ASEAN-Mitgliedsländern. Meine Vision besteht darin, zusammen mit der ASEAN eine "friedliebende, menschenzentrierte Gemeinschaft" zu schaffen, "in der es allen Mitgliedern besser geht." Die drei Schwerpunkte zusammengefasst lauten: Menschen, Wohlstand und Frieden.
Um diese Vision zu verwirklichen, werde ich eine "menschenzentrierte Diplomatie" verfolgen. Ab nun wird die Kooperation zwischen Korea und der ASEAN also in einer Art weiterentwickelt, die die öffentliche Meinung aller Völker unserer Vereinigung respektiert, die Menschen motiviert, die Vereinigung zu unterstützen sie zu aktiver Beteiligung einlädt.
Zu diesem Zweck und aus Anlass des 50. Bestandsjubiläums der ASEAN haben wir dieses Jahr zum "Jahr des kulturellen Austauschs zwischen Korea und der ASEAN" ausgerufen und verschiedene Programme für den kulturellen und persönlichen Austausch aktiv gefördert. Letzten September wurde in der im Süden Koreas gelegenen Hafenstadt Busan das ASEAN Culture House (ACH) eröffnet. Dieses Haus der Kultur ist das erste seiner Art in einem Dialogpartnerland der ASEAN und es soll als Drehscheibe für den kulturellen und persönlichen Austausch zwischen Korea und ASEAN-Mitgliedsländern fungieren. Die koreanische Regierung wird keine Mühen scheuen, um diesen Austausch zu erweitern, insbesondere unter den jungen Menschen, die die Beziehungen zwischen Korea und der ASEAN in Zukunft an führender Stelle gestalten werden.
Wir sollten überdies am Aufbau einer Gemeinschaft des Friedens arbeiten, in der die Menschen sicher sind. In Asien sind wir alle mit der Bedrohung durch Nordkoreas Atomwaffen und Raketen konfrontiert sowie auch mit nicht traditionellen Sicherheitsbedrohungen wie Terrorismus, gewalttätigen Extremismus und Cyber-Angriffen auf unsere Unternehmen, unsere soziale und zivile Infrastruktur sowie unsere öffentlichen Institutionen. Die koreanische Regierung ist bestrebt, sicherzustellen, dass sowohl Koreaner und die Menschen in den ASEAN-Mitgliedsländern in der Lage sind, ein glückliches und sicheres Leben zu führen. Dazu ist es notwendig, mit allen ASEAN-Mitgliedern sowohl auf bilateraler als auch auf multilateraler Ebene zusammenzuarbeiten, um die Sicherheitsbedrohungen, vor denen wir derzeit gemeinsam stehen, auch zu überwinden.
Schließlich werde ich mich um die Förderung eines größeren gemeinsamen Wohlstandes bemühen, von dem die Bürger in den ASEAN-Ländern und in Korea profitieren. Um die Nachhaltigkeit der menschenzentrierten Zusammenarbeit sicherzustellen, müssen alle Länder in der Region gemeinsam wachsen und sich entwickeln. Zur Schaffung einer Struktur für gemeinsamen Wohlstand müssen regionale und transnationale Barrieren abgebaut, der Warenfluss erleichtert und die Interaktionen zwischen den Menschen gefördert werden. Kurzum: die Dynamik der ASEAN muss nun mit Inklusivität verbunden werden.
Aus diesem Grund unterstützt Korea aktiv den "Masterplan zur Vernetzung der ASEAN 2025" sowie die "Initiative für den Arbeitsplan zur Integration der ASEAN (IAI)," die beide eine verbesserte Vernetzung zwischen den Ökonomien der ASEAN und den Bürgern fordern. Außerdem werden wir das Tempo bei den Verhandlungen zur weiteren Liberalisierung im Rahmen eines Freihandelsabkommens zwischen Korea und der ASEAN beschleunigen, um einem freieren und inklusiveren Wachstum in der Region den Weg zu ebnen.
Korea bereitet sich derzeit auf einen weiteren "heißen" Winter vor: nämlich auf die im Februar 2018 in Pyeongchang stattfindenden Olympischen und Paralympischen Winterspiele. In unseren Vorbereitungen konzentrieren wir uns darauf, dass diese Spiele die Botschaft der Versöhnung, des Friedens, des gegenseitigen Verständnisses und der Zusammenarbeit auf der ganzen Welt aussenden.
Ich lade Sie alle herzlich ein, in Pyeongchang einen friedlichen und fröhlichen Winter zu erleben und die Dynamik in Korea und den ASEAN-Ländern zu spüren. Versäumen Sie diese Gelegenheit nicht, die Gemeinsamkeiten zwischen Korea und der ASEAN zu entdecken und zu genießen.
Aus dem Englischen von Helga Klinger-Groier