На пути к человеко-ориентированному сообществу АСЕАН
СЕУЛ – Я очень рад, что моя первая встреча с лидерами Ассоциации государств Юго-Восточной Азии (АСЕАН) происходит в исторический момент – в 50-ю годовщину основания этой ассоциации. За прошедшие 50 лет совершенно преобразилась не только моя страна – Республика Корея, но и практически вся Азия. Роль АСЕАН, содействовавшей повсеместному динамичному экономическому развитию, была неоценимой для успехов региона.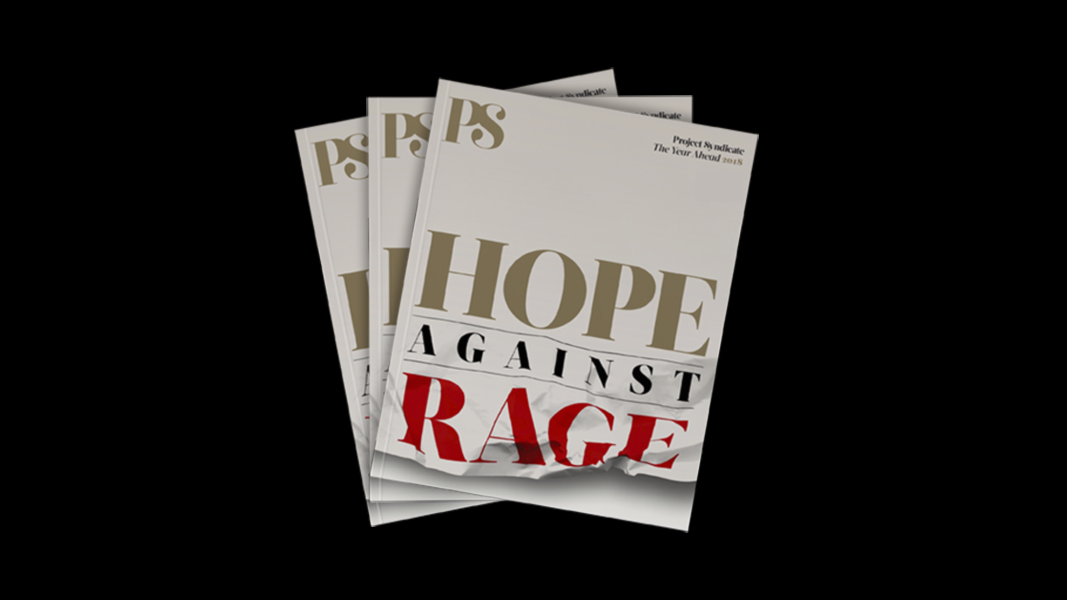 The Year Ahead 2018
The world's leading thinkers and policymakers examine what's come apart in the past year, and anticipate what will define the year ahead.
Несомненно, что для Кореи АСЕАН является особым и очень ценным другом. Только в прошлом году около шести миллионов корейцев посетили страны АСЕАН с туристическими и деловыми целями. Примерно 500 тысяч граждан стран АСЕАН сейчас живут и работают в Корее, при этом около 300 тысяч корейцев живут и работают в государствах АСЕАН.
Этот пример показывает, почему связи Кореи с АСЕАН являются больше, чем просто межправительственными контактами. Наши отношения углубляются самым интимным способом из возможных – через переплетение множества человеческих судеб.
Этот факт не должен никого удивлять. Декларация «АСЕАН-2025: Вместе в будущее», одобренная лидерами АСЕАН на 27-м саммите в ноябре 2015 года, гласит, что данная группа государств стремится быть «человеко-ориентированным сообществом, в центр которого поставлены интересы народа»; её задачей является построение инклюзивного общества, готового делиться и помогать, и в котором благополучие, благосостояние и средства к существованию народа растут.
«Люди прежде всего» – такова моя давняя политическая философия, и она соответствует духу корейской «революции свечей», которая год назад осветила и согрела зиму в Корее. Корея и АСЕАН разделяют общую философию, ценящую людей, и эта общность взглядов будет определять путь, который Корее и АСЕАН предстоит пройти вместе в предстоящие годы и десятилетия.
С 2010 года Корея и АСЕАН, будучи стратегическими партнёрами, совместно добились значительных успехов. Однако до сих пор сотрудничество Кореи и стран АСЕАН сводилось в основном к совместной работе правительств в сфере политики, безопасности и экономики. Я намерен помочь развитию отношений Кореи и АСЕАН, сделав важным приоритетом «народ» – и корейский народ, и народы стран АСЕАН. Моя идея заключается в создании – в сотрудничестве с АСЕАН – «миролюбивого, человеко-ориентированного сообщества, в котором вместе всем лучше». Её можно суммировать как концепцию «три П» – «People, Prosperity, Peace», то есть «Народ, Процветание, Мир».
Для воплощения в жизнь этой концепции я буду заниматься «дипломатией, в центре которой находятся интересы народа». Итак, отныне мы будем развивать сотрудничество между Кореей и АСЕАН таким образом, чтобы учитывать общественное мнение всех народов нашей ассоциации, заручаться их поддержкой и приглашать их к активному участию.
С этой целью – и в честь 50-й годовщины АСЕАН – мы объявили нынешний год «Годом культурного обмена между Кореей и АСЕАН», и активно продвигаем разнообразные программы культурного и гуманитарного обмена. В сентябре в южнокорейском портовом городе Пусан открылся Культурный дом АСЕАН. Это первое в своём роде учреждение, открытое в стране, которая имеет в АСЕАН статус партнёра по диалогу. Ожидается, что этот дом превратится в центр культурного и гуманитарного обмена между Кореей и странами АСЕАН. Корейское правительство будет всеми силами расширять подобный обмен, особенно среди молодёжи, которой предстоит развивать отношения Кореи и АСЕАН в будущем.
Мы также должны работать над построением миролюбивого сообщества, в котором люди находятся в безопасности. В Азии мы все противостоим ядерной и ракетной угрозе Северной Кореи, а также нетрадиционным угрозам безопасности, таким как терроризм, насилие экстремистов, а также кибератаки на наши предприятия, социальную и гражданскую инфраструктуру, официальные учреждения. Корейское правительство будет стремиться обеспечить для народа Кореи и народов стран АСЕАН возможность вести счастливую, безопасную жизнь, а это означает, что будет необходимо развивать сотрудничество со всеми странами АСЕАН на двустороннем и многостороннем уровнях для решения стоящих перед всеми нами проблем безопасности.
Наконец, я буду стараться содействовать взаимному процветанию, приносящего пользу гражданам стран АСЕАН и Кореи. Для обеспечения устойчивости человеко-ориентированного сотрудничества все страны региона должны расти и развиваться вместе. Создание структурных условий для взаимного процветания требует снижения региональных и транснациональных барьеров с целью расширить товарные потоки и помочь контактам на человеческом уровне. Иными словами, динамизм АСЕАН необходимо теперь связать с инклюзивностью.
Именно поэтому Корея будет активно поддерживать генеральный план «Взаимосвязанность АСЕАН-2025» и рабочий план «Инициатива интеграции АСЕАН». Обе программы призывают к расширению связей между экономиками и гражданами стран АСЕАН. Мы также ускорим ход переговоров о дальнейшей либерализации «Соглашения о свободной торговле между Кореей и АСЕАН», чтобы открыть путь для более свободного и инклюзивного роста экономики региона.
Корея сейчас готовится к новой «горячей» зиме: Зимним Олимпийским и Паралимпийским играм, которые пройдут в Пхёнчхане в феврале 2018 года. Готовясь к ним, мы сосредоточились на том, чтобы гарантировать: эти Игры должны стать сигналом к примирению, миру, взаимопониманию и сотрудничеству во всём мире.
Я с удовольствием приглашаю вас посетить мирный и радостный зимний Пхёнчхан и ощутить динамизм, охвативший Корею и АСЕАН. Не упустите шанса выяснить, что есть общего у Кореи и стран АСЕАН, и получить удовольствие.